Portugal is a beautiful country and definitely worth the visit. If you're planning how you want to get to Portugal (or other European countries), TAP Airlines is probably an option. Here's what you can expect if you choose to fly TAP Portugal Business Class, which they call Executive.
I'm also sharing what it was like flying in their EconomyXtra seats in the Economy cabin.
You might also enjoy reading my tips for planning a trip to Portugal! It includes some information about how long the flight to Portugal will be from the US.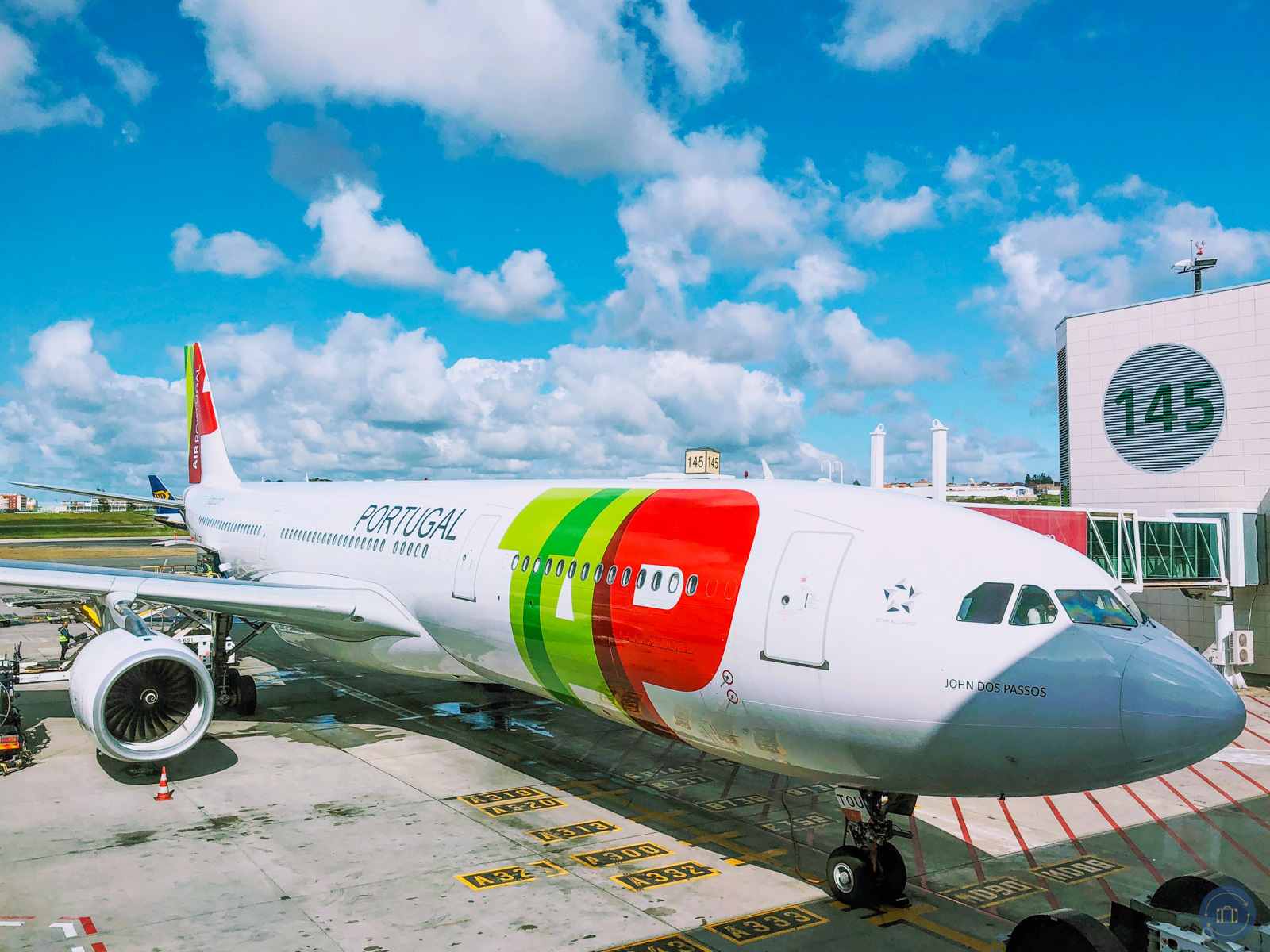 Thank you to TAP Airlines for arranging a media ticket for me to travel. All thoughts and opinions and coverage are my own and based on my personal experience.
About TAP Airlines
TAP (Air Portugal) Airlines is the national airline for Portugal. They offer many flight options from the US, including many non-stop options. If you're flying to Lisbon, you can find non-stop flights from Boston, Chicago, Miami, New York, San Francisco, and Washington, D.C. You can also fly non-stop from Newark to Porto, Portugal.
If you are traveling with TAP to another European city — they fly to 47, like Paris and London — you might be interested in TAP's free stopover option. You can stay for 1 to 5 nights (24 to 120 hours) in Lisbon or Porto, without paying the stopover fee.
This is especially useful if you have time for a longer European trip and want to add a short Portugal city stopover with your final European destination. You can see some great sites of Lisbon and Porto in 1-3 days.
TAP has excellent safety ratings and has a very young fleet of aircraft. I will note that the online system for TAP Portugal can be glitchy and I found some frustrations occasionally when trying to access my reservation. Just a note that you might need some patience and to keep trying if you do experience some web difficulties.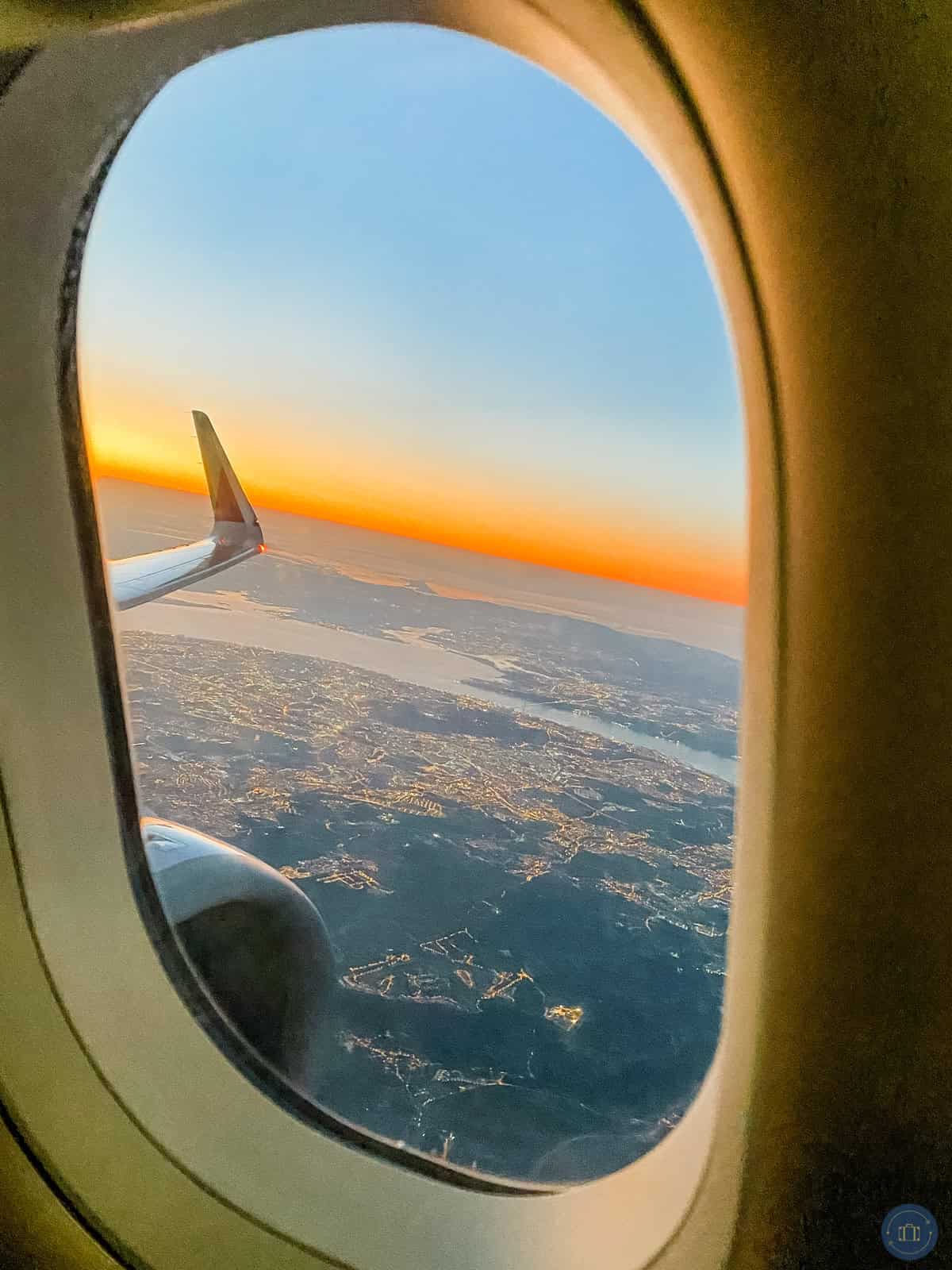 Added Fees with TAP
TAP is considered a low-cost carrier. However, if you're in the US, they're not equivalent to Spirit or Frontier. They're more like a standard domestic carrier (American or Delta). You'll have a base fare and then can upgrade that fare to add seat selections, premium seat assignments, and additional bags.
If you're considering flying TAP, consider budgeting some extra money towards add-ons like premium seat selection. Unlike many low-cost carriers in the US, you are allowed a carry-on bag and checked bag as part of Economy tickets (TAP classic).
However, carry-on bags have strict size and weight limits, they can be 22″ x 16″ x 8″ in size and only weigh 17 pounds. Do take note that many of their discount promotion tickets (TAP discount and basic) do NOT include baggage, so watch for that.
As for checked bags, most tickets include at least one checked bag up to 50 pounds. Executive (business class) tickets might allow up to 70 pounds. Again, check when booking that your ticket type includes baggage as some of their discounted deal rates do not. If you do need to pay for baggage fees, I recommend doing it before online check-in begins (24 hours before flight) as they offer discounted rates for buying in advance.
You can look at this chart to find a more extensive comparison chart of ticket types and extra fees.
Flying TAP Airlines EconomyXtra EWR (Newark) to OPO (Porto)
(Flying on an Airbus A330neo)
EconomyXtra seats on TAP offer you more space and a better location on the plane. It's still in the Economy cabin of service, so the main differences are in the seat location and spacing. You will get an earlier boarding group on your boarding pass if flying EconomyXtra. They also mark some of the overhead bins as being for EconomyXtra guests only, however overhead bin space has never been an issue for me when flying TAP.
My flight from the US (Newark) to Portugal (Porto) was on one of TAP Airlines' new A330-900neo airplanes.
If you've booked a TAP Classic or Plus ticket (or if you're a Miles&Go Gold member) EconomyXtra is included in your ticket purchase. If you've booked a TAP Discount or Basic fare, you'll need to pay more to upgrade to EconomyXtra. Here's a tip, if you are planning to upgrade your seat, doing it 30+ days before departure can save you a few dollars.

All seats on the A330neo have seatback inflight entertainment screens that offer a variety of free movies, tv shows, music, and you can even learn some Portuguese! You will need to plug-in headphones for sound. If you want to use wireless, Bluetooth headphones like Airpods, you can buy an AirFly Transmitter to help you use the inflight entertainment with your wireless headphones.
Choosing your EconomyXtra Seat
As you can see, flying in the EconomyXtra class of seats does give you more recline and a bit more legroom versus the standard economy seats. If you're strictly looking for extra legroom, you might prefer the Extra Legroom seats if you're flying on the A330neo, but know that these will not recline as much as the EconomyXtra seats and they're often located near the lavatories which can be extremely bothersome in my opinion.
One thing to note, the generous recline of EconomyXtra seats is a bit annoying if you're looking to use your tray table. I highly recommend you avoid sitting behind an occupied EconomyXtra seat if possible, but know that many of the seats get assigned the day of the flight and you might not be able to avoid having someone in front of you.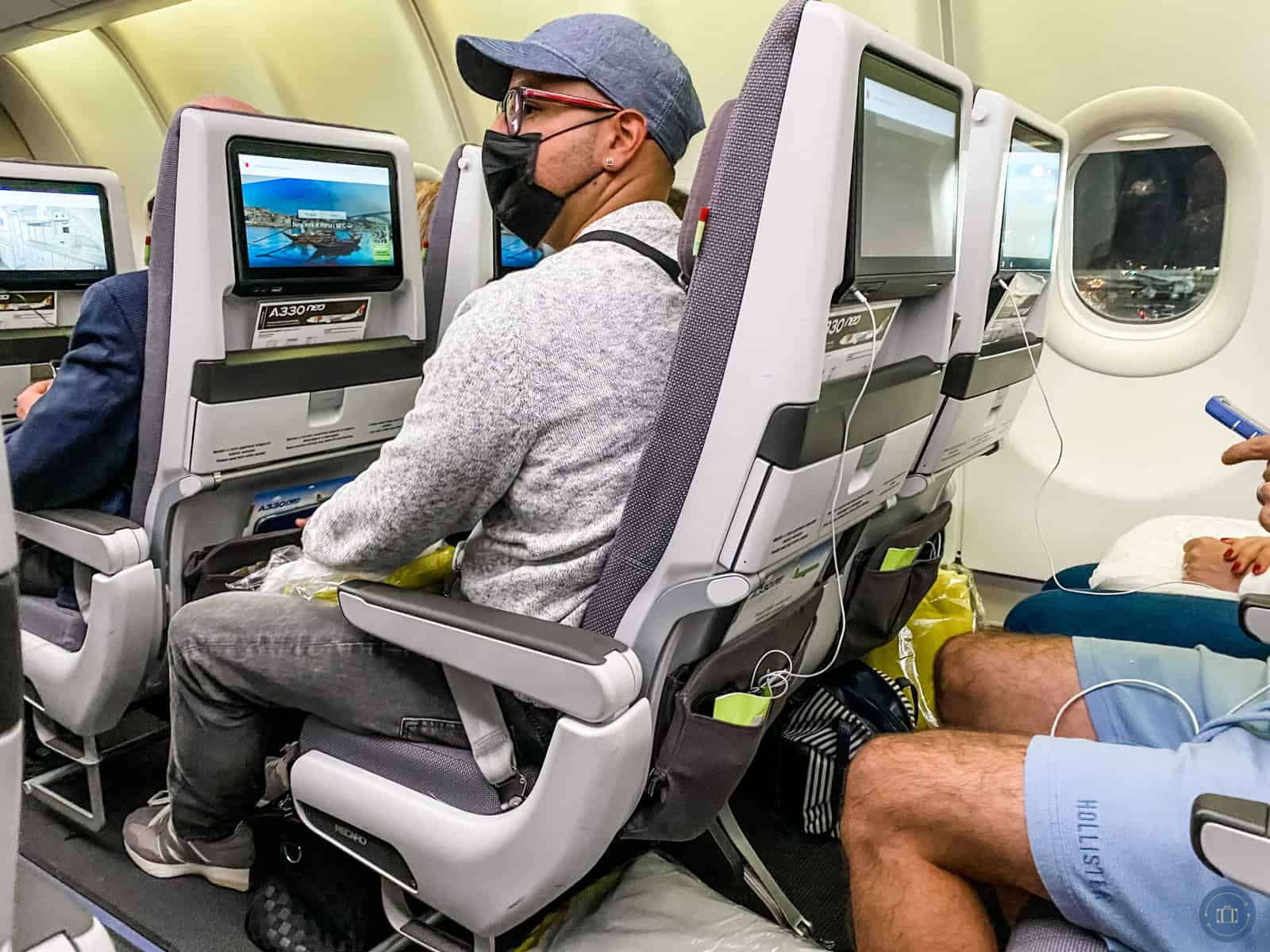 Bulkhead seats are a good way to avoid this, however, you do lose the option to have any bags at your feet during takeoff and landing. Also, the seat "back" entertainment might be farther away and more awkward to use in bulkhead seats. These seats are also often where families with babies are placed for international flights as they have a bassinet option, so take that information however you wish. :)
On the A330neo flight from EWR (Newark) to OPO (Porto), the plane is designed in a 2-4-2 layout. With 2 seats on each of the sides of the plane and 4 seats in the middle section. I chose a middle section aisle seat with my friend and we lucked out with having no one in the 2 seats between us. This allowed us to place our bags under the neighboring seat and allowed extra space for pillows and blankets.
Meals on TAP Airlines EconomyXtra
I was on a standard "red-eye" transcontinental flight from Newark to Porto. We left Newark in the late evening and arrived in Porto in the morning. During the flight, we were served two meals. If you're on a short-haul flight, you will likely have a paid food option, but meals are included in long-haul flights.
(Apologies that I forgot to take photos of the food on this leg – I do have food photos from my Executive flight farther down in this post.)
First, we were served a dinner option shortly after takeoff. I didn't note the time but I would guess it was about an hour after takeoff. I seem to recall there being two meal options, a chicken and vegetarian pasta. You were also allowed to have wine with your dinner, and TAP serves Portuguese wines. There is an after-dinner drink service of coffee or tea offered.
Keep in mind that in the Economy class cabin (including EconomyXtra) you cannot pre-select your meal option. So those sitting farther back in the cabin might end up with very limited / no choices.
If your flight is 5+ hours, you can order a special meal (vegan, vegetarian, Muslim, baby/child, low-fat, low-sodium, etc.) in Economy and/or Executive class at least 24 hours before departure.
Our final meal on the flight was more of a snack and served shortly before landing. It consisted of a cold roll sandwich and a granola bar, plus coffee and orange juice options.
Flying TAP Airlines Business Class LIS (Lisbon) to EWR (Newark)
Now that you know what the Economy and EconomyXtra service are, let's look at what TAP Portugal Executive Business Class is like. My experience was on their Airbus A321-200LR on my return trip between Lisbon and Newark — which is a smaller Executive cabin with 16 seats.
TAP also flies the A330-900neo between Portugal and North America and it has a larger Executive cabin with 34 seats.
TAP Portugal Business Class Seats
The TAP Executive cabin on long-haul flights features flat-bed seats. Each of the seats is fairly self-contained, however, on the A321-200LR there are alternating rows of single seats and double seats. For couples, this means you can sit together. But for solo travelers, you might end up sharing space with another traveler if the 4 single seats have already been booked.
The single-row seats on the A321-200LR mean you'll have window and aisle access, plus much more space. On the A330-900neo each seat has direct aisle access but the center section of seats does not have a window view but each "pod seat" is separated by a wall from the other middle seat.
At each seat, you'll have seatback entertainment with movies, tv shows, music, and more. You can control your entertainment with a remote control which is found near your seat/head. A pair of noise-canceling headphones are also available; they're reusable and should be cleaned after each flight.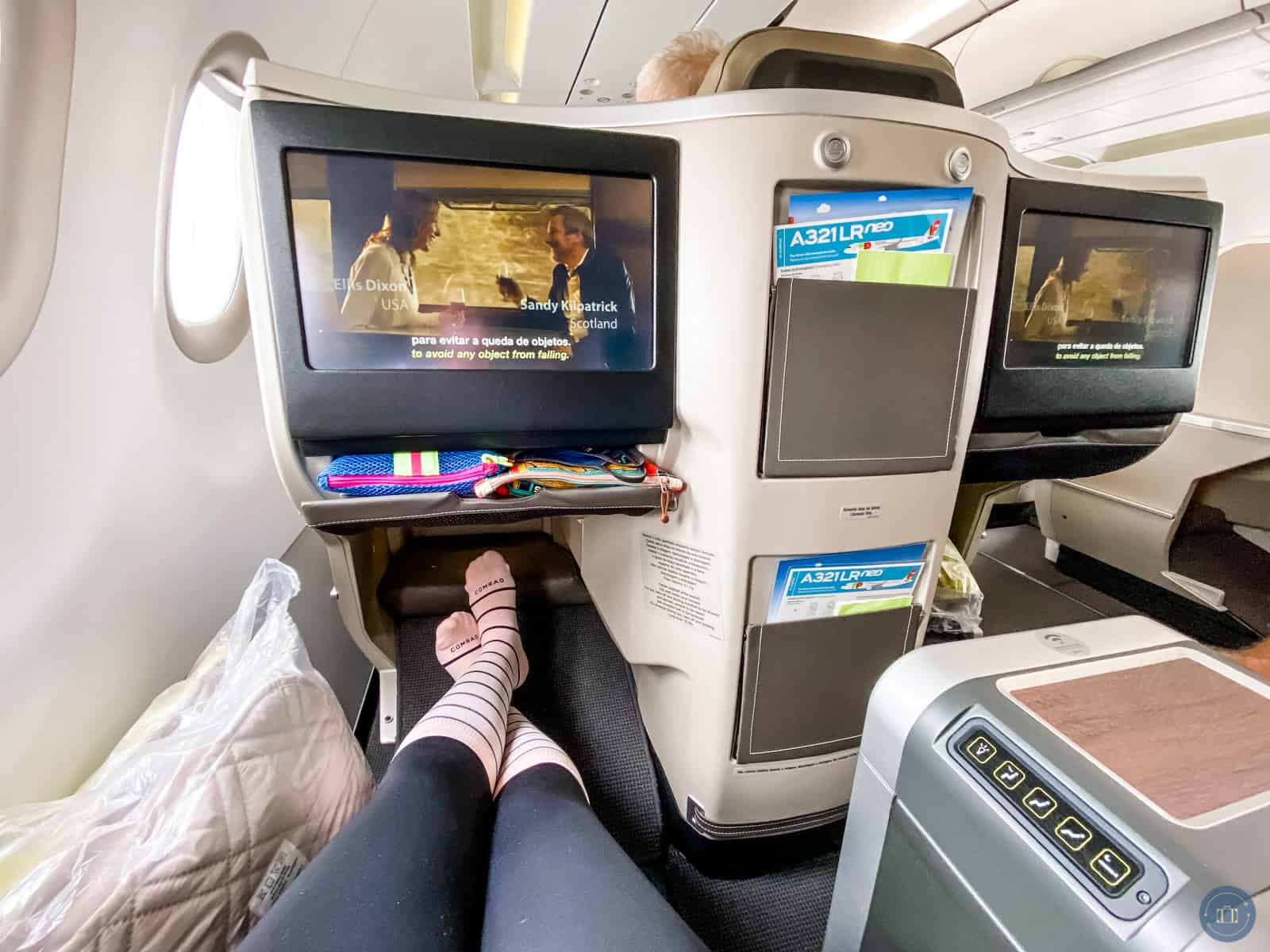 Near your shoulder are a reading light, headphones, and a water bottle. There are a few storage areas, but because of the lay-flat style seats, storing a backpack or briefcase is extremely difficult in the shared 2-seat areas.
You'll also have an upgraded quilted blanket and pillow available for sleeping. These are a big step above what is given to the Economy cabin. Plus, you'll receive an amenity kit.
In regard to the actual flatbed seat and how it works for sleeping, I have some thoughts. I'll admit I certainly haven't flown Biz or First class across the pond often. So compared to coach, this was delightful. However, I can see that compared to other long-haul biz class seats this configuration does sit rather low and is quite slender. Especially in the 2-seat configuration, you have very limited space.
TAP Portugal Executive Business Class Amenity Kit
An amenity kit will be provided for the TAP Executive guests on long-haul flights. Here's what was included:
Castelbel "Hello Cities" Bag (featuring Washington DC skyline)
Compression Socks
Eye Mask
Ear Plugs
Body Lotion
Toothbrush & Toothpaste
Lipbalm
Comb
Refreshing Towel
Fragrant Sachet (filled with cork)
Castlebel Washington DC Insert/Bookmark
Ballpoint Pen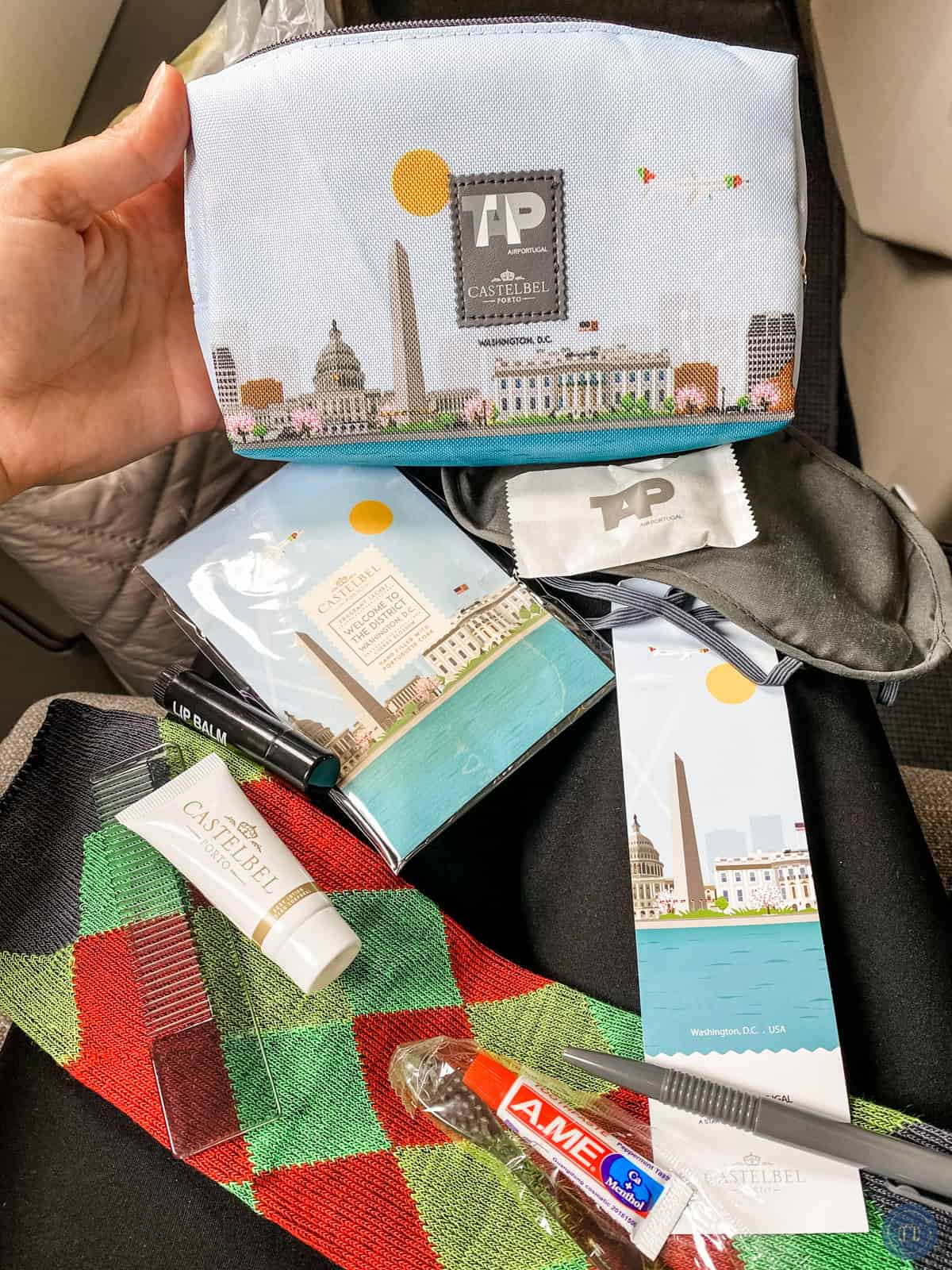 TAP Airlines Executive Meals
The meal service with TAP Executive is a definite upgrade from the food served in the economy cabin. I'll mention that if you know you'll be in executive more than 24 hours before your flight, you should make sure to pre-select your meal choice.
I was in the last row of Executive and myself and the other guest seated with me did not have options for our meals and we were left with what remained after the selections of the first 4 rows.
I flew Executive from Lisbon to Newark and we started with dinner. For dinner we had a menu with three main course options; I had the pumpkin pasta.
They served beverages including wine and offered port wine after the meal. Shortly before landing, we were served breakfast. It was hearty and filling and a definite step above what I recall receiving in the economy cabin!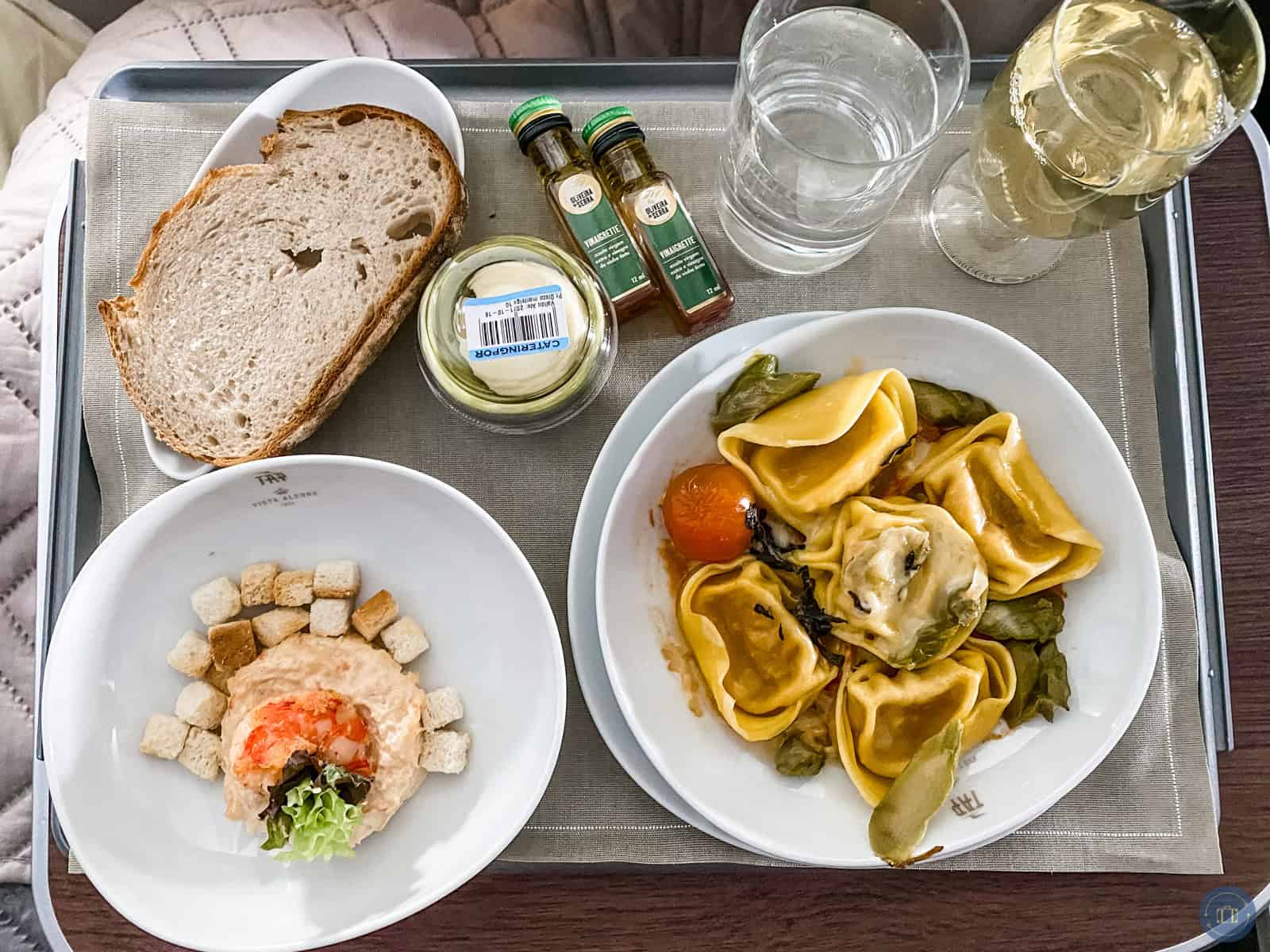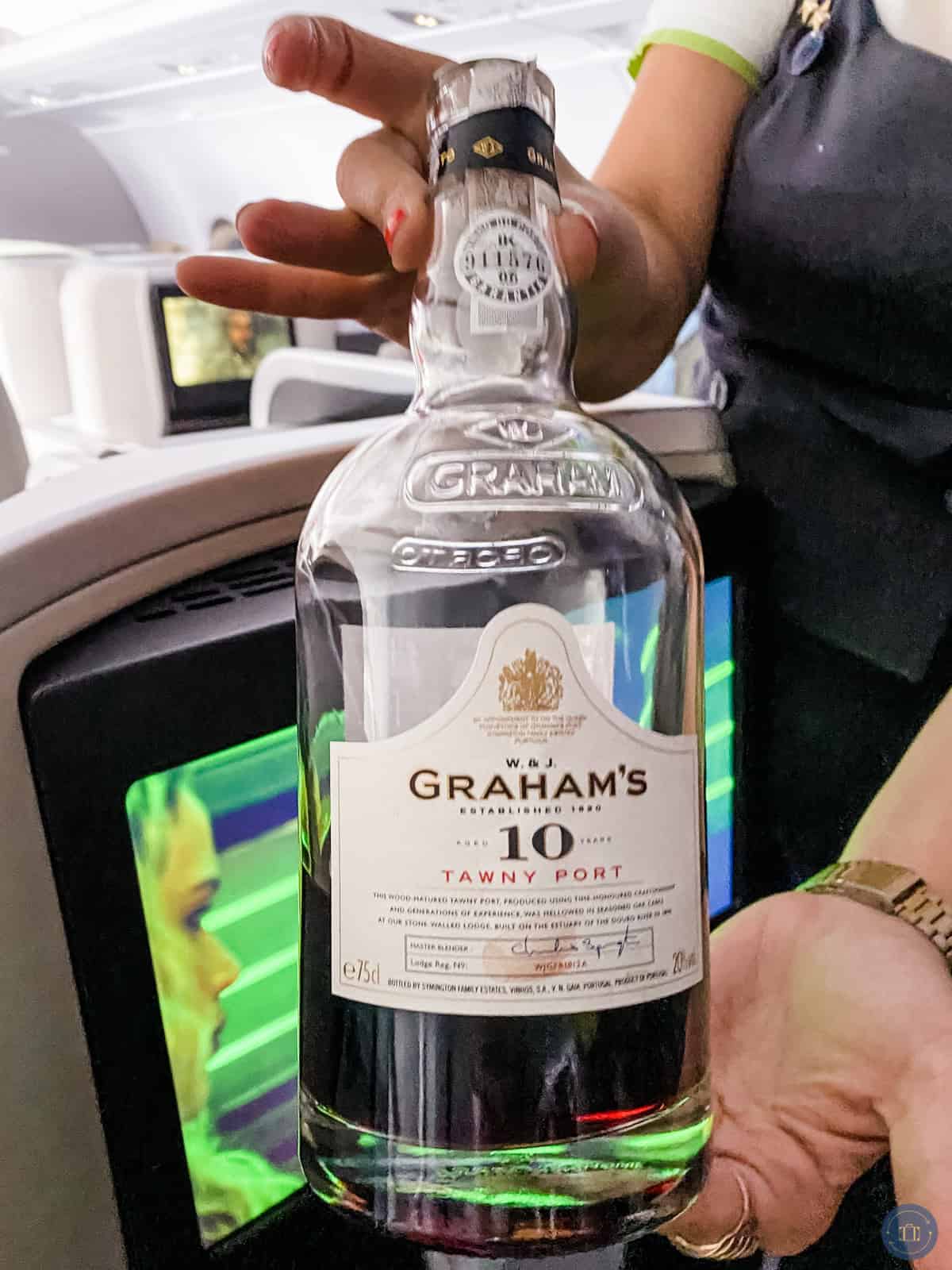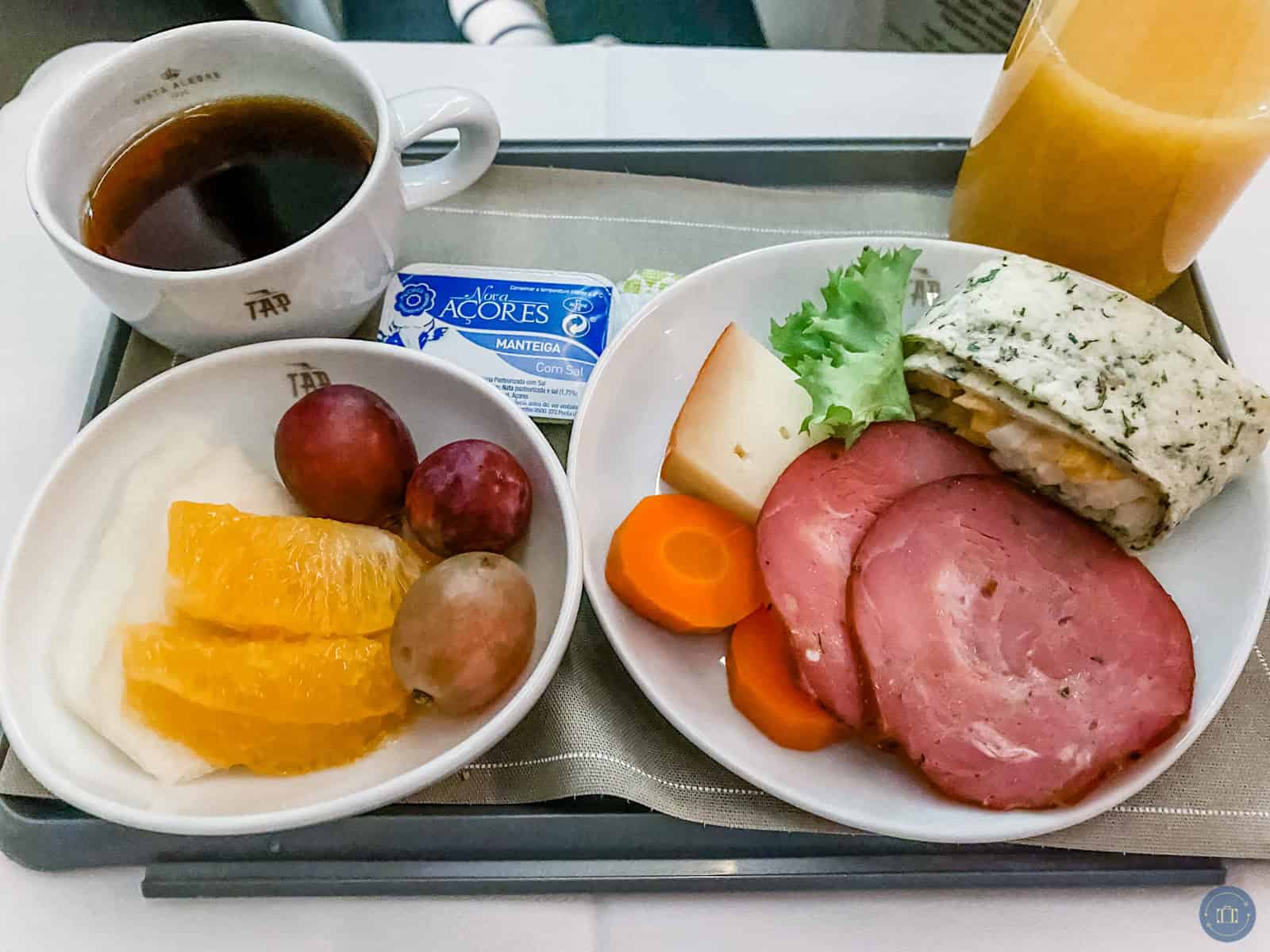 TAP says that you'll have a full "gastronomic" experience with your Executive class ticket. I would say that it's enjoyable and the service presentation is pleasant, however, I would still classify the food as airplane food. :) And while there are some sides offered in addition to your main dish, those who are selective eaters may find the dining experience limited.
TAP Executive Lisbon (LIS) to Ponta Delgada, Azores (PDL)
While Executive class on long-haul flights features multiple amenities and lay-flat seats, short flights are different. On my two-hour flight from Lisbon to the Azores, I was upgraded to Executive class.
You'll have a bit more space, but they are not full-flat seats and you'll actually have 3 seats but the middle seats are not filled. The meals are more like what you'd get on a "first-class" domestic US flight.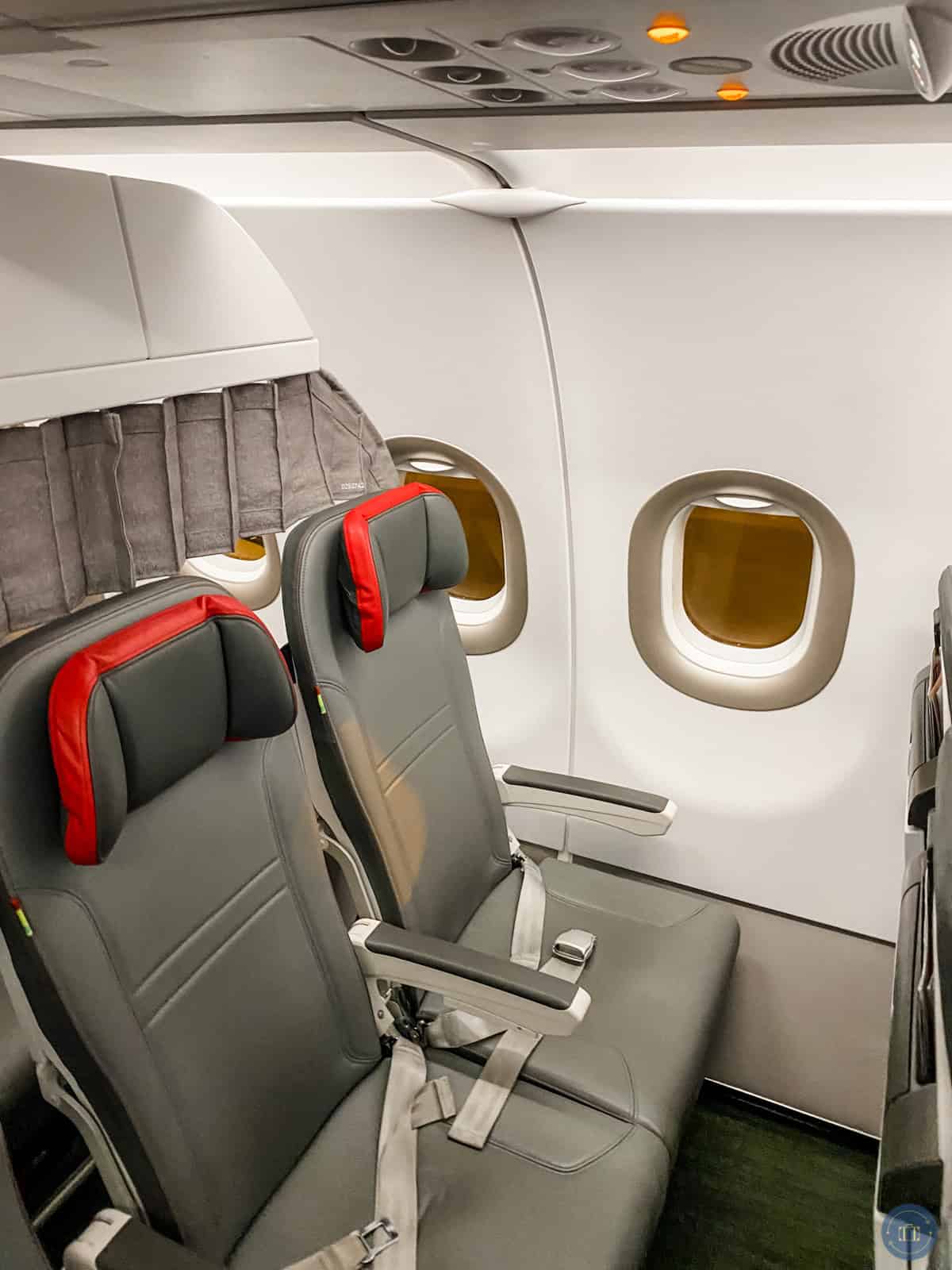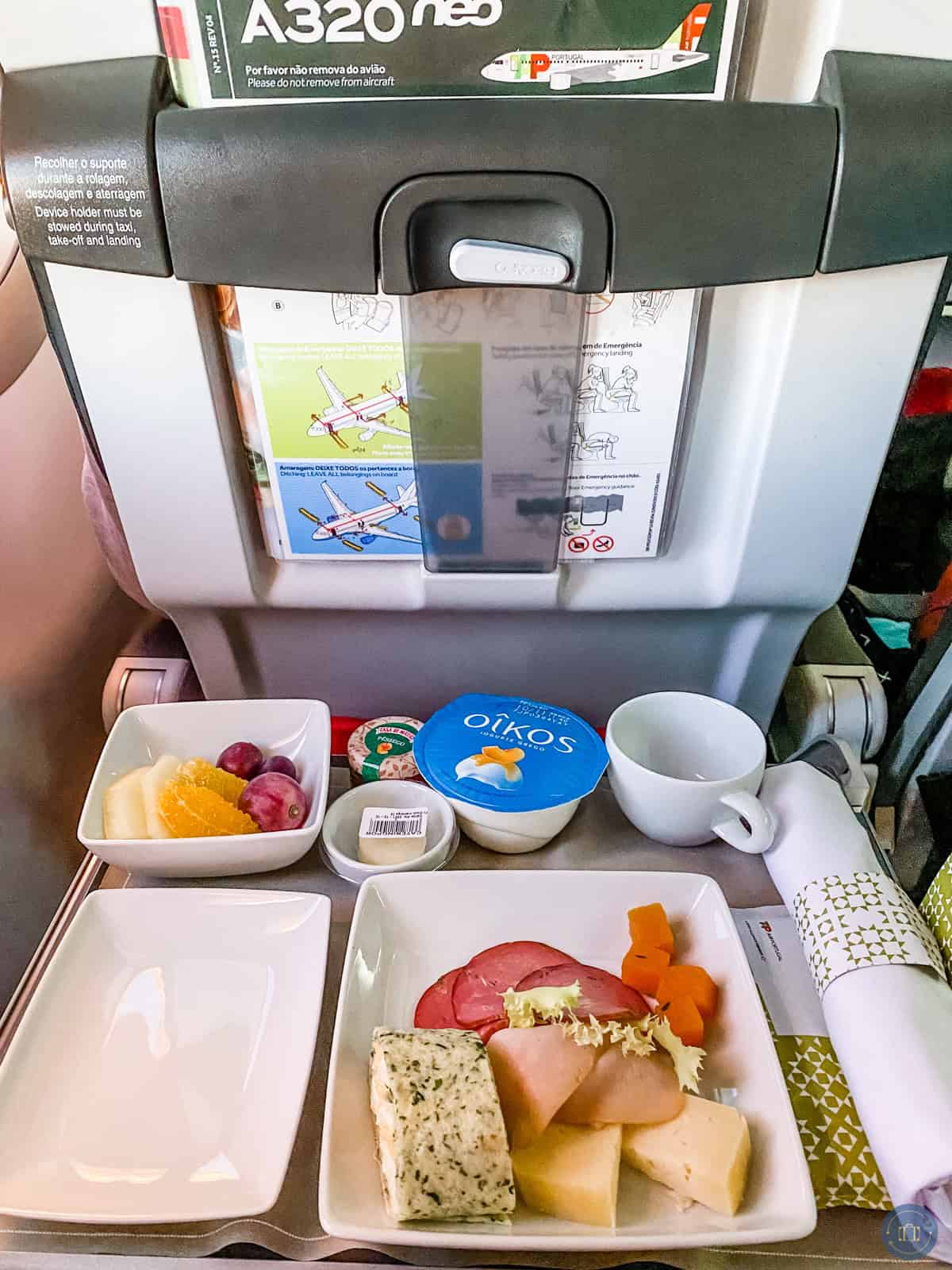 TAP Portugal Lounges
Executive passengers are also given access to TAP airport lounges. I didn't have enough time to explore the Lisbon airport lounge, so I don't have a review. The lounge does offer food and drinks in addition to restrooms and many offer showers. If you're not flying Executive class, you can pay for lounge access to be added to your ticket.
How to Upgrade Your TAP Airlines Seat
For Economy cabin seats you will be able to upgrade your seat selection for a fee when you book. You can also upgrade your seat for a fee after booking. Keep in mind that EconomyXtra is included in non-discounted fares, tap classic, and plus.
To upgrade to Executive class you have three options.
Upgrade with miles – use TAP Miles&Go or Star Alliance miles to upgrade into Executive
Upgrade at the Airport – when you get to the airport you can purchase an upgrade (from Newark to Portugal it's currently listed at $693 to upgrade) if there is space available.
Upgrade Auctions – With Plusgrade (36+ hours before) and SeatBoost (final 24 hours) you can upgrade to Executive Class or EconomyXtra, up to 36 or 24 hours before the flight. These aren't available on every route. You should get an email or you can check eligibility here. The SeatBoost is like a live auction and you'll have to monitor the bidding action.
Conclusion
I think that TAP Airlines is a reliable airline and a great option for traveling to Europe. There are a few ticket fare types, so I recommend carefully reading what your ticket includes. You should also be prepared to weigh your luggage. Carry-on bags can only weigh 17 pounds, although they didn't weigh the backpack I was wearing.
As I mentioned before, you might find their online reservation management system glitchy, so have patience with that. If you're traveling during off-peak times, TAP offers a great opportunity to upgrade into a business class lay-flat seat that might be hard to pay out of pocket for. TAP Airlines is also a Star Alliance member, so you might be able to use travel miles.
Be sure to check out my other posts about Portugal to help you plan your trip: