Portugal is a hidden gem of European cities and has been coming up a lot lately in travel news. Sure, it's not mentioned perhaps as many times as Italy, England, France, or Spain, but the country is quickly gaining a place on many travel bucket lists.
From the delicious food and wine, colorful street art, and tile-centric architecture, it's a country that welcomes visitors with open arms and beautiful experiences. Before you head out for your trip, read up on my best tips to help you plan your vacation to the capital city of Lisbon, Portugal.
Thank you to Martinhal Family Resorts and TAP Air Portugal for hosting me on my visit to Portugal. This post includes affiliate links from some of my partner brands.
Travel Tips for Lisbon, Portugal
Traveling To Portugal and Getting Around
TAP Air Portugal is the national airline for Portugal and they offer direct flights from Boston, Miami, and New York City. We had non-stop flights from Boston which were only about 6 hours long. It took me about the same about of time to get to Boston from Seattle as to Portugal from Boston. All of TAP's fares beyond Portugal (to Africa, Europe and even South America) include a stopover in Lisbon for up to 5 nights with no additional airfare.
You'll find some great services aboard on your flight as well. You can bring on carry-ons, and you're able to check in early and choose your own seats. Onboard there are seat back entertainment devices that have quite a few movie options in addition to some intro travel shows about Portugal. On our flights we were served one meal and one snack service. They even offer wine with the lunch and dinner meal.
Each seat has a blanket, pillow, and ear buds for guests. If you want to work on the flight or watch movies, consider choosing a seat with no one in front of you. Our Boston to Lisbon aircraft had a very generous recline, great for sleeping but not for the person behind you if they're trying to work or watch a movie.
For transportation to and from Lisbon Airport, I'd recommend booking a private car transfer in advance. Having the car service set up means you'll have a driver waiting for you with a sign when you exit the terminal. They'll help grab your bags and bring the car around to drive you to your airport. It helps start your vacation smoothly and there's no stress about catching a cab or ordering an Uber.
Check out the Lisbon Airport Transfer options you can book with Get Your Guide.
Driving around Portugal could be tricky for visitors. They do drive on the right, great for Americans, however the streets are narrow and can be crowded. We relied on private car drivers and Uber during our time in Portugal and it really was worth the cost. Uber was widely available and our trip to and from Belem via Uber was affordable and way quicker than public transit. If you like public transit, there are train and bus services.
If you're planning to use Uber, sign up in advance with my code 'kimberlys3983ue' to get your first ride free!
Portugal Currency and Credit Card Tips
Portugal uses the Euro for their currency. This does mean it should be fairly easy to obtain in advance and if possible it's always best to see if your bank can obtain the currency for you before you travel. Buying euro at the airport is convenient but will come with a hefty percentage fee.
ATMs can be a great way to obtain cash when you arrive in Portugal. Before you travel be sure to check with your bank to make sure you can use your card internationally. Also ask about any fees that will be charged. Bank of America offers a partnership program which can allow you to withdrawal cash, however they also recently started charging a 3% fee, which makes the partnership less convenient.
Credit cards are widely accepted in Portugal; however, I do have a few tips for you if you want to use your card. First, American Express is not as widely accepted as Visa or Mastercard. I had two times where my Amex was not accepted and I had to use my Visa.
I recommend calling to set up a PIN for your credit card before you travel. If you plan to use any ticket kiosks at attractions you might need a PIN. In Sintra we tried to skip the long ticket booth lines by purchasing from an electronic kiosk, however it required a PIN code.
Language and Speaking in Portugal
Portuguese is spoken in Portugal which is a unique language and not to be confused with Spanish. Often, you'll see words that are very similar to Spanish, however many times they won't sound the same at all. Hello is similar, 'Olá' in Portuguese, very similar to Spanish 'Hola'.
English is widely spoken around the popular tourism areas of Portugal, like Lisbon, Cascais, and Sintra. Europeans travel frequently around their continent and conveniently English is a similar language they all speak, meaning American travelers can feel pretty comfortable traveling with little to no knowledge of Portuguese.
Of course, learning some basics always goes a long way towards traveling successfully in a foreign-speaking country. I recommend learning the basics of hello, please, thank you, and any food preferences/allergies/aversions.
There are many apps that make learning the basics easy, such as Duolingo and Rosetta Stone. Many of the language programs will be Brazilian Portuguese, which is extremely common but slightly different than Portuguese spoken in Portugal.
Knowing please and thank you with a kind smile can go a long way when traveling internationally.
Dining and Food in Portugal
Portugal is a seafood country, not surprising since half of the country borders the ocean. For traveling Americans (English speakers) dining in the major cities and tourism regions will be fairly easy. Every place we dined in Lisbon and our day trips from Lisbon offered English translation on the menus.
Breakfast in Portugal
Breakfasts in Portugal can often be included in some hotels. Most breakfast buffets in Portugal will contain a variety of food options. Hot food options such as scrambled eggs, bacon, and sausage, a yogurt and cereal bar, cold meats and cheeses, and a bread option including delicious croissants.
My note for Americans is that the scrambled eggs are served soft, so if you don't want them a bit runny, be sure to ask for well done or dry scrambled eggs. Also, bacon is more like ham and not the crispy bacon we are used to in the states.
Dinner in Portugal
Be aware of a few table service habits when you're dining at a sit-down restaurant. Your server will offer a bread and butter service but it will have a fee, often the price is listed on the menu. It's normally only 3-5, but the server will not state that when it's offered. Also, be sure to watch your wine glasses. Once your glass is empty your server might bring the bottle over and get ready to pour you more wine without asking.
Portuguese residents like to dine late, so be aware of this when you're thinking through you own reservations. They often prefer to eat around 9 pm, so when we were eating at 7 we'd often be some of the only guest and the restaurant had typically just recently opened.
You'll find that seafood is extremely popular in Portugal. Every restaurant that we ate at featured a lot of seafood. The fish are different that what we have in the states, but the menus typically describe the dishes well, or the servers can help describe the fish for you. I will say my favorite thing to eat was the garlic shrimp. Imagine shrimp scampi without the pasta and served in a hot cast iron pan. My mouth is watering now and I'm dreaming of fixing some garlic shrimp for dinner!
If you're a fan of desserts, there are two things you need to try while in Lisbon, Portugal. The first are the famous pastel de nata custard tarts. They're a popular treat that you can find all around the city, however all are supposedly based on the original secret Pastéis de Belém recipe.
Another must try that I was shocked to find is apple pie. But don't be fooled, this isn't the traditional American apple pie. It's almost like a tart and is served along with cinnamon ice cream. I absolutely fell in love with this dessert and ordered it anytime I saw it on the menu, a big deal for someone who isn't a huge dessert fan!
Rooftop bars are very popular in Portugal, especially the hilly city of Lisbon. A standard practice for residents is to head out for a drink before dinner at one rooftop bar, have dinner, then head to another rooftop for an after-dinner drink. We had a great sunset experience at the Park Bar, a hidden rooftop bar at the top of parking garage structure.
Tipping in Portugal
If you're wondering what to tip in Portugal you might hear a few different takes on the situation. It is a European country and most of the time tipping is not heavily practiced and when dining you often just leave some change or round up on your bill.
However, the influence of tourism, specifically American travelers, means many tour guides and transfer drivers will be expecting a tip. If you are going to tip I'd suggest 10%, but realize that some local restaurants won't even have a tipping line on credit card receipts. Having small Euro denominations comes in handy for these small tipping occasions.
Electricity Power Adapters
Portugal uses a 2 prong type F AC plug, which is different from the US and UK system. You'll need to purchase an adapter. Be sure to consider how many devices you might have that will need charging and buy enough adapters for each one.
Portugal also operates at 230 volts / 60 Hz, which is higher than the US and you might need a converter in addition to an adapter unless your devices allow for higher voltage. Most plugs will label the accepted charge, Apple iPhones are clear for up to 240V and 60Hz, so a converter is not needed.
Plug outlets seem to be more limited than what we're used to in the states, and each outlet will only be for one plug, not the traditional 2 ports that we're accustomed to in the US.
Safety in Portugal and Travel Warnings about Pickpockets
Portugal is actually the most peaceful country in the EU and the third most peaceful in the world. I felt very safe while traveling around Lisbon, however, there was one prevalent warning that I heard numerous times, watch out for pickpockets.
Pickpockets like to target popular tourist spots and often work in teams. Our guide pointed a few out and I was surprised to see they were young couples who looked like cute American tourist couples.
Be sure that you don't put any valuables in exterior pockets or easy-to-access bags. A few of my favorite safety travel gear are jackets from ExOfficio and a locking sling bag. You can also read this post about the best anti-theft bags.
I was shocked to see that tagging (spray-painted names) was prevalent on city walls. However, it's so prevalent that I don't think it's an indicator of a bad or dangerous area. Street art is celebrated in Portugal, especially Lisbon, however, they don't look kindly on tagging. It seems though that the city government doesn't care or invest in cleaning it up.
I'm sure like any big city there are probably problem areas where it might not be safe to travel at night, but a little common sense can go a long way. Speak to your hotel if you're planning to be out late, and don't wander into unknown areas late at night. Basic safety rules you'd practice in any major city can be practiced when traveling to Lisbon and Portugal.
Things to Do in Portugal – Lisbon
One of the things I hadn't known about Lisbon before visiting was that it's known as the "City of 7 Hills". While strolling around Lisbon it's actually surprising how much it reminded me of some areas of San Francisco. Especially when you see a cable car flying up or down one of their big hills.
These hills are important for tourists since it means that what appears close on a map can often be quite a journey due to the steep hill climbs. A four-block walk might seem like nothing until you realize that two of the blocks are uphill and the other two back down. Families traveling with little kids and babies need to know that these hills coupled with the cobblestone roads and sidewalks means Lisbon isn't the most stroller-friendly city.
But exploring the city by foot still does deserve a spot on your Lisbon itinerary. Here are a few ideas for things to do and ways to see the city.
Tuk Tuk Tour
Tuk-tuks are a popular transportation method for getting around, especially for tourists. You can book a tuk-tuk tour through an operator or hotel, or you could consider making a deal with one of the plentiful tuk-tuk drivers found near popular tourist destinations. You can also book in advance through Viator or Get Your Guide.
TIP: bring along a city map and have your driver help you circle and make notes about where you've gone if it's somewhere you might want to return. Many of the streets and lookouts have similar names and are hard to find again without knowing where you were.
Be sure to pack slip-resistant shoes if you have rain predicted for your visit. We had rain on our trip and it made the granite mosaic sidewalks and steps slippery like ice. One of our friends even took a nasty fall walking down a hill because the sidewalks were so slippery.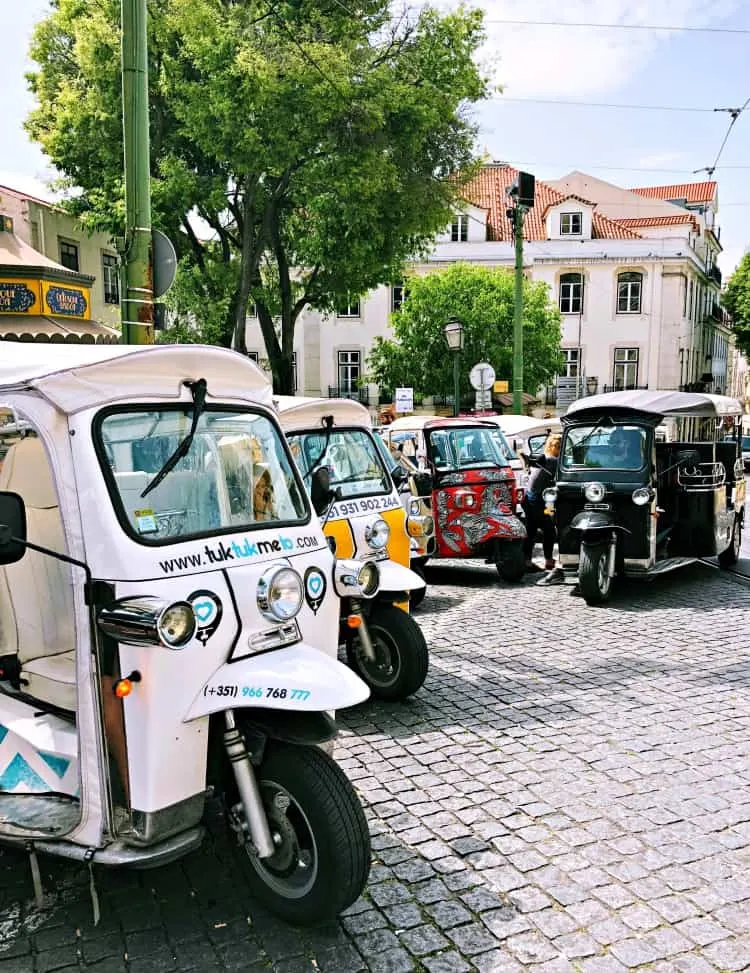 Explore Lisbon Neighborhoods
Chiado / Rossio / Baixa – This area could be considered the downtown portion of Lisbon. If you're looking for a good central spot to stay, this is an ideal neighborhood area to book. This is also where you'll find many tourist attractions and lots of shopping. Rua Augusta is a pedestrian-only street in Baixa that has a lot of shops and sidewalk restaurants.
Alfama – One of Lisbon's most famous districts, and a great example of the city's Moorish heritage. Unlike the wide boulevards and logical, grid-based street plan of the adjacent Baixa district, the Alfama district features narrow, wandering streets that zigzag around a hillside and can make navigation a bit tough.
Bairro Alto – This neighborhood is the popular nightlife district and where you'll find a lot of locals spending their evenings. It's not the place to stay if you like quiet evenings. If you need to find a restaurant or bar, this is the perfect area to head to.
We loved exploring the Lisbon neighborhoods via tuk tuk and on foot. For more information about some of the sites we saw, check out my travel partner Tamara's 3 Day Lisbon Itinerary post.
Fado Dinner Performance
Fado is a popular Portuguese musical style that has been shared for hundreds of years. After chatting with a few locals, we learned that currently it's performed mostly for tourists and not so much for the locals. The popular areas to find fado restaurants are in the Alfama and Bairro Alto districts of Lisbon. TripAdvisor has a great list of fado restaurants.
Our hotel concierge recommended O Faia and we booked a table for Saturday night. We liked the atmosphere of O Faia, but I do recommend you allow plenty of time for attending. Portuguese like late-night entertainment and fado performances can last for hours. At O Faia we were probably there for 2.5 hours.
Fado performances include dinner and a musical performance. Our experience had 2 guitarists, one played the traditional Portuguese guitar that features 12 strings instead of 6. Various singers sang emotional songs alongside the guitar music. In some ways it reminded me of the flamenco performance I've seen, but the focus is on the singing and guitars with no real dance involved.
Day Trips from Lisbon
While Lisbon has many great things to see, there are also a few Lisbon day trips that visitors should look into if they're craving a city break.
Sintra, Portugal is a mountainside region with beautiful castles and lovely grounds. Cascais is a popular beachside town near Lisbon that used to be an old fishing port. And Belem features the famous Jerónimos Monastery and what many consider the best and original example of pastel de nata, the delicious cream tarts famous in Portugal.
Where to Stay in Lisbon
I stayed at two properties while in Lisbon, Portugal as a media guest. I fell in love with both properties and can definitely recommend them as luxury hotels perfect for staying in Lisbon.
Martinhal Lisbon Chiado Family Suites
If you're traveling to Portugal with kids, Martinhal hotels are the ideal place for you to stay. Martinhal has 4 resorts and each of them are tailored for families. Their Martinhal Chiado location is ideally situated in the heart of one of Lisbon's most popular neighborhoods.
See photos and check prices at TripAdvisor.
Tivoli Avenida Liberdade Lisboa
Our other hotel stay was with the Tivoli Avenida Liberdade and was a true luxury experience. They had beautifully appointed rooms and stellar guest service. Breakfast is also included in your stay and those staying in suites have access to a private lounge and breakfast on their rooftop.
See photos and check prices at TripAdvisor.
I loved seeing the beauty of Portugal and experiencing some amazing things to do in Lisbon. I hope this post helps you prepare for your own trip to Lisbon, Portugal.
Please feel free to comment below if you have any questions. And don't miss my other posts coming soon on Day Trips from Lisbon and Hotels in Lisbon.