You don't have to be James Bond to vacation in Jamaica. It's the perfect Caribbean getaway for anyone looking for some sunshine and adventure. If you're ready to cook some jerk chicken, relax by the pool, and even bobsled down a mountain, then Jamaica is calling your name! Check out these awesome things to do in Ocho Rios, Jamaica.
Things to Do in Ocho Rios
Thank you to Visit Jamaica for partnering with us on this trip. All thoughts and opinions are based on our experience. Some links may be affiliate links and I might earn a commission if you purchase from my link.
Take a Chair Lift by the Ocean
On our recent trip to Ocho Rios, we spent one of our days at Mystic Mountain. This is a popular attraction near Ocho Rios and right by Dunn's River Falls. It's more of an adventure park with a few activities you can choose to do.
The first step to get to any of the activities is to ride their chair lift, called the Sky Explorer. You'll lift from the forest floor through the trees and coast 700 feet to the peak of Mystic Mountain. Along the way, you'll get some great views of the Caribbean Sea.
Once at the top you can tackle their new Annancy's Web ropes adventure course or try to reach the top of Reggae Rock. After you've enjoyed the activities at the top, it's time to figure out how you want to get back down the mountain, via zipline, bobsled, or both!
Bobsled Down Mystic Mountain
This is the premier attraction at Mystic Mountain and one of the things we were most excited about doing. However, we happened to visit while the bobsled track was closed because they were doing a renovation on the bobsleds. It was re-opening three days after our visit!
So even though we didn't get to try out the bobsleds, I think it's one of the best things to do in Ocho Rios. You might consider watching the John Candy movie, Cool Runnings, before your trip to get you in the mood for bobsledding in Jamaica!
Zipline Down Mystic Mountain
While we didn't get to bobsled down the mountain, we did get to zipline down! It was quite the adventure and probably some of the longest and fastest lines I've ever been on! There are 5 ziplines and a rope bridge on the course. If this is your first taste of zip lining be ready for a fast pace as the guides hook you on and send you off very quickly!
You're in the heart of the forest and sometimes as you're zipping through the trees it seems like you'll hit one of them. There's also an amazing zipline that gives you a gorgeous view of the sea off to your right, so be sure to enjoy the sights while you're flying through the air!
Hike Up Dunn's River Falls
This is probably the most popular attraction in all of Jamaica. Dunn's River Falls is a stream that drops down to feed into the ocean. The water of the stream is rich in calcium carbonate and overtime it has built up to create travertine terraces down to the ocean.
It's also nice that the water isn't too cold. I hate cold water and while it was chilly at first, it's actually a really comfortable temperature. Especially on hot days!
Guests have to pay an admission fee, $25 for adults, $17 for children, to gain access to the park. Once in the park, you walk down to the base of the falls, which also happens to be a golden sand Caribbean beach. Those who want to hike the falls can walk over to the falls and begin their climb up the approximately 180 feet (55 meters) falls.
Is Dunn's River Falls worth it? Absolutely. It's one of the country's most popular attractions, so you can't skip it in my opinion. The falls are also beautiful and nestled in a forest so it's quite scenic. The price can be a lot for a family, but I think this is one vacation splurge you should budget for.
Is Dunn's River Falls safe?
That depends. I hiked it with Mia, my 12-year-old, and we did great. I believe you have to be at least 3 feet tall to hike the falls, but I would not recommend it for little kids.
There are a few spots where the current is surprisingly strong, and you want a little bodyweight to help you stay planted when you're stepping into the current. I personally think it's best with kids age 7+, and adults who are nimble and have good motor ability.
Tips for Dunn's River Falls:
Avoid cruise ship days because the falls become packed with cruise ship passengers. If you're a cruiser, try to go as early as possible to beat the tourist crowds. Or if your schedule allows for it, go after 2 pm.
Wear water shoes or an old pair of tennis shoes that can get soaked. You want a good shoe grip. There are water shoes available to purchase for $10 in the park if you forget yours.
The Falls / Park closes at 4 pm, so be sure to plan your day accordingly.
Drive a Mud Buggy
On another one of our day trips from the resort, we visited Yaaman Adventure Park for a few adventures including a mud buggy driving tour. You can choose an ATV if you're an adult, but since this was a family vacation with Mia, we did a 2-passenger mud buggy. I actually love driving buggies, they seem a little more stable than ATVs and I love that both passengers get a front-row view versus sitting behind someone.
The tour heads out with about 8 mud buggies following a guide around the park. If everyone can keep up, the guide will really test your skills as he leads you around narrow rocky paths. Then he'll lead you to mud puddles and let each of you go at it full speed to see how messy you can get!
They also have a photographer who goes with you and takes photos along the way that you can then purchase at the end. Or pack a GoPro for the trip, you'll use it at most of the activities around Ocho Rios!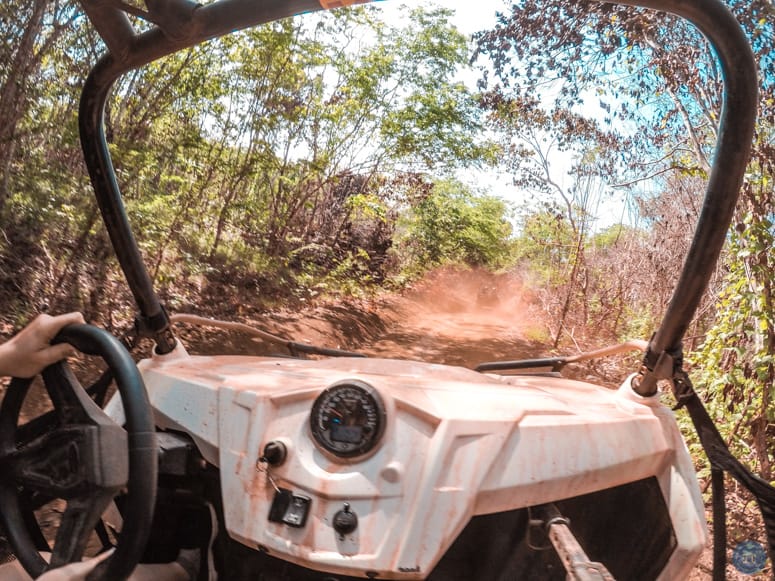 Tips for the Mud Buggy adventure:
Bring sunglass or eye protection/goggles. They don't provide any and you'll have some dust and mud flying at your face!
Bring a bandana to wrap around your nose and mouth to block the dust and mud from getting in your face.
Wear clothes that you don't care about. The dirt is pretty red and will be hard to wash out and won't allow you to wear the clothes again on vacation.
Take a Cooking Class
An activity that surprised us was the culinary tour cooking class at Yaaman Adventure Park. We took a jitney (tractor) tractor ride through the park to an old home on the property. After touring the lower level of the house and learning about the previous and current owners, you're led out onto the back patio where you're granted a breathtaking view of the sea.
It's on this patio where you'll be given aprons, hairnets, and gloves to get you ready to cook your lunch. You'll make jerk chicken, the national dish, callaloo, some rice with coconut sauce and another island specialty, festivals rolls, which are like mini donuts. It was actually a lot of fun and the food was delicious. The chef even shared some of his recipes with us!
All-Inclusive Resorts
The final thing that makes Ocho Rios the perfect spot for your vacation is the all-inclusive resorts in the area. Mia and I stayed at the Moon Palace Resort and had a blast. We want to return again with Paul & Lizzy so they can experience the fun and relaxation we enjoyed.
The Moon Palace has three amazing pools, with plenty of lounge chairs around the property. Kids will love the waterslide, splash pad, and the Flowrider surfing, Mia was sad to say goodbye to all the pool activities!
Plus, they have a nice sandy beach and ocean access. It's in a cove along Ocho Rios Bay Beach and is really enjoyable to swim and lounge in the sea.
I don't really enjoy oceans, but this beach area was great, and the water was clear and nice to swim in. Be sure to check out my beach packing list when you're planning what to pack!
You can also borrow kayaks and paddleboards if you're wanting to do some water sports in the sea.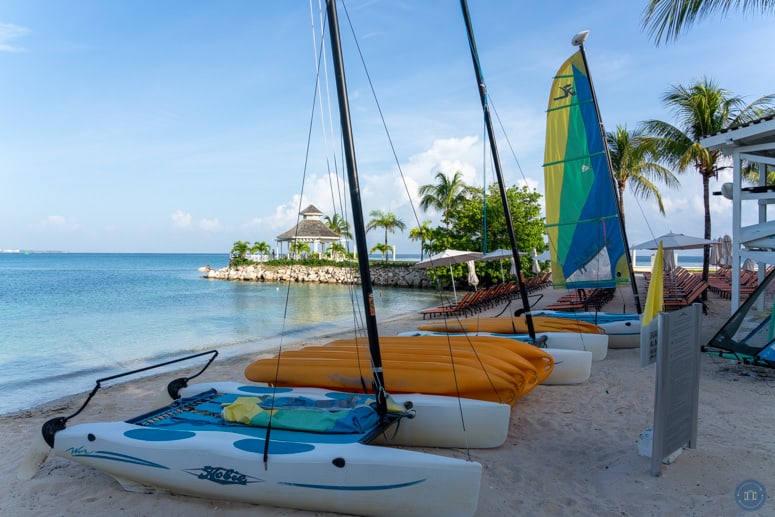 All-inclusive resorts also let you enjoy meals on the property, so you don't have to worry about where to eat or getting home late at night. We loved starting our day with breakfast at the resort, enjoying lunch out during our day trip, then enjoying dinner at one of the seven on-site restaurants, all included in our room rate.
Sun Valley Plantation Tour
One of the surprise activities for us was a plantation tour at the Sun Valley Plantation. When we arrived we watched as they split coconuts for us and we got to try fresh coconut water, jelly, and fruit. Mia was engaged right away and loved all the fresh fruit.
We took a tour around their property gardens and learned about each of the trees and some history of the island. It's amazing to know that so many of the Caribbean fruits we enjoy were actually brought in by British colonists.
We ended our tour with a plate of fresh fruit and their national dish of ackee and saltfish. If you enjoy fresh fruit and like learning a bit of history, definitely sign up for this tour
There are a few other popular spots around Ocho Rios that we didn't get to visit during our short stay, but I have on my list for a return trip.
Green Grotto Caves
Our driver pointed these limestone caves out to us as we drove past. He says they're amazing and definitely worth visiting on the island. There is a lot of history with the caves, which is actually in an area known as Runaway Bay.
But the main feature of this popular attraction is the large labyrinthine limestone cave featuring stalactites, stalagmites, ceiling pockets, and even bats! Green Grotto is 1,525 meters long and 12 meters deep. A picturesque blue, subterranean lake, Grotto Lake, is a photo op not to be missed.
Blue Hole
I wished we had more time in Jamaica because there are so many gorgeous swimming holes around the island, with Blue Hole being one of the most popular. Here's what my friend Rob had to say about Blue Hole:
Another great activity near Ocho Rios is the Blue Hole in St Anne's. From grappling along the edge of a rushing river to jumping off a 30-foot cliff, there are quite a few adventures to be had at the Blue Hole. Water shoes ARE REQUIRED! If you don't have any, you'll find roadside vendors along the way to purchase some for a few dollars.

Rob Taylor, 2TravelDads
White River
Another popular thing to do in Ocho Rios is to float along the White River. It's the perfect activity for cooling off on a hot Caribbean day! The trip down the river includes a bit of rapids but finishes with a relaxing float. You also stop halfway down where there's a fun rope swing into the water.
Luminous Lagoon
Jamaica is one of the only places in the world where you can find bioluminescent water microorganisms. This means when you agitate the water, the water glows.
You'll have to book one of the tours from the Glistening Waters Marina, where you'll head out into the lagoon once dark and then jump into the water to see the blue glowing happening all around you.
Shaw Park Gardens
If you're looking for a botanical garden, head to Shaw Park Gardens. This is a great spot to escape the crowds and the perfect spot for a picnic lunch.
Fern Gully
If you're looking for a gorgeous drive, head to Fern Gully. This winding road is a 3-mile long journey through the rainforest and the road is lined with towering large ferns.
Trip to Kingston for Bob Marley
If you have a music fan in your traveling group, you'll definitely want to plan a day trip to Kingston to visit the famous Bob Marley museum. He's a huge influence on Jamaican music and helped shared reggae music with the world.
Dolphin Cove
We're personally not fans of captive dolphin encounters, but I know many tourists are so I'm listing Dolphin Cove on this guide. It's located near Dunn's Falls and allows you to interact with dolphins. There are also other Dolphin Cove operations at some popular attractions and locations.
Ocho Rios Travel Tips
Montego Bay is probably the best airport to fly into. The Montego Bay airport is about 1½ hours away from Ocho Rios. Kingston is about the same distance away via the new highway, but that comes with a high toll price.
Jamaican's drive on the left and the roads can be narrow. I highly recommend booking a private driver or tours for your airport transfers and excursions. We had a private driver, Jermaine Marsh with Paradise Travels in Jamaica, and he was fabulous!
Ocho Rios is a cruise port, so expect crowds at popular spots if a ship is docked. I recommend checking online or asking your hotel which days cruise ships are expected to be in port. If you're a cruiser yourself, know that you'll encounter crowds at popular attractions.