Is your family headed to Orlando soon and you're looking for a great spot to stay? Today I'm sharing about our recent stay at the Lake Buena Vista Resort Village & Spa, and why it works for families headed to Florida.
Lots of Space
One of the reasons we loved our stay at the Lake Buena Vista Resort Village & Spa was the space we had in our room. It's amazing how quickly your floor space can shrink when a whole family's suitcases and carry ons get placed around a standard hotel room.
Our room at the LBV Resort was a true suite, much like a condo or apartment rental. It's good to note that this hotel is a timeshare property, but unlike other timeshare properties I've been at, we weren't met with any high pressure sales tactics. We had a separate hotel check-in desk and were treated the same as any other hotel check-in.
The two bedroom suite we stayed in featured a dining area, living room with a sleeper sofa, full-size kitchen, washer/dryer, and two bedrooms. This YouTube video below is a walk-through of our two bedroom suite. One bedroom featured two double beds and a full size bathroom just across the hall. The master bedroom featured a king-size bed, a soaker jetted tub, as well as a large walk-in shower. Plenty of space for a large family, or a family that just wants extra space.
Near Walt Disney World and Universal Orlando
There is so much to do around Orlando, and the LBV Resort Village is situated a bit outside of the main Disney district, making it convenient for avoiding crowds and having easy access to the highways. It's still extremely close to Walt Disney World, and offers a shuttle to the parks as part of your resort fee. We had our own vehicle, so didn't test the shuttle service. The location was very convenient for our visit over to Universal Orlando.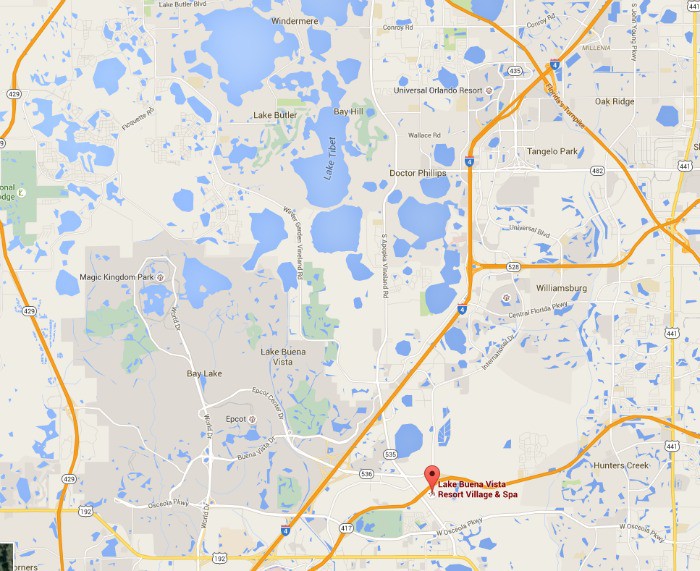 The Pool & Grounds
One of the best parts of this resort is the Pirate Plunge Pool and the well-kept grounds. We felt that the building exteriors looked fresh and welcoming, and the grounds were beautifully landscaped and maintained. The pool was every kid's fantasy, and I was impressed with how clean it was. There are some added amenities like two nearby food spots, an Irish pub/grill and a Pizza Hut, a game arcade, as well as a 24-hour convenience store.
I would recommend the Lake Buena Vista Resort Village & Spa to families looking for some extra space and who don't want to stay in the heart of the busy Disney scene. It also seems like a great spot for vacations with extended family or large families.
If you're interested in renting a home for a large family, check out this Orlando vacation home near Disney. And there are also other great hotel pools and Orlando waterparks and plenty of Orlando hotels to find the perfect home away from home for your vacation.