We just returned from our four-night stay at the Jamaica Moon Palace All-Inclusive Resort, and I can't wait to share about our stay. Mia and I wished we could have stayed longer and talked about definitely planning a return trip with Paul and Lizzy. The resort is perfect for families, couples, or girlfriends looking for a safe and relaxing all-inclusive resort in Ocho Rios.
We partnered with Visit Jamaica on this trip. All thoughts and opinions are my own based on our experience.
Location
If you're looking for an all-inclusive resort in Ocho Rios, Jamaica, Moon Palace should be on your list. The Moon Palace Jamaica Resort is located next to the main city of Ocho Rios. The resort sits along the cove of Ocho Rios Bay Beach. It's also a great location for visiting almost all of the popular things to do in Jamaica.
You can reach the resort from the Montego Bay Sangster International Airport in about an hour and a half (could be a little longer depending on traffic). You could also fly into Kingston Airport, however, there is a high toll fee on the new highway between Kingston and Ocho Rios so you might find it more expensive for transfers.
The resort does have gated access and it's located on a peninsula of sorts, so it's quite private. I enjoyed the extra security and loved that the resort felt safe – it made me feel that it's a great resort for a family vacation.
Check the resort rates for your vacation
Jamaica Moon Palace Pools
Probably our favorite thing about the Moon Palace in Jamaica is the pools. They're gorgeous and spread across the whole property. There are four pools around the resort, and each has a bit of a unique feature or appeal.
One of the pools is located on the left side of the property near the Pier 8 restaurant. This pool seems to have a bit of an adult and quiet feel. There's also a part of it that goes under a bridge and wraps along the side of a restaurant, which Mia really loved.
Another pool is located in the center of the resort and seems to be one of the most popular spots. It also has a swim-up bar, which seemed to appeal to adults and kids.
Unlimited drinks are one of the big perks for staying at an all-inclusive! Mia loved the kids' strawberry daiquiris. And we both appreciated that they use paper straws!
On the right side of the resort, there are two more pools, one is pretty basic, but does feature a small waterfall ledge. The other pool seems to be the most popular for families, probably because of its great corkscrew slide! There's also a splash pad play area nearby that's perfect for little kids.
FlowRider
Aside from the fabulous pools, the Moon Palace Ocho Rios Resort features a Flowrider onsite. This is included as an all-inclusive activity and Mia loved giving it a try. The staff was great at helping her get started and she managed to bodyboard a few times. It's also a fun place to people watch, some talented surfers can really put on a show.
Rooms at the Moon Palace in Jamaica
There are a few room types at the resort most of them have a water view. We stayed in an Ocean View with Balcony room on the top, 15th, floor. I loved our view, but we were at the very end of the hall, which was the farthest away from the beachside of the resort.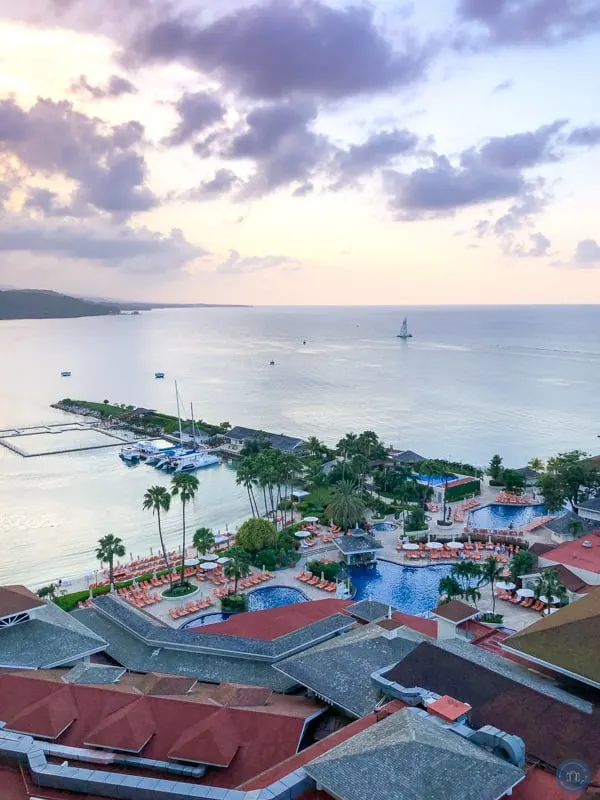 All rooms have a clean coastal feel with a lot of marble and white linens. All rooms a come with a small fridge stocked as a minibar with non-alcoholic beverages and a couple of beers. We also had a small table and two chairs. There's also a large flat-screen tv and you can make free phone calls to the US and Canada landlines (no cell numbers).
There are three towers of rooms, we stayed in the South Tower (2), which is the tallest and the main building attached to the lobby. There is also a Cabanas Tower (1) near the South Tower which is for vacation club members and a North Tower (3) which is closer to the kid's areas of the resort.
The bathrooms all have a CHI hair iron, blow dryer and bath amenities. The CHI toiletries are large in size and you're provided standard hotel shampoo and conditioner for replacement later days. I believe all rooms only have showers; the Presidential two-bedroom suite is the only room type with a bathtub. There are also two bathrobes and two pairs of slippers in the room, along with a safe in the closet.
I will mention that it took forever to get hot water to come through our shower, and even when it did come it wasn't very hot. I'm not sure if this is part of staying on the top floor, or if it just takes a long time. I would turn the shower on full hot and wait for about 5-10 minutes then go jump in.
If you're looking for quieter rooms, definitely splurge for an ocean view room – the rooms that face the opposite side (towards town) can have some loud music and noise late at night. I felt the South Tower ocean view was an excellent room location; although the elevators could be a little slow and crowded at times.
Moon Palace Jamaica Restaurants
There are seven restaurants on-site, and all are included as part of the all-inclusive.
Boulangerie
This is a 24-hour café that offers lobby coffee as well as espresso coffee drinks and lots of treats. You can get macarons, tarts, ice cream, crepes, and chocolate, whatever you're craving! There's a little seating area of comfy chairs here too, and it seemed like a popular spot for families after lunch and dinner. They also serve sandwiches for lunch.
Buccaneers Reef
This is the buffet restaurant at the resort and one of two places you can get breakfast. We had breakfast here every morning of our stay and fell in love with dining outside. They have a few tables outdoors near the pool and it's a lovely way to start your day. The buffet isn't large but has enough options that everyone should be able to find something they'll enjoy.
Gondola Restaurant
We ate here twice during our stay and enjoyed the experience both times. This is an Italian restaurant and I loved the bread and olive tapenade they serve as an appetizer. If you're a fan of Italian dishes, you'll want to get dinner here.
Gourmet Corner
This is a lobby restaurant that serves pizza and sushi for lunch and dinner and smoothies in the daytime. We stopped in one night for pizza and Mia wasn't a fan, so we decided to head to the buffet to finish dinner. The sushi spot seemed popular, but we didn't eat there.
Pier 8
We didn't have the opportunity to eat at this restaurant, but the location is wonderful. We realized too late that they serve an a la carte breakfast here as well as at the buffet. It's an open-air restaurant with a roof that sits near the quiet pool and the beach. It would be the perfect spot for a sunset dinner if you can get a table facing the water. They have a seafood-focused menu.
Restaurante Momo
If you're looking for Asian food and love hibachi grill restaurants, make a reservation for Momo. You'll need to make a reservation right away since there is limited hibachi grill seating. If you just want Asian food, you can dine at some of the free-standing tables in the restaurant that aren't part of the hibachi grill experience.
Sundeck
This is another restaurant we didn't get to eat at, but it's on the water and would be another ideal spot for sunset. It's another Italian-focused restaurant serving pizza and pasta.
24 Hour Room Service
You can also get room service 24 hours a day as part of the all-inclusive options. We did this on our final morning since we had to leave at 7 am and that's when the buffet opened. We ordered the night before and our breakfast order was delivered right on time and everything was correct, and the hot food was still warm.
Bars
There are also six bars at the resort, including two swim-up pool bars. There's also a night club called Noir if you're looking for some late-night adult clubbing.
Food Allergies at Moon Palace Ocho Rios
My daughter, Mia, has severe allergies to nuts and eggs, so traveling internationally is always a bit more complicated with her. However, we were really impressed with how Moon Palace handled her allergies. We stopped by the concierge desks on our check-in and were provided a food allergy alert card for Mia.
Each time we dined we were instructed to bring this card and show it to our host(ess) and server. With dining at the buffet, each morning she was able to meet with the chef and they prepared a special plate for her from the kitchen so there weren't any cross-contamination risks.
The Boulangerie staff even went above and beyond by specially ordering Mia some vegan strawberry ice cream for her to enjoy during her stay. We were both really impressed with everything the Moon Palace did to make sure she could enjoy dining with them and eat safely!
Dressing for Dinner
The majority of the resort is casual, you're just asked to wear a shirt and have no wet clothes (swimsuits). However, if you're planning to eat at Momo or Gondola, you'll need to dress a little nicer. They recommend long pants, collared shirts, and closed-toe shoes.
Beach & Water Sports
I loved the private beach at Moon Palace. I'm not a big fan of the ocean, but the water was so calm and clear that I felt good walking around in the shallow area. There is some coral, so you might want to wear water shoes, however, the water is so clear, you can really see where you're going. I also loved that there wasn't a lot of plants or seaweed.
You can borrow top-sitting kayaks and paddleboards to take out into the sea or ask for a ride on one of the small sailing catamarans.
There is also a Scuba Caribe Dive Shop at the resort.
Moon Palace AWE Spa
The world-class AWE Spa at the Moon Palace is a highlight of the resort, and I think you should definitely budget for a treatment. I had a simple holistic massage that was 50 minutes. If I was going to go again, I'd chose a different treatment as I felt the holistic massage was a bit lighter pressure than what I prefer.
But the highlight for the spa is their amazing water journey that is part of your service. They ask you to arrive at least an hour and a half before your appointment to enjoy this experience. The journey starts with a dry sauna, then you move to an ice room, and after a short rest in a warmed lounger, you move to a steam room. You end your journey in their beautiful hydrotherapy pool.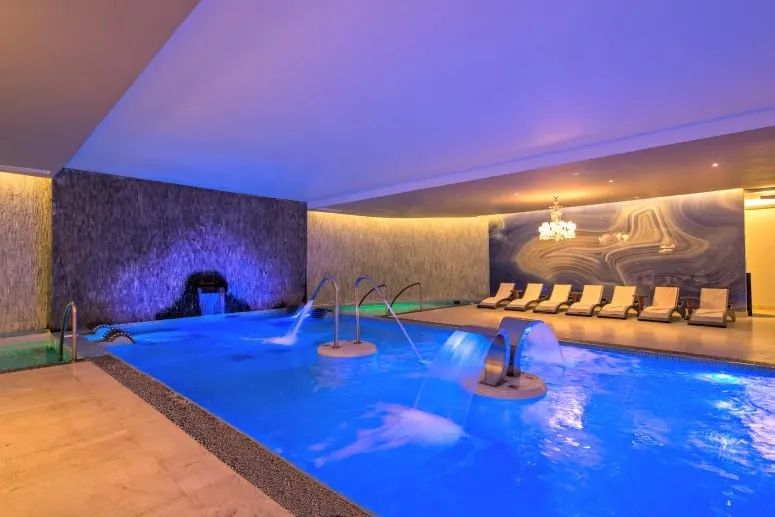 After your water journey experience, you're led to a lounging room to wait for your technician. It's the same room you return to from your treatment. The treatment rooms (at least mine) was soothing and comfortable.
Do note that kids under 18 years old are not allowed to do the water journey experience, and kids under 16 can't have a body treatment. However, they are able to enjoy the salon, and Mia got her nails done and half her hair done in braids.
Kids Clubs
There are two kids' clubs on the property, The Playroom is for kids age 4 to 12, although younger kids can visit with adult supervision. There's also a teen club called Wired, however, the one night Mia went to go check it out she said it was full of little kids and parents. So, it seems to be a flexible space and not necessarily for teens only. Wired was a space with lots of arcade games and an air hockey and foosball table.
Fitness Center
I didn't' have time to visit the Fitness Center, however, it looked like a nice modern space right next to the central pool. The equipment all looked new and they have daily fitness classes as well. I think they even do yoga on the beach!
Additional Info About the Moon Palace Resort
WiFi
There is free wi fi throughout the Moon Palace Jamaica Grande Resort and it worked great for us all the way from our room on the 15th floor, to the hot tub near the beach. I was even able to stream a movie and had no problems uploading photos and videos online.
Leaving the Resort
We had dinner with one family who mentioned they walked into downtown Ocho Rios and that it was not a good experience. Based on other reviews I've read it seems the area can attract some opportunistic individuals who are looking to hassle tourists and try to make some money.
I'd recommend arranging a private driver, tour, or have the resort order you a taxi if you're looking to get off the resort.
Read my post about all the amazing things to do in Ocho Rios.
Wristbands
You're provided a plastic wristband at check-in. This wristband works as your room door key and different colors mean different things. VIP guests have black bands that allow them access to private cabanas at the beach. The big thing to know about these wristbands is that they're worth money and you HAVE to have it removed by the hotel at check-out.
If you lose your wristband, they can charge you $290 a night for the rest of your stay. If your wristband is loose or uncomfortable you can stop by the front desk for a replacement, but don't lose it. I believe part of this is to prevent people from re-selling wristbands.
Day Passes
They do offer day passes if you want to visit the resort between 7 am and 11 pm. The cost is $290 per adult and $229 per child.
Gift Shop
There is a gift shop on-site with a lot of various items you might have forgotten on vacation. However, do recognize that the prices are at a premium.
As I mentioned earlier, we absolutely loved our stay at the Moon Palace in Jamaica. We look forward to planning another family vacation to the resort, this time with the whole family!