Are you ready to get slimed? As a true child of the 80s, slime was on my mind as I headed to the Nickelodeon Resort Punta Cana. Mia and I headed off on our very first solo mother and daughter trip. It was a long trip from Seattle to Punta Cana, the longest domestic flight in fact. But we did it, and now I'm excited to share my review and tips for the new Nickelodeon resort. I was hosted at the hotel to facilitate this review.
This post is your ultimate travel guide for the Nickelodeon Resort, so it's packed full! Use the table of contents to jump around to the information you're looking for, or read the full guide all at once. You can also PIN this guide for future reference.
First, check out this video of how much fun we had on this family vacation! Keep in mind you'll have to adjust the volume to hear the music.
Transportation To the Nickelodeon Punta Cana
Let's talk flights. You're going to want to fly into PUJ, Punta Cana International Airport. On your arriving flight you'll be given customs forms. Unlike the United States, you have to fill out a form for each person. When you arrive, you'll follow the paths to the Immigration area. Now you're going to need to go through a few sections in processing.
First, you'll line up and pay the required $10 USD per person entry fee. This is official, and you'll receive a receipt. Next you'll go into another line up to be cleared by an agent. After this last check point, you can put away your passports and grab your luggage at the pick up point. Upon exiting, you'll end up outdoors with multiple tour operators, car rental, and taxi stands around the area.
Nickelodeon has a partnership with Nexus tours, so I can recommend that you book your airport transfers with them. Their check in desk is not in the initial area you exit into when you leave customs. Instead you turn slightly to the left and they're about three-quarters of the way down on the left. You'll notice their signature orange colors. Once you check in there, you'll be loaded into a van. And hey, the vans have wifi!
The drive to the Nickelodeon Resort Punta Cana is about 45 minutes from the PUJ airport. It's good to note that we did not see a bathroom through the full process of customs, nor at the exit. We had to ride an elevator to the check-in level of the airport to reach the bathrooms (baños).
TAKEAWAY TRANSPORTATION TIPS:
Be sure you have $10 USD per person CASH to pay for entry to the Dominican Republic
Nexus Tours is the onsite Nickelodeon Resort partner for transportation.
Consider using the bathroom on the plane before landing as I saw none available during the border entry process.
Remember the transportation time from the airport to Nickelodeon is 45 minutes. If you need the restroom before leaving, you'll need to go down to the departures level.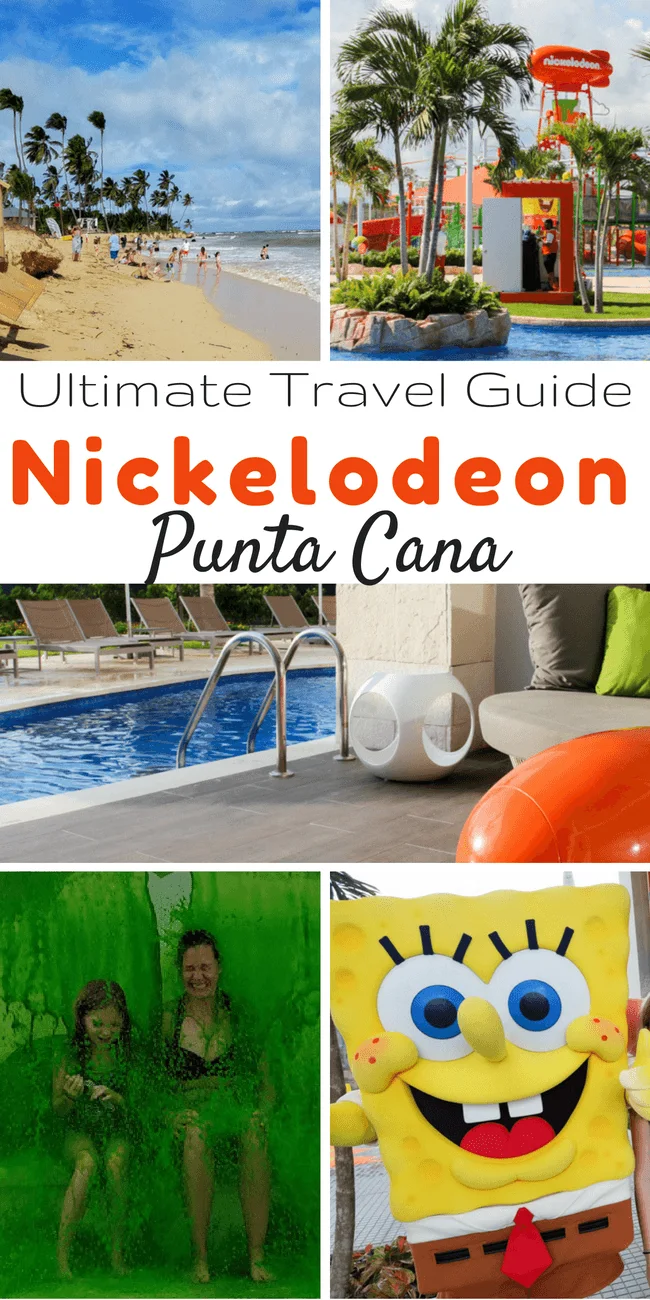 Rooms at Nickelodeon Resort Punta Cana
There are a few room options for families at Nickelodeon Punta Cana. There are three basic room layouts, and each of those offer a swim up suite option. And, there are luxury options beyond basic rooms, which are the villas. All rooms feature balconies and gorgeous marble baths with deep, freestanding tubs.
The three basic levels of rooms are the Pad Suite, the Flat Suite, and the Swank Suite. Those rooms will be balconies. Now, add on the "Swim Up" to each of those three rooms to get the balcony and pool entry option. The Pad Suite can work for a variety of family sizes, up to two adults and three small children. The room features a king bed or two double beds, and a pull-out sofa. For the Pad Suite rooms there is no separated sleeping area.
The Flat Suite is the room we stayed in (go back to section one and watch the video for the room tour). It features a master suite room which can be closed off by slider doors, and a living room that feature a sleeper sofa and a long dining bar top.
Swank Suites are all found in on the outside corners of the buildings. They feature larger wrap-around balconies (Plunge Pool on balconies) or patios with resort pool entry (Swim Up Swank). Swank suites have a master bedroom and sleeper sofa, plus a four-person dining table.
Staying in a Swim Up suite was one of Mia's favorite parts of our vacation to the Nickelodeon Resort. She took late night swims before bed, or afternoon jump ins. I sat on the patio lounger and reading while she played. Each building features the connected pool, so all lower level rooms are swim up suites.
If you want the full Nickelodeon SpongeBob experience, book The Pineapple. A private pool villa with an entry atrium shaped like the famous SpongeBob pineapple. The interior is surprisingly luxe with very little SpongeBob decor except in the entry and upstairs kids room.
The Pool Super Villas and The Pineapple both are almost 2,300 sq ft of space and feature a 2-level, 2-bedroom/3-bath layout. Each has a private outdoor pool, outdoor shower and bath, butler service, and upgraded amenities, most notably L'Occtaine bath products.
Nickelodeon Hotel Layout
Something I had not realized until arriving is that the Nickelodeon Resort Punta Cana is a shared resort property. The property was built in partnership with a Sensatori all-inclusive resort. As you arrive on property there are two dedicated lobbies, Sensatori and Nickelodeon.
I believe this layout and partnership is actually optimal for traveling families. It means that half of the guests are not as "kid-focused" as the Nickelodeon brand guests. In my mind this means the resort is sharing all amenities except for the Nick Place kid area. But, the whole resort was built together, meaning everything looks cohesive. I didn't even realize the resort was a shared facility until my press tour.
The main resort layout is fairly linear, with the beach at one end and the Nick Place (waterpark) at the other. A main walkway runs the whole way, with Sensatori being on one side of the walk, and Nickelodeon on the other. I'm including the resort map (two pages) for your information so you can better understand the layout. Don't be overwhelmed. From the beach to the Nick Place (opposite resort sides) the walk takes about 10 minutes.
It is worthwhile to consider where you are most likely to spend your time, and make a room request for buildings near that area. Are you a beach and pool lover? I'd recommend requesting Building 1 or 2 (32 and 33 on the map). If you're all about the food or plan to spend a lot of time at the kids' club or waterpark, then request buildings 3 or 4 (34 and 35 on map).
Note that the grey areas on the map are the Sensatori areas. Nickelodeon guests can eat at their Lighthouse Buffet restaurant, but there are areas exclusive for Sensatori guests, just like Nick Place is exclusive for Nickelodeon hotel guests. Generally all restaurants and public spaces are open to guests of both resorts.
While we walked almost all the time, there are golf cart shuttles running along the main walkways regularly. At the time of our visit, they were in the process of building "shuttle stops" along the main walkways.
TAKEAWAY ROOM & RESORT TIPS:
Pick the room with the best layout for your family, Pad Suite, Flat Suite, Swank Suite, Pool Super Villa.
Decide if you want the swim up option (lower level) or balcony (2nd or 3rd floor).
Make a request for whichever of the four buildings is closest to your priorty, beach vs waterpark.
Walking from end (beach) to end (waterpark) of the resort takes about 10 minutes, but golf cart shuttles are available.
Nickelodeon Resort Punta Cana Dining Experiences and Restaurants
Gourmet Inclusive is the name Karisma uses to title their all-inclusive experience. You'll find eleven dining restaurants on site, with varying operating times. Reservations are required for dinner at most restaurants other than the buffets.
Sugarcane (breakfast & dinner) – buffet (Karisma calls it "Food Displays") style restaurant. We ate here for breakfast every day. It features some great local foods, an omelet bar, massive fruit station, and cold cereal options. If you don't need a lot of personal service, take your food upstairs to their awesome loft. Many don't go here and I think the decor is fab, plus it's a bit calmer. TIP: they have dry cereals here which can be great to grab for kid snacks later in the day!
Doppio (morning & afternoon) – this is the onsite coffee shop. They also serve fruit and baked goods in the mornings, and wraps and such in the afternoons. Good for grabbing a little bite and your favorite cafe drink. Kids can get milkshakes here too.
Zest (breakfast & lunch buffet, al a carte dinner) – another buffet option. This one is right by Building 1 and the beach. It's definitely a smaller eatery, with less options that what they have at Sugarcane. This is also where the character dining experiences happen. You can book the Teenage Mutant Ninja Turtles Breakfast (Saturdays – $25 adult/$17 kid) or the Pajama Jam Nick Character (including SpongeBob SquarePants, Dora the Explorer and Paw Patrol) Breakfast (Sundays – $35 adult/$27 kid) for an added fee.
Lighthouse (lunch) – buffet style with lovely open-air beach dining area.
Fresco (lunch) – one of their swim up bars and quick dining with a seafood focus.
Aqua Bite (lunch) – kid-friendly outdoor eatery located at the Nick Place Aqua Nick waterpark.
BRGRS.PH (dinner) – one of our favorite spots. This restaurant has some great appetizers and fries, plus yummy and unique burgers. The decor is great, and even features a food truck inside, where all the meals are cooked.
SPACEWALKER (dinner – reservations req) – definitely an experience. This restaurant feature "interstellar cuisine" and an over-the-top decor. I ordered a salad and the lettuce was hand picked from a growing box brought to my table. They also feature a signature dessert that is a chocolate ball that flowers open at your table as the server pours melted chocolate on top.
Wok Wok (dinner- reservations req) – an Asian fusion restaurant. Features a lot of fun food options, including a good kid's menu.
Verdello (dinner- reservations req) – Italian themed restaurant with great decor.
Kitchen 23 (exclusive add-on dinner, adults only- reservations req) – for true foodies, you can book to eat at Kitchen 23 for a culinary art experience. There are two surcharge options depending on the number of courses meal you choose.
You can also order room service, as part of the all-inclusive experience. I will say that the food is better than some all-inclusives I've stayed at, but still has a little bit further to go before being a stand out in taste. However, the menus are all fabulous, and the dining experience overall is enjoyable.
Dining with Allergies at the Nickelodeon Resort
As a traveling food allergy family, food safety is very important. Nickelodeon has definitely made a great effort at addressing guest with food allergies. At each restaurant when you check in they ask if you have any allergies.
The Sensatori-based buffet restaurants (Lighthouse and Sugarcane), have food tags that have allergen labeled information. Of course, buffets are always the worst enemy of individuals with food allergies.
I have a few recommendations for how to handle dining if you have an allergy.
Buy food allergy translation cards in Spanish, or make your own. Mia has a nut & egg allergy, which I wasn't sure was being properly understood. I used my smartphone and google to determine the Spanish translation for nuts and peanuts (I remembered egg from my college Spanish).
Looking back I would now probably request to speak with the chef directly at each restaurant. If you don't want to do that, reinforce the allergy THREE times: 1) at check in to the restaurant, 2) when you place your order with the server, 3) when the food is brought to your table.
And of course, don't forget to add your epipen and antihistamine to your packing list!
Overall we felt that Mia's allergy was taken seriously and handled well. Our best experience was at BRGRS.PH. Both times she at there they were very aware of her allergies and checking each dish and it's preparation and talking to us about any issues.
Our one bad experience was at Verdello. Mia ordered a pasta dish and when it arrived I confirmed there were no nuts or eggs. The server said, "it's ok". She had just taken a bite when he came back over with the chef and said, "no, stop". Thankfully it was an egg allergy issue which isn't anaphylactic for her, but still, not good. The chef was able to quickly offer safe food options for her that he could bring quickly and our evening was fine.
Things to Do at the Nickelodeon Resort in Dominican Republic
So many great options on site for families to take part in and create memories.
Nickelodeon Resort Beach & Pool
Nick Punta Cana sits on Uvero Alto Beach. It is a nice, sandy beach perfect for strolls along the ocean and wave play. If you love ocean sports, Nexus tours has a beach hut on site for water sport rentals. Another feature at the Nickelodeon Resort beach are the balinese beds. These are plentiful and beautiful, and free for guests to reserve. Next to the beach is also a lovely infinity pool with lounge chairs.
Aqua Nick Waterpark
Families will most likely be spending a lot of time at the Aqua Nick Waterpark. This area features a large splash play zone with slides and the large tipping water bucket. There's also a lazy river that circles around the splash play zone.
This is also the spot where you can get slimed! There is a mass sliming that occurs daily (3 pm during our visit) where the large water bucket fills with green water that is tipped down upon all the guests. It even turns the water green for a short time. The coloring is environmentally safe according to the resort, and rinses right off your body and swimsuit.
For families that want a more personal sliming, you can pay and book a private slime. It costs $50 USD and is for up to 4 people. After a coreographed dance number, your family will be called up to sit along a bench that is next to the waterpark. A short countdown is given and then the door is pulled and down drops the dark green slime. This slime is slightly different than the waterpark mass sliming water, but still safe and easily rinsed off. They encourage you to rinse off in the pool!
Nickelodeon Place
This is actually the separated area of the resort that houses most of the "kids" activities. Here you'll find the Just Kiddin' Kids Club, one of Mia's favorite spots at the Nickelodeon Resort. Here parents and drop off their kids ages 4 to 12 for fun activities. There's a slide and ball pit, plus numerous play areas. But each day also features structured craft and cooking (snack) times.
Character Central is another area at Nickelodeon Place. Here is where many of the character meet n' greet opportunities occur. However, I will say that we never saw caracters in the Character Central building. Instead the meet n' greets occured outside around the Nickelodeon Place main entrance area.
Nickelodeon Place also features the Aqua Nick dining spot, and a shopping store called Knick Knacks. One word of warning, you have to walk through Knick Knacks to get in and out of Nickelodeon Place.
Sports Hub
The sports hub is probably the area that Nickelodeon put together for teens who have aged out of the kids club. It's the farthest building away from the beach, so at the complete end of the resort. The inside building features couches with games on tv, and an Xbox gaming console, plus a pool table, ping pong table, and snack fridge.
Outside are multiple sports courts, and equipment can be borrowed from the Sports Hub attendant. Mia and I enjoyed spending some bonding time here playing pool and a terrible game of tennis. She wanted to do some archery, but we learned that's only offered as part of the daily class.
Vassa Spa
If you're looking for some relaxation, or a way to pamper your kids, Vassa Spa is ready for you. They offer a full menu of spa services, including some great day spa facility amenities (for adults only). I booked Mia a massage for a birthday gift, and she loved it. After checking in you're escorted to a relaxation room where a heat pack is place on your shoulders while you rest on a lounger. Then you're escorted to your room and after your treatment back to the relaxation room to finish out your time.
Adults have access to a sauna, steam room, whirlpool, and bubble baths. There are many package options, including special services for kids and teens, as well as some couples treatments in case you decide to drop the kids off at Just Kiddin' while the grown ups spend some time relaxing.
Daily Activities Guide
One thing to note are the activity guide sheets that are available for guests. These are given to you at check in, but also are placed inside wall holders at a few places around the resort. There are three activity sheets, and they are the full weekly schedule.
One sheet is the Just Kiddin' activities, showing what times certain things will be happening at the kids club, as well as open/closed times. Another sheet features all the great Nick Entertainment family fun activities, like Mass Slimings and Character Meet and Greets. And the final sheet features more of the fitness and group play activities, like Tai Ci and dance lessons.
Packing Tips for Nickelodeon Resort Punta Cana
When figuring out what to pack for Punta Cana, you need to consider a few things. I'll quickly run through a short list of what I think you need to remember to bring for your family vacation.
Sunscreen – you're approaching the equator and the sun can get hot. The resort does have sunscreen available at their gift shops, but you'll pay a premium price on site. Best to pack plenty, and don't be scared to reapply often!
Flip Flops – whether you're walking around the resort, or along the beach, flip flops are a must. Another great reason to pack flip flops is in case of a tropical rain, you can still walk around and not worry about your shoes getting wet.
Swimsuits & Swim Gear (goggles, etc) – this is a given.
Sun Hat – the sun is strong in the DR, so packing a hat to keep the rays off your face is always a good idea.
Clothing – the dress code for the resort specialty restaurants is resort casual, or what they term "casual elegant". Nickelodeon gives these directives; ladies: Capri pants, dresses, skirts, long pants, shoes, dress sandals; gentlemen: Long pants, collared shirts, dress sandals, casual shoes, dressy or formal Bermuda shorts. Overall the resort has a very casual feel and we dressed in the kind of attire we'd feel comfortable wearing to a simple church service.
Waterproof Camera / Waterproof Case – the Aqua Nick waterpark will certainly offer up some great family fun photo ops, so be sure to bring a waterproof camera or case. This also works well if you have a swim up suite.
Low Denomination Cash – beyond remembering to pack the $10 USD per person for your country entry fee, also be sure to pack some cash for tipping. While the resort is all-inclusive, there is a "at your discretion" tipping policy. You'll be given personalized service at check in and check out, plus perhaps other times, so you want to be equipped to tip. You can exchange your USD into Dominican Pesos at the resort check in desk, but you might prefer instead to just have some singles or fives available for easy tipping.
Worried about Zika?
I will say that I was a bit concerned about Zika when we were planning our trip to the Dominican Republic, but a few considerations put me at ease. We're at a stage where we're not planning additional pregnancies. The largest threat of Zika is for women and men who are reproducing.
Zika is a virus, like a cold, so my research led me to believe that even if Mia or myself got it, we'd be just fine (neither of us have immunosuppression issues). That didn't mean I wasn't prepared to limit and try to prevent mosquito bites, so I packed plenty of bug spray.
However, we barely even used it. I suspect the resort is enacting their own unseen measures to curb the mosquitos. I can HONESTLY say that I don't think either of us received even one mosquito bite. And trust me, I'm a target for mosquitos normally. I'm sharing all of this as a mom because I was initially worried, but can say that I would return in a heartbeat. If you're worried, you can always talk to your doctor about what would be best for you and your family.
Travel Tips for the Nickelodeon Resort Punta Cana
Language – Spanish is the spoken language in the DR, however many tourist operators and resort staff speak some English. I highly recommend using this trip as an opportunity to work on learning a bit of Spanish on your own, and with your kids. Duolingo is one of the favorite apps our family uses to help learn some foreign language words.
You can also see about getting some great Spanish books and tv shows from Amazon or your library.
Health – It is NOT safe to drink the water in the Dominican Republic. This is true for the Nickelodeon Resort as well. Your room will be regularly stocked with bottled water, and bottles of water are left at the sink for you to use for brushing your teeth.
Weather – The Dominican Republic is a destination that experiences year-round warmth. It's pretty much always in the 70s-80s (F). We visited in November, and I will say that we had some good rain storms while visiting. If you want to avoid the rain, look at staying around February to May. Peak season for visitors is December through April, so expect some higher pricing during that time.
The Dominican Republic is affected by the Atlantic hurricane season. So, if you're booking a stay from June to November, you might consider adding trip insurance in case you need to cancel for an approaching hurricane. But, that also is a time when you can get some better prices and deals for your vacation. Just be ready for some tropical rain storms.
Our time spent at the Nickelodeon Resort Punta Cana was fabulous, and I highly recommend it for families. For more information about the hotel, visit the Karisma Nickelodeon Punta Cana website. It was a great destination for our mother and daughter trip.
Please feel free to ask me any questions you might have about this resort. Hopefully this extensive hotel review has answered most of your questions and given you some great tips! Thanks for reading.
Pin this for later: