Looking for a great city escape for your next couple's getaway? Nashville, Tennessee is a fabulous destination to plan your next romantic escape. Plan a trip filled with delicious food, welcoming hotels, and plenty of Nashville attractions to keep you entertained over the weekend. Best of all, it's perfect for a 3-day car-free weekend!
I just got back from a romantic weekend getaway with my husband and couldn't wait to share about our experience. We visited Nashville, TN and I highly recommend it as the perfect city to plan a couple's weekend getaway. We stayed at a fabulous hotel, ate our way around the city on a food tour, and were pleasantly surprised by the nightlife on Broadway.
Our Downtown Nashville Hotel – Westin Nashville
The biggest thing we needed for our weekend getaway is a great hotel in a central location. We had SPG Marriott points to use on the stay and found that the Westin Nashville was a perfect fit for what we wanted. It was located in the downtown area of Nashville, meaning it was within walking distance of most of the popular attractions. It also had some amazing lounge spaces and the rooms are gorgeous.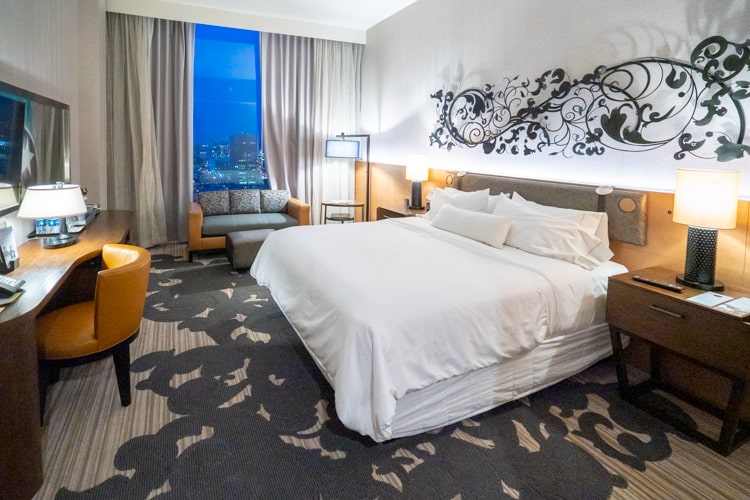 The Westin Nashville was an easy 15-minute Uber ride from the airport. When I arrived I was able to check in right away at the special Marriott Elite lane. Since I have the Marriott Amex Card I'm given Gold Elite status at Marriott properties. We got one of their upgraded view rooms on the 25th floor of the 27th-story hotel. It was a gorgeous room with a good amount of space to spread out and relax.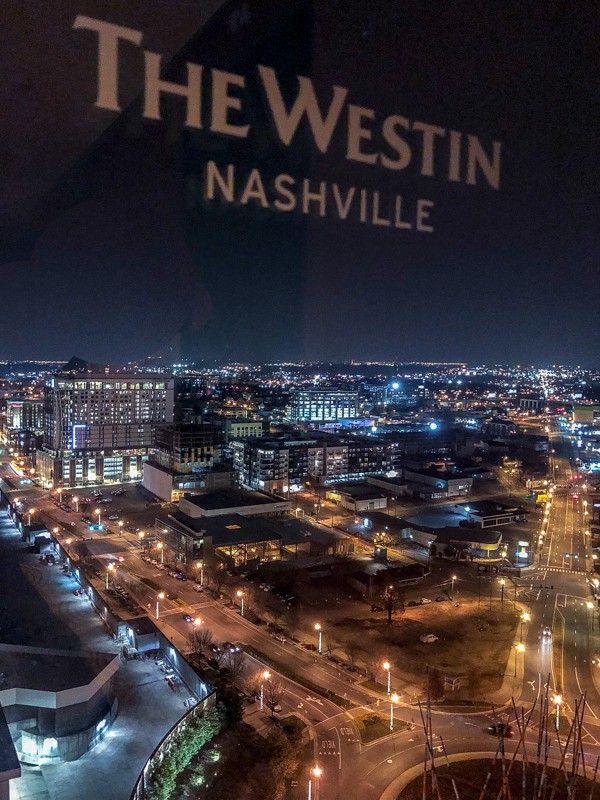 People were often visiting in the lobby of the Westin and I loved all the unique spots there were to sit. It's great if you're vacationing with friends and want to enjoy a drink together in the evenings. And the hotel has a fabulous Rooftop Bar called L27. There's even a gorgeous clear-sided rooftop pool, although we used the indoor pool on the 3rd floor since the rooftop pool was closed for the season.
We had breakfast both mornings at the Decker & Dyer restaurant in the lobby. It's bright and open in one area and closed with a music video wall in another area of the restaurant. Paul and I both remarked that the breakfast food was delicious and we really enjoyed starting off our mornings with a relaxed breakfast at the hotel. They do offer room service, which we considered, but the lobby restaurant space was so enjoyable that we preferred dining there versus in our room.
Things to Do in Nashville on a 3 Day Getaway
Food Tour
My friend Tamara is a big fan of city food tours. We took advantage of points yet again and booked a food tour with Music City Bites and Sites via Marriott Moments. I had no idea that I could earn points by booking tours and activities with Marriott Moments, but you can.
There was also an option for a country music tour, but we picked the food tour. The tour took about three hours and we had a fabulous guide. Our tour was a private tour and our guide led us around to his favorite city spots. There are also walking tours. We loved our driving tour because our guide, TJ, knew the city well and enjoyed showing us a few areas that he thought we'd enjoy that wouldn't have been part of our tour originally.
Wall Murals
Nashville is evidently known for some of its gorgeous wall murals. I noticed my first one when we walked to dinner at the Peg Leg Porker on our first night in the city. On our way home I passed by the famous #WhatLiftsYou wings mural in the area known as "The Gulch." This area is within walking distance to the Westin, so we planned a return visit on Sunday and snapped our IG photos. I only wish I would have thought to wear a cute outfit!
Centennial Park
We drove through Centennial Park but didn't make it back out to the park to walk due to bad weather. However, we wanted to return to get a closer look at the full-scale replica of the Parthenon from Athens.
We learned that Nashville is known as the "Athens of the South", hence the construction of the famous landmark. Beyond the Parthenon which serves as a small art museum with a statue of Athena, the park also offers a one-mile walking trail and a small lake.
Broadway
While I wouldn't necessarily call us party people, we do enjoy some good dance music. Saturday night we found our way to Broadway, a short five-block walk from our hotel. We didn't know what to expect, only that it was the place for adults at night. And we were amazed!
We found ourselves wandering in and out of the bars where we could see bands putting on a show through the street windows. The atmosphere was over-the-top with people having a good time, and there were so many places to go into. Some spots even had multiple floors! After visiting Broadway, I can see why Nashville is a hot place for bachelorette parties.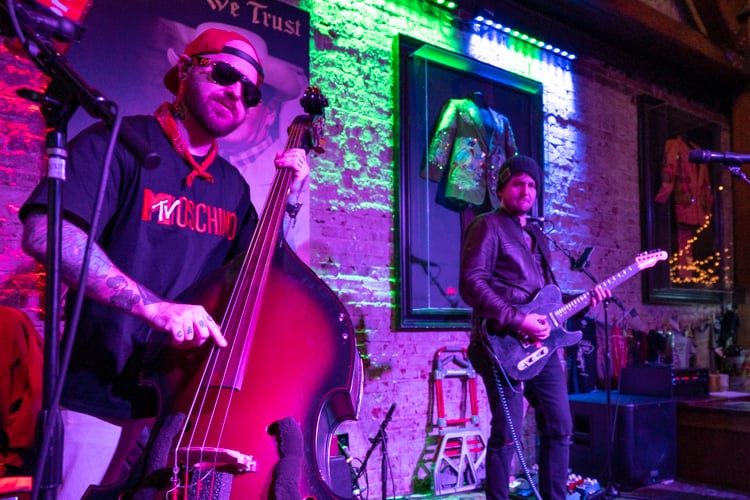 Where We Ate – Nashville Restaurants
The Peg Leg Porker
Based on Yelp we headed to the Peg Leg Porker on our first night in Nashville. It was a close walk from the hotel, but we chose to walk home via the Gulch versus the original way Google sent us as a safety move since the streets were a little dark and not busy when we walk to the restaurant. The restaurant was a fabulous choice and seemed to really be one of those local spots that's worth a visit. We arrived around 6 pm (Friday night) which was good because at 630 pm there was a huge line and no tables available.
We ordered the pulled pork even though the ribs were what everyone recommended. We also had the cook stop by and rave about our choice for the smoked green beans, evidently, they were his creation and he was pretty proud of them. We both enjoyed our food and the atmosphere is lively and feels like a local BBQ joint.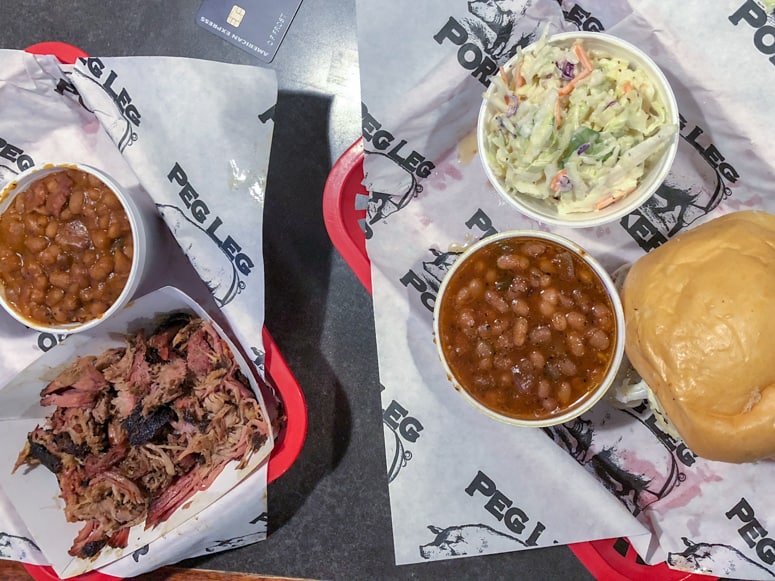 The Listening Room
We visited these next spots as part of our food tour. The Listening Room was where TJ took us for a taste of the famous Nashville Hot Chicken. They prepare a special hot chicken bite for the food tour that features their hot chicken on a small homemade biscuit. I will say that it was delicious but definitely is a mild hot chicken. Our Uber driver said Party Fowl and Hattie B's are the two spots he recommends for hot chicken.
The Listening Room is a really unique spot for dining with a show and a great brunch spot. They feature local songwriters who perform at what's like an open mic night while you dine. I had flashbacks of watching Coyote Ugly and thinking about all the songwriters who have to play their own stuff before they can get discovered to start selling their music.
While I loved stopping here on our food tour, I would love to go back to one of their shows. If you're planning to visit, make sure you make a reservation online in advance. They often sell out and can't sell tickets at the door unless they don't sell all the seats online in advance.
3 Crow Bar
Another stop on our food tour took us over to East Nashville to a hole-in-the-wall bar called the 3 Crow Bar. Here we got a taste of a Bushwacker, which is basically a grown-up milkshake. It tastes like a rummy version of a Wendy's Frosty, and it is mighty tasty.
The Bushwacker came to the south from the Caribbean and has become quite at home in Nashville. If you're planning a mid-day stop, consider ordering a "Halfwacker" which gives you half the serving, and will let you walk out on your own two feet!
Pied Piper Creamery
Next door to the 3 Crow Bar is the Pied Piper Creamery, a perfect stop if you want a cold treat without the booze. They have some unique flavors including the 'Some Like It Hot' chocolate flavor we tried in one of their handmade waffle cones. There are a few local restaurants that serve the local ice cream, but otherwise, you've got to visit in person to try one of their custom creations.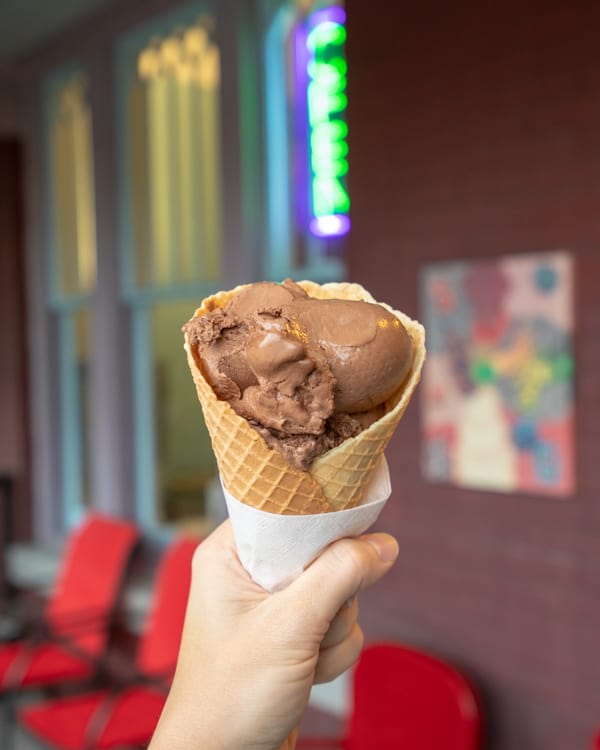 I Dream of Weenie
Another East Nashville stop is a famous spot in the foodie world. I Dream of Weenie is a hot dog food cart that is made out of an old VW van. We stopped here on our food tour and got to enjoy a hot dog topped three-different ways. My favorite was their Rebel Yelp topping which featured Tennessee hot chow-chow, a sweet and spicy pickled cabbage relish. They also have a dog topped with their homemade pimento cheese.
It's definitely worth a visit to East Nashville to binge on hot dogs, rum-my drinks, and spicy ice cream.
Martin's Bar-B-Que
Whenever you're in the south you can expect BBQ to come up in conversation. Our tour guide took us to Martin's Bar-B-Que to experience some Nashville BBQ. We enjoyed trying their ribs and brisket and I highly recommend the ribs. I loved that the meat fell off when I took a bite but wasn't falling off the bone in the plate! They also take a lot of pride in their pig smoker and you can even get a first-hand look at the pig in the smoker. There are a few different locations, but we loved the atmosphere at the Belmont location.
Colt's Chocolates
Our final stop on our food tour was near The Gulch area of Nashville and left us with a sweet treat. We visited the small shop of Colt's Chocolates and tasted their famous Marie McGee's Bumble Bees, a turtle of sorts, and Colt's Bolts, their peanut butter cups. The shop was started by Mackenzie Colt who was a "Hee Haw Honey" from the old tv show. This is a great spot to stock up on some chocolate to take back to your hotel and enjoy over the rest of your trip!
Nashville is a great destination for a couple's or girlfriend's getaway. it's filled with plenty of great food, fun neighborhood streets, and of course amazing musical nightlife.