Since I'm a frequent traveler, I spend a lot of time watching movies, listening to music, and editing podcasts while on the go. I will never be "that person" who doesn't use headphones in public when listening to sound. If you're looking for some great earbuds under $100 for giving as a gift or for using yourself, here are options that are portable and affordable!
This post has been created in partnership with Best Buy.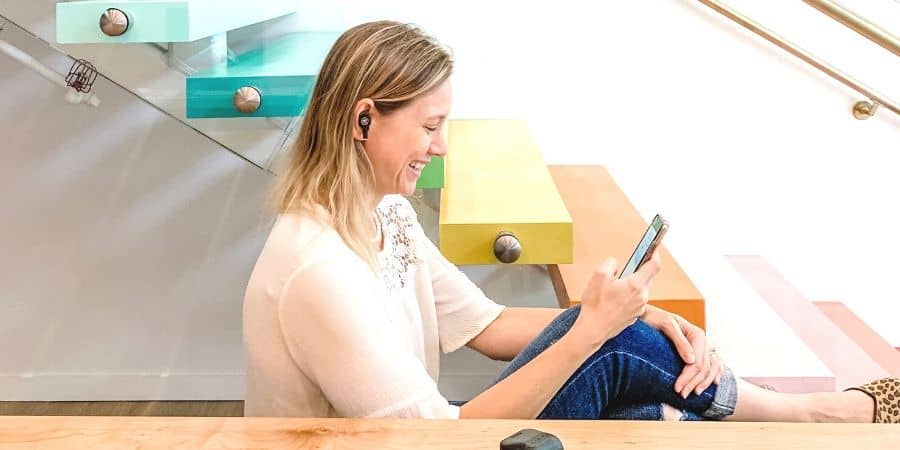 JLab Audio JBuds Air Icon
These are super compact and come with a great charging carrying case. The JBuds Air Icon True Wireless Earbuds have 6 hours of battery life and up to 24 hours with the charging carrying case.
The Air Icon earbuds are also perfect for those who want to leave one ear open for outside noise — you can use either earbud independently or use both and experience a seamless connection.
These earbuds are super-compact, making them great for people on the go. They're also water/sweat resistant. The case is about 3″x2″ and weighs around a quarter of a pound.
You can buy the JLab Audio JBuds Air Icon at Best Buy for $59.99.
JBuds Air Executive
These are great wireless earbuds for those who want to make phone calls with their earbuds. They contain many of the same features as the Icon buds above, but they also have a great microphone that identifies and eliminates ambient noise and helps amplify your voice.
These also come with a beautiful charging case that super portable and amps up the 6 hour listening time of the earbuds to 24 hours.
I love traveling with these earbuds, they have easy touch controls on the earbuds so I can control the volume and pause my sound with a quick tap of my finger. They're also water/sweat resistant.
You can buy the JLab Audio JBuds Air Executive at Best Buy for $69.99.
JBuds Air Sport
If you're looking for a great pair of earbuds that will stay in your ears while working out, the JLab Audio Air Sport Wireless In-Ear Headphones are perfect for you. They have an over-the-ear hook design — perfect for streaming workout playlists.
These have a bit extra charge time, with the initial 6 and an additional 34 hours with the charging case. You can also have clear, hands-free calls during workouts out via the dual microphones on these wireless earbuds.

These also have a 'Be Aware' audio function that lets you quickly turn the buds on and off so you can hear around you while working out.

You can buy the JLab Audio JBuds Air Executive at Best Buy for $69.99.

I'm working on testing more affordable earbuds and adding them to this post in the future. Do you have a favorite pair of earbuds under $100?

Shopping for some wireless headphones that aren't too expensive? Here are some of the best earbuds under $100 that I've tried.