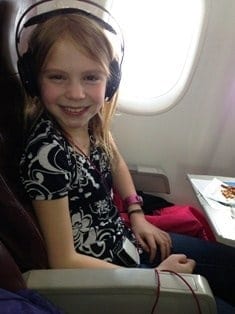 Recently we had tickets to fly to Canada to visit family. We've all flown there before and all have US passports. However, when my husband went to check us in for the flight the day before departure, Faith couldn't be checked in due to an expired passport. Did you know that passports for children 15 and younger are only valid for 5 years? Not 10 years like passports for ages 16+. We had no idea! We frantically called the airline and spoke to various departments to see if she could still fly. All answered with an affirmative "NO".
What to do, what to do, what to do? Well, my husband decided to pack up the car and head off that night for a sixteen hour drive to our destination. The crazy thing is Faith could enter Canada by land with a birth certificate, but not via air. Did I mention he was going to drive non-stop, with my baby, without me?! We actually decided I would stay home and finish the prep for the trip, and then Grace and I would fly out the next day as scheduled. I realized it was really the best option to achieve our end goal, so off he went. And off I went to pray, pray, and pray!
We all arrived safely at our destination in time for the special dinner and concert that had been planned. We all had a great time traveling in whatever way we did. And my husband and I really enjoyed our one-on-one time with our kids. The crisis was averted, and in the end memories were made even sweeter and stories even grander through the tribulation.
So I leave you with these thoughts,
Make sure you check your passport expiration dates! I even recommend you set up an alert in your calendar of choice for three nine months before your current passport expires (nine months if you plan to travel . Right now they have a 4-6 week processing time quote, but during busier times (like summer) they recommend you expedite processing (more $$) if traveling in less than 10 weeks. Check the US Department of State Passport Processing Time page for current times.
Some countries require you to have 3-6 months of validity left on your passport to gain entry. These include the countries of the Schengen agreement, many countries on the Asian continent, and some countries in the Americas (not Canada or Mexico). Rules can change so it's best to check with the customs agency of the country/countries you're traveling to for up-to-date rules and regulations.
If something happens and your plans have to change, go with it. Be spontaneous and work as a team to find the best solution. Your travels will be much happier if you're not having a fit and looking to lay blame on your partner.