Taking a Canadian Rockies train trip is definitely worthy of your travel bucket list. I recently had the opportunity to travel on the amazing Rocky Mountaineer First Passage to the West route. You can take this train from Vancouver to Banff or the return route from Banff to Vancouver.
Thank you to the Rocky Mountaineer for hosting me on my journey. All thoughts and opinions stated here are my own based on my personal experience.
Vancouver to Banff Train
The First Passage to the West route is a two-day journey that travels between Vancouver and Banff. Guests can also choose Lake Louise, instead of Banff, as their endpoint/starting point. The route has one overnight in Kamloops.
Beyond the two-day trip, you'll definitely want to plan to spend some additional time in Vancouver and Banff before and after the train journey.
Your mornings will start fairly early, each day we were picked up at our hotel around 7-730 am for an approximate 730-8 am train departure time. The boarding occurs pretty quickly, you'll locate your train car, the number is noted on your boarding pass, then you'll board and go to your seat.
As you get ready to depart, you'll meet your cabin hosts and be given a glass of champagne to toast your journey. Then it's time to sit back and enjoy the sights.
What You'll See and Do on the Canadian Rockies Train Trip
As I mentioned, the First Passage to the West is a two-day journey. One day you'll travel between Vancouver and Kamloops, the other day is between Kamloops and Banff (or Lake Louise).
During the route between Vancouver to Kamloops, you'll be journeying through the rich agricultural area of Fraser Valley and entering into a more arid, canyon region of British Columbia. There are some gorgeous bridges on this route, and you'll get to see the deep river gorge area called Hell's Gate.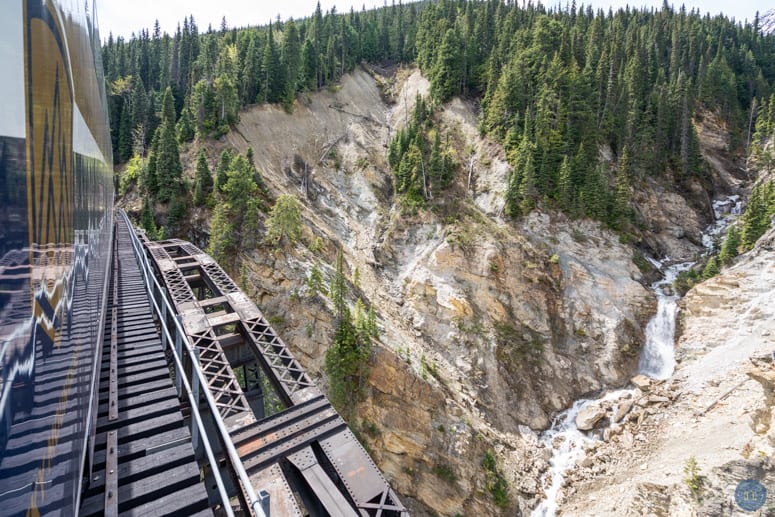 Traveling between Kamloops and Banff is the heart of the Canadian Rockies. You'll pass more bridges as well as some fun tunnels. One of the most famous is the Spiral Tunnel which routes you through curving tunnels, allowing the train to tackle a steep grade change in a short amount of space.
While on the train you'll be served food and drinks while you watch all the beautiful scenery pass by. Silver Leaf passengers will be served meals and snacks at their seats. Rocky Mountaineer Gold Leaf is a luxurious experience that includes a dining room where you'll be served your gourmet dishes.
What to Do in Vancouver
As I mentioned above you'll want to allow some time beyond your two-day train ride in order to explore Vancouver. I'm lucky enough to live close by and have been to the city a few times.
During this visit to Vancouver, I finally got to experience the Capilano Suspension Bridge. This suspension bridge is really more of a park with a few boardwalk paths curving around the lush forest where the bridge is located. There's also a crazy glass wall walk along the ravine that the bridge crosses.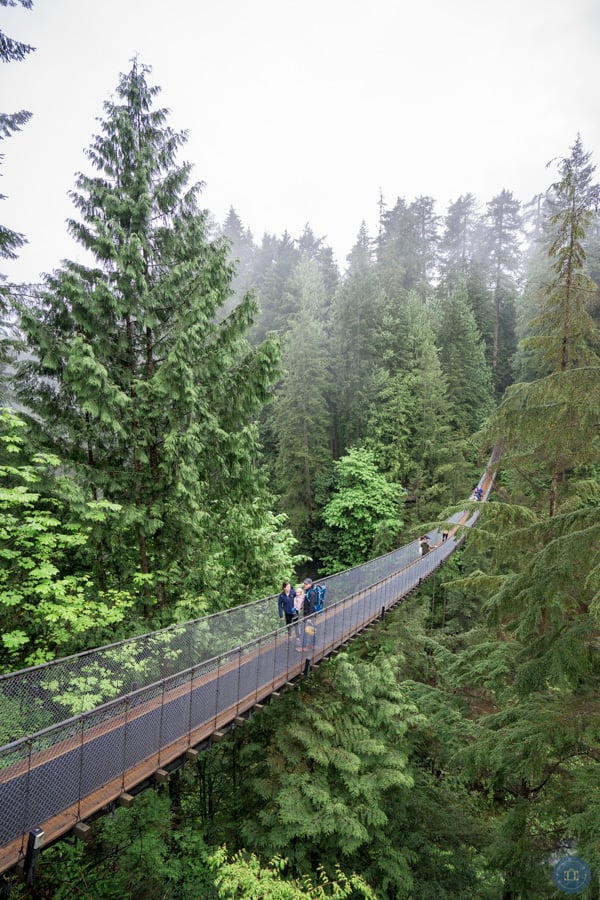 I was pleasantly surprised that this is more than just a tourist trap attraction and something I look forward to revisiting and taking my girls back to experience. It's probably not a great attraction for those with height phobias.
We also went on the Grouse Mountain Skyride tram. After journeying through the clouds up to the summit we were able to explore a bit of the visitor's center and see the two rescued grizzly bears they have on display. Unfortunately, the rain kept us from exploring more of the summit but on a dry day, it seems like a fabulous place to hike around.
If you have extra time to explore the west coast of Canada, make time for a road trip along the Sea to Ski Highway from Vancouver to Whistler!
What to Do in Banff
If you're starting or ending your Canadian Rockies train ride in Banff, plan to spend two days or more exploring that region of the Rockies. Banff is a cute town that has a lot of fun shops and restaurants you can explore. I especially loved our meals at Saltlik, Park Distillery, and The Bison.
We also went on a Banff Highlights & Gondola tour that was about five hours long. We traveled on a tour bus visiting popular sites like Lake Minnewanka, Two Jack Lake, the hoodoos, Bow Falls, and the Banff Gondola.
Banff is one of the best National Parks in Canada!
If you do the Banff Gondola on Sulphur Mountain, be sure to allow extra time to walk along the paths away from the visitors' center. It's a pretty walk and will offer some extra viewpoints of the town of Banff and the surrounding mountains. You can also eat lunch and dinner at the summit at SkyBistro. If you are eating in town, check out these great Banff restaurants.
Seeing the Canadian Rockies by train is certainly a unique experience and worth a spot on your bucket list. I love that the Vancouver to Banff train offers a quick two-day journey, but you can also find three and four-day trips from the west coast into the Canadian Rockies (including to another popular city, Jasper) with the Rocky Mountaineer.