I'm sure many of us have used Google Maps to get directions to drive somewhere. But did you know that it's a great way to plan your trips? You can plan a road trip with Google Maps, routing to points along the way and seeing traffic. But, you can also create a custom Google map to plan a trip around a city, marking all the sites you want to see as well as hotels and restaurants.
Another great thing is that Google Maps will give you directions for your route, and you can choose from several different modes of transportation including driving, biking, walking, or taking public transportation. The walking and public transportation directions are especially useful for navigating cities when you travel.
If you want to plan a trip with Google Maps, then these tips will help you become a savvy traveler and build the perfect travel itinerary.
How Can Google Maps Help You Plan a Trip?
Whether you're planning a weekend getaway or a cross-country road trip, Google Maps can be a helpful tool for mapping out your planned route with a custom map.
Simply enter your starting point and destination, and the mobile app will generate a step-by-step plan for getting from one place to the other. You can also use the "traffic" layer to see real-time information about traffic conditions along your route.
This can be particularly helpful if you're planning a trip during rush hour or other high-traffic periods. Additionally, the "Street View" feature can be useful for getting a sense of what your destination looks like before you arrive. With all of these features, Google Maps can help you plan a stress-free trip.
And beyond using Google Maps to plan a road trip or driving route, Google Maps can be a great way to plan a vacation itinerary and determine where to stay or eat when in a new city.
I've used Google Maps to create plenty of custom maps to help see where attractions are in a city and find hotels that are close to things I want to see and do. I'll explain how to make a custom Google Map for itinerary planning further down below.
5 Reasons to Use Google Maps to Plan Your Trip
You may be wondering why you would use Google Maps to help with road trip planning. There are many reasons to use this technology to map out the easiest way to and from popular destinations for your next road trip. You can plan to take the scenic route or cut drive time with direct driving directions.
1. Google Maps is free – There's no need to spend money on a complicated GPS system or a physical map when you can use Google Maps for free. All you need is an internet connection and you're good to go.
2. Google Maps is easy to use – The interface is user-friendly and intuitive, so you'll be able to figure out how to use it without any problem. Even if you've never used a GPS system before, you'll be able to use Google Maps with ease. It provides turn-by-turn navigation and even gets you back on track if you take a wrong turn.
3. Google Maps is accurate (mostly) – You can typically trust that the information provided by Google Maps is accurate and up-to-date. This is especially important if you're using it for directions, as you don't want to end up getting lost! Getting to your exact location, safely, with easy steps that guide you through the best driving route makes Google Maps your new road trip best friend.
I say mostly because we have all probably read the stories that occasionally happen where drivers are routed somewhere popular via a bad road, but those situations are very rare when you consider how often Google Maps is used.
4. Google Maps has extra features – In addition to providing directions, Google Maps also offers traffic information, satellite views, and even Street View images. This can come in handy if you're trying to find a specific landmark or considering taking a detour off the beaten path.
5. Google Maps is available on all devices – Whether you're using a smartphone, tablet, or computer, you can access Google Maps trip planner without any problems. The navigation app is also available in multiple languages, so even if English isn't your first language, you can still use it without any issues.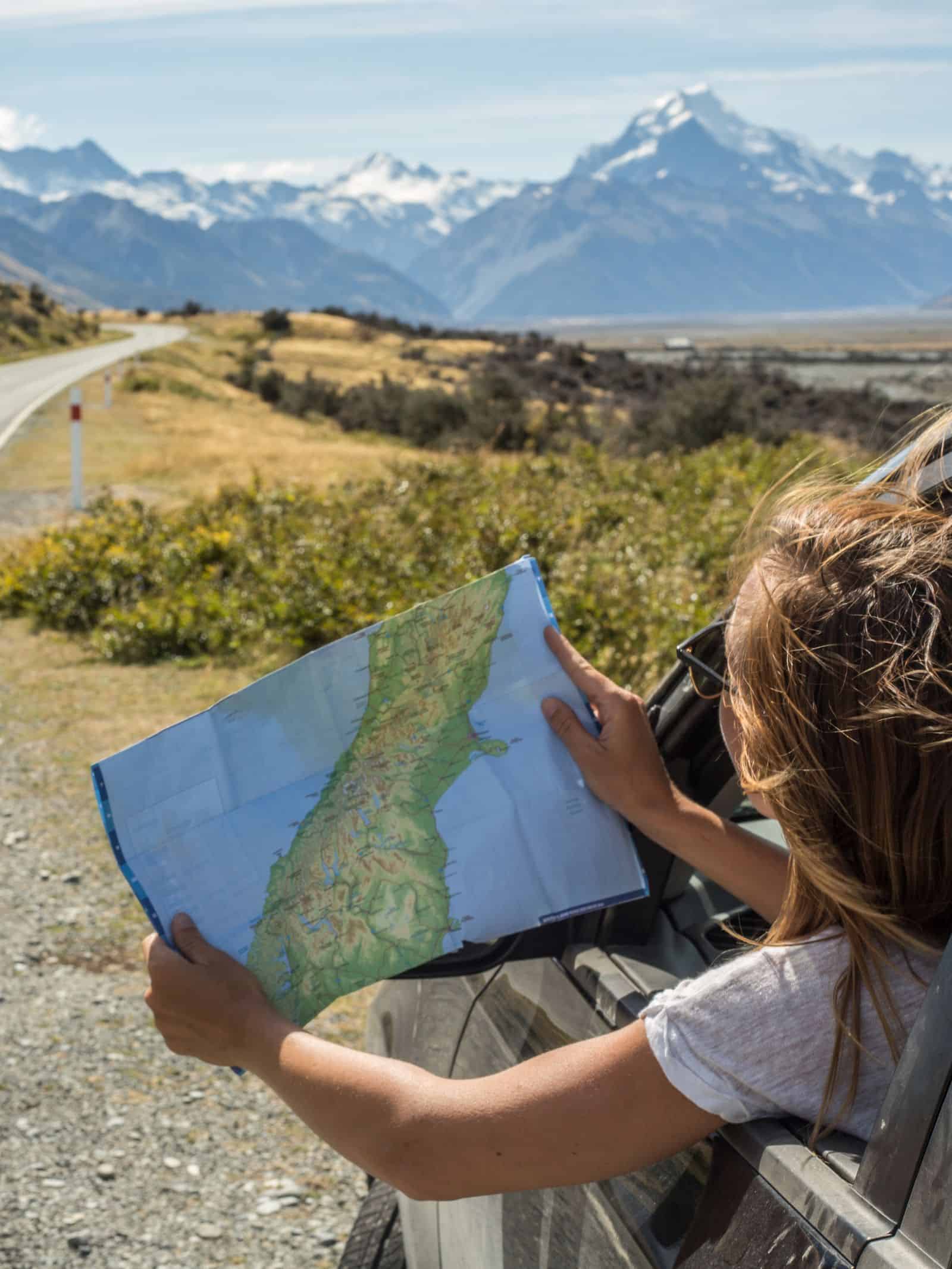 Step-by-Step Directions for Planning a Short Trip with Google Maps
1. Open Google Maps
Begin by opening the Google Maps app on your phone or by going to maps.google.com on a computer.
2. Add Location for Starting Point and Destination
Click on the search bar at the top of the map and enter your destination. When the destination details window opens, you can click the blue button for "Directions". Add your starting destination.
You can also click and drag the location pins to adjust their placement if needed.
3. Choosing Your Transportation
Once you have your starting point and destination added, a set of directions will load with estimated times. There is a menu to choose your transportation method.
You can choose from several modes of transportation including driving, public transportation, walking, biking, or even ride-share. You can also see traffic conditions along your route – orange and red road colors mean heavier traffic, which might cause a delay.
4. Get Directions & Customization
Once you have your destinations routed and transportation chosen, there are further options to help you customize your trip. You can select a specific time you want to depart or arrive, and Google Maps will use its algorithm to tell you the approximate trip time based on traffic and other factors.
You can also choose different routes for your trip, like taking a different street route. You can also go into the route options to avoid highways, tolls, or ferries.
5. Add Mulitple Stops
You can add additional stops to your route, making it easy to plan a road trip with Google Maps. This can be convenient if you're doing a simple one-day road trip or just running errands.
But if you want to get a broader view, check out the details below for how to plan a road trip with Google Maps using custom maps.
How to Plan a Road Trip Using Google Maps
Let's say you already know about the simple Google Maps directions method above, but you're looking for something bigger and better. Sitting down with a physical map and planning out your cross-country road trip can be time-consuming and difficult. I'm sure baby boomers and Gen X'ers will remember the days of AAA TripTiks.
Fortunately, it's easy to plan a road trip with Google Maps with multiple stops. You just need to create your own Custom Google Map.
Keep in mind that the steps above will help you get driving directions to your destination(s), these directions below help you plan a road trip but won't be available for live driving directions. The driving directions above using the Google Maps app can be convenient for short trips or trips with stops already planned.
Note: planning a road trip with custom Google Maps is best done on a desktop computer. As much as we love our phones, planning a large trip like this typically works better on a desktop (in my opinion, based on my experience).
1. Create a New Google Map
The first step is to open Google Maps, click on the "hamburger menu" (three lines in the top corner), then click on the "Your Places" tab. There are four tabs, Lists, Labeled, Visited, and Maps. Click on Maps. Your custom maps will be shown here, to create a new map, select "Create Map." Another shortcut is to simply go to mymaps.google.com.
Name your map something easy that describes your trip. Google Maps does allow you to make these maps shared with the public, or with friends. So keep that in mind when you're naming your map.
2. Click "Add Directions" Arrow
Begin your route by clicking the arrow "directions" button that is located below the search field. This will create a new driving directions layer. You'll start with fields for locations A and B. This is the first start to planning your road trip with Google Maps. Add your next destination, and continue adding each destination. You're limited to 10 destinations per layer.
You can click the "directions arrow" again to create multiple Driving Layers, so you may choose to make a different layer for each day of your road trip, or different sections.
Clicking on the "car" image next to "Driving" will let you choose biking or walking as your transportation method. This is great if you're planning to go between stops via one of those methods.
3. Check Drive Times and Directions
Click the three dots next to the layer title name to view the "Step-by-Step Directions". This will help you see the estimated mileage and drive times as well as the directions. You'll be shown the overall time and mileage at the top, but each stop in smaller writing will show the time and distance from that starting point to the next point.
Note, this will not give you GPS driving directions for use when you're actually driving. However, you can use this to pre-plan your route and stops, then use the traditional driving directions I noted above to navigate between each of your stops.
How to Plan a Trip Itinerary with Google Maps
Another way Google Maps can help you plan a trip is by adding location tags to a custom map. You can input all of the things you want to do on layers of the map to help you group together certain activities and restaurants as well as determine which hotel is best for your plans.
1. Create a New Google Map
Follow the same directions from step 1 above to create and name a new Google Map.
2. Add Locations to Your Google Map
Next, you'll add all of your desired destinations by searching and selecting the location in the search bar, then clicking on the (+) to add them to your map. Organize your destinations by creating layers, renaming them, and dragging and dropping pins into their respective layers.
3. Customize Location Pins
To customize the pins on your map, click on the "Paint Can" image on the location details or next to the location name on the layer (hidden unless you hover over the location). You can change the color of the pins and the icon used to represent each pin. There are many icons that are especially useful in charting the attractions, restaurants, hotels, and bars in a city.
4. How to Create Map Layers in Google Docs
To create map layers, click on the "Add Layer" button at the top left corner of your map. Name the layer and add destinations to it by searching and using the (+) to add the location to your map. If you assign a location to the wrong layer, you can simply click on the icon and drag the location to the preferred layer. You can also organize your layers by dragging and dropping them in a different order.
You can also add additional layers for walking or driving directions. You can see my 1 Day in Rome Itinerary post to see how I did that. Or just view the map here. This lets you create layers for planning as well as layers to map out walking or driving around to points of interest.
5. Plan Your Trip
Once you've added the places you want to see, stay, and eat, it will help you plan your itinerary with your Google Map. You'll be able to see which restaurants are near which attractions. And you can see if a certain hotel is more centrally located for your desired activities.
What Are the Limitations to Google Maps?
It's important to keep in mind that Google Maps is not always 100% accurate. Overall, it's a very powerful vacation planning tool, and it's free!
No Account for Schedule Changes
Google Maps does not always take into account any changes to public transportation schedules, road closures, or construction. It's important to do your own research and stay updated on possible delays that may affect your route. This is especially true if you're traveling on a holiday.
Recently I've noticed Google Maps is doing a pretty good job of recognizing road closures and helping you route around those.
GPS Errors
GPS technology is not always completely accurate and can lead to errors in directions. It's a good idea to have a backup plan in case Google Maps leads you astray. We still carry a road atlas (affiliate link) in our car, and if you're touring a specific state you may want to pick up a state road map as well.
Delayed Updated Information
Google Maps can only give suggestions and recommendations based on the information it has. It's up to the user to pay attention to their surroundings and make safe choices while traveling. Business also may have closed or changed and that info has not been noted.
Overall, Google Maps can be a helpful tool for trip planning, but it's important to remember that it is not infallible. Always make sure to use common sense for a successful journey.
FAQs for Planning a Trip with Google Maps
Can I save my custom routes on Google Maps?
When using Google Maps for driving directions, you can't save the route. However, you can save locations to "Your Places". When you create a custom Google Map for your trip, it will be saved in your My Maps section automatically after creating it.
How do I view traffic conditions along my route?
The Google Maps app will automatically show traffic conditions on your route when you plan directions between locations. If you're planning a trip using a custom Google Map, traffic conditions won't be shown as they don't provide live driving directions.
Can I view my saved places and custom routes on a computer?
Yes, you can access your saved places and custom routes by signing into your Google account on maps.google.com. You can see your custom maps at mymaps.google.com.
Can I plan a multi-destination trip with Google Maps?
Yes, you can add multiple destinations by clicking on the "+" sign in the search bar and entering additional locations. You can also click and drag pins to adjust their order if needed. Keep in mind that Google Maps will plan the most efficient route, so you may have to manually adjust your stops if you want to visit them in a specific order.
Can I plan a trip with multiple modes of transportation?
Yes, you can select different modes of transportation for each leg of your trip using different layers. For example, you could choose to drive to your first destination, take public transportation to your second destination, and then walk to your final destination. Google Maps will provide step-by-step directions for each mode of transportation.
Can I add stops along my route?
Yes, in the three dots menu, click on the "Add stop" option to add specific locations that you want to visit along your route. You can also drag and drop the stops to adjust their order if needed.
When using a custom Google Map, you can add up to 10 locations to each layer of your map. Simply search for the location and click the (+).
Can I view my trip itinerary and estimated time of arrival on Google Maps?
Yes, when using Google Maps for directions you'll see an drive time and distance located in the lower section below the map for your trip. Using the three dots menu you can also select to set an arrival or departure time that will help you plan for traffic.
If you're using the custom Google Map method, you'll be able to see drive times and distances for your route, however live traffic will not be taken into account so the times are based on averages.
Can I share my custom route with others?
Yes, you can select to share your route, such as through email or a social media platform. Keep in mind that the recipient will also need to have a Google account in order to view the saved route. You can also embed the maps into a website.
Can I plan a trip with multiple people using Google Maps?
Yes, in the pin dropdown menu, click on the "Share or embed map" option and select the "Collaborate" tab to add other Google users who can view and edit your custom route. This can be a useful tool for planning group trips.
Can I use Google Maps offline?
Yes, you can download specific maps for offline use by searching for a location, clicking on the three pin dropdown menu, and selecting "Download offline map." You'll be able to zoom in and out to select a certain area/region of map to download.
This feature can be useful when you don't have access to wifi or data while traveling. Keep in mind that this feature may not include real-time information such as traffic conditions or public transportation schedules. Also, you'll need free storage space on your phone to save the maps data.
Can I view public transportation schedules on Google Maps?
Yes, when you've arranged directions you can click on the "Public transit" option to see schedules for buses and trains along your route. You can use the "set arrival or departure time" feature to help figure out public transportation times.
Keep in mind that this information may not be available for all areas, and could have adjustments not known by Google such as holiday schedules.
How to Calculate Gas Cost
When you are driving, it is important to calculate the cost of gas for your trip. Here are some steps to help you with this calculation:
Determine the average miles per gallon (MPG) for your car. This can usually be found in the car's manual or online.
Estimate the total distance of your trip.
Calculate the number of gallons needed for the trip by dividing the distance by your car's MPG.
Find the current price of gas per gallon at a nearby gas station.
Multiply the number of gallons needed by the price of gas to get the estimated cost of gas for your trip.
Make sure to also account for any gas you may need for the return trip or for any detours during your travels. Knowing where the gas stations are will help relieve stress so you can focus on getting from point A to point B. You can use an app like Gas Buddy to help you find the best towns to fill up for lower prices. Check out my vacation cost calculator for more help planning your trip.
Different Ways to Access Google Maps
There are a few different ways that you can access Google Maps. People from all walks of life like to use different versions of Google Maps. Here's how to use it in different ways.
Head to the Website
The first way is to go to maps.google.com.
Download the App
The second way is to go to the App Store on your mobile device and download the Google Maps app.
Use Your Phone's Browser
Use the Google Maps website on your mobile device's browser. This can be hard to do on some older phones, but many smartphones now have the capability to access websites just like a computer.
Use Your Car's Navigation System
Some cars come with built-in navigation systems that use Google Maps. Check your car's manual or touchscreen display to see if this option is available.
Use a Third-Party Map Program
There are also some third-party map programs, such as Waze or Apple Maps, that use Google Maps or other data as a source for their own navigation services. These can be downloaded as apps on your mobile device.
Whichever way you choose to access Google Maps, always make sure you have a safe way to view the map while driving. This could mean using a navigator or pulling over to a safe location before accessing the map on your phone.
API
The last way is to use the GoogleMaps API through a programming language such as Java, Python, or JavaScript.
There are many different ways that you can access Google Maps depending on your needs. If you just need directions, then any of the five methods will work for you.
However, if you need more specific information or want to use Google Maps' advanced features, then you may need to use the Google Maps API through a programming language.
How to Utilize Google Maps
There are many benefits to using Google Maps. You can use it for directions, finding businesses in your area, or even checking out an aerial view of your neighborhood! Here are tips and tricks on how to get the most out of this useful tool.
Getting Directions
One of the most popular features of Google Maps is its ability to give you directions from one place to another. Whether you are driving, walking, or taking public transportation, Google Maps can help you plan your route. Simply enter your starting location and destination into the search bar and click on the "Get Directions" button.
Then, choose the type of transportation you will be using and click "OK." Google Maps will then show you the best route to take, complete with estimated time and distance. You can even click on the "Steps" tab to see a detailed breakdown of each leg of your journey.
Finding Businesses in Your Area
Another great use for Google Maps is finding businesses in your area. For example, let's say you are looking for a nearby restaurant. Enter "restaurants" into the search bar and then zoom into the area you would like to search.
Once you have done that, a bunch of different icons will appear on the map, each representing a different type of business. To see more information about a particular business, such as its address or hours of operation, simply click on its icon. You can also read customer reviews by clicking on the "Reviews" tab.
Checking Out an Aerial or Street View
Google Maps also offers an aerial view of any location. This can be handy if you want to get a bird's eye view of your neighborhood or any other place you are interested in exploring. To access this feature, zoom all the way into the map until you see houses and other buildings.
Then, click on the "Satellite" button in the upper-right corner of the screen. This will bring up an aerial view of the area that you can scroll around and explore at your leisure.
You can also click for a street view to be able to see a recent image of the exact location from a drive-by imaging car. This is useful if you are considering a hotel or Airbnb and want to get a feel for the area.
Conclusion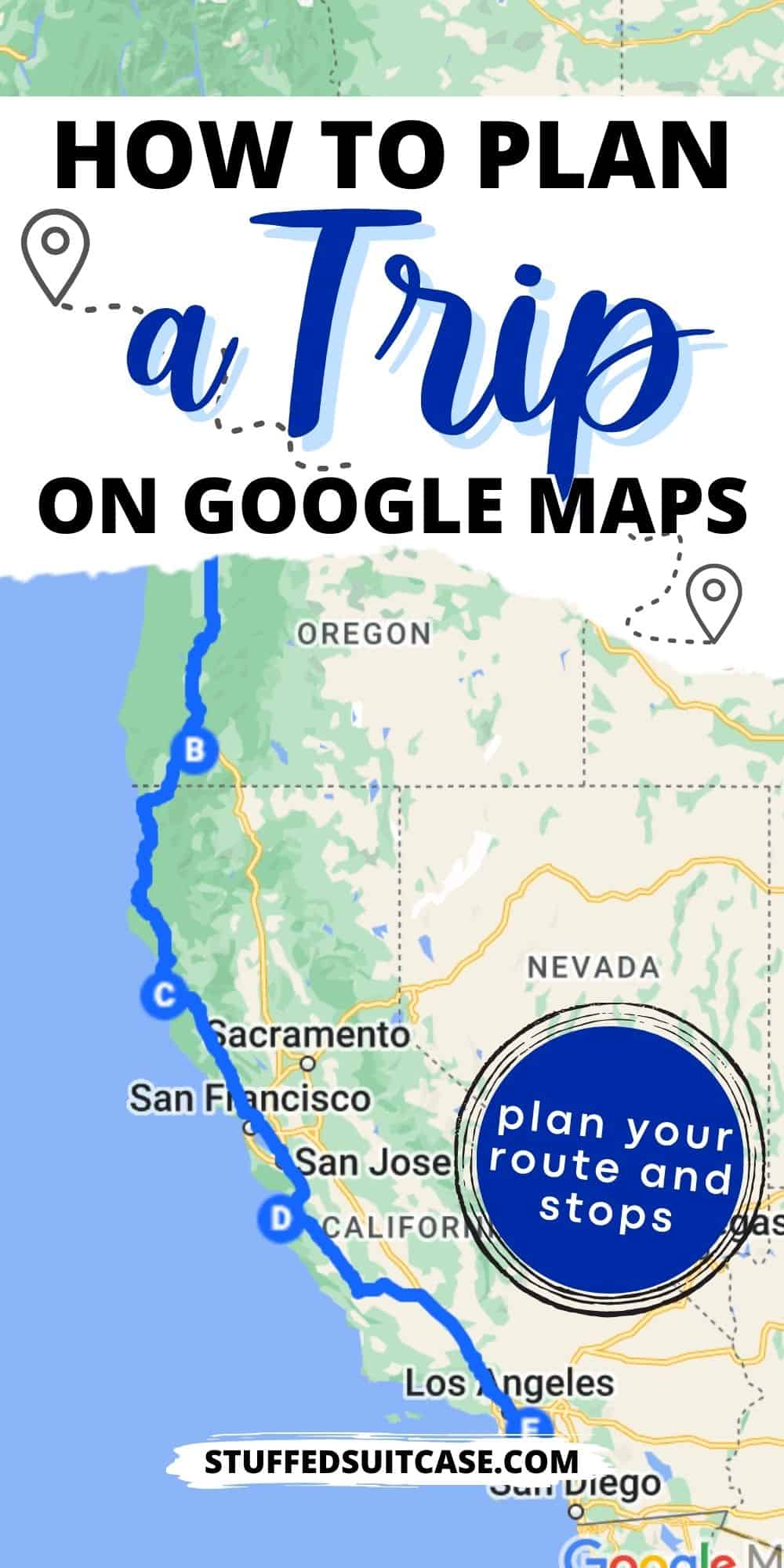 These are just a few examples of how you can use Google Maps to plan your next trip. Whether you need directions to somewhere new or want to find a nearby business, Google Maps is a helpful tool that everyone should know how to use! With your road trip itinerary under control, you can focus on having the best time where ever you end up!
Have you planned a trip with the Google maps route planner? Let me know if the comments what your favorite road trip is!