We've all heard that taking a vacation is great for our mental health. It's a chance to get away from our stressful daily lives and go on an adventure. In addition to figuring out where you'll go on your next vacation, you need to start saving for vacation expenses. Before we can figure out what you need to save, we need to know, how much does the average vacation cost?
How Much Does an Average Vacation Really Cost?
I'm using my own experience with vacation costs to get a basic idea of what the average vacation cost is for a family. Of course, these numbers are just averages to help you with your planning.
I've researched the average cost for most standard vacation expenses. These numbers can easily be used to calculate the vacation cost for one person or a couple, but for a family of four, the average cost of vacation will be between $4,100 and $5,100.
Wondering "how do I create a vacation budget?" Use the calculator at the bottom of this post as a personal vacation cost estimator based on your family size and destination. And print off my vacation budget planner to keep track of your estimates.
How Much Does the Average Person Spend on a Vacation?
An estimate of what the average person spends on vacation is approximately $205-$305 per day plus transportation costs.
This is based on spending $150-$250 a night on your accommodations and $60 a day on meals. For meals, I'm estimating $10 for breakfast, $20 for lunch, $25 for dinner, plus $5 for a snack.
Of course this is just an estimate! Personally I think $150 a night for accommodations is low, but it will depend on the destination. Based on my vacations I'd estimate spending $250 per night on a hotel.
If you use $250 per night instead of the national average ($143/night), the average person will spend about $1800-$2500 on a 7-day vacation. That's estimating $210-$310 a day for hotel and food, and just under $400 for airfare. That doesn't include car expenses or attraction tickets and tours.
And be sure to read my best tips for how to save for vacation!
How Much Cash Should You Carry on Vacation?
In these days of credit cards I'll be the first to admit that I forget about carrying cash. You do want to have cash on hand for vacation. In my experience you should estimate to carry about $20 a day in cash. Again, this will vary based on your destination.
You'll need to do some research in advance to find out how widely credit cards are accepted at your destination. For most places in the US, credit cards are widely accepted and cash will mainly be used for tipping hotel staff.
You might need cash for some smaller shopping spots, like food carts or farmers markets. You could also need to have cash on hand for taxis as some will offer you a deal to pay in cash instead of credit.
You'll also want to determine how easy it will be for you to get more cash while on vacation. Are you traveling to a destination that has ATMs that partner with your bank?
Or perhaps you want to get a no-fee ATM bank account like SoFi to save on ATM fees while traveling abroad. Be sure you know your ATM pin code and if chips are required. Also, make sure you've notified your bank of your travel plans as part of your vacation preparation.
The Complete List of Typical Travel Expenses
When it comes to planning for your vacation, here are the typical travel expenses you can expect.
Transportation (airfare, gas, shuttles, taxis, parking, etc)
Accommodations (hotels, home rentals, etc)
Dining (meals, beverages, snacks)
Activities (attraction tickets, tours, etc)
Shopping (souvenirs, boutiques, etc)
Tipping
Average Transportation Costs: How will you travel there & how will get around once you've arrived at your destination?
This can be one of the largest expenses for a vacation. Driving can be a great way to keep costs low. Of course, driving will take you longer which means less time in your destination. You'll need to decide whether flying or driving is best based on your distance, budget, and timeline.
Airfare Takes Up a HUGE Chunk of Your Vacation Budget
$359 pp / $1,436 for family of four (domestic)
These prices will be all over the board. According to the Dept of Transportation, the average cost of a domestic (US) plane ticket is about $359.
International airfare is going to vary greatly based on your outbound city. You can often find international deals from major coastal hubs that will get you an international ticket for $500-$800. You can also consider credit card points to help lower your transportation costs.
Driving Instead of Flying to Save Money
$2.39 per gallon of gas
If you do choose to drive instead of flying, AAA has the current gas price averaged at $2.39. Keep in mind that the west coast will be higher, and many larger cities will have higher gas prices.
To calculate your gas costs use this formula: total distance of your trip and divide it by your miles per gallon to get the number of gallons of gas you will need on your trip. Then multiply that number by the current price of gas ($2.39), and the result is your estimated cost of gas.
(Distance / MPG) x Gas Gallon Price = Cost of Gas
Rental Car / Rideshare? What is More Cost-Effective?
$40 per day / $280 / week
This can be an easy expense to cut if you plan a trip to a walkable city or are driving to your destination. However, even the best cities will often require you to get to and from the airport.
And, if you're traveling to somewhere like Oahu or Southern California, you'll likely want to have your own car for exploring.
Again, there are so many factors to determine this expense, but based on my experience I calculate $40 a day. Rideshares can save you money if you're mainly using it for airport runs or only a trip or two.
However, rideshares don't always work well for families because of the luggage considerations to and from the airport and because of car seats. Families might be better off renting a car. But then keep in mind you'll need to pay for gas and parking when renting.
Parking / Shuttles Add on Additional Fees
If you'll be parking at the airport for your flight, don't forget to add that expense into your plans. And if you're driving or renting a car, be sure to check to see if your hotel charges parking fees.
In large cities parking fees can be substantial. For example, in downtown Seattle many hotels charge approximately $50 a night for parking.
The Average Price Range for Hotel Accommodation Vary Depending on Your Needs
$250 per night / $1,750 for a week
There are two primary values for this expense, your nightly rate, and the hotel taxes & fees. According to the Business Travel Index the cost of a hotel room in NYC, San Francisco, and Austin are $393, $387, and $215 respectively. These prices include the taxes and fees which are typically around 10%-15%.
For our calculations, we'll assume you can find a deal and score a room for $250 a night. You can also consider a home rental, which can often cost less.
Don't forget to budget for any daily resort fees and for tipping hotel staff.
How Much to Budget for Food on Vacation?
$60 per day per person
We all know that one of the big perks of a vacation is the food. Not only do we get to try new restaurants and foods, but we also don't have to do the dishes!
To calculate the food costs you want to budget daily for breakfast, lunch, dinner, and snacks. I estimate a daily food budget of $60 for an adult, $420 for a week.
These numbers are primarily based on table service meals. You can certainly find less expensive dining options in almost any city. And you can also find many restaurants that will cost much more.
Families with young kids can save a bit with kids meals, so for a family of four, I'd budget $1400 for a week. With daily budgets of $40 for breakfasts, $60 for lunches, $80 for dinner, and $20 for snacks, for a total daily food budget of $200.
Now that I have two teens, we have to budget as if we're four adults, so we have a daily food budget of $250 for our family of four, or $1750 for a week.
You can seriously shave some of these expenses down if you stay at a hotel with a free breakfast or if you make some of your meals in a rental or hotel kitchen.
Breakfast = $10 pp / $70 for the week per person
Lunch = $20 pp / $140 for the week per person
Dinner = $25 pp / $175 for the week per person
Snacks = $5 pp / $40 for the week per person
Total = $60 per person per day / $420 per person for one week
If you enjoy alcoholic drinks while on vacation, be sure to increase your dinner budget (an perhaps lunch, too) to allow for drinks. They'll run you anywhere from $9-$20 depending on your destination.
If you plan to have one alcoholic drink a day while on vacation, your daily food budget goes from $60 to $75 per person. If you have two drinks per day then you're looking at budgeting around $90 a day for food and drinks. Of course if you're a beer drinker, it will be a bit less.
Calculate the Total Cost of All Activities Per Person Before Your Vacation Starts
Activity costs will all depend on what you plan on doing while on vacation. Some cities are filled with free things to do, while others are museum meccas where you'll find plenty of admission ticket costs.
Assuming a one week vacation, let's estimate that you'll visit three attractions that have an admission fee of $25. For a family of four, you'll want to budget $300 for attractions.
And if you like to get your kids souvenirs on vacation, be sure to allow perhaps another $50-$100 for shopping. I'll admit that I also like to shop on vacation, so consider adding some shopping budget to your plans if you want to buy something special on your trip.
For major cities you can save some serious money on attraction expenses by purchasing a CityPASS or Go City card. Both of these programs are a voucher system where you pay one price for a booklet of entrance tickets to various popular city attractions. You can save about 40% on attractions in places like LA, NYC, San Diego, Orlando, Boston, and more!
The Cost of Your Vacation Varies Depending on Several Factors
Hopefully you can see that your vacation cost can vary depending on the choices you make. As stated above, flying typically costs more. However flying also saves you time. If you're wanting to go across the country, flying could be the best option. And of course if you're planning an overseas trip, flying is your only option.
Your vacation costs will also depend on how many people are traveling. Transportation, food, and attraction costs can add up fast for a family, but sharing a hotel room means that one person might pay the same as a family of four for accommodations.
Home rentals are also very popular and can save you money, however be mindful that service fees can make that nightly rate double in price.
Food is also a place you can try to save money and lower vacation expenses. If you find a hotel that offers free breakfast, that's a great way to save money and get your day started quicker. You might also choose to pre-pack some snacks for your trip or stop by a local grocery store to save on restaurant costs.
Many of the suite type hotel chains (like Homewood Suites or Residence Inn) will offer grocery delivery services for their guests. You can give them a shopping list and they'll shop and stock your suite kitchen with your food. We used to do this often to help lower our Disneyland vacation costs. Making sandwiches in your room for lunch can save you hundreds.
Lastly, keep in mind where you're traveling to. Popular city destinations are going to likely be more expensive than smaller "suburb" type destinations. National Parks can be great value destinations, but hotel costs can be significant and will book out early.
When you travel also can impact your vacation costs substantially. If school is on break, i.e. summer vacation, you can expect costs to be higher. If you can travel in the shoulder or off-season you can find better deals on airfare and hotels.
Let's look at some common vacations and what the vacation costs might be:
How Much Does It Cost To Go To Florida?
This is probably one of the more popular destinations for families. And the cost of a trip to Florida will depend on whether you're going for the beaches or theme parks.
Our family has taken quite a few theme park vacations to Florida. While it's a huge state with so many great places to visit, most families are going in order to visit the Mouse. Let's use our calculations above to help determine what to budget for a vacation to Florida.
Airfare = $275 per person based on Bureau of Transportation
Rental Car = $25 per day + toll fees + parking
Hotel = $130 per night + resort fees
Tipping = $35
Food = $65 per adult per day (children $35)
Activities = $100 per person per day for theme parks
Based on averages, a one week trip to Florida will cost about $1,900 for a solo traveler, $2,600 for a couple sharing a car and hotel, and approximately $4,100 for a family of four.
This will vary greatly depending on what your hotel costs are and how many attractions you plan to visit. If you're staying at a nice hotel on the beach and lounging in the sand you'll save on attraction costs but likely pay more for the hotel on the beach.
If you're planning a theme park vacation, you'll need to budget much more for activities. And if you're planning to stay on site at Walt Disney World hotel, you might need to increase your hotel budget depending on what level of resort hotel you choose.
Average Cost European Vacation
Traveling to Europe is a bucket list trip for many. It does come with some special considerations for calculating the cost of a European vacation.
Airfare = $600 per person
Transportation (train or taxi) = $5-$10 per person per day
Hotel = $150 per night
Tipping = $1-2 per day
Food = $65 per adult per day
Activities = $25 per person per attraction
The biggest adjustment you'll need to prepare for when saving for a European vacation is the airfare. Based on my experience you can expect to find European economy flights for between $500-$700 from major cities in the US. Of course summer is the most popular time to visit Europe from the US and airfare and hotel costs will be more during those months.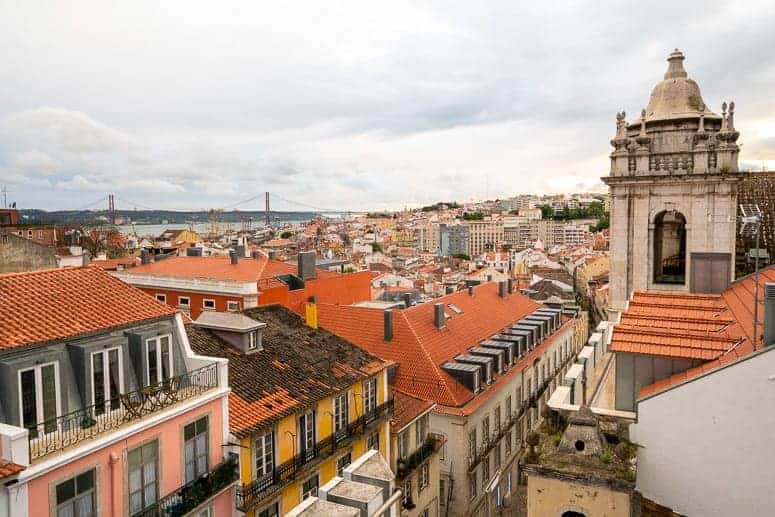 Many hotels can be found for around $150 a night across Europe and you can definitely find cheaper deals. The biggest note here is for families, European hotels are often double occupancy only. If you're a family of four or more you might need to budget for two hotel rooms depending on the city. Many families choose Airbnb rentals instead of hotels for this reason.
Food and activity costs will be fairly standard as to what you'd pay in the United States. Transportation costs might actually be a place to save money since so many European cities are walkable and have great rail systems. A rail pass can be an economical way to get around a large city.
Based on these averages I'd estimate a one week European vacation to cost approximately $2,225 for one person, $3,400 for a couple, and $5,750 for a family of four (one hotel room).
Based on my experience, a trip to Portugal can be a great European destination without the high price tag you might find in other popular European cities.
Average Vacation Cost to Hawaii
Airfare = $525 per person
Rental Car = $45 per day + parking
Hotel = $265 per night + resort fees
Tipping = $35
Food = $70 per adult per day
Activities = $75 per person per attraction
Hawaii is another destination that people dream of visiting, and the vacation costs can add up fast. Airfare from the mainland can average in the $500 range, but it will vary depending on where you're flying from and when you're traveling. Winter escapes to Hawaii mean airfare is expensive during the cold months.
The cost of a rental car is probably one of the biggest surprises people don't expect. The cost of a rental car in Hawaii will be about $45 per day. Then you'll need to add on taxes and budget for parking if your resort has parking fees.
Of course, some may plan to just stay at their resort during their Hawaii vacation, but I think that's a big mistake. Exploring the Hawaii Islands is easy and well worth it, there's so much beauty to see. A car is necessary to check out the best things to do in Oahu.
Hotels are another place where your vacation expenses will add up. You can find hotels for under $200 but the average room rate will run around $265 per night. Of course if you want an ocean view, plan to spend closer to $400-$500 a night.
Food can also be more expensive in Hawaii, which was a surprise for Paul and I on our first visit to Maui. A simple breakfast can run you $15 and dinner can be close to $30. Plan a budget of $70 a day for meals, but don't forget to add on if you plan to have alcoholic drinks, too.
You can definitely find condo rentals on most of the Hawaii Islands and can save money on meals by cooking in your rental, however even grocery prices are much higher than we're used to on the mainland.
Lastly, be sure to plan for any activities or tours you'll want to do. Hawaii is popular for snorkeling trips, helicopter tours, and boat excursions. Those can all add up fast.
Based on these estimates, a one week trip to Hawaii will cost $3,370 for one person, $4,535 for a couple, and about $6,865 for a family of four.
How Much Does a Luxury Vacation Cost?
Now that we've looked at all the basic costs and expenses, let's take a peek at what splurging might look like.
If you want to upgrade from economy to first class for your flights, you should be prepared to pay about $1000 for a domestic first class ticket and about $2000 for an international flight. This is one place where using travel points can help you upgrade your vacation without spending more money.
If you're going for luxury, you'll likely want to stay at a nice hotel. Expect to budget between $500-$700 per night for luxury hotels. Keep in mind that you'll likely need to be ready to tip more as well for the bellhop, valet, housekeeping, and concierge services. For one week you could be looking at spending about $4,300 on a luxury hotel.
For dining costs, you can also plan to splurge on some luxury restaurants. These prices can vary widely, however I'd say you can expect to spend $50-$75 per person at a fine dining restaurant, plus beverages. A nice restaurant meal for two could cost about $200.
Average International Vacation Cost
You can look at my example above for a European vacation cost to see that the largest expense for most international vacations is in the airfare. Plan to budget approximately $2,225 for one person, $3,400 for a couple, and $5,750 for a family of four for an international vacation. Of course this will vary greatly depending on the destination and your hotel choices.
Average Cost of a Vacation for One
The average person will spend about $1800-$2500 on a one week vacation. That's estimating $210-$310 a day for hotel and food, and just under $400 for airfare. That doesn't include car expenses or attraction tickets and tours.
A person could save a substantial amount of money by renting a room through Airbnb or splitting a hotel stay with a friend. A solo traveler might also avoid table dining and just grab food to go which could save on food expenses.
Average Cost of a Vacation for 2
The cost of a vacation for a couple will be less than twice that of a solo traveler since you'll be sharing the expenses for the hotel. However, you'll still need to budget for airfare and food for each person. I estimate that a couple should budget about $2600 for a one week trip.
Average Cost of a Vacation for Family of 6
For larger families, you're going to need to budget more money. Beyond the standard increases for airfare and food, you're also looking at an increased cost for the hotel.
You might need to book two connecting hotel rooms, which will double the cost of the hotel. Or, you could book at a suite hotel that has rooms that accommodate six people. I'd estimate a one week vacation would cost a family of 6 about $5,500.
Average Cost of a Vacation for a Family of 4
A one week vacation for a family of four will be approximately $4,100. This amount will vary greatly depending on where you choose to travel to and your hotel nightly rate.
Vacation Budget Calculator: Simply plug in the numbers and you'll have an accurate estimate for the total cost of your vacation
Here is a calculator that will help you figure out what a vacation will cost for your family. I've done some of the auto calculations for you but you'll need to look up a few values to get an idea of your expenses.
For your transportation costs, determine what the cost is for your plane tickets either based on what you've already spent or using a travel search. If you're taking a road trip, you could use your gas cost (use my formula at the beginning of this post) instead of inputting airfare expenses.
You can add in if you're planning to rent a car, or leave it blank if you don't have a car rental. And don't forget to add in any parking costs either at the airport or at your hotel if you drive or rent a car.
For your hotel costs, input the number of nights. Then you'll put in your nightly rate. And use the slider to add in the hotel tax which can add up quickly. Many destinations have an average hotel tax of between 12%-14%. I've also included a tipping section here, so add in what you might tip shuttle drivers, bellhops, and housekeepers. Also include any resort fees your hotel might charge.
The food fields should be fairly easy to understand. Use my food section above to determine a daily budget for your family for each of your three meals and any snacks.
Lastly, determine what your activity ticket costs will be for everyone and add what you expect to spend on souvenirs.
You should be given a grand total vacation cost which will help you budget and save.
The Bottom Line: How Much Does a Good Vacation Cost?
I estimate that $5,000 is how much you should save for a one week vacation for a family of four. Are you a bit surprised? I know I was when the numbers all came together.
As I've said before, this is just an estimate. I'm sure many families can travel for less, and there are plenty who travel for much more, too. The goal is to help you have an idea of the cost so that you won't be surprised and stressed when the trip is over and the charges start piling in.
Although no two vacations are alike if you take the time to plan & budget you can take a cost-effective vacation that can surpass "average" in the fun department and come in below average in the cost department.
Now that you know how much a vacation will cost, check out these fun ideas to help you save money for your vacation!