I would like to say my love of coffee came along with my move to Seattle, but I've actually enjoyed drinking coffee since college. Early in my coffee drinking career I used plain milk and sugar to flavor my coffee, but then I discovered the world of flavored coffee and creamers, and my caffeinated mornings have never been the same.
I've recently fallen in love with adding flavored syrups to my coffee and being able to choose whatever flavor I want when I wake up! Am I in the mood for vanilla, or perhaps caramel today? It's kind of like getting to enjoy your own made to order café-style coffee at home. One of my favorite coffee drinks to make at home is this caramel macchiato recipe.
Fittingly for someone with the last name Tate, the Tate+Lyle® Gourmet Beverage Syrups are perfect for this recipe since they have four flavors that are artfully blend with pure cane sugar and true vanilla, caramel, or hazelnut flavors. The Tate+Lyle® Vanilla Pure Cane Syrup and the Caramel Pure Cane Syrup are what you'll need for this recipe.
Caramel Macchiato Recipe
1 tsp. Tate+Lyle Vanilla Pure Cane Syrup
1 tsp. Tate+Lyle Caramel Pure Cane Syrup
½ c (4 oz) low-fat (1%-2%) milk
Your favorite coffee
Small mason jar
---
First, you want to add the Tate+Lyle® Vanilla Pure Cane Syrup to your coffee cup, then pour in your favorite brewed coffee.
Next, you want to add the milk to the small mason jar and add the Tate+Lyle® Caramel Pure Cane Syrup. Screw on the mason jar lid tightly and shake the jar for about a minute. You're building the froth with your shaking, but you've got to be quick on your next step.
Quickly remove the jar lid and place the jar in the microwave on high for 20-30 seconds. Keep an eye on it; you don't want the foam to overflow as it expands.
Now you're ready to carefully remove the jar of caramel-flavored milk and add to your cup of vanilla flavored coffee, you might want to use an oven mitt if the jar is hot. You can use a spoon to hold back the foam, and after adding the milk, top your drink with foam!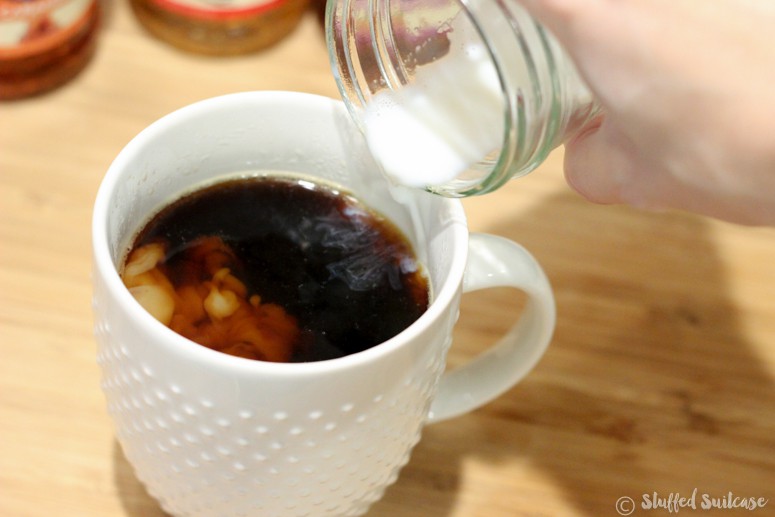 There you have it, your own DIY at home caramel macchiato recipe.
I wanted to create a nice organization space for my syrups to sit next to my coffee maker so it could act as a coffee station, and found a wicker desk organizer that was just perfect for our kitchen space and allows me to store my favorite two Tate+Lyle® Gourmet Beverage Syrups along with some spoons for adding to and stirring my coffee. We also use a reusable K-cup for brewing our coffee and this space allows us to store our pod with the spoons.
Now every morning I'm greeted with a spoon at the ready and a selection of flavored syrups, and I'm ready to create whatever flavor recipe I want that morning, including this simple caramel macchiato recipe. It's the small joys each morning that can help set my day on a good path; a hug from my girls, awakening to sunshine, and enjoying a delicious cup of coffee. I even like to end my day by adding a bit of flavor to my evening cup of tea.
I was selected for this opportunity as a member of Clever Girls and the content and opinions expressed here are all my own.