I have been compensated by Immaculate Baking for this post; however, I am sharing my own thoughts. All opinions are my own.
My oldest daughter has started having an interest in cooking and baking. I've enjoyed watching her gain skills and confidence, even going as far as making us an entire dinner one night. One of her favorite interests is baking, so I enlisted her help in coming up with a fun way to use our box of Immaculate Baking Gluten Free Double Chocolate Cookie Dough.
She took some inspiration from one of my previous recipes for Rainbow Treasure Cookies and decided we should add some surprises to the center of our chocolate cookies.
Watch the video below to see our fun creation, or read below for the steps and instruction.
Ingredients:
1 – box of Immaculate Baking Double Chocolate Cookie Dough
2 – eggs
1/3 c – vegetable oil
marshmallows (cut into 4 slices)
rice cereal
powdered sugar
Mix the Immaculate Baking Double Chocolate Cookie mix as directed (with 2 eggs and 1/3 c vegetable oil). I love the Immaculate Baking brand since they have a mission to create wholesome baking products and most are certified gluten-free or organic.
Scoop a bit of chocolate cookie mix on your cookie sheet, then add some rice cereal and a slice of marshmallow on top. Top that off with another scoop of chocolate cookie mix.
TIPS FROM MY EXPERIENCE:
refrigerate the dough for about 30 minutes after mixing before creating the cookies
once you've topped the cookie with the surprise center, give it a bit of a squeeze/roll to pack the mix together tight around the surprise center
the rice cereal does lose it's crunch in baking, so consider adding two marshmallows instead
Bake your cookies as directed (approximately 13 minutes @ 350°). Allow to cool.
To create the snowflake design, I mixed some powdered sugar and water until I had a thick icing consistency. I scooped it into a plastic bag and snipped off just the tip of the corner. Then I piped the icing onto the cookie in a snowflake pattern.
Now they're ready to enjoy! I love watching my oldest learn to have fun in the kitchen and come up with some unique ideas for making original food creations!
To pick up your own Immaculate Baking dough or mix, head to your nearest Whole Foods! You can also check their product locator to determine the closest store that carries what you're looking for. In December you can save $1 on an Immaculate Baking item.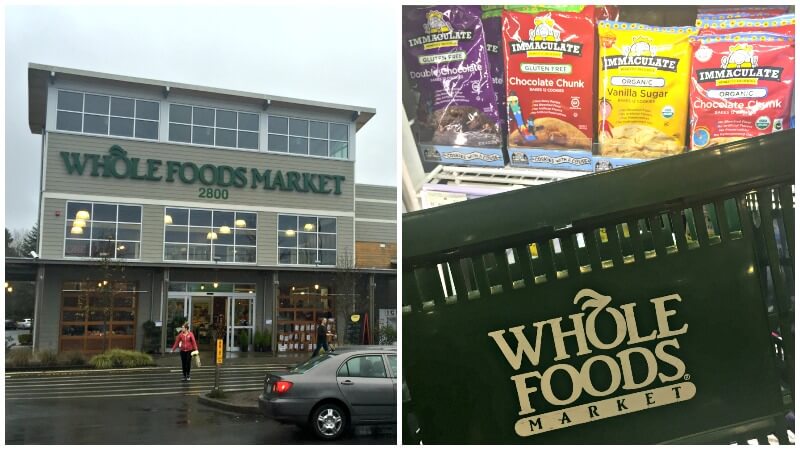 If you're looking for more great recipes, visit the Immaculate Baking recipe ideas page.