Are you considering planning a girls' trip to the southwest? There's a little town in Texas that deserves to be on your list based on my recent fabulous getaway with my best friend. If you're up for adventure with a margarita on the side, here's your guide to the best things to do in El Paso, Texas on a girlfriend's getaway!
My best friend, Tamara, and I recently had the opportunity to travel down to El Paso, Texas, and see what this little border town had to offer for visitors. I attended college for one year in Texas, but it's a big state and I didn't know what to expect from El Paso.
After spending three days eating and adventuring around with Tamara I'm excited to share all about what to do in El Paso. I honestly think this is a fabulous city for planning a short girls' trip getaway, both for things to do and the value you'll find.
Thank you to Visit El Paso for hosting Tamara and me on our trip. All thoughts and opinions are my own, based on my personal experience. Affiliate links are included in this post, I might earn a commission on your purchase at no added cost to you.
Try an ATV Adventure
I'm always up for some soft adventure and thankfully that's something Tamara and I have in common. Visit El Paso took us to the Red Sands area of El Paso and set us up with a ride with Rent an ATV.
This company makes ATV guided tours very affordable since they use the tourism money to help finance their volunteer operation of cleaning up and helping recreational riders who come out to the Red Sands. I was surprised to find that the cost was very affordable and the guides are knowledgeable and care about safety.
The ride itself was a blast! This was my first time ever on an ATV ride and I got the hang of it very quickly. It is a little tricky getting started across the sands since you're slipping and sliding a bit. But after that bit of fun, we hit the trails that run throughout the area and had a blast cruising around curves and up and down hills. This is a great activity for a girls' getaway trip and the trails make it a great adventure option for even those who aren't avid adrenaline junkies.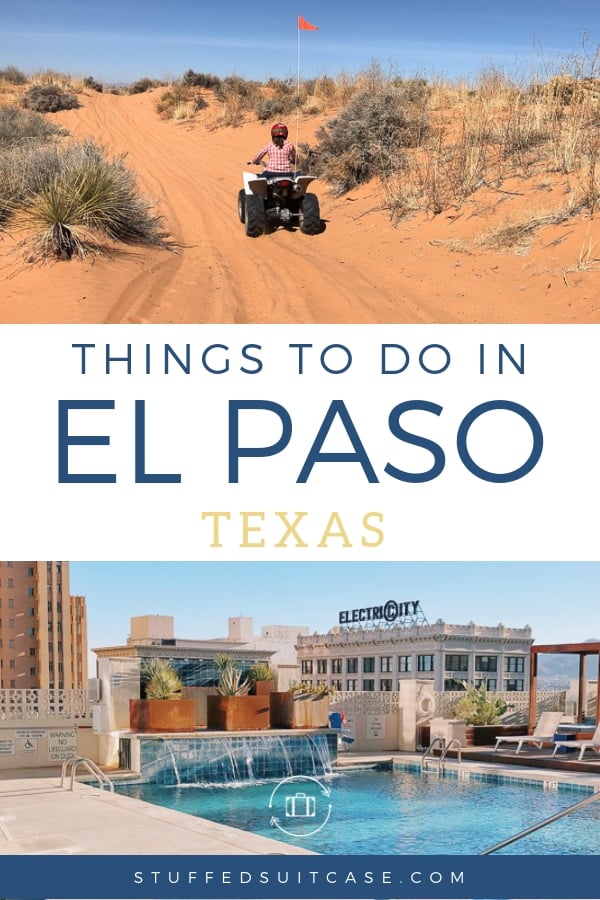 Tour a Boot Factory
Going into El Paso I knew I wanted to check out some cowboy boots. We were able to get a private tour of the Lucchese Boot Factory. Lucchese boots were founded in Texas in the 1880s by Salvatore and Joseph Lucchese, two Italian immigrants. Since then the brand has become a leading name in Texas for boots. They even outfit the Dallas Cowboy cheerleaders!
Touring the Lucchese Boot Factory is a great activity if you're interested in the behind-the-scenes activity of popular brands. Those of you who love the show "How It's Made" will love this tour. I was amazed to see the craftsmanship and detail that does into each one of these pairs of boots.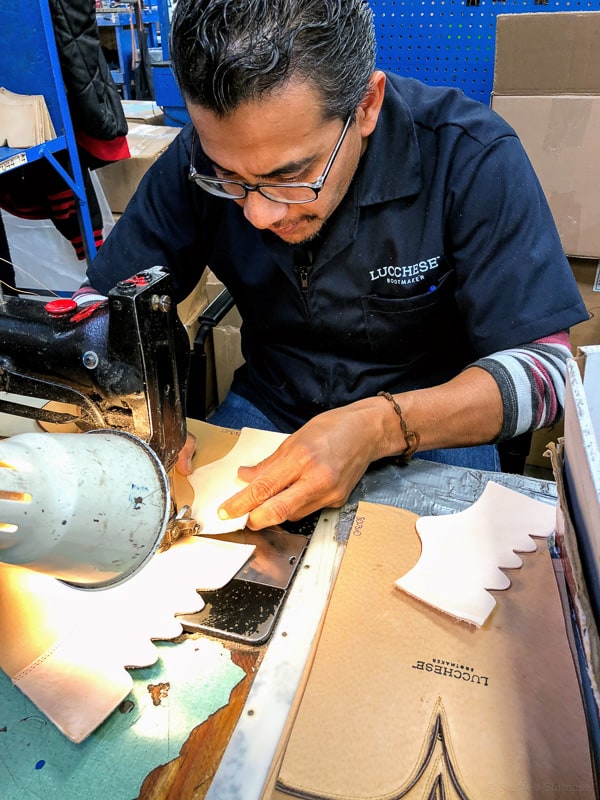 Buy Some Cowboy Boots
Once you see the amount of detail and time that goes into creating handmade boots, you're going to want to own a pair of your own! While Lucchese owns high-end showrooms in major cities all over the state of Texas, your pocketbook will appreciate finding out that El Paso is home to their three outlet stores. This is a great way to get a high-quality pair of boots for a discounted price point. And you're supporting the local economy since they're a local business. I love when my travel shopping trips leave me with a souvenir that has a story. You can get Lucchese boots on Amazon, too!
Share a Margarita
You won't have any problems finding tex-mex food when you're in El Paso. Our Visit El Paso rep who picked us up and the airport said that she thinks El Paso is the best place for tex-mex food. Sure, she might be a "bit" biased, but I'm not going to argue the point. We ate at two classic tex-mex restaurants on our trip and it's a must do.
One of the most memorable occasions was our lunch at Los Bandidos de Carlos and Mickey's. Tamara and I ordered a margarita to share that was certainly Texas-sized. Ours was mango strawberry and if it wasn't for needing to walk the rest of the day, I certainly would have finished it to the last drop!
Girls Gone Golf
I've always dreamed of golfing on vacation. Unfortunately, I don't really know how to golf, or at least how to golf well. Which is why I was so excited to try Topgolf in El Paso. It just opened earlier this year and is the perfect place for anyone who wants to give golfing a try or for anyone who just wants to drink and hang out.
Top Golf is a franchise company that has a few locations around the US. You and your friends pay for a "bay" for up to six golfers. eight people can actually fit at your bay, but only six people can play. Your bay will be on one of three levels of the complex and will have a tee-off space, golf clubs, a tv, and a table. You'll also have a personal server who will take your drink and food orders and keep you playing happily. Each person swings and slices their way to victory by getting their balls to land in the points wells on the ground floor. It's slightly addicting and I'm still bummed Tamara beat me, but just by a bit. A rematch game is needed!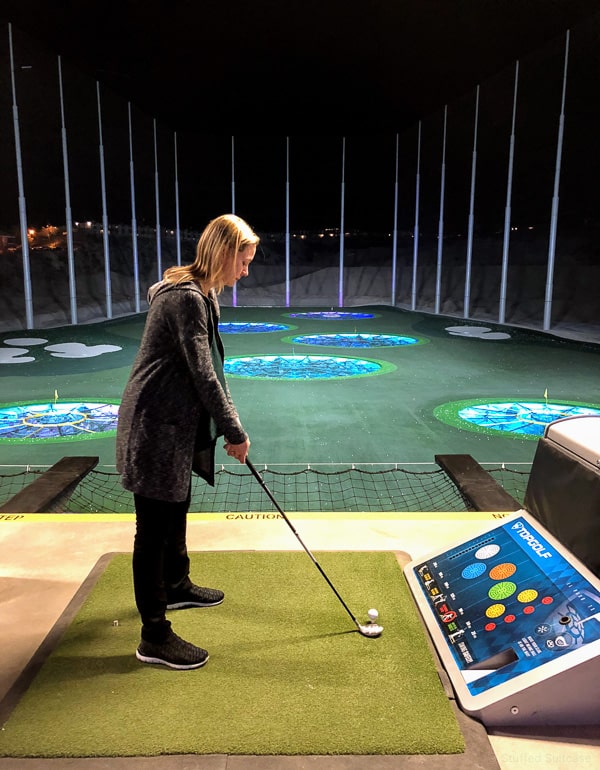 Enjoy a Cozy Breakfast
Enjoying a calm and cozy breakfast with a great cup of coffee is a great way to start any vacation, whether a family trip or girls' trip. We discovered a small little cafe called Salt + Honey where we had breakfast one morning. The cafe is very cute with lots of bright light and cozy seating spots around. Grab a cup of coffee to relax with and I definitely recommend everyone giving the green chile cheese hashbrown a try. My mouth is watering right now thinking about it!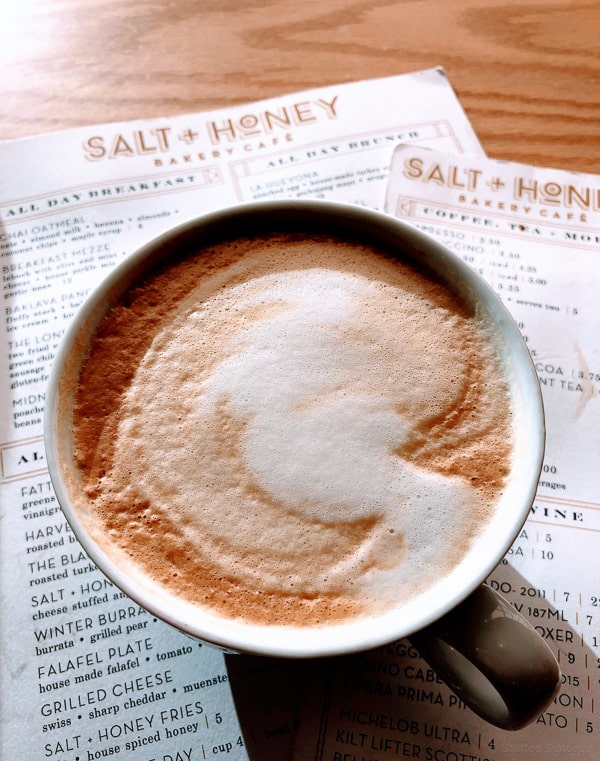 Go Wine Tasting
Every good girl's trip should include some beverage tasting of some sort. El Paso has a wine tasting option that is a must try because I love the quaint property it's located on as well as the chance to try the local wines popular in the area. We visited the Zin Valle Vineyards which are about 30 minutes outside of downtown. The vineyards make a great backdrop for some girlfriend photos for remembering your trip. If you like sweet wines then you'll be at home tasting in Texas. This area is known for creating sweet white wines, great for enjoying on those hot Texas days.
Crawl Through a Cave
If you're ready for another big adventure head to the Franklin Mountains State Park. We took a guided tour with Geobetty tours through an abandoned copper mine in the middle of this wilderness park. I have to say that this adventure certainly tested some of my comfort zones. We had to climb into a narrow tunnel and wind our way around this underground mine, checking out mineral veins and deposits along the way. It was truly an adventure and made for some great storytelling later on.
Tamara and I both challenged ourselves doing the tour but we both discovered that these awesome experiences are part of what make girlfriend trips so memorable. Pushing yourselves out of your comfort zones can create amazing opportunities to grow and share together! Even if you're not up for an abandoned mine tour, Geobetty offers plenty of other tours in the mountains that will get you outdoors and making memories.
Take the Tramway
Another adventure that isn't for those with a fear of heights is the Wyler Aerial Tramway. You'll travel about 1000 feet up a mountain to Ranger Peak, located 5,632 feet above sea level. Once at the top you'll be able to walk around the center to get a 360° view of the area. From the peak, you can see Mexico as well as New Mexico and Arizona.
A few tips: it is windy so be sure to bring your jacket or sweater. Avoid busy times like the weekends since the trams are small and there is limited capacity at the top. Check the website as well to make sure the tramway is operating, it closes for bad weather and high winds.
Tour and Taste at Cattleman's
While this is a bit of a tourist attraction, visitors should certainly plan a trip out to Cattleman's and Indian Cliffs Ranch. You don't want to just plan to eat dinner at Cattleman's Steakhouse. Arrive in plenty of time to allow you to tour around the ranch itself. There are crazy things to see like an aviary, cacti, bluffs, and even a snake pit! Once you've immersed yourself in the western landscape head into Cattleman's for a steak dinner experience.
The restaurant is an old homestead so there are multiple dining rooms with different themes. You'll find all of the most popular beef cuts on the menu and you'll get to order your favorite steak side. Your server will then roll out a cart with all your food ready to eat. We even saw one couple taking on a huge porterhouse steak together.
Relax in a Rooftop Pool
My final recommendation for what to do in El Paso, Texas on your girlfriend getaway is to kick back and relax at a rooftop pool. We stayed at the Hotel Indigo El Paso and loved the rooftop space. It's the perfect spot to cool off on a hot day and for sipping a glass of wine together in the evening. The hotel rooms are also modern and most have a great city view, too. Highly recommend this spot as the ideal hotel for your girlfriend's getaway.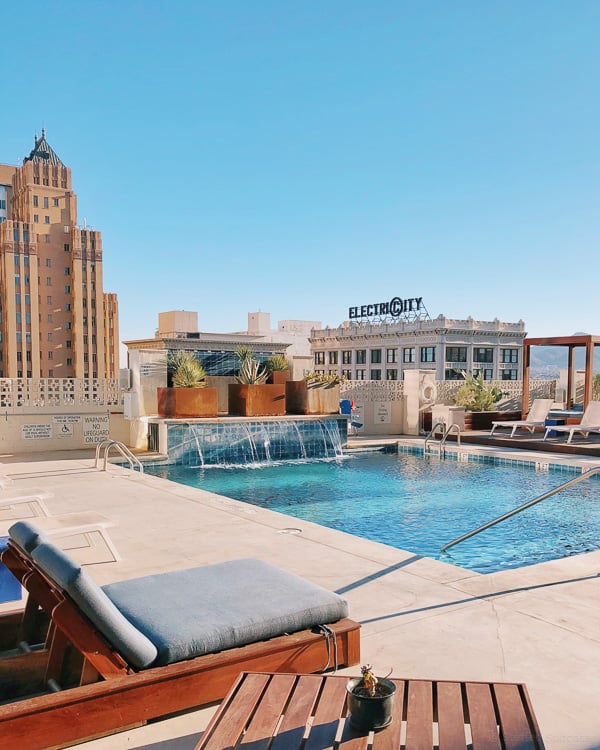 As you can see there are some fabulous things to do in El Paso, Texas. With the variety of dining, shopping, and adventure, plus the affordable cost of an El Paso vacation, it's the perfect spot to plan your next girls' trip getaway!