My recent adventure to Hawaii helped me realize that I love the Aloha State. One of our first family vacations was to the island of Maui. But with eight differing islands, Hawaii has a lot to offer visitors. Oahu is a gorgeous island, with more things to do than just Waikiki Beach, here are my must do in Oahu picks.
Top 10 Must Do in Oahu
Oahu Island Photo Tour
The more I travel, the more I recognize how great city tours are for travelers. Honestly, my initial thoughts on organized tours was "why waste the money when I can just explore on my own". However, tours are a great way to get the "lay of the land" which will help you later on during your own adventures.
While in Oahu with Hilton Hawaii, we were given a photo tour with Blue Hawaii Photo Tours. Our guide picked us up from Waikiki and we spent half of the day driving around the island. We hit a lot of great photo spots, in addition to great town stops along the way. It was a great way for me to check out the island and spot great beaches or food spots to return to.
Kick off your trip with an island tour so you can make a list of where you want to return to later on, and you'll have a better idea of the "lay of the land".
Hawaiian Shave Ice at Matsumotos
What trip to Hawaii would be complete without indulging in a little shave ice? Oahu is home to one of the most famous, Matsumotos. Found in the tiny town of Haleiwa near the North Shore, it's the perfect stop for a treat.
Be prepared for a long line, but know that it actually moves pretty quickly. You'll need the extra time to look over their expansive menu and pick your favorite flavors. Plus you can add some fun toppings like condensed milk or mochi balls. And if you're a shave ice fan, the attached shop will have you spending money like mad on cute t-shirts and knick-knacks.
Lookout Stops on Oahu
Lanai Point
This is an absolute gem of a spot to stop at along the southeastern edge of Oahu. The amazing lava formations and the blue crashing waves create some amazing photo opportunities. And, on a clear day you can see the neighboring islands of Moloka'i and Lanai. Do recognize that the parking lot is small, so in high season you might have trouble getting a parking spot.
Makapu'u Lookout
Not too far away from Lanai Lookout Point is Makapu'u Lookout. This is a beautiful spot to park and lookout. Plus if you're in the mood to be active, take a walk up the 1.75 mile trail to the Makapu'u Point Lighthouse, and get even more views. If you're visiting in the late winter or early spring, you might even be lucky enough to spot whales off shore.
Wildlife Spottings
While driving around the island, it's a good idea to keep your eyes peeled for wildlife spots. The Hawaiian Monk Seal and Green Sea Turtle are both endangered, so often will have signs and volunteers on sight when an animal is spotted on the beach.
Laniakea Beach is a popular spot to see green sea turtles. Just be prepared for chaotic traffic! There will most likely be a volunteer on site with a rope that shows the boundary to how close you can approach the animals.
Shrimp Trucks
I'm still dreaming of the shrimp I had at the Giovanni's food truck on the north shore of Oahu. Swimming in garlic-y goodness, there's no better afternoon treat than a shrimp plate with rice. Realize that your hands will get messy, but they've got a rough sink on site to help you wash up afterwards. Nomnomnom, checking flights to Oahu now…
Visiting Giovanni's Shrimp Truck on the North Shore of Oahu is a definite must do on your trip / © Stuffed Suitcase
Eating is a part of travel, so when you're looking for things to do in Oahu don't miss the shrimp trucks on the North Shore / © Stuffed Suitcase
Snorkeling
Beaches are so Hawaii, so I didn't list them specifically on this top 10 must do Oahu list. However, snorkeling is special enough to mention on its own. There are a few spots that I visited that would make good snorkeling spots.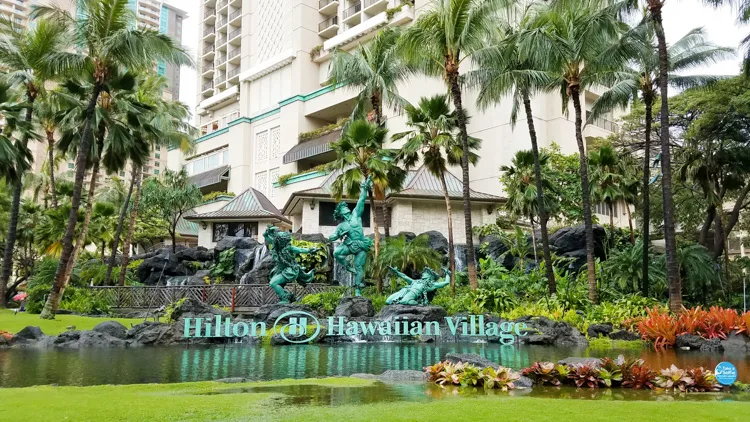 First, if you're in Waikiki, the lagoon at the Hilton Hawaiian Village is a calm spot to snorkel, great for families. If you're exploring the island, two spots worth mentioning are Sharks Cove and Hanauma Bay.
Sharks Cove is on the north side of the island and a very popular spot for snorkeling. It is very rocky, so if you're looking for more sand, head over a bit to Three Tables Beach where there's more sand. Both of these areas aren't great during the heavy winter wave season.
Hanauma Bay State Park is a natural preserve and a gorgeous bay for snorkeling. You'll find sandy beaches and some great fish spotting for snorkeling. They offer shuttle service from Waikiki, great if you're there in the peak season and worry about parking availability. Take note that they're closed on Tuesdays to allow the bay a break from tourism.
The Go Oahu City Card is a discount card that includes many of these attractions, including Hanauma Bay.
Dole Plantation
Pineapple in Hawaii does really taste better than the stuff at home. This is a great stop for families traveling to Oahu. The Dole Plantation has a fun train, garden tours, and even a maze. Plus, Disney fans will have to stop by to get an original DoleWhip®! There's a restaurant onsite, so great for grabbing lunch or dinner while you're out exploring Oahu.
La'ie Polynesian Cultural Center
I was really disappointed to have missed getting a chance to swing by the La'ie Polynesian Cultural Center while on my recent quick trip. It's been mentioned by many of my fellow travel blogging friends as a must do in Oahu.
You can venture and explore six villages that represent different Pacific cultures. You can also take part in Pacific activities like spear throwing and canoe paddling. Lastly, it's an excellent spot to attend a classic Hawaiian Luau. During our recent Vacation Mavens Hawaii podcast our guest Mary specifically mentioned loving the luau at the LPCC.
Our own family enjoyed the family-friendly Aulani Luau (<– click to read).
Small Town Shopping
While Waikiki is definitely a great spot for shopping because of all the large malls, small town shopping on Oahu can be a unique and laid back experience.
Be sure to shop in Haleiwa when you stop in to get your shaved ice. The shops there feature a great mix Hawaiian art and surf shops. You can also visit the Waialua Sugar Mill to buy some locally made soaps at the North Shore Soap Factory, and coffee and chocolate at Island X Hawaii!
Hike Diamond Head
My final must do in Oahu is to hike Diamond Head. Bonus points if you wake up early to catch the sunrise from the summit! While the rain tried to damper my spirit of adventure, I persevered. The rain did mean the views weren't postcard perfect, but it was still a beautiful hike.
There is a very small admission fee to get into the park, so pack some cash. It's a $1 per person, $5 for a car. Uber and taxis do run in Oahu, so that's an option if you're not driving. Also, note that it is a public park that closes at 6 pm, so last entrance to hike the trail is at 4:30 pm.
Don't forget to check out the Oahu Go City Card. Many of these attrations, including transport to Diamond Head, are included in the pass.
Where to Stay in Oahu?
For families, one of the best hotels in Oahu is the Disney Aulani Resort. It's located at Ko Olina, about 30 minutes away from Honolulu and Waikiki. It's a gorgeous resort with optimal pools and a calm beach, perfect for kids.
If you're looking for a great hotel to stay in near Honolulu on Oahu, check out the Hilton Hawaiian Village. It's a huge resort property that sits on Waikiki Beach.
If you'd rather not be in the heart of noisy Waikiki, check out the DoubleTree Hotel Alana Waikiki Beach. Their rooftop balcony suites are beautifully decorated and have amazing lookout views of Waikiki Beach. They even have a rooftop pool. Plus, how can you resist those freshly baked chocolate chip walnut cookies that are given to you on arrival?!
You can also check out these other great Oahu resorts for families!
There you have it, my list of what you must do in Oahu, Hawaii! And be sure to check out these Oahu travel tips.
Bookmark or Pin this post so you'll know what things to do in Oahu when you get to The Gathering Place Island! And if don't miss these tips for visiting Hawaii on the cheap! And if you're island hopping, check out these hidden activities to do on Kauai.