For visitors flying into Seattle Airport (formerly known as SeaTac but now simply SEA), getting to downtown Seattle from the airport requires a bit of planning. Some may rent a car or use rideshare, but there is an extremely easy, and cheap, way to get from the airport to Seattle. Take the Link light rail train.
As a Seattle local, I documented the steps you'll need to follow to avoid traffic and save money on your trip into Seattle from the airport.
Leaving the Seattle Airport
The Seattle airport has six terminals, A, B, C, D, N, and S. All of these terminals exit into the same baggage claim area that runs the entire length of the airport.
The two satellite terminals (N & S) will require you to take a short underground train ride to the Main Terminal/Baggage Claim from the satellite terminal (except for International Arrivals). From the train, you'll exit at the Main Terminal/Baggage Claim stop and follow the signs to Baggage Claim (you'll go up a level).
From the main terminal, you simply follow signs to baggage claim, which is located one level below the gate level.
Getting on Seattle Sound Transit Link Light Rail Train
Once you have your luggage, you'll want to follow the signs toward the parking garage. This will mean you'll go up or down half a level from the terminal or baggage claim and cross a sky bridge to the parking structure.
The Link Light Rail station is located at the north end of the parking lot, so follow the signs and make your way over to the station.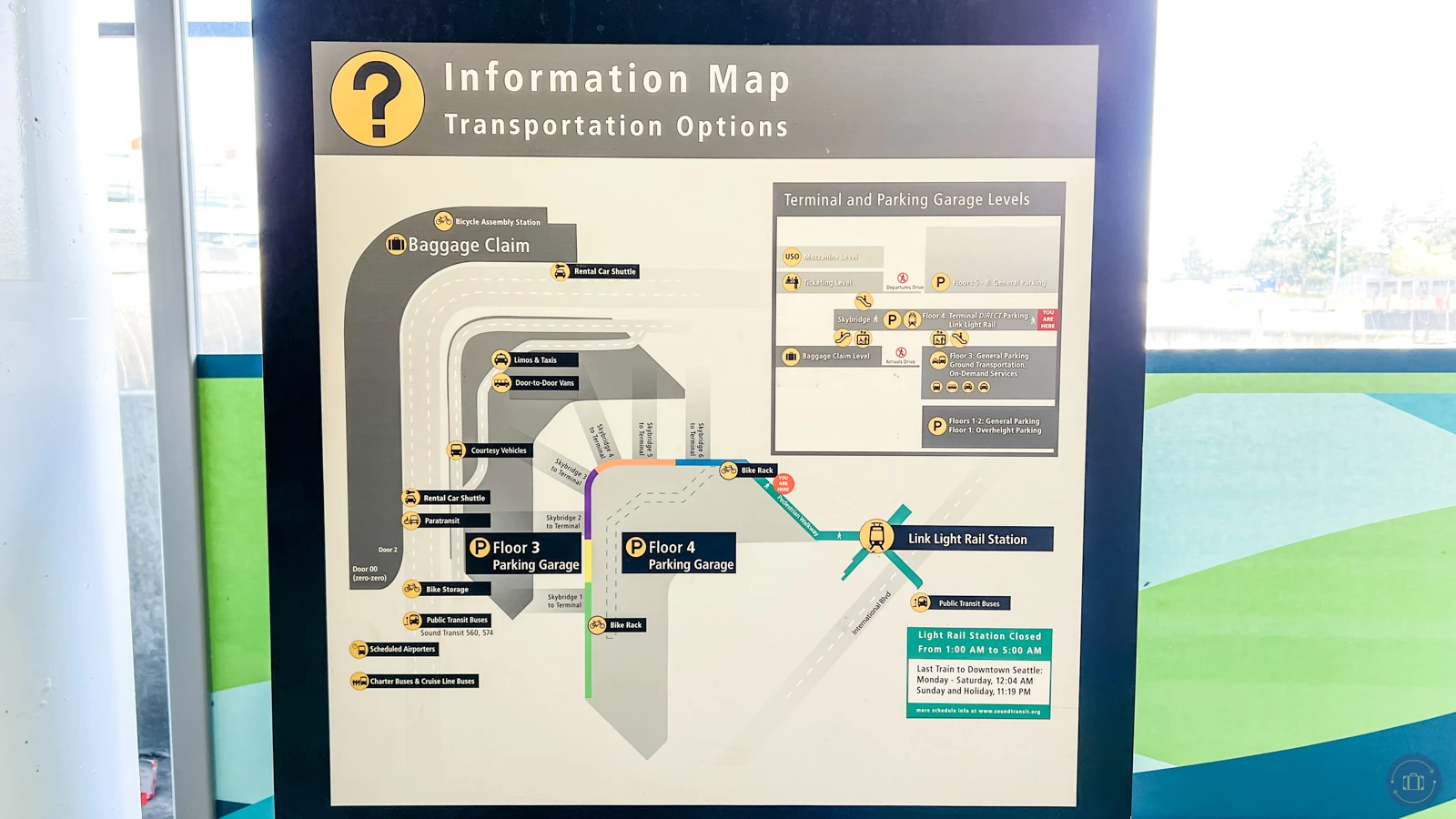 When you enter the station, look for ticket machines to buy your pass. You can also download the Transit GO Ticket app and buy a digital ticket in advance. If you're planning to use public transit often while in Seattle, look into buying an ORCA card which costs $3 and can be loaded with a value between $5 to $300.
How Much Does It Cost for the Train from Seattle Airport to Seattle Downtown
You'll pay $3.00 to ride the Link light rail train from Seatac airport to downtown Seattle. Fares vary based on distance, the cheapest being $2.25 and the most expensive being $3.50, but between the airport and the downtown exits, it currently costs $3.00.
Once you have your ticket or have swiped your ORCA card, you'll take the escalator up to the train deck. There will be two tracks, one for Northgate and one for Angle Lake. Northgate is the most northern stop and passes through Seattle, choose the Northgate track. Angle Lake is the one-stop south of the airport, this is not in the direction of downtown Seattle so don't take it.
When a train arrives, you'll be able to walk directly on board and find a seat. Do keep in mind that there are a lot of backward-facing seats since the trains move in both directions. If you suffer from motion sickness, note what direction the train came in (it will move in the same northern direction) when choosing your seat so you can sit forward-facing.
One thing that surprised me about the Seattle Link light rail is that your ticket is never scanned. When I take the train from JFK airport to Manhattan, I have to have my ticket punched by a train agent. Not so in Seattle. So don't worry about trying to scan your ticket anywhere or being ready to show it to an agent. It's run on an honor system.
The only exception is those using ORCA cards, you'll have to scan your pass when you enter the station as well as scan it when you exit the station so that they know how much to charge you for that ride.
Exiting the Seattle Link Light Rail into Downtown Seattle
There are multiple stops for downtown Seattle, so you'll want to know which is closest to your destination. I find using Google Maps can be useful for figuring this out. You can simply navigate from the airport to your hotel or destination and then choose the public transit option.
This method will help you know which of the downtown exits is closest to where you want to go. For a few of the popular attractions here are the closest exits:
Lumen Field (Seattle sports stadium): Int'l District/Chinatown Station
Pike Place Market: University Street Station
Space Needle: Westlake Station (connect to Monorail to Seattle Center)
As a Seattle local, I think it's important for me to mention to tourists that Seattle is a major city. Public transit can attract persons who may make some visitors feel uncomfortable. That being said, we use the Light Rail often during the daytime hours and it works fabulously for avoiding traffic and getting between downtown and the airport.
Other Options from Seattle Airport to Seattle Downtown
If you're wondering if this is the best option for you, here are a few other ways people can get from the airport to Seattle downtown.
Rent a Car
While you can explore much of Seattle on foot and car-free, there is a huge amount of our region that offers plenty to see and can only be explored by car. A few things to keep in mind about renting a car in Seattle:
Seattle does have bad rush-hour traffic. Traffic into the city from the north and south will be heavy during the daytime hours (5-10 am), traffic out of the city to the north and south burbs will be heavy in the evenings (3-6 pm). Also keep in mind any Seattle sports events, they can cause side streets around the stadium to be standstill and the highways can be heavy. Use Waze or your favorite traffic app to help alert you to traffic slowdowns.
Downtown Seattle also has a lot of one-way roads and hills. If you're used to driving in a big city with one-way roads and street-parking, you'll likely be fine. I don't recommend a manual car because of the hills in downtown. Gas is also expensive in Seattle, so you might want to choose a hybrid car.
Parking in Seattle can be expensive, especially at the hotels. Be sure to take that into account when planning your budget and car rental.
The car rental center at SeaTac airport is located off-site. You'll exit the doors at the baggage claim and catch a shuttle bus to the facility. There are two places to catch the shuttle, one at each end of the baggage claim level.
Rideshare (Uber/Lyft)
Uber and Lyft are readily available in Seattle. You'll pay about $40-$45 one-way for a rideshare into the city. To catch a rideshare from the Seattle airport, you'll head to the 3rd level of the parking garage.
Taxi
If you don't want to bother with rideshare apps, you can catch a cab at the airport. You will pay around $45-$50 for a taxi, so slightly more than rideshare. Taxis are also located on the 3rd floor of the parking garage.
Note: there are two taxi options at the airport, taxis that are all-one color and have a 3-digit vehicle number charge based on a meter. Taxis that are two-colors and have a 4-digit vehicle number charge flat-fees rates.
Shuttle / Town Car Service
The next most affordable way to get from the Seattle airport to Seattle Downtown is to use a shared shuttle service. Lately many of these services have become private only options dues to health factors, which negates the savings you'd expect for a shared shuttle service.
You can book a private town car for around $75-$120 one-way into the city.
Final Thoughts
You can see that the taking the Link light rail train from the Seattle airport to downtown Seattle is extremely convenient and cheap. The only times I wouldn't use the train is if I was arriving during the late/early hours of 9pm to 4am. Otherwise, it's an easy way to get to the city.