affiliate links included in post
Most of us know the program by now with going through airport securing screening lines. Shoes off, laptops out, toiletries removed…
What about when you open your suitcase to remove your toiletries, what does the guy next to you see? Are your undies and bras on display? Or when the security agent flags your bag and some guy named Airport Joe is pawing through all your clothes and delicates. Or what about when you get to your destination and open your checked bag to find that lovely TSA paper slip notifying you that your bag was searched. Am I the only one who cringes a bit at the thought? In response I created a lingerie travel bag for some modicum of privacy.
Over the next four months I'm competing in a Cricut Design Star competition and I'll be creating some great projects with my Cricut Explore™ to share. I'm working with a team of talented ladies, and we can earn prizes from our own projects, from our team's projects, and from our readers' interaction. I hope you'll enjoy following along and help me out by voting and clicking!
Cricut gave us the category of fashion and our team chose lace for our theme this month. This DIY Lingerie Travel Bag hopefully fits the bill and is something you'll want to create and pack in your suitcase for your next vacation! Just pack away your bras and undies, and you don't have to worry about prying eyes spying on all your delicates. And even if you're not into sewing, you could buy a simple small bag and apply an iron-on design to dress up your lingerie travel bag.
First I hooked up my Cricut Explore™ and then logged into the Cricut Design Space™. I was able to find the lace edging design graphic (paper lace) and added the word 'delicates' to the project. I programmed the design to cut in mirror image since I was using an iron-on. I loved how the Explore design space program walked me through all the steps of hooking up my machine and cutting out my design.
Once my design was cut and "weeded" I was able to iron it onto my bag fabric. For my bag I used linen fabric and cut a piece about 13 inches by 18 inches. I folded and sewed the sides with about a 3/8″ seam. I cut a piece of contrasting fabric (cotton) the same size for the liner and sewed it with a slightly larger seam, 1/2″ to help it slide into the outside bag. Then I added some more of the contrasting fabric around the edge and added a zipper to the edge fabric.
I LOVE how my DIY Lingerie Bag project turned out and hope you like it too! I can't wait to pack it in my suitcase for my next vacation. I'd love if you click on my links as a way to "vote" for my project if you like it, plus I might get a prize for my idea!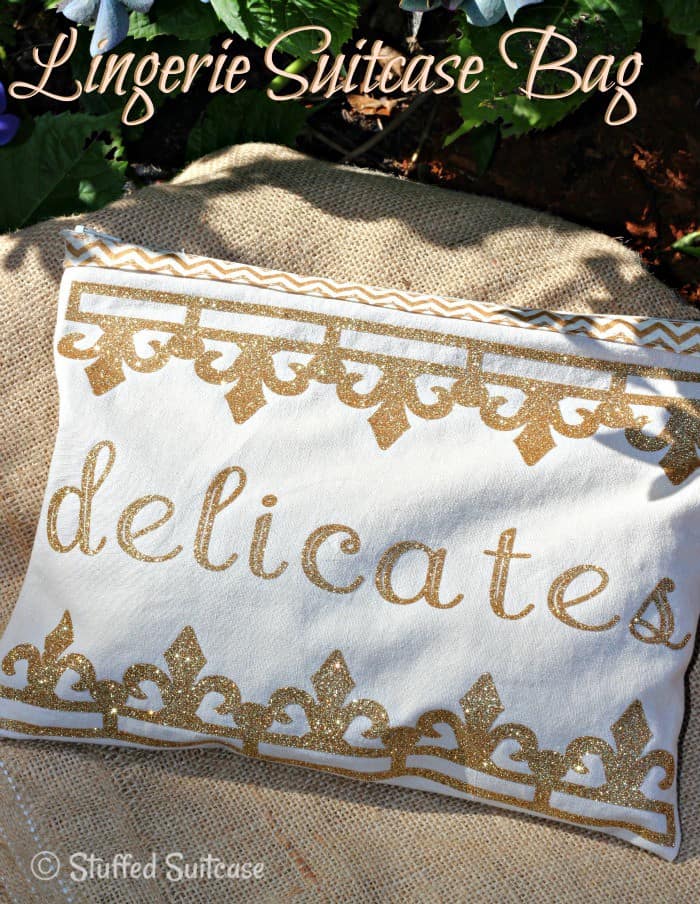 And here's a look at all the amazing lace projects my fabulous Cricut Design Star team created.
Leather Cut Out Clutch by Sewbon
Lace Workout Tank by Among the Young
No Sew Ruffled Lace Tote by Laura's Crafty Life
Ombre Lace Ruffle Skirt by Handmade in the Heartland
Leather Lace Slouchy Tote by Hideous, Dreadful, Stinky
Geometric Lace Jewelry by The Country Chic Cottage
Gold Leather Baby Shoes by Brooklyn Berry Designs
Lingerie Travel Bag by Stuffed Suitcase
DIY Lace-Cut Gold Leather Cuff by The Project Girl
Gear Statement Necklace by Freebies2Deals