Just last year I had my first ever experience traveling to NYC. If you're an NYC novice like I was, you're probably trying to figure out how to get to or from JFK and Manhattan. Thanks to having some friends who are NYC experts I got the local's guide on what's the best (and cheapest) way to get to Times Square Manhattan from JFK airport.
After using the train three times now to get to and from Manhattan and JFK, I can say it's easy and, in my opinion, the best way to avoid NYC traffic and save money. I took pictures on my recent trip so you can see the method and know what to expect. I just used this method on Wednesday and it only cost me $12.50 for a one-way trip from JFK to Penn Station in Manhattan.
JFK to Manhattan (Penn Station)
After your flight, you're going to make your way towards baggage claim. Once you're at baggage claim you want to look for signs for the AirTrain. The access for the AirTrain is near the parking garage so you'll exit baggage claim, cross the road, and then go up to level 3 of the garage area. It's easy to do, just follow signs up to the AirTrain.
You'll have two options for getting from JFK to Manhattan. One is the subway, which is the cheapest option. However, I personally prefer the other option which is the LIRR (Long Island Rail Road). The LIRR will cost you a little bit more ($4-$6 more) than the subway but based on my subway experiences I think the LIRR is better for comfort and having room for luggage.
Once on the AirTrain, you'll exit at Station 7 which is where you can connect to the Jamaica Station Train or the Howard Beach Train. To take the LIRR, you'll want to connect to the Jamaica Station Train. If you want to take the Subway into Manhattan, you can go to the Howard Beach Train for the A Subway or Jamaica for E, J, or Z Subway lines. Again, I prefer the LIRR, so connect to Jamaica Station.
As you exit the AirTrain to Jamaica Station you'll need to buy a MetroCard. You'll have to pay $5 for the ride you just ended (AirTrain to Jamaica Station) as well as the cost to go from Jamaica Station to Penn Station. At off-peak hours I paid $12.50. You'll see a sign that tells you to stay to the right if you need to purchase a MetroCard. You'll buy your pass at a ticket vending machine.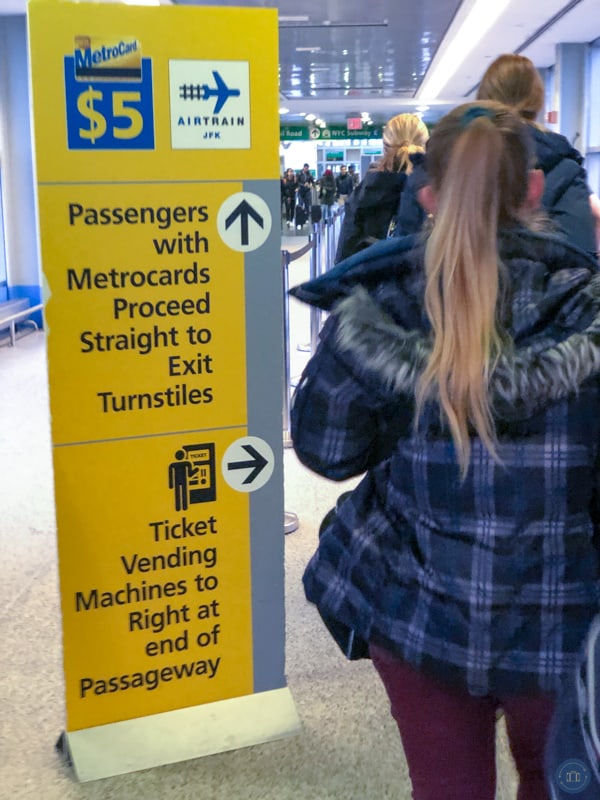 How to Buy a MetroCard at Jamaica Station
When you go up to the terminal you'll be walked through your purchase. Choose 'Jamaica to Another Station'. Then choose 'Penn Station'. Next, you need to select if you're traveling during peak or off-peak times (you can also choose if you're purchasing a military or senior ticket).
Peak times are for trains arriving in NYC (Manhattan) on Monday through Friday from 6 am to 10 am. Or for trains departing Manhattan between 4 pm and 8 pm M-F. This is standard rush hour thinking, people in the burbs (JFK) go into the city in the morning and out of the city in the evenings. Those are peak travel times.
Choose how many tickets you need (1 Adult). And then select 'MetroCard and Air Train'. Don't forget that you're buying a MetroCard for $5 for the ride you just took on the Air Train from the airport to Jamaica Station. This will be needed to exit the turnstiles into the LIRR station area. If you plan to use the Subway often when in NYC, you can choose to purchase a $25 MetroCard at that time instead of just buying the $5 Air Train ticket.
Finally, you'll just have to insert your payment and grab your MetroCard from the machine. NOTE – don't lose your MetroCard and be sure to keep it in a handy spot. Then you're ready to move on to the LIRR. Follow the signs to the Long Island Railroad and insert your MetroCard into the turnstiles to move past the Air Train area. Look for the green open lights on the turnstiles and look at the insertion diagram to see how to slot your MetroCard into the machine.
Taking the Long Island Rail Road into Manhattan
You'll walk down and to the left, following signs for the Long Island Rail Road. Once you enter the central train station you want to look for the monitors that will tell you what track you need to go to for a Penn Station train. Note, the trains aren't always on time so if you see a train showing on the board there's a chance you can still make it.
Look for the track number for the next Penn Station train and hustle to the stairway that shows that number. The track numbers are split across two sets of stairs because the trains are coming between the stairways and you can enter the trains on either side. Here's where packing light comes in handy because you'll need to haul your bags down the stairs to get on the trains.
Wait for your train or go ahead and board if it's already on the track. You'll see a digital board display stating Penn Station on the side of the train near the boarding doors. Find a seat and store your luggage but be sure to keep your MetroCard ticket handy since you'll have to show the conductor once the train departs. You'll make a couple of stops along the way but eventually, you'll hear the Penn Station announcement and that's your queue to get ready to leave the train.
Exiting the LIRR at Penn Station to Times Square
Once you exit the train, you'll want to look for the 7th or 8th Avenue exits and follow signs depending on which of those is closest to your hotel/destination. Penn Station sits between 31st and 33rd Streets and 7th and 8th Avenues. Times Square is around 47th and 7th Ave, so if you're heading there exit at the 7th Avenue exit and work your way uptown.
Please keep in mind that NYC sidewalks can be crowded and bumpy so allow some time and patience if you're pulling a roller bag along with you. You can also take an uber or taxi from Penn Station to your hotel.
Taking the train from JFK to Manhattan only costs $12.50 ($15 during peak travel) and it will get you into New York City in about 45 minutes from the terminal to Penn Station. It's an easy way to avoid traffic and much cheaper than Uber, taxis, or car services which cost around $50-$70. Families will save less money since you'll need multiple train tickets, so booking a car service might the best option for larger groups.
Now you're ready to explore NYC! Check out these 31 ideas for things to do in NYC with kids.
When to NOT Take the Train to/from JFK – Manhattan
There are a few reasons I wouldn't advise using the train, even though it is the cheapest and very easy option, in my opinion.
You're a family traveling with small children
While the process is fairly simple, it does require moving around quite a bit and using stairs and elevators. If you have small children it might be a lot to manage to keep an eye on them and all the connections to various transportation modes. The cost savings also diminishes versus Uber when you have more than 1-2 people. Ordering an uber or private shuttle service might be best, although the train would allow you to leave car seats at home.
You have a lot of luggage
As I said above, you will be connecting to multiple transportation options and you'll need to deal with stairs (no elevators) at a few of the train stations. If you have multiple bags it would be a lot of work to haul them up and down stairs as well as finding space for them on the LIRR.
You're traveling very early or late
While I have no experience or knowledge of what the security or safety is for this method, I personally wouldn't want to take the train if it was in the middle of the night.
You hate walking or have disabilities
If you have no desire to haul your suitcases up and down and all around, just grab an uber or cab from JFK to your hotel. You have to be willing to do a bit of work to save the kind of money you will when you take the train. If you have any disabilities or physical limitations you'll likely struggle with the trains.
NYC Manhattan to JFK Airport
To go back to the airport from NYC/Manhattan you'll just reverse this method. Go to Penn Station and follow the signs to the LIRR. Purchase your ticket from Penn Station to Jamaica station on the Long Island Rail Road. When you reach Jamaica Station you'll follow signs to the AirTrain, buy your AirTrain ticket, and take the AirTrain to the terminal for your flight.
As an NYC first-timer, the train system can be daunting, however, with a little advance research and patience, you can easily travel from the local airports into Manhattan in an easy and affordable way. Check out these tips for visiting NYC with kids and this guide to New York City with Kids.