Food is a big part of any successful road trip. No one wants to be stuck in a car with a hangry person! The key to great road trip snacks is packing food that won't make a mess and can travel well at room temperature. Here are some of our favorite snacks for road trips.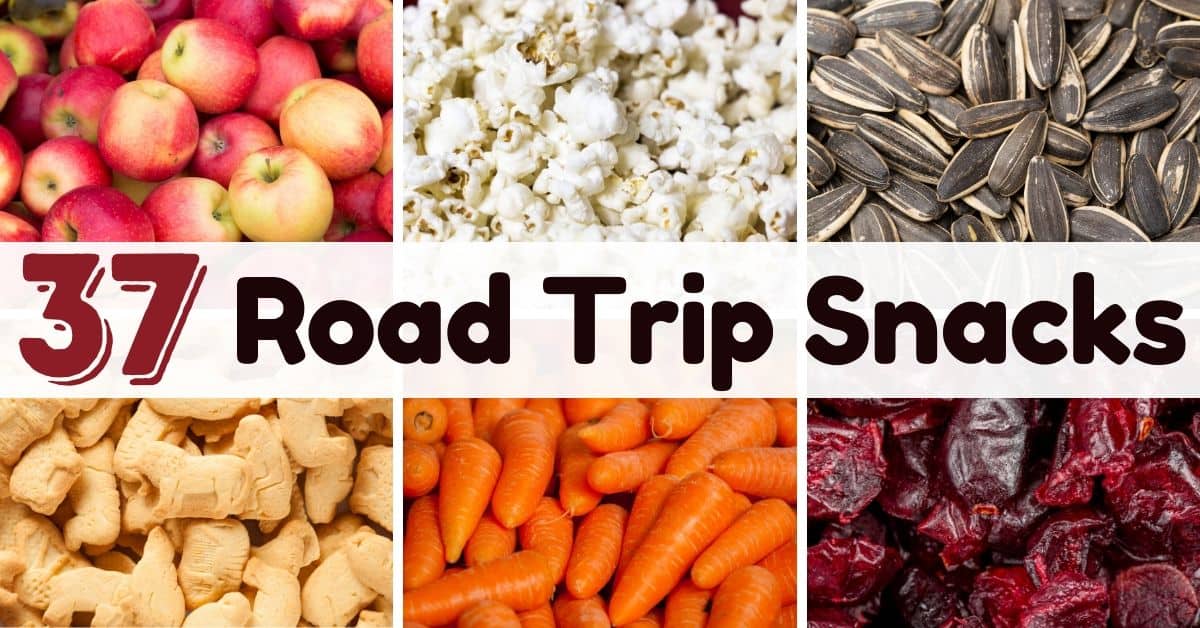 Best Vacation Road Trip Snacks
Dry Cereal
If you're cereal eaters, just opening your pantry can give you a multitude of options. Multi-Grain Cheerios are one of our favorites because they have just a touch of sweetness. They're nut-free too! We also love Lucky Charms and Life.
Apples
We love to pack healthy snacks on vacation and fruit and veggies certainly fit the bill. Just remember if you're driving across the border (i.e. Canada) you might not be able to bring across produce.
We love to buy the mini apples you can get in a bag. You can find them easily at Trader Joes, Target, and most grocery stores. The smaller sized apples are perfect for road trips.
Mandarin Oranges
Another healthy road trip snack idea is mandarin oranges, sometimes called clementines. These do have to be peeled and you'll want some wet wipes (on my road trip essentials list), but the smell is amazing for freshening the car — as long as you like the fresh orange smell. :)
Grapes
The other fruit we like to pack for road trips is grapes. They're easy to grab and pop in your mouth and are fairly mess-free. Just remember to wash them before you leave.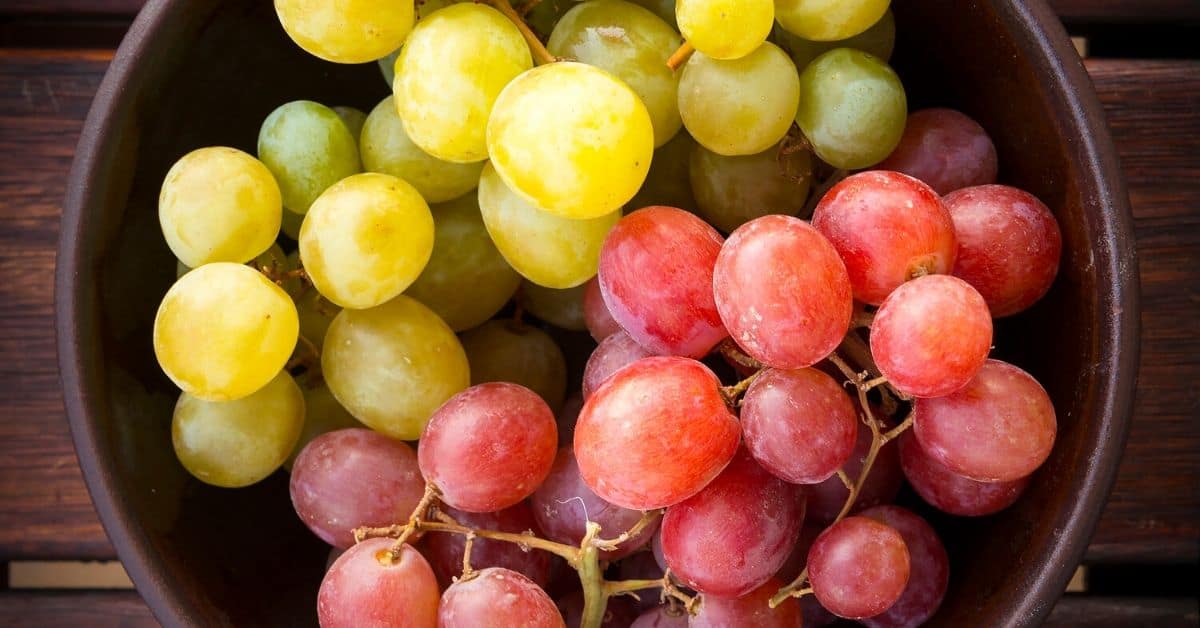 Carrot Sticks
Vegetables can also make great healthy road trip snacks, and carrot sticks are easy. You can either buy the mini carrots in a bag or cut up your own from full-size carrots.
You could pack a dipping sauce in the car but we normally avoid dairy products in the car and we don't want to worry about keeping the dip cold.
Sugar Snap Peas
Sugar snap peas are also a great snack that are easy to pack and pop in your mouth. They're also a good source of fiber and very low in calories, making them healthy.
Grape Tomatoes
We have packed a container of cherry or grape tomatoes along for the trip, but it's not necessarily one of our go-to snacks. They are easy to grab at the store and easy to eat, but they can make a mess if you drop one in the car.
Fruit Leathers
Our girls first fell in love with fruit leathers at Trader Joes and I have to say that it's one of my favorite snacks, too. Just realize that they're packed with sugar bc of the fruit concentrate. You can pick up single strips at Trader Joes or grab a big box of Stretch Island Fruit Leathers at Amazon or Costco.
Fruit Snacks
Another fruit treat snack is single-serving fruit snacks. While they aren't really healthy, they're popular with kids and you can buy a big box of the pouches at Target or Costco.
Crackers/Pretzels
Put some Cheez-its, Triscuits, Wheat Thins, or Pretzels in single-serve containers or baggies. You could keep the whole box in the back of the car and refill each when needed at stops. Just know they're salty, so you might get thirsty.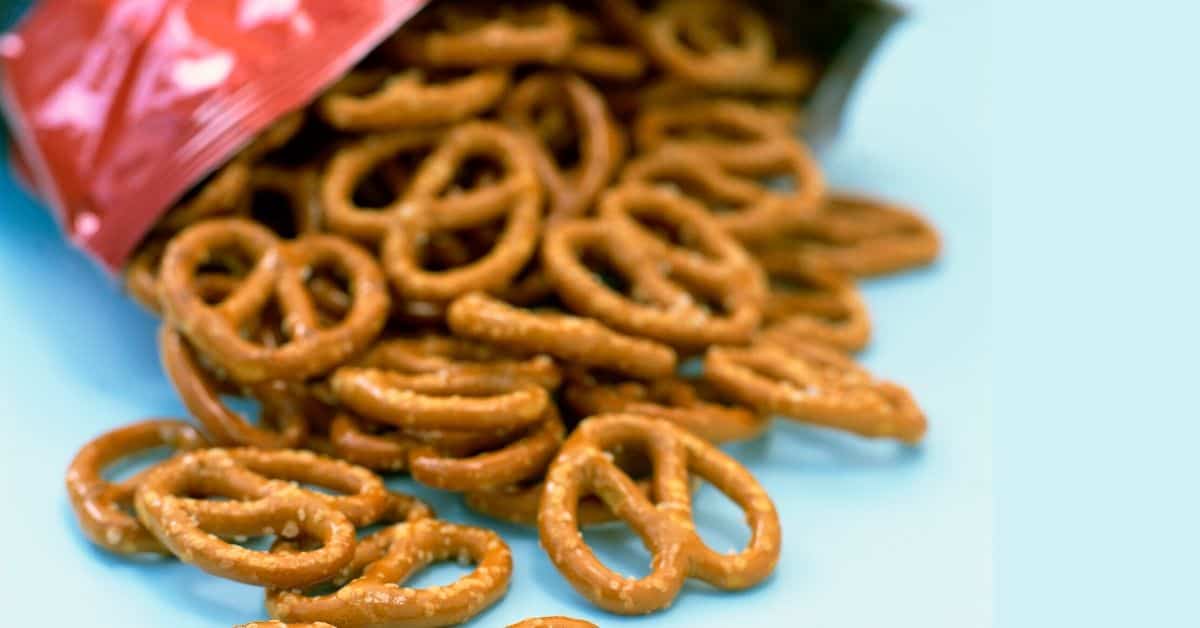 Goldfish
This is a kid favorite but even adults can enjoy some cheesy fishies. While these count as crackers, I felt they were important enough for our family that I needed to call them out specifically.
Pirate's Booty
This stuff is so good and SO addictive! They have different flavors but our favorite is the Pirate's Booty Aged White Cheddar. Trader Joes also has some flavored corn puffs that are tasty. This snack will require a napkin or wipe because of the seasoning.
Popcorn
You can either pop up a big bag of your own popcorn or buy one of the pre-packaged bags from the store. Popcorn can be addictive — as any movie-goer will know — and it makes a tasty, filling snack.
Chex Mix
This is a family favorite and conveniently you can buy it as packaged food or make your own!
Granola Bars
I spoil myself on road trips and buy the chocolate-dipped chocolate chip granola bars for the trip, and they're so good. But traditional granola bars can be a great snack for road trips since they provide some grains and protein.
If you're traveling with kids, be sure to look for hidden sugar snacks (fruit snacks and granola bars) and try to limit those.
Pringles
This might just be our family, but there's just something great about taking Pringles on a road trip. One of the big perks is that the canister helps keep the chips from getting beat up in the car! Just make sure to pack a couple of cans since we all know, "once you pop, you can't stop."
Cookies
If you're a sweets lover, cookies can be great to bring on road trips. Just keep in mind that they do have crumbs. Girl Scout Cookies are especially yummy on road trips!
Animal Crackers
Animal crackers are really more of a cookie than a cracker, but they're still a good snacking treat. Plus, even as an adult I like looking at what animal I'm about to eat. :)
Rice Crispie Treats
While you can make your own Rice Krispie Treats, you can also buy them pre-packaged. They're another sugary treat, but oh so yummy! Just make sure you add wet wipes when you pack your car.
Applesauce
We love GoGo Squeez Applesauce because it's easy to eat in the car and there are a lot of fun flavors. Applesauce pouches are a great mess-free (hopefully) snack.
Sunflower Seeds
We have a kiddo with a nut allergy, so sunflower seeds are a great "nut-like" road trip snack. You can get a package that is in the shell and have fun shelling them — just have a cup ready for the shells — or you can buy just the seeds.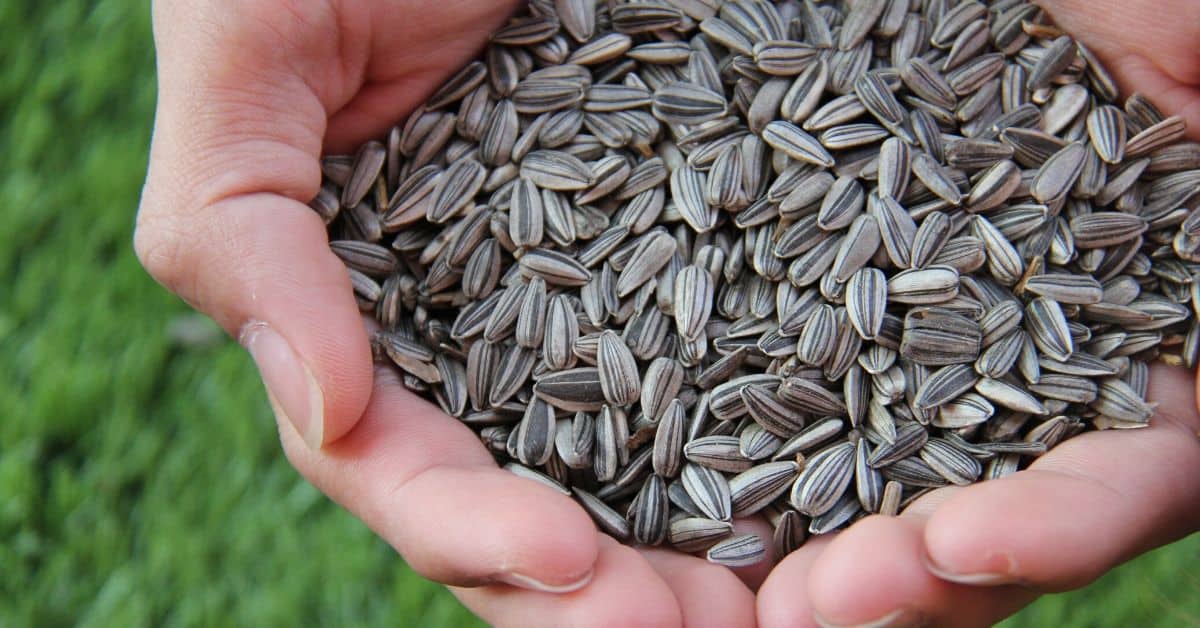 Pepitas / Pumpkin Seeds
Another seed that we love to bring on our road trips is pumpkin seeds. Again, you can get the ones in the shell, or get just the seeds, called pepitas.
Nuts
If you don't have a nut-allergy then nuts are great snacks. Before we had my daughter I used to love eating honey-roasted peanuts on a road trip. My husband is a big fan of the tins of almonds and cashews, too.
Trail Mix
You can create your own trail mix with your favorite mix-ins, or buy a pre-made one. The basic formula is nuts & seeds for protein, carbs for salt and energy, and something sweet like dried fruits or chocolate.
Roasted Chickpeas
We've really loved making our own roasted chickpeas. You can create any flavor you want and they're a healthy snack option.
Corn Nuts
These are another odd-ball snack that people either love or hate. For some reason on every road trip we buy bags of corn nuts at a gas station. I like the BBQ flavor and Lizzy likes the Ranch flavor. They're hard on your teeth but tasty!
Energy Bites
If you like to create your own snacks, no-bake energy bites can be great for your trip. They're a bit like trail mix meets peanut butter in one protein-powered bite.
Peanut Butter Crackers
You can either buy some pre-made peanut butter cracker snacks, or grab some of those single-serve peanut butter cups and pair it with some pretzels, crackers, or apples.
Nutella & Go
If you love some chocolatey hazelnut goodness, grab some Nutella & Go snacks.
Beef Jerky
While now we're mostly vegetarian, we used to love beef jerky on road trips. We would get the big bags at Costco. It's a great protein source.
Pepperoni Sticks
These are similar to the idea of beef jerky but used to be another popular road trip snack we'd enjoy in the car. You can buy packages of little pepperoni sticks at most grocery stores.
Cheese Sticks
This is a snack that we don't often pack because as I mentioned above we typically avoid bringing dairy in the car since it can smell bad if there's a spill. However, cheese sticks are easy enough to eat, you just have to make sure you can pack them with an ice pack to stay cold on the drive.
Cheese & Cracker Dips
You can find these pre-packaged with one side of crackers and breadsticks and one side of cheese dip. These were popular with my girls when they were younger, but not so much anymore.
Dried Fruit
Dried fruit is a great car snack since it's so easy to pack. Our family loves dried pineapple and mangos, but you can get all kinds of dried fruit like apples, blueberries, and even bananas. Check Trader Joes and Costco for a good variety.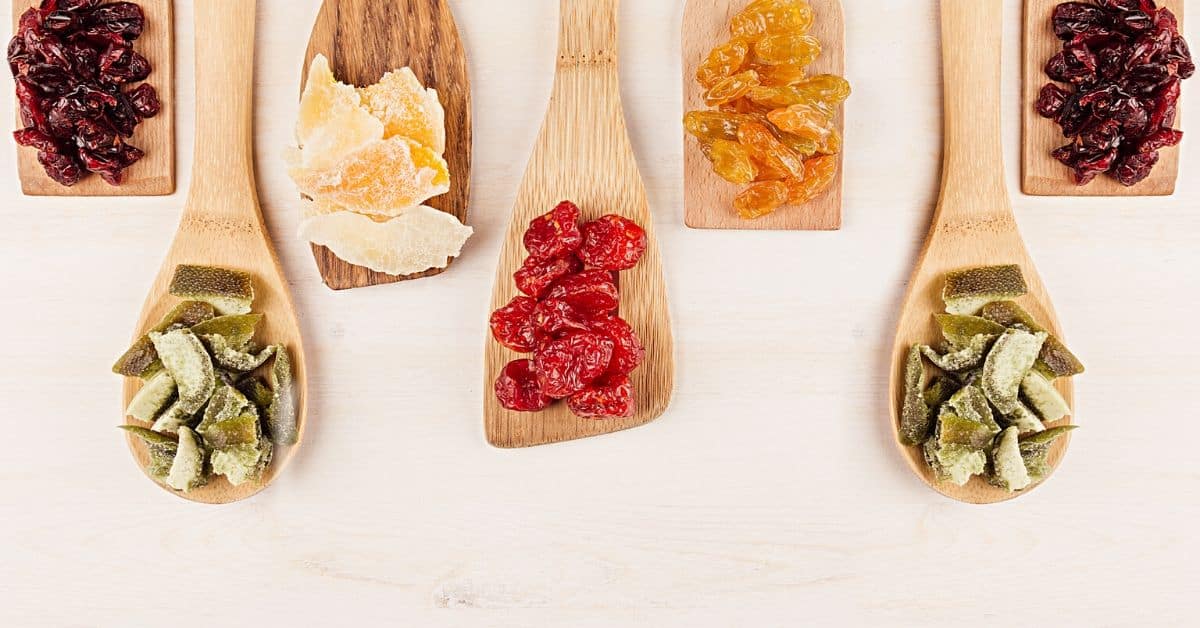 Dried Veggies
Like the dried fruit, you can also get some veggie snacks that are typically found in the chip aisle. We really like Veggie Straws and the Harvest Snaps dried pea pods.
Candy
We have very limited candy eating at home, so it's a special road trip snack for us. Twizzlers and M&Ms are our road trip favorites.
Water Flavor
It's a good idea to pack your own reusable water bottle for the road trip. But over time you might get sick of just drinking water. So, pack a small bottle of water flavoring that you can add to your refillable water bottle to make your own sweet drink and avoid buying a bottled drink at a gas station.
Did I miss any? Do you have a favorite road trip snack? Please share your own ideas! And if you're looking for more snack ideas, check out this list of airplane snacks for kids.