There's something special about a road trip. You're setting out on the open road with the hope of adventure. What animals will you see? Great conversations you'll have? How many snacks will you eat?? Plan, share, and remember your trip with these great road trip quotes and captions.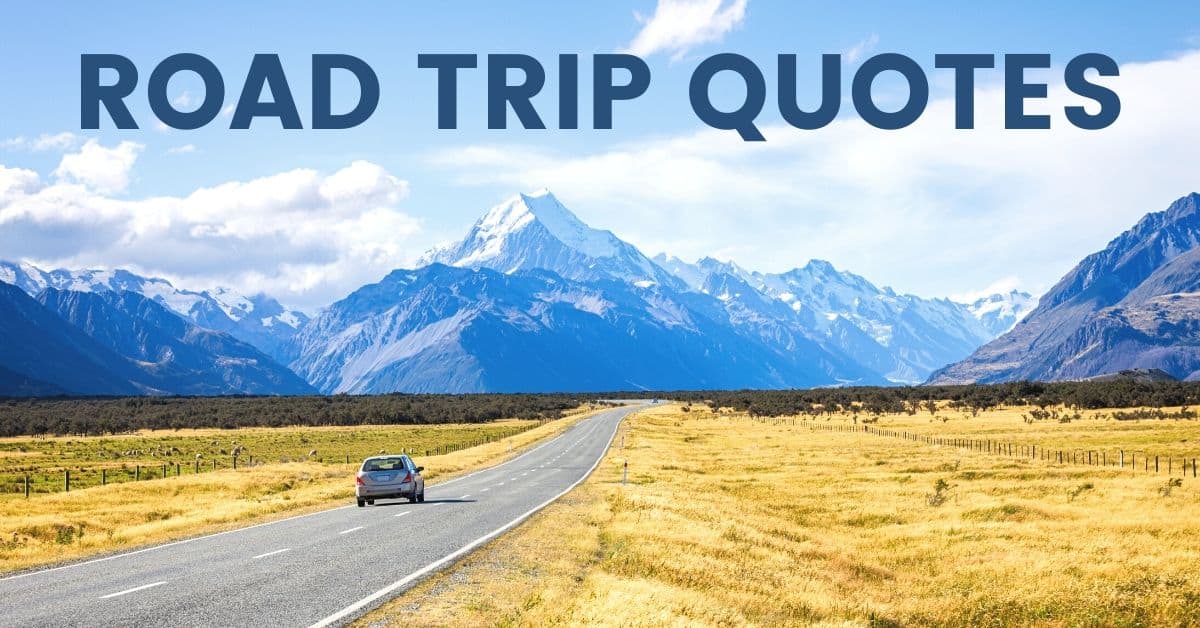 Quotes about Road Trips
Enjoy these general road trip quotes from a variety of famous authors, musicians, and poets. Many of these will work great for Instagram road trip captions on your photos.
---
"On the road again
Goin' places that I've never been
Seein' things that I may never see again
And I can't wait to get on the road again." — Willie Nelson, On the Road Again
"Afoot and lighthearted I take to the open road, healthy, free, the world before me." — Walt Whitman
"Some beautiful paths can't be discovered without getting lost." — Erol Ozan
"Roads were made for journeys, not destinations." — Confucius
"The freedom of the open road is seductive, serendipitous and absolutely liberating." — Aaron Lauritsen, 100 Days Drive: The Great North American Road Trip
"Once a journey is designed, equipped, and put in process, a new factor enters and takes over. A trip, a safari, an exploration, is an entity, different from all other journeys. It has personality, temperament, individuality, uniqueness. A journey is a person in itself; no two are alike. And all plans, safeguards, policing, and coercion are fruitless. We find after years of struggle that we do not take a trip; a trip takes us. Tour masters, schedules, reservations, brass-bound and inevitable, dash themselves to wreckage on the personality of the trip. Only when this is recognized can the blown-in-the glass bum relax and go along with it. Only then do the frustrations fall away. In this a journey is like marriage. The certain way to be wrong is to think you control it." — John Steinbeck, Travels with Charley: In Search of America
"Keep your face always toward the sunshine – and shadows will fall behind you." — Walt Whitman
"The mountains are calling and I must go." — John Muir
"You'll need coffee shops and sunsets and road trips. Airplanes and passports and new songs and old songs, but people more than anything else. You will need other people and you will need to be that other person to someone else, a living breathing screaming invitation to believe better things." — Jamie Tworkowski, If You Feel Too Much: Thoughts on Things Found and Lost and Hoped For
"The road and the tale have both been long, would you not say so? The trip has been long and the cost has been high… but no great thing was ever attained easily. A long tale, like a tall Tower, must be built a stone at a time." — Stephen King, The Dark Tower
"The struggles we endure today will be the 'good old days' we laugh about tomorrow." — Aaron Lauritsen, 100 Days Drive: The Great North American Road Trip
"The world's big and I want to have a good look at it before it gets dark." — John Muir
"Keep close to Nature's heart… and break clear away, once in a while, and climb a mountain or spend a week in the woods. Wash your spirit clean…" — John Muir
"The journey not the arrival matters." — T.S. Eliot
"Once a year, go someplace you've never been before." — Dali Lama
"Now, on this road trip, my mind seemed to uncrinkle, to breathe, to present to itself a cure for a disease it had not, until now, known it had." — Elizabeth Berg, The Year of Pleasures
"Oh, the Places You'll Go" — Dr. Seuss
"Thousands of tired, nerve-shaken, over-civilized people are beginning to find out that going to the mountains is going home; that wildness is a necessity; and that mountain parks and reservations are useful not only as fountains of timber and irrigating rivers, but as fountains of life." — John Muir
"Well, everyone needs at least one long road trip in their lives." — Adi Alsaid, Let's Get Lost
"Anticipation. In love and travel, getting there is half the fun. The lustful impatience, the passionate daydreams, the nerve-wracking waiting… lovers and travelers are all alike when they find themselves on the brink of a new adventure." — Vivian Swift, Le Road Trip: A Traveler's Journal of Love and France
"It is good to have an end to journey toward; but it is the journey that matters, in the end." — Ursula K. Le Guin, The Left Hand of Darkness
"There is an unspoken splendor when driving in the dead of night on an empty road. You lose yourself with nothing but your thoughts and the endless glint of stars above." — H.S. Crow
"How beautiful it is to live in a world with no walls." — Manal al-Sharif, Daring to Drive: A Saudi Woman's Awakening
"Flying means boredom. Next time you're going away, just drive. You can leave when you want. You don't have to sit next to a stranger. You can listen to all sorts of loud music without headphones and look at things out of the window that aren't just clouds. Driving is sensible alternative to flying." — Jeremy Clarkson, The Grand Tour Guide to the World
"Happiness is planning a trip somewhere new with someone you love." — Unknown
"I always wonder why birds stay in the same place when they can fly anywhere on earth. Then I ask myself the same question." — Harun Yahya
"Great things are done when men and mountains meet." — William Blake
"This is your planet. You really should come see it sometime." — G Adventures
"It is good to have an end to journey toward; but it is the journey that matters, in the end." — Ursula K. Le Guin, The Left Hand of Darkness
"The traveler sees what he sees. The tourist sees what he has come to see." — G.K. Chesterton
"Maybe we should live our lives in a constant state of expectation, always curious and excited about the possibilities that could unfold in front of us. Maybe it is our sense of vision that colors our reality." — Allison Fallon
Funny Road Trip Quotes
Whether you're in need of a smile or you're just looking to make light of the long road ahead, here are some funny road trip quotes that will help you laugh.
---
"This is no longer a vacation. It's a quest. It's a quest for fun. You're gonna have fun, and I'm gonna have fun…" — Clark, National Lampoon's Vacation
"Map out your future – but do it in pencil. The road ahead is as long as you make it. Make it worth the trip." — Jon Bon Jovi
"Road trips required a couple of things: a well-balanced diet of caffeine, salt and sugar and an excellent selection of tunes—oh, and directions." — Jenn McKinlay, Books Can Be Deceiving
"It doesn't matter how old you are, buying snacks for a road trip should always look like an unsupervised 9-year-old was given $100." — Unknown
"It's always best to start at the beginning – and all you do is follow the Yellow Brick Road." — Wizard of Oz
"Because the greatest part of a road trip isn't arriving at your destination. It's all the wild stuff that happens along the way." — Emma Chase, Tamed
"I love the smell of Waffle House; it's the smell of freedom, being on the open road and knowing that ninety percent of the people eating around you are also on that road. Truck drivers, road-trippers, hangovers–those who don't live that monotonous life of society slavery." — J.A. Redmerski, The Edge of Never
"That's why I love road trips, dude. It's like doing something without actually doing anything." — John Green, An Abundance of Katherines
"If you think adventure is dangerous, try routine; it is lethal." — Paulo Coelho
"I wish that road trips could pay my bills." — Unknown
"Well, we're not in the middle of nowhere, but we can see it from here." — Thelma & Louise
"According to the map, we've only gone four inches." — Dumb and Dumber
Family Road Trip Quotes
Hit the road for a great family road trip and enjoy making memories together as you discover the world.
---
"I am convinced that the greatest legacy we can leave our children are happy memories: those precious moments so much like pebbles on the beach that are plucked from the white sand and placed in tiny boxes that lay undisturbed on tall shelves until one day they spill out and time repeats itself, with joy and sweet sadness, in the child now an adult." — Og Mandino
"We were together. I forget the rest." — Walt Whitman
"Road trips can either suck monkey balls or, with the right person, they can be awesomesauce with cheesy fries." — Penny Reid, Friends Without Benefits
"You never know the value of a moment until it becomes a memory." — Dr. Seuss
"Fill your life with experiences, not things. Have stories to tell, not stuff to show." — Unknown
"Traveling in the company of those we love is home in motion." — Leigh Hunt
"Travel is not reward for working, it's education for living." — Anthony Bourdain.
"Some roads aren't meant to be traveled alone." — Chinese proverb
"Ohana means family. Family means nobody gets left behind." — Stitch, Lilo & Stitch
"Adventure is out there!" — Charles Muntz, Up
"There's the whole world at your feet." — Mary Poppins
"When there's a smile in your heart, there's no better time to start. Think of all the joy you'll find, when you leave the world behind and bid your cares goodbye. You can fly." — Peter Pan
"A road trip is a way for the whole family to spend time together and annoy each other in interesting new places." — Tom Lichtenheld, Everything I Know About Cars
"Kids don't remember their best day of television." — Unknown
"A journey is best measured in friends, rather than miles." — Tim Cahill
"There is an unspoken bond you create with the friends you travel with." — Kristen Sarah
"Experience, travel – these are an education in themselves." — Euripides
"Rejoice with your family in the beautiful land of life!" — Albert Einstein
"The children have been a wonderful gift to me, and I'm thankful to have once again seen our world through their eyes. They restore my faith in the family's future." — Jackie Kennedy
"When you take a vacation together, you become a team. You're all suddenly part of a dynamic that relies on and includes each family member." — Kim Tate, Why Family Travel is Good
"May your adventures bring you closer together, even as they take you far away from home." — Trenton Lee Stewart
"The man who goes alone can start today; but he who travels with another must wait till that other is ready." — Henry David Thoreau
"I have found out that there ain't no surer way to find out whether you like people or hate them than to travel with them." — Mark Twain
---
Here's to your next adventure. May it bring the kind of memories that inspire you to create your own road trip quotes!