One of the quintessential vacations is the classic road trip. If you're getting ready to hit the road, you're probably needing a road trip packing list and some tips for how to pack your car. After taking dozens of road trips over the years, here are my expert tips for things to bring on a road trip along with some organization tips for the car.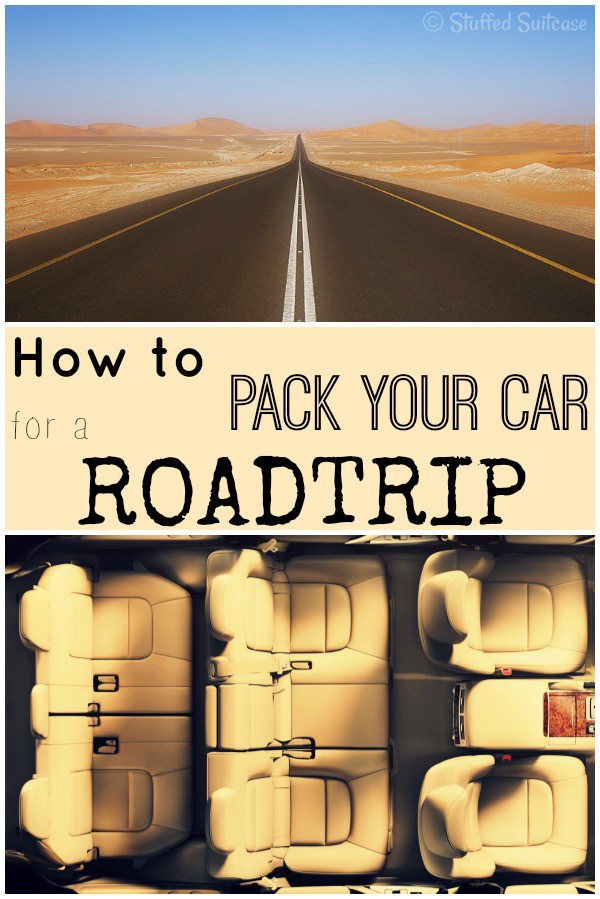 What to Pack for a Road Trip?
Planning and packing for a road trip can be both exciting and overwhelming. Whether you're going on a short weekend getaway or a long cross-country journey, there are plenty of things to consider.
You'll be putting together your car emergency kit, creating your ideal playlist, and loading up the trunk with all the road trip essentials. Here's what you need to know about packing smart and preparing for any unexpected challenges when taking a road trip.
Affiliate links are included in this post, if you purchase from my link I may earn a commission.
What should an adult pack for a road trip?
As an adult, there are some of the best things you should pack for a road trip. What you choose to pack may be a lot different than what a child or an entire family chooses to pack. Here is a list of ten items to pack for a road trip to make sure you have a good time in the car.
1. Toiletries
Pack the essentials such as shampoo, conditioner, toothpaste and toothbrush, soap, razor, and other items you may need if you're overnighting in a hotel. But also think about personal comfort/grooming on the road. Do you want to pack a hairbrush, lip balm, eye drops, hand lotion, etc?
2. Clothing
Be sure to pack comfortable clothes for the weather you will be traveling in. Consider if you need a change of clothes for overnights or if you're driving to a different climate than you started in.
Include a pair of slip-on shoes for the car but also a pair that is suitable for walking in case you decide to take a hike or explore somewhere new. I have a few ideas for great road trip outfits.
3. First-Aid Kit
No matter where you are going, it's always a good idea to have a basic first-aid kit handy in case of an emergency. Pack all your prescriptions, bandages, antiseptic creams, pain relievers, etc., so you can deal with minor injuries while on the go.
4. Electronics & Accessories
Your smartphone, laptop, and camera should be at the top of your packing list because they're essential for keeping memories and staying connected with family and friends during your travels. Don't forget adapters, chargers, and extra batteries if necessary.
5. Maps & Road Directions
You never know when technology will fail you when looking for directions! Be sure to bring along a road atlas, physical maps, and/or a GPS device to help guide you on your journey safely and efficiently.
6. Comfortable Blankets & Pillows
Having comfortable blankets and pillows can help passengers stay comfortable and even take a nap. They're also needed if you plan to take sleeping breaks in the car during a long drive.
7. Snacks & Drinks
Pack road trip snacks like granola bars or trail mix for an energy boost throughout the day, plus something refreshing like bottled water or cold drinks that won't go bad after several hours in the car.
8. Towels
Make sure to include towels so you can quickly dry yourself off after a quick swim or even rainy weather! Compact travel towels are best since they don't take up much space in your luggage/carrier bag(s).
9. Money & Identification
Bring along some cash just in case credit cards don't work wherever you go, plus your driver's license! Also, make sure to bring your passport if you'll be crossing the border. And make sure you have your car registration and insurance packed as well.
10. Entertainment
It's always nice to keep yourself entertained, especially during long road trips! Consider bringing books, magazines, music, and/or movies depending on what type of entertainment suits you best! Audiobooks are a great option on long trips, you can often get a good deal with Audible or Audiobooks.com.
Kindle Paperwhites are also great for bringing lots of books without taking up a lot of space and can be read in the dark or bright sun. If you're an avid reader, check out Kindle Unlimited. I have it and love that I can read unlimited free books continuously.
What should you pack for a child on a road trip?
Packing for a road trip with a child can be tricky. It's important to make sure you have everything your little one needs, without adding unnecessary weight to your vehicle. Here's a list of essential items that you should pack when taking a road trip with a child:
1. Car Seats
When driving long distances, it's important that children are safely and securely strapped into their car seats. Ensure your car restraints are up-to-date and suitable for your child's age and size.
2. Healthy Snacks & Drinks
Try to avoid too many sugary drinks and snacks while on the road, as they can increase crankiness in young kids. Opt instead for healthy road trip snacks such as fruit, vegetables, and crackers that will fill them up without the sugar rush later on.
3. First Aid Kit
You should always carry basic medical supplies in the vehicle, especially when traveling with children. Items like antiseptic cream, saline solution, bandaids, and ibuprofen are helpful for travelers of all ages. Depending on what age group the kids are in, you might want to add child-safe versions of medications like Benedryl and pain relievers.
4. Clothes & Toiletries
Depending on how long the journey is it's important to pack several changes of clothes including underwear and socks along with toiletries such as a toothbrush, toothpaste, and shampoo, especially if you're planning extended trips or staying overnight.
5. Favorite Toy & Blanket From Home
Nothing soothes a child more than familiar objects from home; it makes them feel safe and secure in an unfamiliar environment away from home comforts. Pack something small like their favorite blanket or teddy bear from home to take away some of the homesickness during times of restlessness on the road trip. A pillow can also come in handy for helping kids nap.
6. Activities & Games
Keep boredom at bay by packing some creative activities for kids to do while traveling in the car such as picture drawing books, travel games, or sticker collections! If space is limited, digital devices preloaded with fun educational apps, cartoons, or reading material can be just as beneficial!
When my girls were really young, I tried to plan for a new activity, toy, snack, or show for every 30 minutes of the drive. Taking frequent breaks to stretch your legs and let kids run around can also help break up the long drive.
7. Activity Board & Bin
Kids might be coloring or drawing and will need a flat surface for their work. An activity lap desk can come in handy for kids. You might also consider an organizing bin for helping them store all their activities. If your kid will be watching shows on a phone or tablet, a headrest mount might be useful.
8. Sun Protection & Insect Repellents
If you're planning outdoor activities it's always helpful to have sun protection like sunscreen and hats handy, often overlooked but equally essential are insect repellents which come in effective spray bottles compatible with any kind of climate!
Packing may feel overwhelming initially but these road trip essentials will ensure your little ones travel safely and enjoyably along the way, stress-free!
Ultimate Road Trip Packing List
Sometimes you don't think about the individual items you may need on a road trip! This list of simple items is just as important as the big items! Use this list and my blog post of road trip essentials for all things you need on a road trip!
I'm including a printable road trip packing list you can sign up for at the bottom of this section.
Driver's License
A driver's license is an essential item for any road trip. It allows you to legally operate a motor vehicle while on the open roads, and also serves as a form of identification if needed at airports or other travel hubs. It is necessary for renting a car if that should be needed during the trip. Having a valid driver's license before taking to the highways is always recommended!
Car Insurance & Car Registration
Car insurance and registration is an important element of any road trip, as it protects against unexpected damages or liabilities that may arise during your journey. Driving without the right coverage can leave you vulnerable to costly legal bills if an accident occurs.
Car insurance can provide access to roadside assistance services if your vehicle breaks down, allowing you to reach your destination with minimal disruption. Having the right car insurance in place before hitting the open road is a must, as it can save time and money while providing peace of mind.
Spare Tire
A spare tire is also an essential item to bring on a road trip. You never know when a flat tire may occur, and having the right equipment to replace it can save you time, money, and headaches.
A spare tire also allows for greater flexibility if unexpected road conditions prevent your vehicle from proceeding safely. A spare tire can be beneficial in emergency situations where you need to get off the highway or drive through harsh terrain. Having a reliable spare tire ready at all times is important.
Roadside Emergency Kit
Every road trip should include an emergency roadside assistance kit. Make sure you take a well-stocked kit with you that includes important road trip essentials like jumper cables, a tarp, bottled water, rags, plastic bags, gloves, flashlights and batteries, jumper cables, flares or reflectors, tire jack and tools to change a tire, and extra oil and fluids for your vehicle.
Having these items on hand can help you handle unexpected breakdowns or repairs quickly and confidently, reducing the hassle of being stranded on the side of the road.
Car Phone Mount
A car phone mount is necessary if you plan on using your phone while driving on a road trip. Not only does a car phone mount keep your device within easy reach, but also provides a secure place to store it so that you can keep your hands on the wheel and your eyes on the road.
Car phone mounts come in a variety of styles and offer features such as adjustable positions for improved visibility, auto-clamping, gravity hold for easy use, and wireless charging capabilities. Having a reliable car phone mount will make your road trip much more enjoyable and safe.
Car Power Adaptor
Car power adapters are available in different styles and allow you to charge phones, laptops, tablets, cameras, and other USB-connected devices while you drive. Having a reliable car power adapter eliminates the need for frequent stops to recharge, enabling you to focus on enjoying your journey without worrying about losing power.
Packable Cooler
Taking a packable cooler along on your next adventure can be extremely helpful. Not only does it keep food and drinks cool and fresh, but it also helps save on space. Perfect for camping trips, or just a day at the beach, these easily-packed coolers are great for any outdoor activity.
They come in many sizes to accommodate different amounts of food and drink supplies, making them an ideal choice for those who need to bring snacks and refreshments along with them. You can even buy plug-in coolers to act like a mini-fridge for keeping snacks and drinks cool.
Trunk Organizer
A trunk organizer is a great way to organize your car's cargo area. It allows you to maximize the space in your trunk while also keeping things tidy and easy to find. Trunk organizers come in many different sizes and styles, making it easy to find one that works for you.
They are perfect for holding items such as sports equipment, groceries, emergency items, and more. With a trunk organizer, you can be sure that all of your items will be stored properly so they don't take up too much space or get jumbled together. Just keep in mind how your suitcases will fit if you choose to use an organizer.
Travel Picnic Kit
If you're looking for the perfect way to enjoy your lunch on the go, a travel picnic kit is an ideal solution. Whether you're at work, on vacation, or exploring a new city, having a portable set of dinnerware, utensils, and food containers can make all the difference. Even just bringing a portable picnic blanket works well.
Not only does it save time by letting you eat wherever you are, without worrying about packing up leftovers, but it also allows you to create tasty meals that are healthier than restaurant food or fast food. Plus, with colorful designs and fun patterns available, a travel picnic kit adds a bit of style and personality to your meal-time experience.
Travel Mug
Taking a travel mug with you on a road trip is an excellent way to save money and reduce waste. Making sure your car has adequate cup holders is essential. It's always nice to have your favorite hot or cold beverage nearby while traveling, so don't leave home without one!
Sunglasses
If you've ever forgotten your sunglasses at home, while taking a road trip, then you know this was a huge mistake. Pack a few pairs of sunglasses, so you can protect your eyes while you drive or even sit in the front seat.
Printable Road Trip Packing List (PDF)
Sign up for my email list in the box below and my road trip packing list pdf will be sent straight to your inbox!
Apps You Need For a Road Trip
Google Maps
The most important app for any traveler, Google Maps allows you to easily plot out routes and check traffic in real time. You can plan your road trip with Google Maps to include gas stations, rest stops, attractions, and more. It offers spoken turn-by-turn directions that make navigating easier than ever before.
Waze
If Google Maps isn't enough for you, then Waze is worth looking into as well. This app provides crowdsourced reports on traffic conditions that allow drivers to make driving decisions based on where they are currently located. In addition, it has community alerts that notify drivers when there are police officers or road obstructions ahead.
GasBuddy
One of the essential road trip apps has to do with fuel; specifically finding affordable fuel quickly along your route. GasBuddy makes this happen by helping users find nearby gas stations with their lowest prices listed before they stop. No more worrying about running low while searching for cheaper fuel options, this app will take care of it all!
TripIt
TripIt helps travelers organize every detail of their trip into one streamlined itinerary including flight times, hotel reservations, and car rental information. Plus, it keeps track of any travel confirmations that come through emails so you don't have to waste time manually entering data from each confirmation email into another program or writing everything down on paper.
Spotted by Locals
This unique app allows people to explore like a local wherever they go by providing authentic recommendations from local experts who live in the cities they're visiting. Get off the beaten path and discover hidden gems that only locals know about: restaurants, bars, events, and more are at your fingertips with Spotted by Locals!
Roadtrippers Plus
One of my favorite apps for sightseeing road trips is RoadTrippers Plus. It's an app that helps you find all the best attractions and restaurants along your route, along with reviews of the attractions. Sign up and use code BTR5QTP to get $5 off.
Spotify, Pandora, Apple Music, SoundCloud
Don't forget to load up your favorite music streaming service before taking off! Long trips tend to get boring without good tunes keeping everyone entertained during long stretches of driving, plus music can really set the mood while exploring new cities or playing silly car games to break up monotonous highway miles.
Best Snacks to Pack for a Road Trip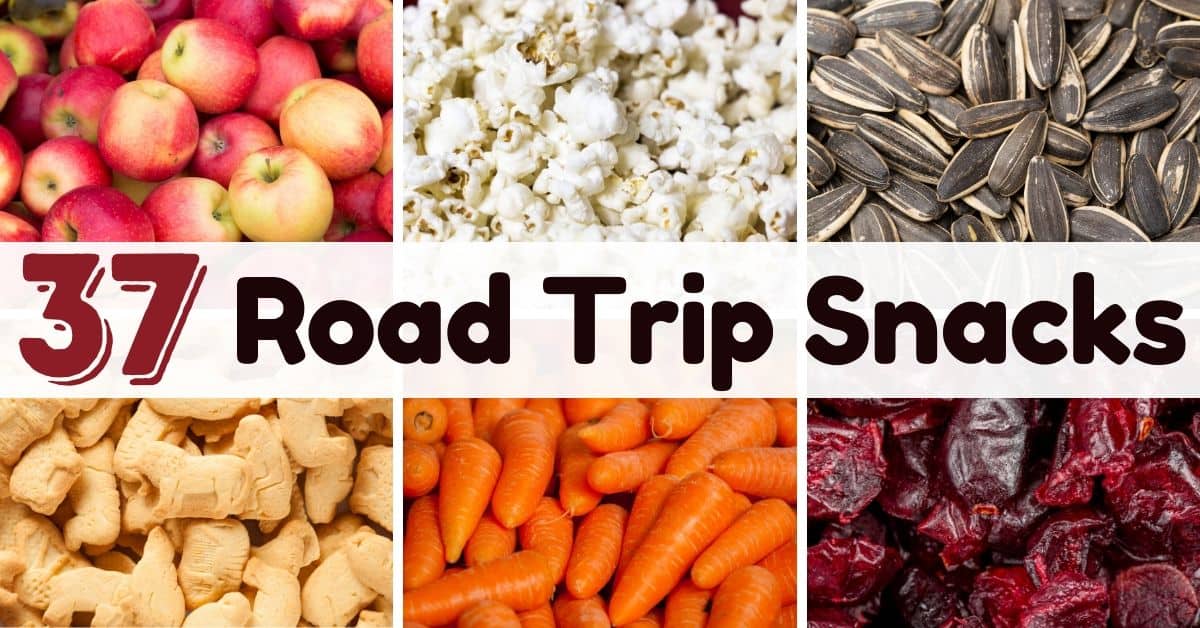 When on a road trip, you probably get extremely hungry. That's where your favorite snacks to pack for a road trip come in. You'll want to add some munchies that each traveler. These are some road trip snacks you may want to consider. And don't forget a few trash bags for easy disposal!
Granola Bars – A classic favorite made with oats, nuts, and honey that is easy to eat while driving. Make your own or buy some prepackaged ones.
Trail Mix – A combination of dried fruit, nuts, seeds, and sometimes chocolate pieces that makes for a tasty snack on the go.
Sandwiches or Wraps – Whole grain bread filled with lean meats make great portable meals that can be eaten quickly at rest stops.
Homemade Muffins – Perfect for a sweet treat on the road; these handheld snacks can be filled with wholesome ingredients like quinoa and chia seeds.
Beef Jerky or Pretzels – Classic salty snacks that have been around for years! Searching for organic versions may even be possible in gas stations these days!
Cereal – Dry cereal can make an excellent road trip snack. Some of our favorites are cheerios and chex.
Nuts and Seeds – Almonds, walnuts, and sunflower seeds provide a good source of protein and healthy fats to keep you full while on the go.
Gummy Bears or Fruit Snacks – These will appease your sweet tooth cravings in a somewhat healthier way depending on which you choose.
Applesauce or Yogurt Smoothie Pouches – Easy to eat and pack; these make a great snack for anyone in the car.
Popcorn – Pop some before your trip or buy any of the popular bags sold in most grocery stores.
Fresh Fruits or Vegetables – Carrots, celery sticks, cucumber slices, oranges, and grapes are light enough to not weigh down your stomach after a long drive, plus they're healthy!
How to Pack Your Car For a Road Trip
Whether you're embarking on a short road trip or a long one, packing your vehicle correctly is important. To make sure everything goes smoothly, here are some tips for getting your vehicle ready for a road trip.
Make a List – Before you start packing, make a list of all the items you need to bring with you. Consider the type of trip you're taking and include clothing, toiletries, snacks, maps and emergency supplies in your list.
Pack Smartly – When it comes to loading up the car, pack heavier items first and closer to the back of the vehicle. Place lighter items such as blankets and pillows near the front and above heavier items so that they are easy to reach during the drive. Make sure everything is securely fastened down with bungee cords or straps so that it doesn't move around while driving
Clean out Your Vehicle – Before leaving on your trip it's important to give your vehicle an interior clean out. This includes taking out any unnecessary items like empty water bottles or old takeout containers that won't be needed during your journey.
Consider Comfort – During long trips comfort should be the top priority when it comes to packing up your car. Bring along a small pillow, blanket, or set of headphones to help make the ride more comfortable if there will be multiple people in the car at once.
Leave Space – Don't overpack! Remember to leave some space in case you need more room for souvenirs or something else while on your journey
Double Check Everything – Before getting behind the wheel of your vehicle, double-check that all maintenance has been taken care of so your car is ready for the trip. Items such as spare tires and jumper cables should also be checked off before leaving home just in case something unexpected happens while driving.
First, I suggest that each person (including kids) pack a small bag or tote of their favorite toys/activities. This will be kept nearby and contain things that will keep you busy.
For adults, this might be magazines, books, or electronics. Kids might pack some books, coloring books or journals, electronic toy(s), printable activities/games, dolls, or legos.
A food bin is a big must for any road trip. I like to use a small box to store all our road trip snacks.
I make each of our girls their own plastic container of special snacks, this was learned after one too many, "but Mom, she already had two granola bars…". If each child starts with the same number of "fun" snacks, they can't argue if they eat all of theirs.
We also pack some general snacks that everyone enjoys, but the special snacks — like granola bars and fruit snacks — are limited.
Following these simple steps can help ensure that both you and your car are safe for whatever journey lies ahead!
Diagram to Pack for a Road Trip
1 – Passenger Seat
This is where the main passenger (usually me) keeps their stuff. I like to pack magazines, my iPad, and my purse in a narrow tote. I'll also store some lip balm and eye drops in my bag
2 – Main Console
We keep electronic chargers here along with many of our road trip essentials. Depending on how your car is built, what you can store in this space might be limited.
Some essentials that should be stored nearby the front seats are paper towels, wet wipes, kleenex, dental floss, hand sanitizer, lotion, and a travel first aid kit.
See my full list of road trip essentials we bring on our road trips and figure out where best to store them in your car. Keep in mind what you'll want to access easily while driving and what can be stored in the back for use at stops.
3 – Garbage
We have a special car trash can that loops around my seat belt latch and has an elastic opening so things don't fall in or out accidentally. You can also use a plain plastic grocery bag looped around the gear shift.
I recommend each row of passengers have its own trash bag. If you're traveling with kids you might even want to give each kid a garbage bag they can keep near their seat.
Having easy access to garbage bags will be a huge help in keeping your car clean and organized during your road trip.
4 – DVD Players
We've always had dual DVD car screens that we bought at Target, but now that our girls received tablets for Christmas, we like these tablet headrest mounts.
Our girls love watching some of their favorite movies while on a road trip. Of course, you may decide to skip this. One of my big tips, if you are buying DVD players for multiple kids, consider buying a set that offers independent playing options.
As our girls got older sometimes they'd want to watch the same movie, but other times they didn't and our players let them watch their own movies or they can watch the same one.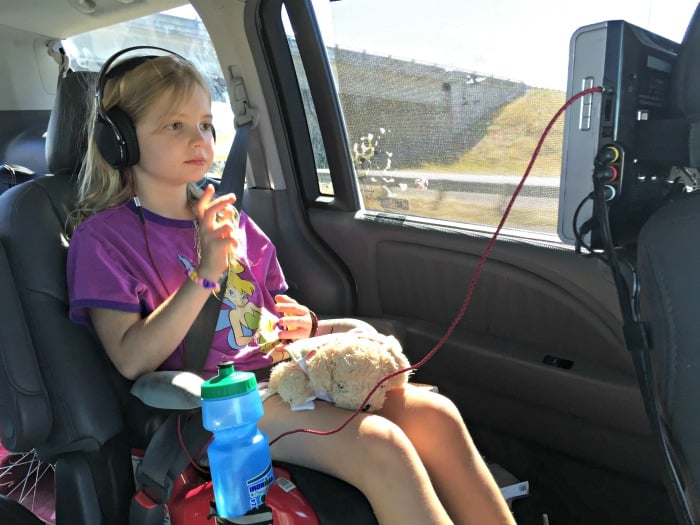 5 – Kid Bags
Each of your kids should bring a bag of personally selected items for the road trip. It could include a book or journal, or a special activity/toy. Our girls use their school backpacks.
If you're wanting to keep things off the ground, you might consider a backseat organizer that lets kids store misc stuff in pockets on the back of the seat. We've also used one of these middle seat organizers for the girls to share (see #7 below).
You can also consider packing a plastic lidded bin that is placed below your child's feet. Just make sure it's easy for the top to be removed while seated.
6 – Food
This is where we keep all the road trip snacks. We often use one of these clever crates and place it in an easy-to-reach location for each person.
For kids, I recommend making them each their own snack bag or box so that there are no arguments about who's had too many of one kind of snack. Each kiddo should get the same amount of fruit snacks, granola bars, etc. Make sure you remember wet wipes & napkins.
Another tip is to bring lidded/sippy cups for young kids. They work great for sharing a bottle of juice or water, and no spills!
For adults, consider a thermal mug if you're a coffee drinker. Your hot drinks will stay much warmer than those disposable cups from the store. Bring reusable water bottles, too.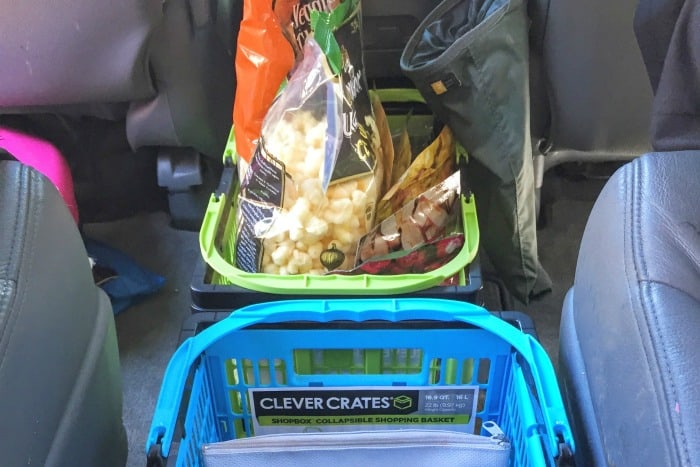 7 – Kids Activities
This is normally another bag and carries more kids' activities and games. We normally have a blanket for each kid in this space too. If the road trip isn't too long, this could be the only space you store kids' activities. We've used boxes and this backseat organizer for placing between the girls' seats.
8 – Luggage
Bags and stuff you don't need to access while driving go in the back. We often have one hotel stop on our main road trip drive, so we pack one overnight bag with all of our stuff for that hotel night so we don't have to bring in each person's luggage.
Another tip is to keep some extra snacks/treats or special drinks and such back here so you can dole them out when you stop. You can also store some of the other road trip essential items back here.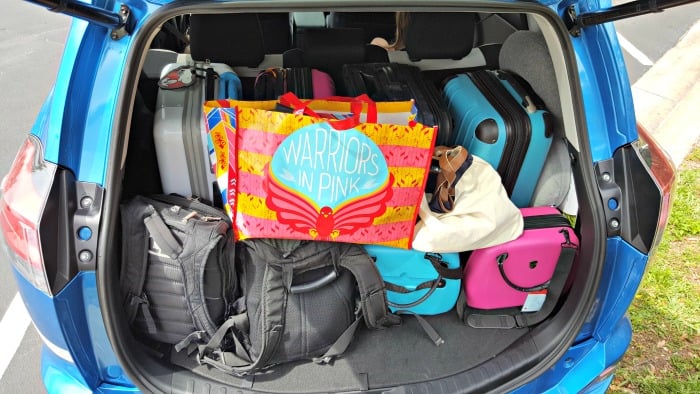 FAQs for What to Pack for a Road Trip
What should go in a car emergency kit?
A car emergency kit should include a first aid kit, jumper cables/battery starter, flares or reflective triangles for safety if your car breaks down on the side of the road, a flashlight with extra batteries, an emergency tool (like a hammer or a window breaker/seatbelt cutter combo). It should also include blankets and warm clothing in case you are stranded in cold weather.
Don't forget water, energy snacks, and basic tools like screwdrivers and wrenches. It's also good to keep items such as windshield washer fluid, fuel line antifreeze, and deicer spray in your vehicle in case the weather turns bad.
What should you pack if you're traveling through a cold state?
If you are driving through a cold state, it is important to pack winter road trip items such as warm clothing and blankets, as well as a winter car kit. This should include items such as jumper cables, windshield washer fluid, de-icer spray, fuel line antifreeze, and an emergency tool (like a hammer or window breaker/seatbelt cutter combo).
Consider packing snacks that contain healthy energy sources like nuts and fruits. Bring along extra batteries for your flashlight and any other electronic devices you plan to use on your trip.
What type of shoes should I pack on a road trip?
When packing for a road trip, it is important to choose shoes that provide comfort and support. Depending on the nature of your journey, you may want to pick shoes with features such as waterproofing or ankle support. The best shoes to pack are:
Running shoes – Athletic shoes are great for long days of driving, as they offer plenty of cushioning and shock absorption. I prefer slip-on loafer sneakers for road trips.
Hiking boots – These sturdy boots provide support for walking around during stops and exploring in unfamiliar territory.
Sandals – For warmer climates where days might be spent primarily outdoors, sandals can be comfortable and stylish. Try to avoid slide sandals as they aren't great for driving in.
Rainboots – In the event you encounter bad weather during your travels, rainboots can protect your feet from wetness and mud, but it might be easier to pack a pair of water-resistant sneakers or hiking boots.
Ballet flats – When space is limited, ballet flats are easy to pack away but still provide comfort during walkabouts in town or at a rest stop along the highway.
What should I pack for a 12-hour drive?
If you're embarking on a 12-hour drive, packing the right items can make all the difference in having a comfortable trip. Making sure your car is stocked with essential items will help ensure that you don't run into any unexpected issues along the way.
Snacks: It's always a good idea to pack some snacks for your journey. Choose nutrient-dense snacks such as fruits, nuts and granola bars that will give you lasting energy along the way.
Drinks: Whether it's water or a caffeinated beverage, make sure you have enough drinks to stay hydrated throughout your journey.
First Aid Kit: Accidents and injuries can happen, so make sure you pack a first aid kit in case of emergency.
Cash: Have some extra cash on hand in case you need to use toll roads or if there's an unexpected stop along the way.
Entertainment: Bring along some books, magazines, or music to keep you occupied during your drive.
Blanket and Pillow: Make sure you have a comfortable blanket and pillow to help make the journey more bearable.
By packing these essential items for your 12 hour drive, you can have a more comfortable and enjoyable journey. With a little bit of planning, you can ensure that your trip is as stress-free as possible.
What are 3 tips to prepare for a road trip?
1. Plan your route – Make sure you have a good idea of the route you'll be taking and plan out stops along the way if needed. Consider alternate routes in case of traffic congestion or detours, too!
2. Pack light – When packing for a road trip, consider bringing only the essentials so that you don't have to lug around too much luggage. This will make the journey more comfortable, and you can always stop to pick up items if needed.
3. Bring entertainment – Make sure you have some form of entertainment such as books, music, or games for both adults and children in the car so that everyone stays busy during the drive. This will help make the journey fly by!
Bonus Tip: Have your vehicle inspected. Before you head out on a road trip, make sure to get your car checked for any potential issues. This will help ensure that you don't have any problems during the drive and can get safely to your destination without any surprises!
Whether you're a road-tripping expert or spending several long hours in the car for the first time, with these packing guides and road trip tips, you'll be ready to head on a family road trip any time of year!