There's been a resurgence of the American road trip! More and more families are getting out on the road and discovering what new sights they can discover. But before you hit the road here are some tips for how to pack your car for a road trip vacation.
Our family has taken many road trips over the last decade and a half, and we've discovered a road trip packing system and layout that works for well for us. These tips will help keep everyone content on the long ride.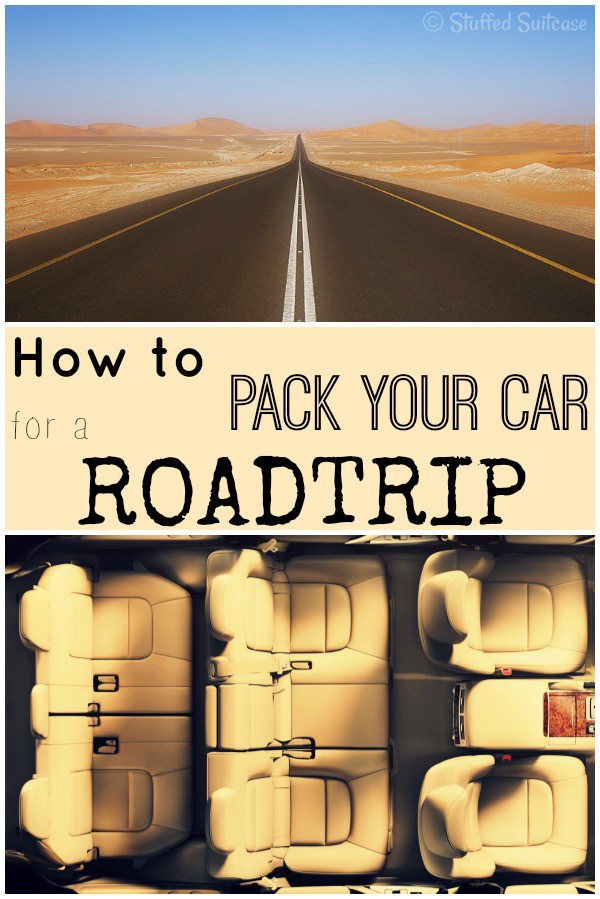 First, I suggest that each person (including kids) pack a small bag or tote of their favorite toys/activities. This will be kept nearby and contain things that will keep you busy.
For adults, this might be magazines, books, electronics. Kids might pack some books, coloring books or journals, electronic toy(s), printable activities/games, dolls, or legos.
A food bin is a big must for any road trip. I like to use a small box to store all our road trip snacks.
I make each of our girls their own plastic container of special snacks, this was learned after one too many, "but Mom, she already had two granola bars…". If each child starts with the same number of "fun" snacks, they can't argue if they eat all theirs.
We also pack some general snacks that everyone enjoys, but the special snacks — like granola bars and fruit snacks — are limited.
Diagram for How to Pack for a Road Trip
1 – Passenger Seat
This is where the main passenger (usually me) keeps their stuff. I like to pack magazines, my iPad, and my purse in a narrow tote. I'll also store some lip balm and eye drops in my bag
2 – Main Console
We keep electronic chargers here along with many of our road trip essentials. Depending on how your car is built, what you can store in this space might be limited.
Some essentials that should be stored nearby the front seats are paper towels, wet wipes, kleenex, dental floss, hand sanitizer, lotion, and a travel first aid kit.
See my full list of the 27 road trip essentials we bring on our road trips and figure out where best to store them in your car. Keep in mind what you'll want to access easily while driving and what can be stored in the back for use at stops.
3 – Garbage
We have a special car trash can that loops around my seat belt latch and has an elastic opening so things don't fall in or out accidentally. You can also use a plain plastic grocery bag looped around the gear shift.
I recommend each row of passengers have their own trash bag. If you're traveling with kids you might even want to give each kid a garbage bag they can keep near their seat.
Having easy access to garbage bags will be a huge help for keeping your car clean and organized during your road trip.
4 – DVD Players
We've always had dual DVD car screens that we bought at Target, but now that our girls received tablets for Christmas, we'll probably look into buying a tablet car mount like these tablet headrest mounts.
Our girls love watching some of their favorite movies while on a road trip. Of course, you may decide to skip this. One of my big tips, if you are buying DVD players, is consider buying a set that offers independent playing options.
As our girls got older sometimes they'd want to watch the same movie, but other times they didn't and our players let them watch their own movies or they can watch the same one.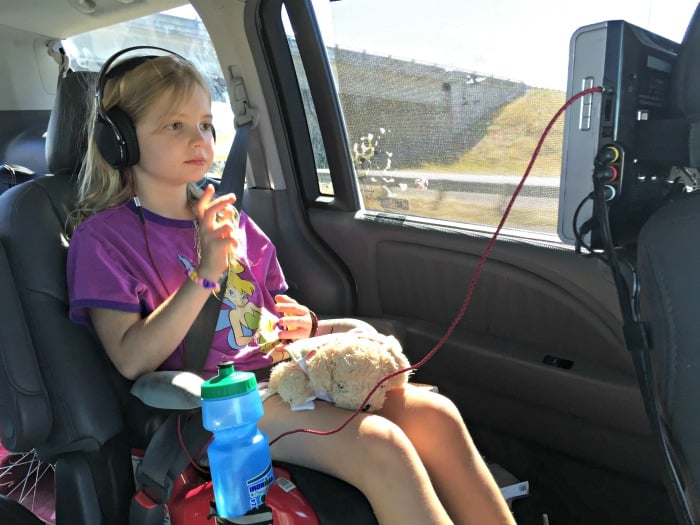 5 – Kid Bags
Each of your kids should bring a bag of personally selected items for the road trip. It could include a book or journal, or a special activity/toy. Our girls use their school backpacks.
If you're wanting to keep things off the ground, you might consider a backseat organizer that lets kids store misc stuff in pockets on the back of the seat. We've also used one of these middle seat organizers for the girls to share (see #7 below).
You can also consider packing a plastic lidded bin that is placed below your child's feet. Just make sure it's easy for the top to be removed while seated.
6 – Food
This is where we keep all the road trip snacks. We often use one of these clever crates and place it easy to reach for each person.
For kids, I recommend making them each their own snack bag or box so that there are no arguments about who's had too many of one kind of snack. Each kiddo should get the same amount of fruit snacks, granola bars, etc. Make sure you remember wet wipes & napkins.
Another tip is to bring lidded/sippy cups for the kids. They work great for sharing a bottle of juice or water, and no spills!
For adults, consider a thermal mug if you're a coffee drinker. Your hot drinks will stay much warmer than those disposable cups from the store. Bring reusable water bottles, too.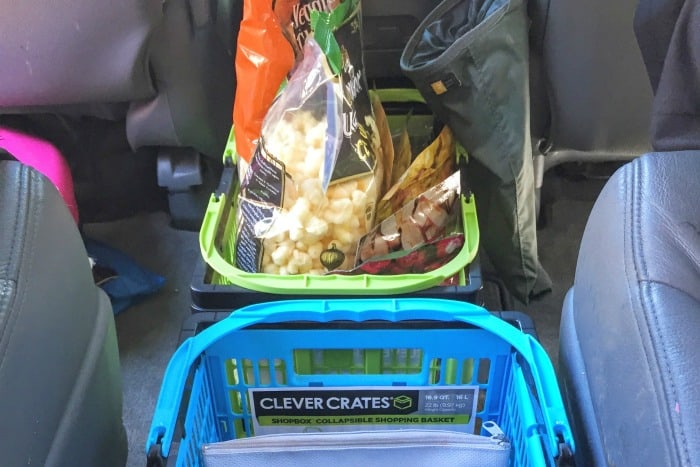 7 – Kids Activities
This is normally another bag and carries more kids activities and games. We normally have a blanket for each kid in this space too. If the road trip isn't too long, this could be the only space you store kids activities. We've used boxes and this backseat organizer for placing between the girls' seats.
8 – Luggage
Bags and stuff you don't need to access while driving goes in the back. We often have one hotel stop on our main road trip drive, so we pack one overnight bag with all of our stuff for that hotel night so we don't have to bring in each person's luggage.
Another tip is to keep some extra snacks/treats or special drinks and such back here so you can dole them out when you stop. You can also store some of the other road trip essential items back here.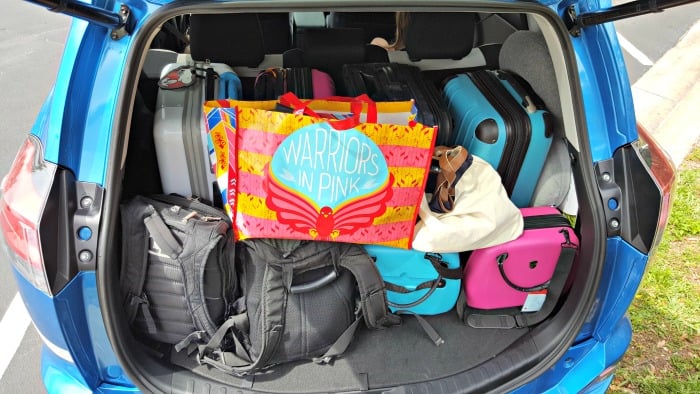 I'm looking forward to creating a road trip packing list so be sure to follow along and watch for it! Hope this post has helped you get ready to pack for a road trip!