Getting ready for a road trip and looking for some printable road trip games for your kids? I'm sharing a printable games pack that includes eight fun games for kids to play in the car.
NOTE: You'll find the sign-up box for the packet towards the end of this post. Once you add your email address then you'll be sent an email with a link to the file.
License Plate Game
Here's a classic game that can be fun, especially if you're on a long road trip. Use this printable license plate game to check off the license plates for each of the 50 states. You might want to keep this one going for multiple road trips!
Be sure to let your kids know in advance that license plate designs change over time so the image on this game might look different than the current license plate.
Word Search
Kids will have fun searching through all of these jumbled letters to find 24 words that are part of a great road trip vacation. TIP: Highlighters work great for word searches on paper. These erasable highlighters are handy if kids make any mistakes.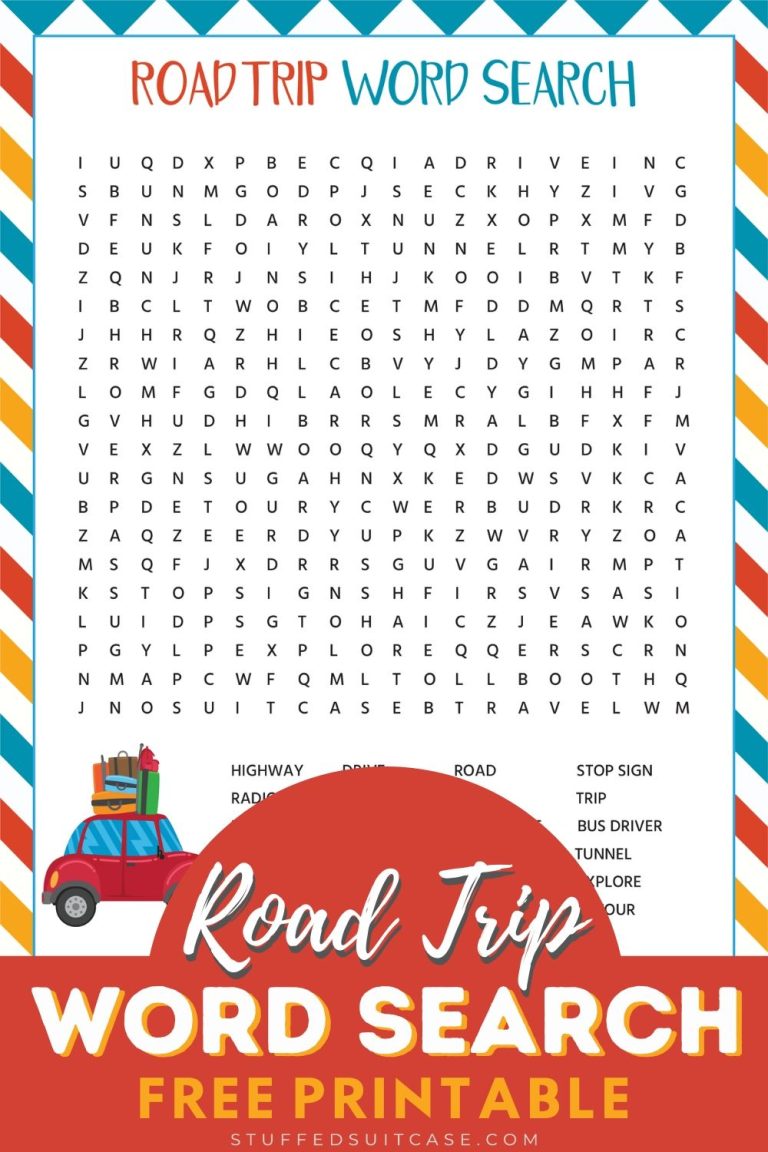 Maze
This road trip maze printable is self-explanatory. Help the car reach the gas station. Hint: the "cheat" way to solve every great maze is to work from the finish to the start!
Word Scramble
This word scramble game definitely works well for older kids. They'll have to unscramble these 20 words to figure out the road trip associated word the letters spell. In case you need help, the answers are:
INTERSTATE, MILES, HIGHWAY, ROAD, VACATION, SIGN, EXPLORE, TRAFFIC, MAPS, FAMILY, FREEWAY, GASOLINE, DETOUR, ADVENTURE, TRIP, YIELD, BUS, EXIT, STOP, TUNNEL
Alphabet Game
Fill in this printable alphabet list with things you see along the way. Works best if you have to complete it in order from A to Z.
You could also encourage your kids to come up with words for each letter of the alphabet that are associated with road trips. Encourage your kids to come up with words that haven't been used in the other printable games.
Battleship!
Print two copies of the Battleship page. Give each player a copy of the page, along with a pencil.
There are two grids for each player: one for tracking their ships and one for recording shots against the enemy's ships.
Each player will place all of their ships on the grid by writing the letters of the ship. The type of ship will cover a different number of squares in the grid (ex: submarine occupies 3 squares — put the letters "SSS" on the grid). Ships cannot overlap and can only be drawn vertically or horizontally (not diagonally).
The players will take turns calling out coordinates (ex. G5). If the coordinates called results in a hit, the player will mark the square with an "X", or a dot "●" if it's a miss.
If the whole ship has been marked, the player must say, "You sunk my [ship type]!" The first player to destroy the enemy's fleet wins!
Road Trip Bingo
Kids can play against each other or solo for this road trip bingo game. There are four BINGO cards so up to four people can play at once.
Print out the BINGO calling cards (on cardstock if possible) and cut out each symbol. The put the calling card symbols in a bag or bowl and have one person reach in and call out each symbol. See how many BINGOs each person can get!
I Spy
Keep your eyes on the lookout for these things that can be seen on a road trip. You can search for one of each, or keep a tally of how many of each you spot during the drive.
If your kids love this game, use my road trip scavenger hunt for additional items to spy for in the car.
Sign up to Get Your Printable Road Trip Games
Ready to download and print these road trip games for kids? Sign up for my newsletter in the box below (make sure the page has fully loaded) and my kids' road trip games printable will be sent to your inbox!
How to Use these Road Trip Games for Kids
Print off the activity booklet
Staple the packet for one-time use. Or, consider a small binder with page protectors and a wet-erase marker so the pages can be reused and kept clean.
To encourage your kids to work on the pages, you could offer a snack or treat for each page that is finished. You could also offer screen-time rewards after a page is completed.