Getting ready for an upcoming getaway and wondering what to wear on a road trip? Take the guesswork out of that question and use my guide for comfort and style while traveling by car. Plus, I'm sharing 7 road trip outfits that will help you stay comfy while looking cute!
Our family has taken so many road trips and I've definitely learned what works for road trips and also what you don't want to wear! Hint, avoid any pants that have buttons on the back pockets!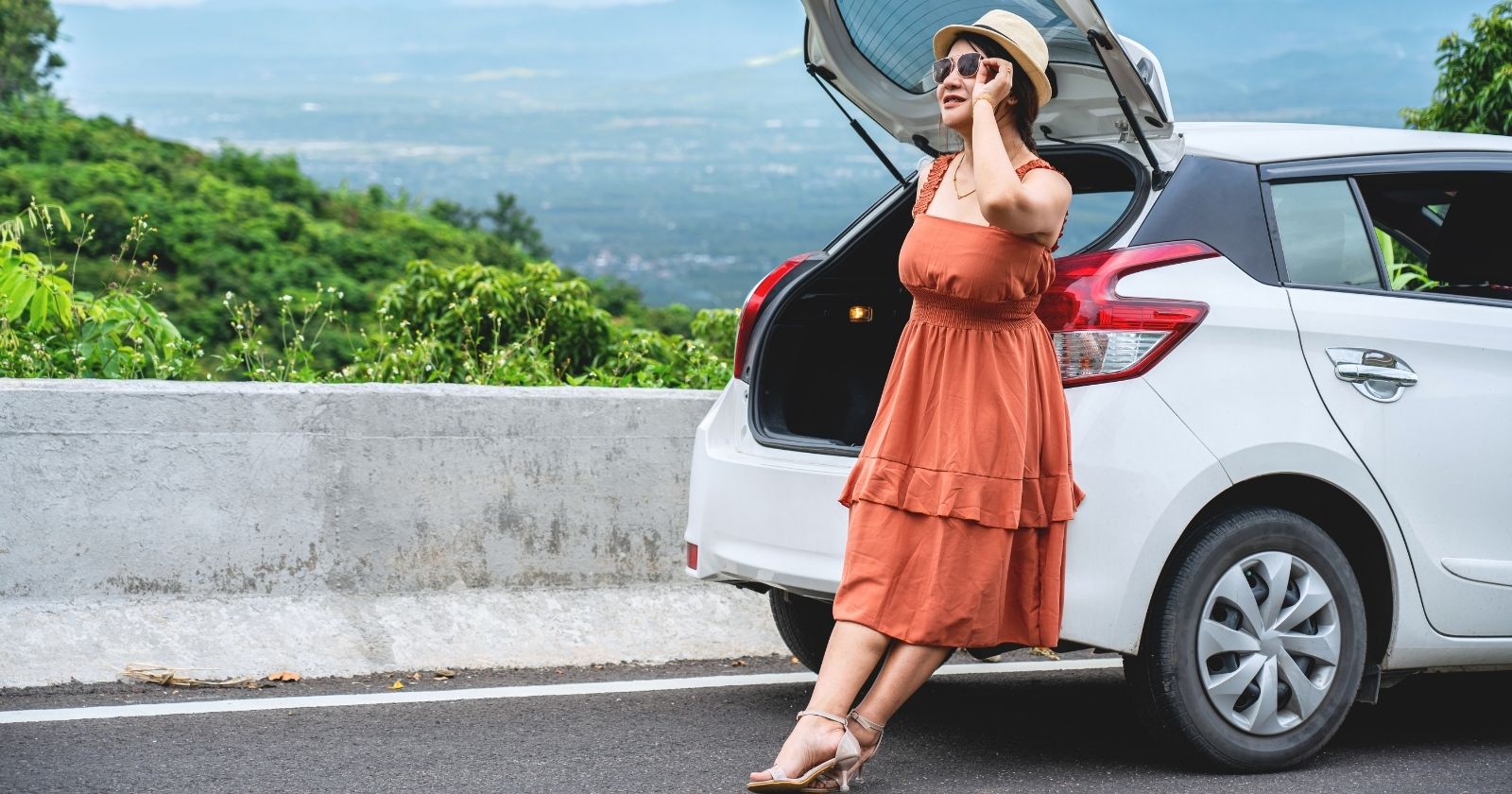 Dressing For Comfort When Driving Long Distances
Long-distance traveling means spending lots of time sitting in one seat with little to no wiggle room. All the more reason to make sure you are dressing comfortable and able to enjoy the ride.
Where Are You Going? Know Your Destination & Purpose
Deciding what to wear for your journey should be the very next objective after getting your travel plans in order. Once you know where you're going and what you'll be doing, you can then think about the attire to wear on the way. I personally dress more "beachy" when my family and I are headed toward the ocean. If going to the mountains, I seem to go for the cardigans and my year-round boots.
Overall, know where you are going and what you will be doing there. Keep in mind any stops on the way as well. If you're planning to stop for a hike or a dip in a lake along the route, plan for that when choosing your outfit for the day. Plus, you might want to have a pair of boots or flip-flops in the back for easy access at your stop. We often keep a duffel bag or day bag at the ready with stuff we might need for stops along the way.
How Long Will You Be In Car
Going hand-in-hand with knowing where you're going, it's also a good idea to calculate the amount of time you'll be spending in the car. Don't forget to calculate the stops you plan to take and consider where those will be.
Whether you'll be doing a lot of sightseeing along the way or stopping at lots of rest stops, you'll want to be properly dressed. Chances are for long periods of time, the more comfortable you'll want to dress.
Related Post: How to Pack for a Road Trip [Diagram]
How Cute Do You Have To Be When You Get There?
I know I'm not the only one that has ever asked this question, that's why I wanted to address it. There are a couple of ways to approach being cute upon arrival. Of course, it all depends on where you're going, but overall, it's a personal choice. After long hours in a car no one can expect to look completely cute. :)
If you're going straight to your hotel room or beach rental at the end of the day, then perhaps lounge attire will do. However, if you're rolling into town and immediately having dinner at a nice restaurant, you may want to consider a glow-up pit stop and outfit change before arriving at your final destination.
Start With Shoes And Build Up for Your Perfect Comfy Road Trip Outfit
Every gal knows it's about the shoes. A complete outfit can change because of them, and that's why I recommend starting with them in order to put together your cozy road trip outfits.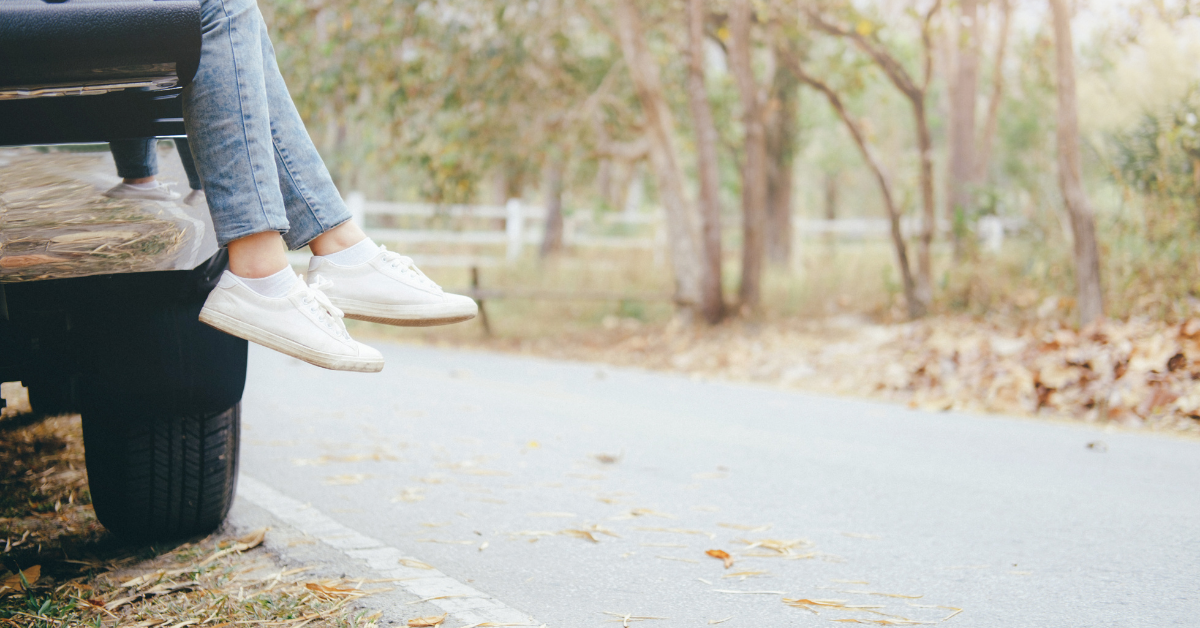 What Makes Comfy Travel Shoes?
When it comes to comfort and travel, think in terms of lightweight, not too tight, breathable, and easy to take on and off. Although you'll be doing a lot of sitting and making occasional pit stops, you don't want your feet to be uncomfortable at all.
If you'll be tag-teaming the driving, I recommend a shoe that won't get stuck under the pedal (like flip flops) or won't make the driving uncomfortable overall.
In some instances, you may want to consider keeping a couple of pairs of shoes on hand: one pair for driving and the other for riding. And as I mentioned above, if you're making any activity stops along the way you might want to pack a change of shoes in the back within easy reach.
Affiliate links are included in this post. If you purchase from my link I may earn a commission at no additional cost to you.
Stylish Walking Sandals for Travel
Sandals can be quite comfy when traveling in the car. The plus side is they give your feet the ability to breathe and if you find your ideal pair, they'll provide good support as well. There are many different types of sandals so it all depends on where you're traveling to and what you'll be doing.
Also keep in mind that some sandals might not be comfortable or safe to drive in, so as I said before you may want to keep a closed-toe slip-on shoe on hand if you're driving and swap into your sandals when you're the passenger.
The KEEN Women's Whisper Sandal (Zappos, Amazon) is ideal for adventurous travels and destinations. It's extremely popular with travelers as you can drive, hike, and even swim in them! While the classic Birkenstock Sandal (Zappos, Amazon) is more for fashion with a touch of comfort. I'm also a big fan of Sanuk sling sandals (Zappos, Amazon) with their yoga mat soles.
Slip-Ons
Slip-ons are ideal because they are easy on the foot and… well, they slip-on. This makes it easier when traveling with family and having to get in and out of the car often. I've started making my girls wear slip-on shoes only when we're on a road trip.
Slip-on shoes come in a variety of styles and support levels and are some of the most comfortable shoes I've ever worn! A few good ones for traveling by car (especially long drives) are:
Ballet Shoes for Travel
Another type of slip on shoes that can be great to wear on a road trip when you want to look cute are ballet shoes. These style of flats are casual but can pair well with a travel dress or cute road trip outfit.
Some of my favorite flat ballet shoes that are stylish and comfortable include BOBS by Sketchers (Zappos, Amazon (other colors) this is more of a slip-on but you can find cute styles that made me put it under this category. And they're super comfortable and easy to get on and off.
For a more traditional ballet shoe for traveling, check out the Lucky Brand Emmie (Zappos, Amazon), ECCO Ballerina (Zappos, Amazon), Vionic Minna (Zappos, Amazon), Anne Klein Tamara (Zappos, Amazon), Dansko Kira (Zappos, Amazon), or Aerosoles Homerun (Zappos, Amazon).
Comfortable Ankle Boots for Travel
If you're planning to travel when the weather is a little cooler you might want to wear some boots. But remember that you want to keep your footwear lightweight and comfortable for a long trip, ankle boots are a good option. Most hiking boots tie, but ankle boots are often pull on or have side zippers, making them easy to put on and take off.
Cute and Comfy Tennis Shoes
Of course, you can't go wrong with a good tennis shoe for comfort, but depending on your car ride you may want to strongly consider another option. Oftentimes, tennis shoes/sneakers/runners can cause your feet to sweat and may not provide much comfort if your feet swell during your long travels.
With the various styles available today, you can get a pair of tennis shoes that don't quite look like you're headed to the gym, yet keep your feet comfy and supported. Tennis shoes with mesh are also a top pick because they allow your feet to breathe.
Keep in mind that if you want to take off your shoes during the drive, you'll have to deal with re-tieing them at each stop if you don't get a no-tie version. A few styles I love to wear on a road trip are:
What are the Best Pants for Traveling?
Now that we've talked about shoes, let's talk about what to put on those legs.
Leggings and Jeggings: The Ultimate Road Trip Wear
Hands down, I believe leggings and jeggings are some of the best clothes for road trips. Why? For starters, they come in so many different colors and styles, it's impossible to list and name them all. Secondly, they can be paired with anything. And lastly, I have yet to come across a pair that wasn't comfortable.
It seems the biggest choices are between the color you want to wear and if it has some extras, such as the side pocket for your cell phone. And if you don't like tight leggings, you can also find some looser yoga pants that are super comfortable.
My teenage daughter has gotten me hooked on aerie leggings. They're super soft and don't have a see-through fabric issue! Plus they make versions that have a phone pocket which can be super helpful when traveling. Of course, lululemon leggings are definitely considered the premium brand of leggings and look great on most body types.
Jeggings are also an option if you're trying to avoid bulky jeans but still not look like you're wearing leggings. You can find jeggings at most of your favorite stores like Old Navy, Target, and American Eagle.
Best Pants for Travel
One of my favorite things to wear on a long flight is outdoor pants. I really like these hiking pants from Columbia. But I've also found these pants from Prana to be ideal for travel! They both seem to be great adventure-ready clothes for stops along the way. They are so comfortable but also depending on the color and type of top you pair it with you can make them pass as cuter and a little dressier than leggings.
If you're planning for a summer road trip, you might be tempted to wear shorts on your trip. A couple of words of caution about wearing shorts, 1) they can often bunch up on the seat and if you have leather seats you might stick to the seat which will be uncomfortable. 2) often you'll want to keep the AC on in the car if it's hot outside, so if you're wearing shorts you may get cold. Of course, if you run hot then shorts are probably a great choice for you!
Should You Wear Pajamas for a Road Trip?
I vote a strong no on wearing pajamas for your next road trip simply because there are so many pajama-like outfits that would be just a comfortable, yet casual and cute. There's also the times when you'll be getting out of the car to check out something along your journey or stopping for a break. Chances are you'd be a lot more confident when you're not wearing your PJ's.
Instead, opt in for a cute loungewear set, or even just leggings, a tee, and a soft cardigan.
Cute, Comfy Travel Outfit Sets For A Road Trip
As an alternative to wearing your PJs on a road trip, wearing a cute yoga outfit or loungewear set can make for a super comfortable ride. And these days leisurewear seems to be making a comeback with even tracksuit sets available.
Keep in mind if you're traveling when it's hot you might want to make sure the material is comfortable and breathable. Rompers are also super cute and comfy, and they're popular and easy to find. Just make sure they're a pull-on/off style and not button-up. You don't want to deal with buttons when you're making a pit stop.
7 Road Trip Outfits
I used some of the clothes and shoes I've mentioned to create these road trip outfit ideas. Each of them pairs a comfortable piece of clothing together to look cute.
If you get cold or hot easily, you might want to look for organic cotton options for your clothing. It's a sustainable material and great options for temperature regulation.
Comfy And Cute Road Trip T-Shirt Ideas
If you plan on going on a long road trip, you need to know what to pack and wear throughout the journey. It's important to pack the right clothes for the different types of weather you'll experience. Whether it's raining, chilly, hot, or humid, you'll have everything you need to feel your best on your road trip. T-shirts can be great for layering so you can pair them with a cozy cardigan or jacket.
Comfortable Loose Fitting T-Shirts to Feel Good Wherever You Go
When you want to feel comfortable wherever you're going and whatever you're doing, order some comfortable loose-fitting t-shirts. Two of my favorite places to buy cozy, loose tees are from prAna and aerie. You'll find these comfortable, fashionable shirts are available in various colors.
Tees will go with just about any bottoms, including jeggings, shorts, hiking pants, and leggings! And you can also buy some tees with long sleeves if you get cool in the car.
Cute Custom Graphic Tees From Etsy to Stay Fashionable
Make a fashion statement on your road trip while wearing cute custom graphic tees from Etsy. You can get a special cute t-shirt custom designed by artists. For example, if you're doing a road trip as a bachelor party celebration, you may want custom shirts for each person to wear, including the bride, maid of honor, and bridesmaids. In addition to Etsy, you can also find cute road trip graphic tees at Jane.com.
Trip Wear Dresses
Wrinkle Free Wrap Around Dresses
When planning to make a stop to have a night of fun at a bar, club, or restaurant, having a wrinkle-free wrap-around dress to wear is ideal. These dresses allow you to have a chic look while staying comfortable. Wearing a dress is also very convenient for pitstops along the road!
A few of my favorite travel dresses are:
Layering Clothes For Car Travel and Weather
Tank Tops
You can't go wrong with packing a few tank tops to wear. They're perfect to have when traveling during the hot weather. Tank tops go with everything, including shorts, pants, and even skirts. No matter what you plan to wear on your legs, you can pair it with a tank top!
Cotton T's
Keep it cozy and comfortable with cotton t-shirts. You'll find a massive selection of cotton t-shirts at some of your favorite stores in lots of unique colors. Tees can be great for layering with a cardigan or sweatshirt.
Sweat Jackets
If it starts getting chilly, you'll be glad that you packet a sweatshirt to wear. The great thing about a "sweat jacket" is that it can be zipped closed and you don't have to deal with pulling it over your head. Most sweat jackets come with a hood attached, which is perfect for protecting your hair when it's raining outside. Hoodies also work great for blocking out sound and light when you're trying to sleep in the car!
Cardigans
When you're wearing a tank top or t-shirt, you can easily pair it with a cardigan. The cardigan will keep you warm when it's just a bit chilly. Just like sweatshirts and t-shirts, cardigans are available in many colors and styles. Cardigans are a great alternative to sweatshirts to help you look cute. They also pair well with travel dresses!
Outerwear for Long Car Rides
If you're going on a long car ride with cold weather, don't forget to add some outerwear to your winter packing list. You'll want a warm coat, hat, and gloves. When you're traveling where it's sunny, don't forget to pack a hat to help block sunlight from your face. You can also consider packing a rain jacket or denim jacket if you're traveling during the spring or summer.
What Not To Wear on a Road Trip
When you're going on a road trip, never wear anything that makes you feel uncomfortable. If it's too tight or doesn't fit right, leave it at home. If you don't like the way jeans make you feel, don't bring them. The goal is to pack items that are lightweight and comfortable to ensure that you feel great during your trip.
The main things I won't wear on a road trip are jeans (unless it's a very short car ride), shoes that tie, and any undergarments that are uncomfortable. Ladies, make sure you're wearing your most comfortable bras when you're heading out on a road trip!
Conclusion
For me, comfort is the #1 thing to keep in mind when planning what to wear on a road trip. No matter how long you're spending in the car – you just can't go wrong with comfy! Keep in mind all the tips I said above, find a great pair of shoes, pair it with some great pants, and then keep in mind layering when you're planning your tops. Now you're ready to hit the open road!
Next up, you'll want to read my 27 road trip essentials you want to pack and my favorite road trip snacks!