Taking a journey back to my '80s childhood today with my sponsor. This shop has been compensated by Collective Bias, Inc. and its advertiser. All opinions are mine alone. #The7thMinion #CollectiveBias
Raise your hand if you owned a Cabbage Patch Doll? How about if you danced your heart out to Michael Jackson and The Bangles? Who else dreamt of driving KITT when you scored your driver's license? If you're smiling along with this reminiscing, then you must be a child of the 1980s!
Just the other day my husband and I had been talking about things our kids would never know; we started on this path when our girls were faced with a VCR machine for the first time in an office waiting room. They were appalled at how slow it was to get a movie to the beginning again, and even complained that they thought Beauty and the Beast was broken when they started it and only saw salt and pepper fighting (static). Of course, a true child of the '80s would know that just meant it was the end of the tape! We continued talking about things our kids wouldn't know and we brought up the lack of cereal box toys. We both remembered how as kids we would walk along the cereal aisle looking at what each box had to offer before choosing which cereal we'd beg our mom and dad to buy.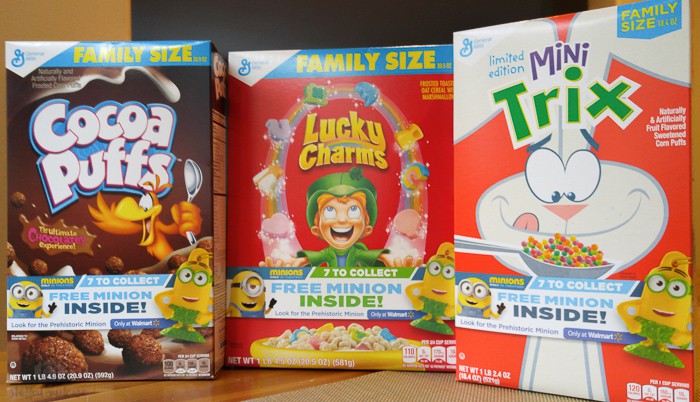 Imagine my surprise when I realized General Mills has stepped up and offered us an opportunity to share that fun childhood memory with our own girls! To celebrate the upcoming release of the Minions movie they're hiding Minion friends in cereal boxes. You can find the specially marked Minions movie packaging on the XL/Family Size boxes of these cereals: Honey Nut Cheerios, Cinnamon Toast Crunch, Lucky Charms, Reese's Puffs, Trix, Cocoa Puffs, and Golden Grahams. And there's a special prehistoric 7th Minion, that is only available at Walmart stores – so grab your boxes there for a chance to collect the full set!
For the ultimate experience and excitement, we opened our three boxes of cereal, each girl hoping for their favorite. And while they didn't get the exact Minions they were hoping for, they enjoyed the whole experience and loved snacking on some of the yummy cereal afterwards!
If you're a child of the '80s, who remembers those great days of cereal box toys, I hope you'll go grab some boxes and search for your own Minion characters. They link together, so try for the whole set and make Gru proud!
I'd love to know what's your favorite childhood memory that you hope to share with your kids? Comment below or tweet to tell me!