I'm going to share one of our clutter spots with you guys today. Hopefully seeing what I did for this odd spot will inspire you with your own organization ideas!
We're a coffee loving family which means we have a million few tumblers and mugs. We're also an active family and love using water bottles for events and activities. These two things mean our kitchen cupboard which holds all of these items became a cluttered mess. It certainly doesn't help that it's an odd shaped corner cabinet.
Well, I finally resolved to get the space organized!
Here's a look at the before picture. Now the sad thing is I had already removed a lot of stuff from the bottom shelf before I remembered to take a picture.
Then, with a little hard work and a LOT of purging…
First I decided to reposition the shelving so the bottles could all stand up on the bottom shelf. The water bottles are organized to the left side of the space, and the coffee tumblers and mugs go to the right. I shortened the middle shelf height which works well for the food wraps and k-cup boxes. My wine bottle opener is also tucked in there.
On the top shelf I bought a basic plastic bin and now store all my daughters' water bottles and thermoses in it, which really is handy in the mornings. To the side of the plastic bin I have a drink shaker and rarely used thermos.
I'm so happy with our new cabinet! Hope this helps give you some organization ideas for your own kitchen cabinets!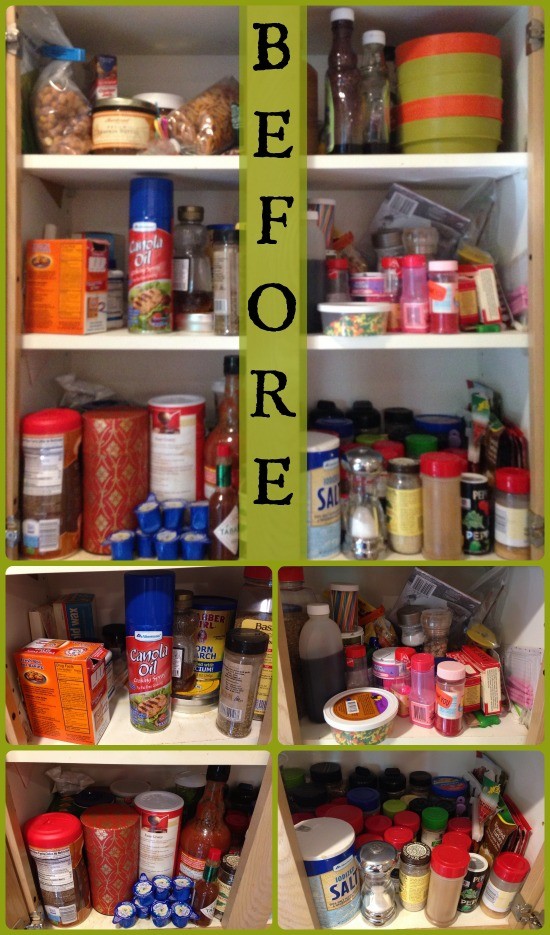 Be sure to take a peek at my other kitchen organization project: our spice cabinet!