You're getting ready for a relaxing vacation…let's make sure you look your cutest for all those fun vacay photos with these cute Disney Cruise outfit ideas!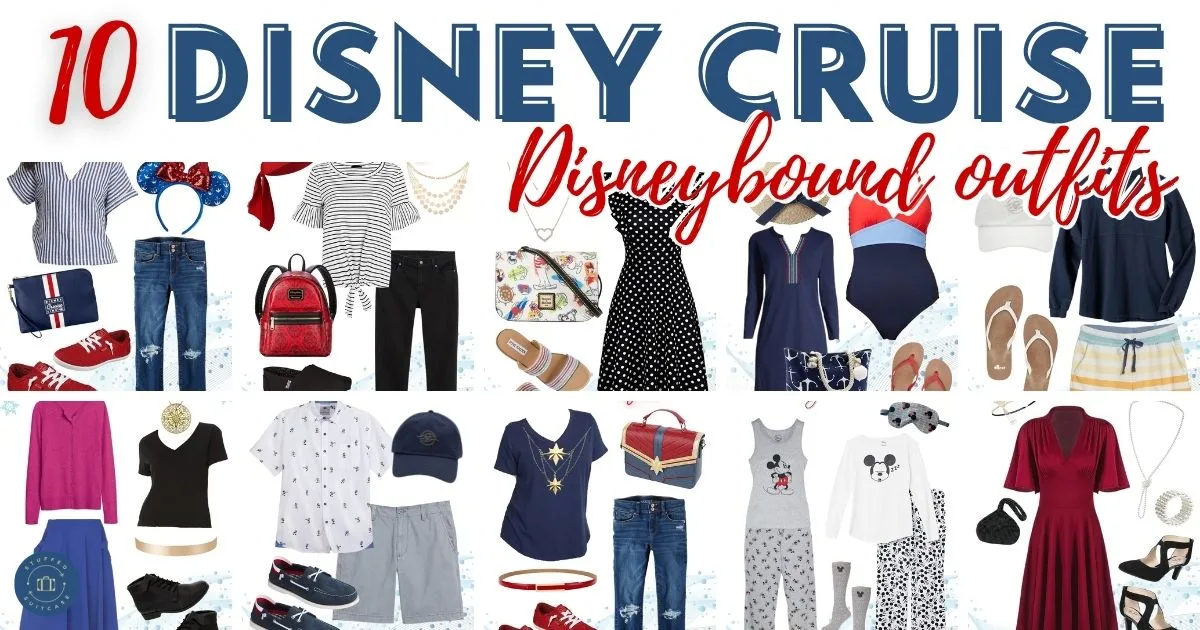 Imagine a vacation where you relax by the pool, dine at a different restaurant every night, and get free childcare, too?! Your dream can come true on a Disney cruise. And with so much of the travel planning taken care of for you, you can spend a little extra time planning some cute Disney Cruise outfits!
Welcome Aboard & Sail Away Party
When you first board the ship you're going to want to look cute for the photo they snap of every group coming aboard. And when the ship leaves port there will be a sail away party on the deck that will put you in the Disney Cruise spirit!
---
Chilling At Sea
There's a good chance one of your cruise days will be spent at sea. This is the perfect day to sleep in and explore your home away from home. For this day you'll want to be casual, cute, and of course, comfortable.
---
It's Showtime
Embrace the entertainment of Disney at night for one of their theater shows! Dress up for fun times and lots of smiles! This Disney cruise outfit combines the fun of Disney with some dress-up glamour.
---
Castaway Cay Beach Day
One of the highlights of a Disney Cruise for our family is the stop at Castaway Cay. This is Disney's private Caribbean island and it's filled with fun things to do, including plenty of time at the beach!
---
Pirate Night Disney Cruise Outfits
One of the popular family-fun activities on a Disney Cruise is Pirate Night! From a themed dinner, to a dance party on the deck, and finishing off with fireworks, it's a night for celebration. Make sure you pack along some fabulous pirate gear.
---
Marvel Fan
There are plenty of Marvel Universe fans hanging out on a Disney Cruise. And a brand new Avengers Restaurant will be debuted on the new Disney Wish Cruise Ship. For women, why not dress up as a popular female Marvel character, Captain Marvel.
---
Frozen Fun
Here's a cute Disney Cruise outfit to celebrate Anna from Frozen! It's perfect for the new Frozen dinner theater on the Disney Wish.
---
Hollywood Glam
As a nod to Walt Disney, dress up with some Hollywood glam vibes one night for dinner. This cruise outfit will be especially fitting for the new restaurant, 1923, on Disney Wish.
---
For the Guys
While most of these outfits are for women, here's a casual look that guys will love!
---
Goodnight Pajama Time
At the end of your fun-filled days, snuggle into these cute Mickey pajamas and get some shut eye.
---
These 10 outfits will help you look your cutest on your Disney Cruise! Make sure you grab my Disney Cruise Packing List!