Are you ready to set sail with Disney Cruise Lines? I just watched the unveil their brand new Disney Wish cruise ship, and whoa is it spectacular. This is the fifth ship in the Disney fleet and will set sail in the Summer of 2022. It's filled with some amazing new Disney Cruise Imagineering, Disney families are going to want to book a trip on THIS ship!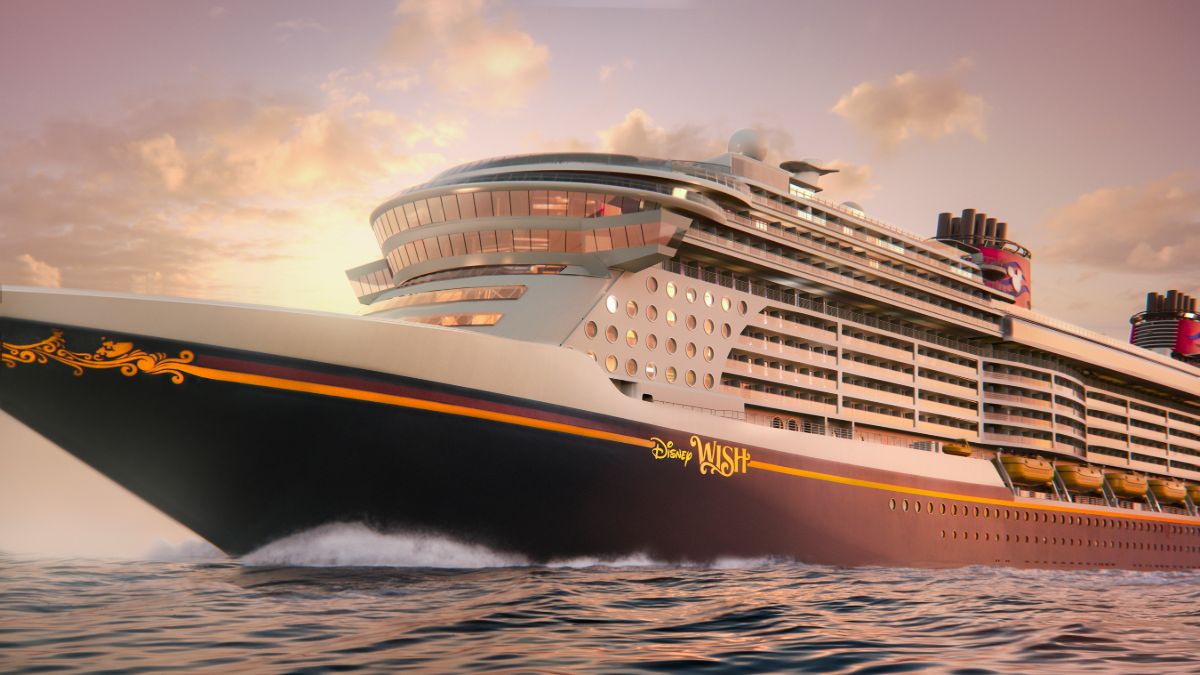 What's New on Disney Wish?
With Disney Wish, you'll be immersed even more in the storybook worlds of Disney characters. Each new space has been designed to welcome guests into the world of Disney and to allow them to vacation with the joy and magic that makes Disney special.
Say Hello to Rapunzel
As is tradition with Disney Cruise Line, each ship features a beloved Disney character on its stern. The Disney Wish will have Rapunzel as her honorary character. Disney feels that Rapunzel the perfect character for a Disney cruise ship. She's spirited, smart, curious, and above all, adventurous, perfect for cruising around the world!
Grand Hall
Starting in the Grand Hall, a beautiful gold Cinderella statue will greet you and remind you that you're cruising with Disney. There are also fun new entertainment happenings that will be occurring in the Grand Hall!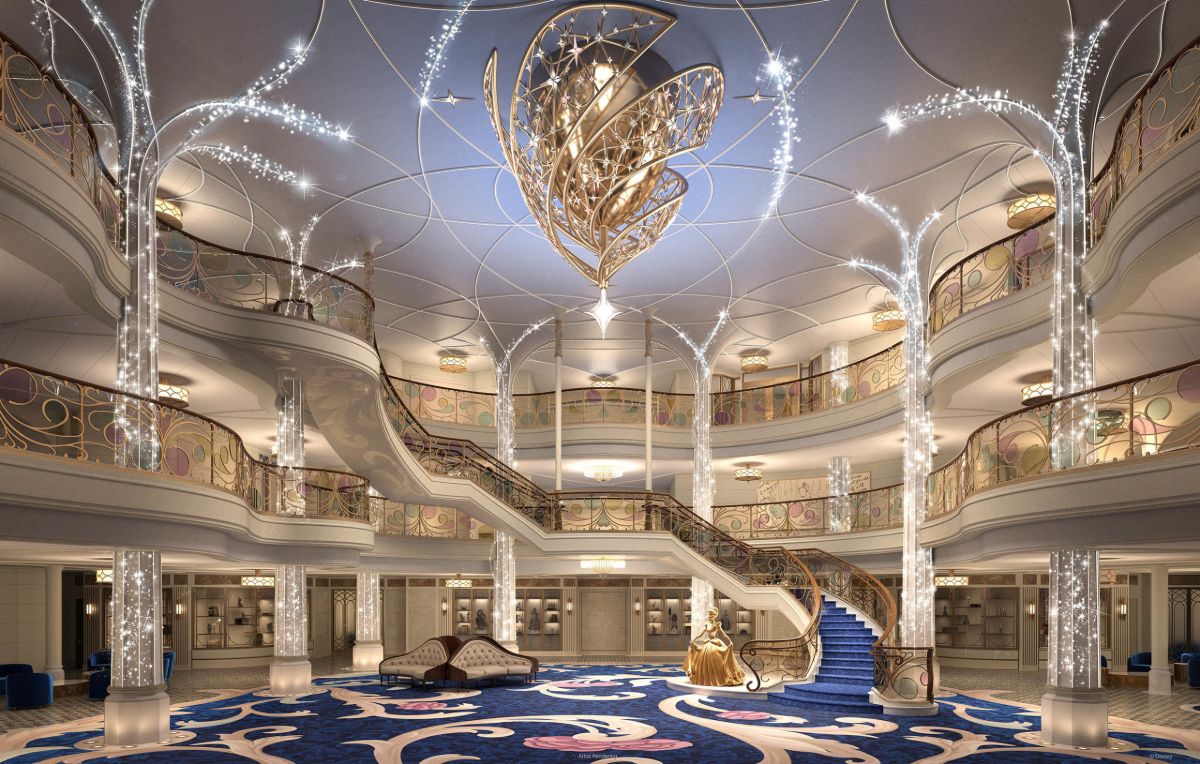 Upper Pool Deck
The Upper Deck of the Disney Wish has been reimagined to help families enjoy some fun in the sun together. You'll find casual dining, plenty of space, multi-level pools, plus a brand new adventure…
The AquaMouse
The first-ever Disney attraction at sea, AquaMouse, will debut on the Disney Wish. You'll take off on a waterslide adventure that spans 760 feet around the Upper Deck. You'll be headed to Mermaid Lagoon within a Mickey short film called, Scuba Scramble. But uh oh, Minnie and Mickey will be leading this adventure with their tour company, Port Misadventures. Surely nothing will go wrong!… :)
Toy Story Splash Zone
Families with little kids will splash along with some of your favorite Toy Story characters in the new Toy Story Splash Zone.
Quite Cove Adult-Only Retreat
For adults who love Disney, there will be an adults-only retreat area, Quiet Cove. It features an infinity pool and bar. Perfect getaway for couples while their kids are in the kids club!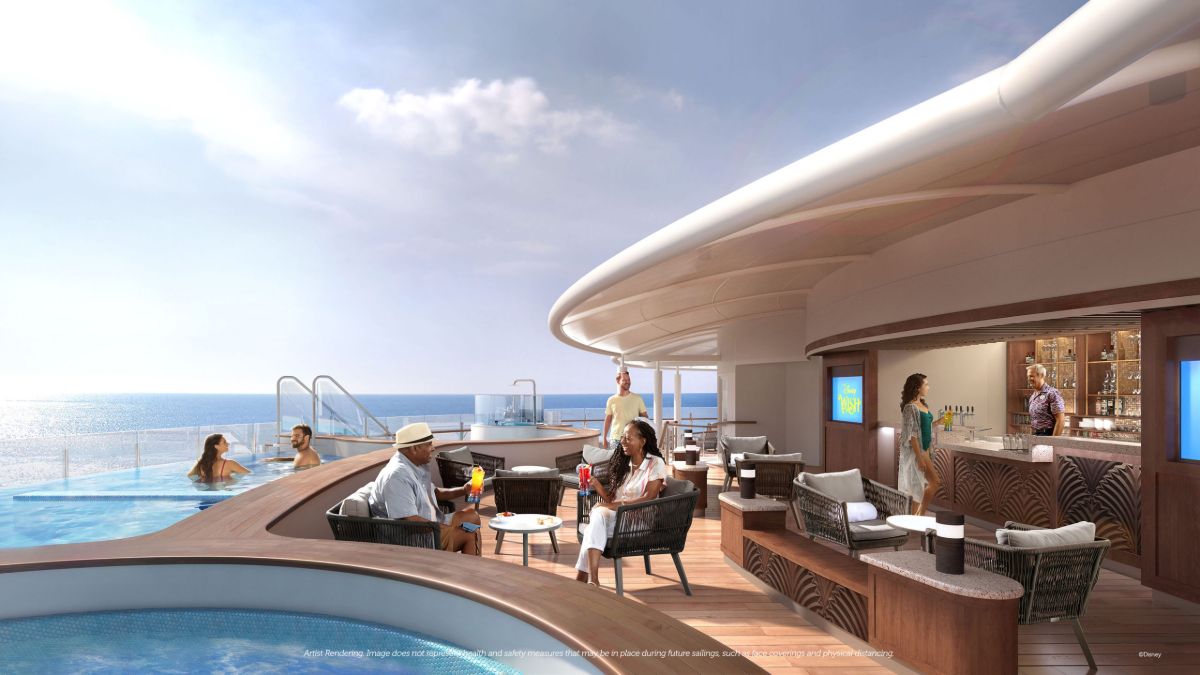 Spaces Designed Just for Kids
We all know that Disney Cruises are perfect for families because of all the extras they design to entertain kids. And the Disney Wish is making cruising even more fun for kids!
Kids Clubs for All Ages
The Disney Wish will have a completely reimagined Disney's Oceaneer Club for kids ages 3 to 12. It will even have a secret slide entrance from the Grand Hall! Within the new club design are three unique spaces designed to allow kids to learn, discover, and create!
Marvel Super Hero Academy
Inside this high-tech Avengers headquarters, kids will choose their own Hero suit and team up to learn superhero secrets from their favorite heroes like Black Panther, Spiderman, Antman, and more.
Fairytale Hall
Unleash your kids' creativity at Fairytale Hall. Join Belle in the library, make art with Rapunzel, or join Anna & Elsa in their summer house.
Imagineering Lab
Kids get to learn more about how Disney magic is created. They can even design their own virtual roller coaster and ride it!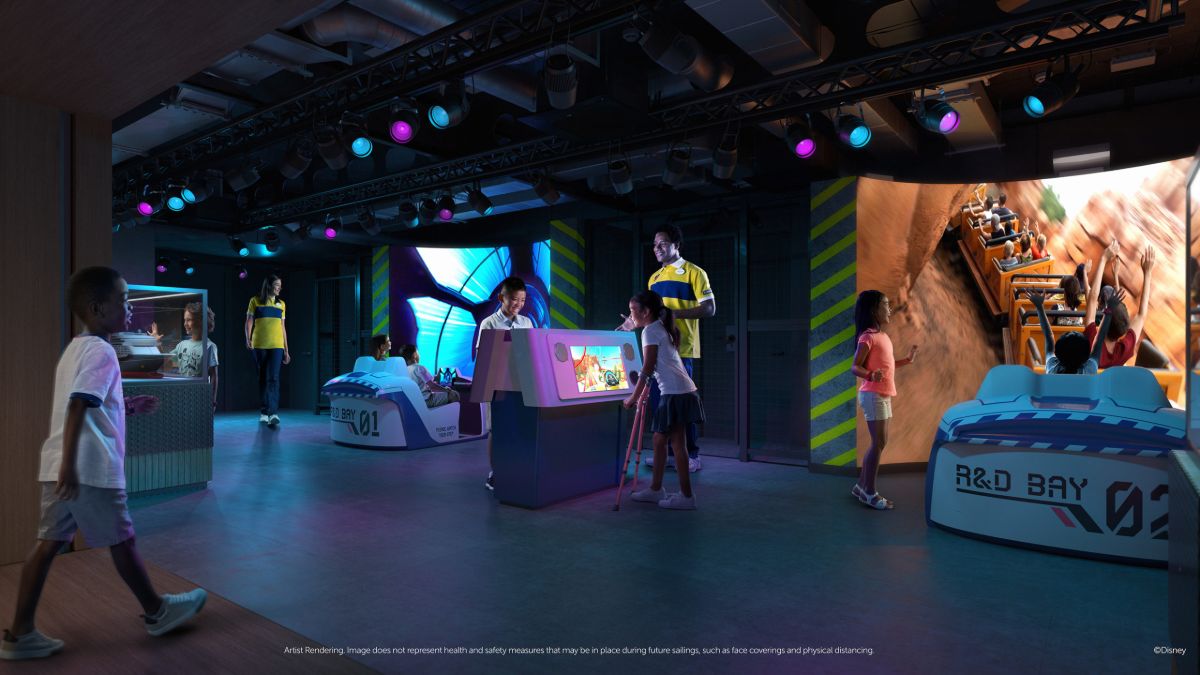 Dining on the Disney Wish
Three new dining experiences for families are coming to the Disney Wish.
Arendelle – A Frozen dining adventure, it's a dinner theater for families! Anna, Elsa, and yes, Olaf will entertain you while you dine. And as for the food, the menu will feature foods that have a Nordic influence.
1923 – This restaurant is an ode to Walt Disney and the old world of Hollywood. 1923 is the year that Walt Disney Studios was founded. This restaurant will combine classic Hollywood glamour with California-inspired fusion flavors.
Worlds of Marvel – This is a top-secret Marvel cinematic dining adventure! Families can play a role in an action-packed mission that unfolds as you dine.
Entertainment
Storytelling is in the DNA of Disney, and the Disney Wish will keep that high standard. The Walt Disney Theater on the wish has been designed to feel like you've been transported to a magical forest.
Disney's Aladdin will play in the theater nightly. There will also be two new shows debuting on the Disney Wish and are still secret.
There will also be three brand new entertainment concepts designed for families to play together and connect. There is very little information about these new spaces, but here's what we know:
Grand Hall Stage: families will watch fun theatrical surprises throughout the day in the heart of the ship.
Luna: where the entertainment will evolve from day to night.
Hero Zone: where imagination with meet active play.
Adult Relaxation
Disney Wish will have a brand new class of story spaces designed for adults. As I mentioned before they'll have the Quiet Cove adult retreat space on the Upper Deck. And guests can also be pampered at the Senses Spa. But, the Wish will have an adult venue that is out of this world!
Star Wars Hyperspace Lounge
Star Wars fans will feel like they've boarded a luxury spaceship while they sip galactic cocktails and get a panoramic view of the galaxy.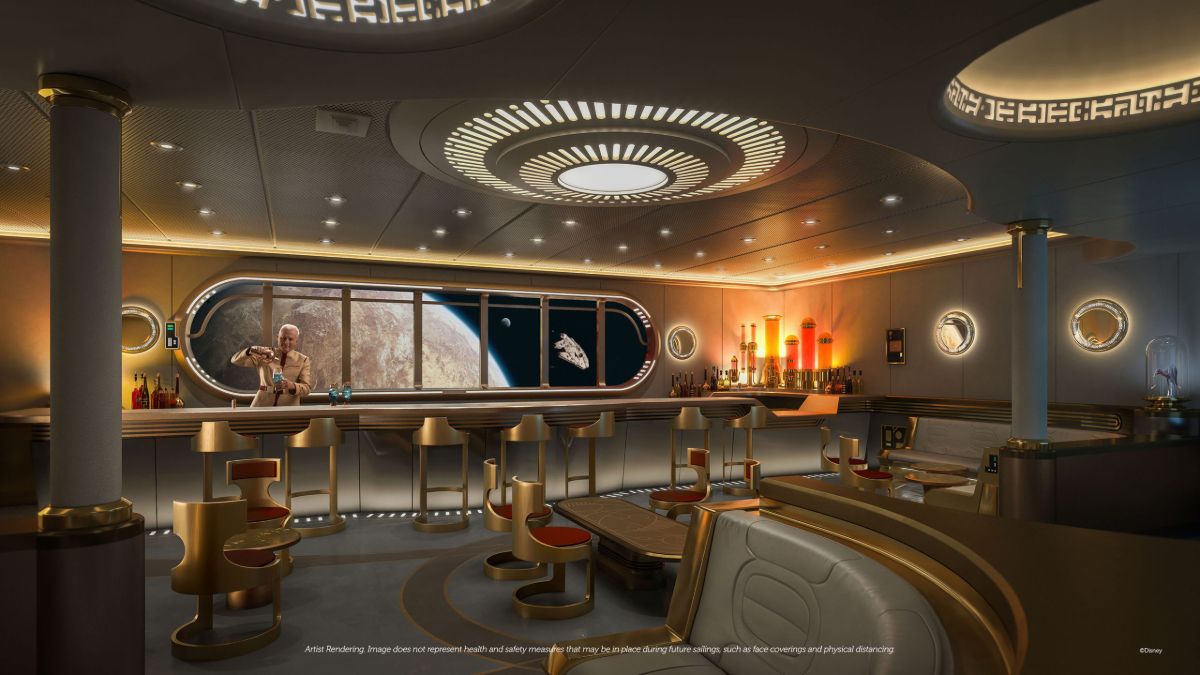 Adult-Exclusive Dining
Disney Wish will have a suite of adult-only dining experiences inspired by Beauty and the Beast. My understanding is that these are a premium experience, so there will be additional fees.
The Rose is a chic lounge where adults can enjoy a pre or post-dinner drink.
Palo Steakhouse has been reimagined with decor inspired by Cogsworth. The restaurant will be a blend of sophisticated Italian dining with the class of a modern steakhouse.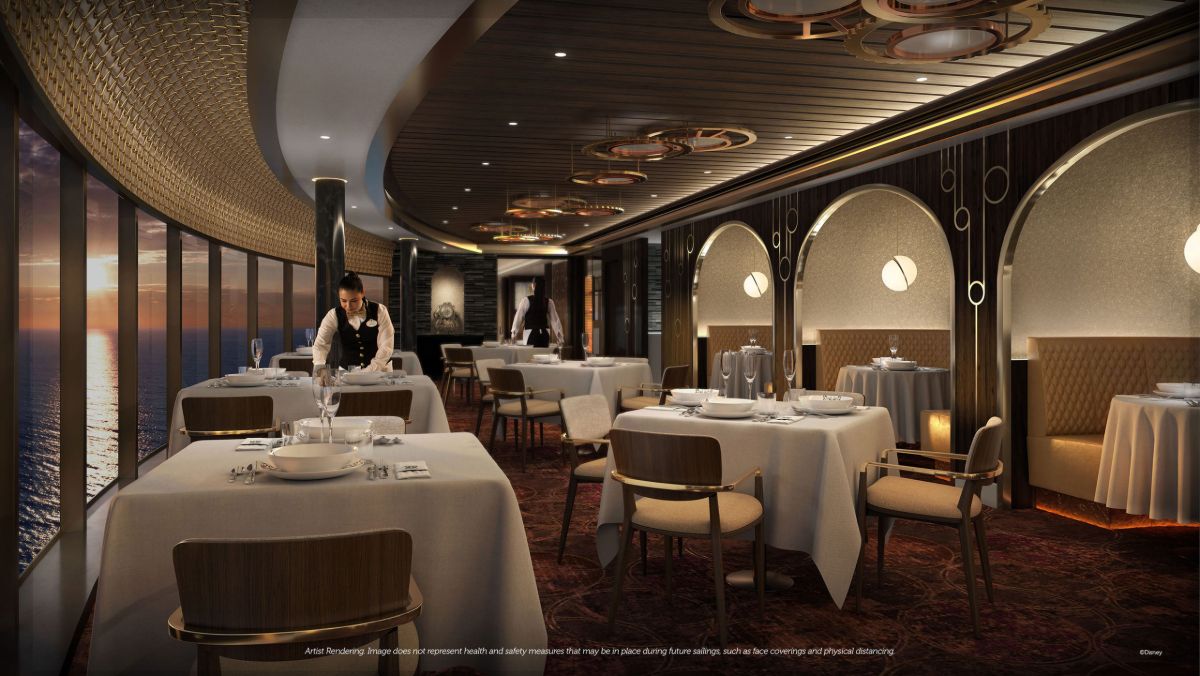 Enchanté is the most elegant dining experience and inspired by Lumiere and featuring a menu crafted by a 3-start Michelin chef.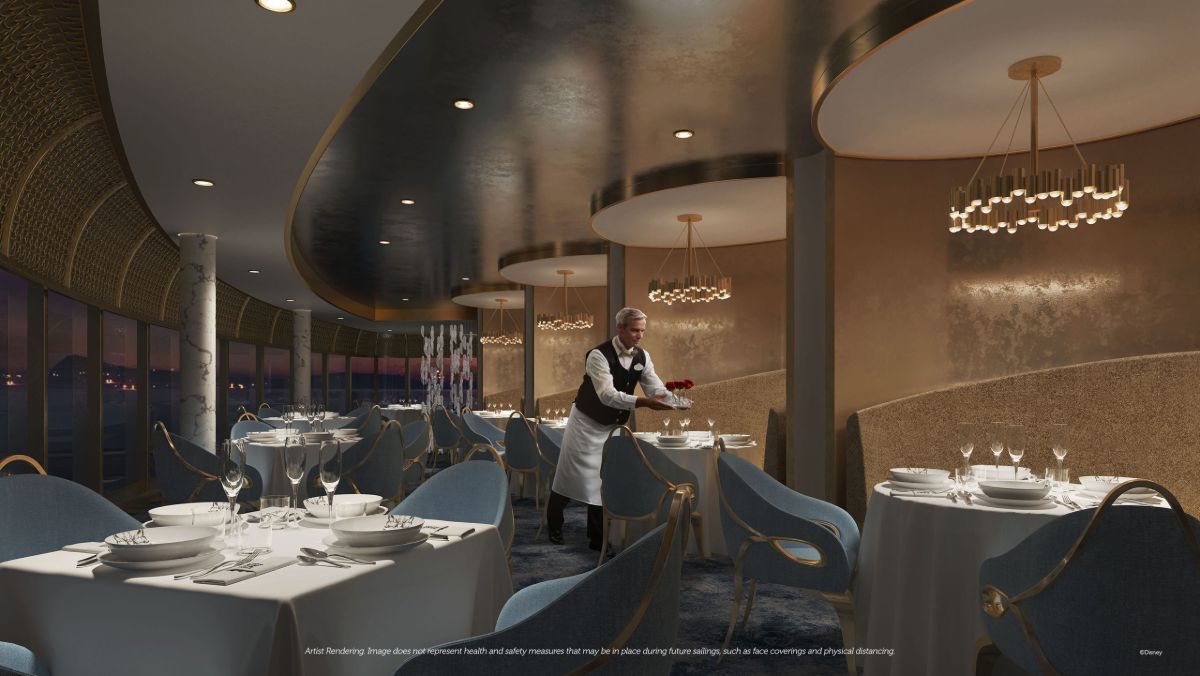 Disney Wish Staterooms
Escape to storybook-inspired staterooms with custom artwork and details inspired by Disney princesses, like Cinderella and Sleeping Beauty. Staterooms have an upgraded and luxurious feel and many have ocean views. Disney has also made sure that staterooms have plenty of storage to help with your cruise packing!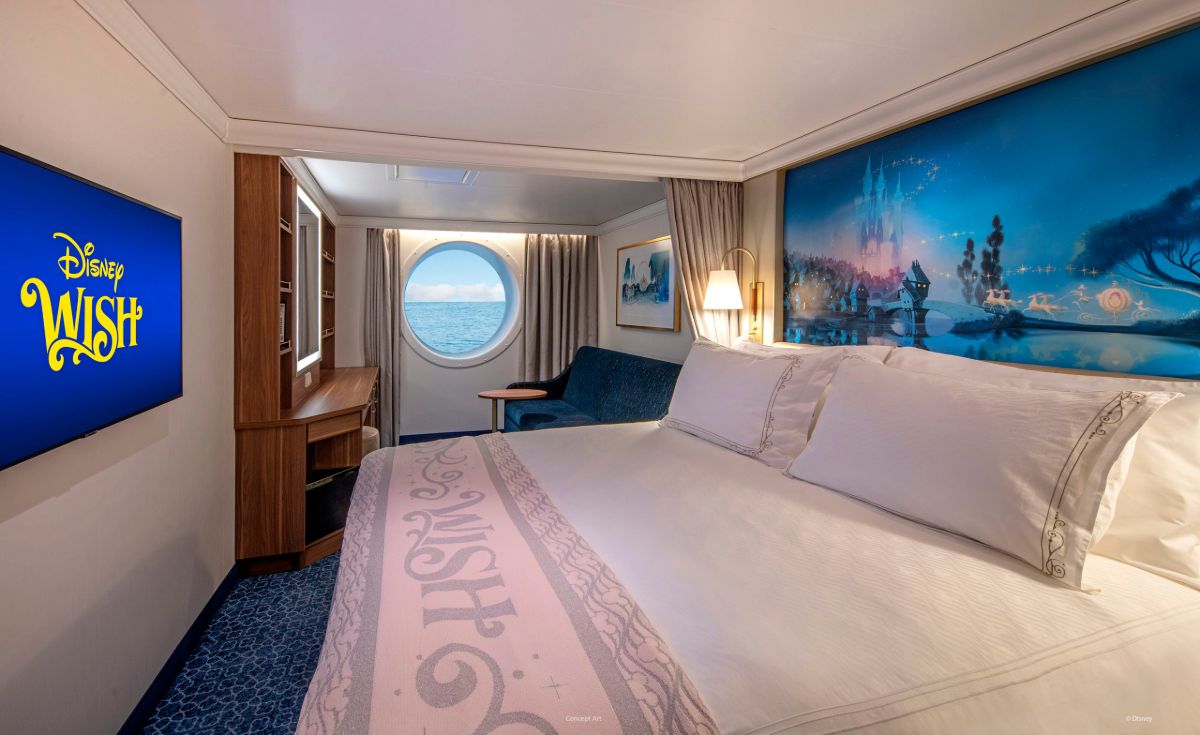 Disney Wish is also expanding the concierge experience with more premium accommodations and they're introducing the first-ever two-story suites with stunning views of the ocean.
When Can You Book a Disney Wish Cruise?
You can book your cruise aboard the Disney Wish beginning on May 27, 2021, for cruises departing June through September 2022. Castaway Club members, Disney Vacation Club members, Adventures by Disney Insiders, and other select Disney guests will have early booking opportunities beginning May 17, 2021.
The first Disney Wish sailing will be June 9, 2022, on a special five-night maiden voyage that includes two days at sea and stops in Nassau and Castaway Cay, Disney's private tropical island just for Disney Cruise Line guests.
On June 14, 2022, Disney Vacation Club will host a three-night, members-only cruise to Castaway Cay. And then alternating three- and four-night cruise itineraries from Port Canaveral will be available for the general public.