One of the top cruise lines in the world has unveiled their newest cruise ship, Celebrity Beyond. She's set to start sailing April 2022, and offers cruisers an upgraded cruise experience.
Celebrity Beyond What's New?
Celebrity Cruises has made it a focus to provide an upscale cruising experience for their guests. The Edge-series ships are designed to open the ship to the ocean. From your stateroom to all the public spaces they want cruise guests to know they're sailing at sea.
The level of the design on the ship was created to be welcoming and fashionable. Each of the spaces invites guests to relax and enjoy the ship, discovering a new favorite spot every day. Beyond weighs in at 140,600 tons, 1,073 ft in length, with a cruising speed of 22 knots.
The "Stretch"
Celebrity Beyond was designed by architect Tom Write and has been stretched to be one deck taller and 20 meters longer than its sister ships, Edge and Apex.
They've used this extra space in some unique ways to make the most popular areas of the ship even larger. I've sailed on the Celebrity Edge and loved the spaces, so I can't wait to see how much better the Beyond spaces are.
They've also added 179 new staterooms, including their popular Infinite Veranda staterooms and new suites. The double occupancy passenger capacity is 3260 guests.
Rooftop Garden – 20% larger
One of my favorite spaces on the Celebrity Edge was the Rooftop Garden. For the Beyond, Celebrity has also worked to make the space even more comfortable for guests. They've added special wind deflectors to help cruisers lounge on the top of the ship without the distraction of blowing wind while they relax.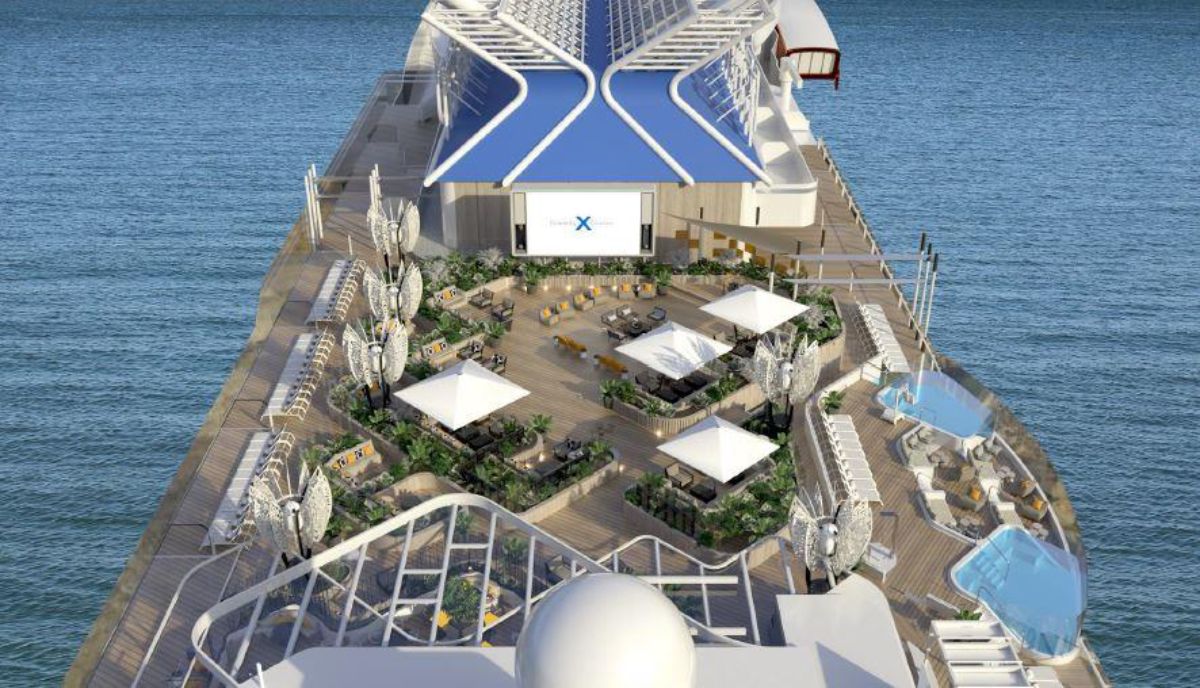 The Rooftop Garden space also added two cantilevered float pools that hang 10 feet over the edge of the ship. This space looks exciting and I'd love to watch sunset with a drink in hand while lounging in one of these edge-defying pools.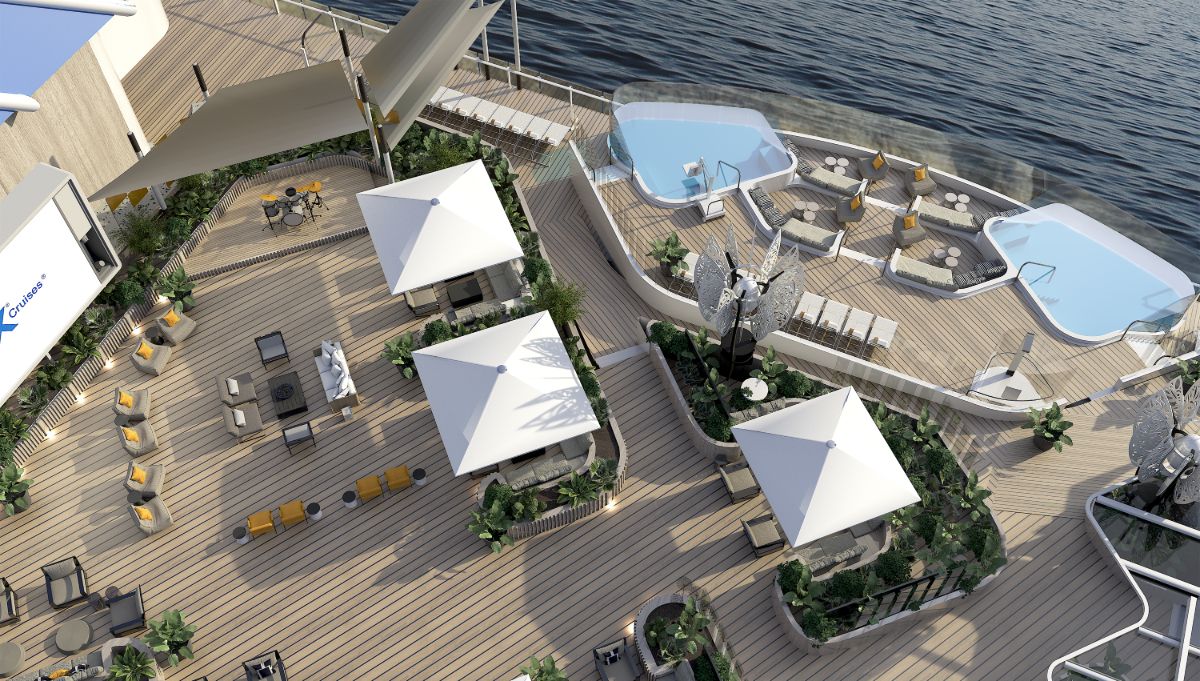 Sunset Bar – 180% larger
There's nothing better than relaxing at sea while visiting with friends with a drink in hand. The Sunset Bar is the perfect place for this. It's been designed by Nate Berkus to make people feel that they're traveling to some of the best places in the world. You'll escape to a Moroccan-inspired space that will make you feel like you're socializing in a modern-day Casablanca.
The Grand Plaza
Celebrity has done a great job of creating a social space in the middle of the ship. They look at The Grand Plaza as a place for people to be part of the ship community. You'll find a beautiful bar and lots of seating spaces that are the perfect spot for people watching.
The Retreat Lounge
The Retreat on Celebrity Beyond has been upgraded from the Edge and Apex. From the restaurants to the lounge deck the Retreat spaces were redesigned to give guests a unique experience throughout their whole cruise.
It also has a brand-new two-story sundeck. Which offers outdoor bliss for guests to rejuvenate in the fresh ocean air with secluded cabanas, chic new seating areas, additional water features, and the exclusive Retreat Bar.
Le Voyage
Would you love to dine in a lantern? The design of this new fine dining restaurant has been created to give the impression that you're in a private setting. You'll even enter through one doorway but exit from another.
Le Voyage has been designed to make you feel like you've left the cruise community and instead have entered a private luxury restaurant. This is the first at-sea restaurant by world-renowned chef, Daniel Boulud.
Goop Well Being with Gweneth Paltrow
If you're cruising for wellness, this partnership is what you'll want to hear about. Celebrity has partnered with Gwyneth Paltrow as the new Wellbeing Advisor of Celebrity Cruises. AquaClass guests across the entire Celebrity Cruises fleet (excluding Galapagos sailings) will be treated to onboard wellness offerings, including fitness kits from her modern lifestyle brand, goop.
Celebrity Beyond will also introduce a brand new stateroom category, AquaClass Sky Suites.
Magic Carpet
And of course, the Beyond features the bright tangerine Magic Carpet like the Edge and Apex. It's the perfect place for daredevils to hang out with friends during the day or night.
Check out my Web Story I created with the highlights of this beautiful new cruise ship.
When Does the Celebrity Beyond Set Sail? Where Will It Sail?
Celebrity Beyond will start sailing on April 27, 2022. Her maiden voyage will be a 10-night Western Europe cruise from Southampton, England, visiting Bordeaux, France; Lisbon, Portugal; and Seville, Malaga, Palma de Mallorca and Barcelona, Spain.
She will then offer a variety of Mediterranean journeys including nine-night Italian Riviera and France itineraries and 10-night Greek Isles itineraries. In early October, she'll move to the Caribbean.
Voyages are on sale as of April 28, 2021 at 3p.m. ET.