If you're looking for a wild safari tour in California, you've probably heard of Safari West in Santa Rosa. You're likely dreaming of getting up close and personal with wild animals like monkeys, zebra, and of course, giraffes!
I've been to Safari West twice now, so let me share what it's like to be a guest at Safari West. From what it's like to stay overnight, to what to expect from the safari tour, here's my Safari West review.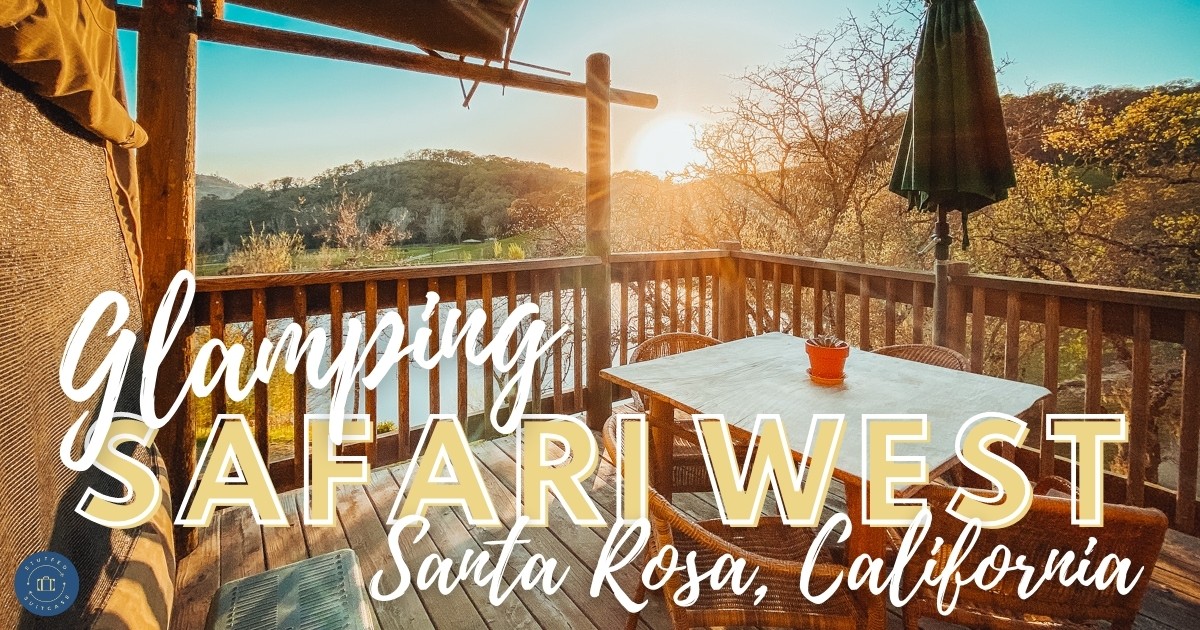 Where is Safari West?
The Safari West animal park is located near Santa Rosa, California. It's about 20 minutes outside of the main city center. It's easy to get to the park and there is parking on-site for guests. Santa Rosa is in Sonoma County and just over an hour north of San Francisco.
Santa Rosa, California is a fabulous family vacation spot with lots of fun things to do including the Charles M Shultz (Peanuts) museum, many family-friendly wineries, and of course, Safari West.
Taking a Safari Tour
One of the ways you can experience Safari West is by taking one of their Classic Safari tours. These tours last approximately three hours and involve a jeep tour and a walking tour. You will want to bring water on the tour, but food/snacks are not allowed.
Just before your tour time, everyone will meet together and be assigned a tour guide who will be with you for your entire tour. Some tours start with the jeep tour and end with the walking tour and others start with the walking tour first and end with the jeep tour. You will be able to use the bathroom between the two parts of the tour.
Kids must be 4 years of age or older to participate in the Classic Safari Tour. If you have younger kids you can make arrangements for a walking tour. You can also book a private tour and keep young kids on your lap.
Current safety precautions mean that they're not filling tours. We had three groups on our tour (9 people). For the jeep portion of the tour, one group rode up top, one in the front row behind the driver, and one group in the back row. There is a plastic barrier between the rows and masks are required.
Jeep Tours
The jeep tours have three rows of seats in the lower part of the vehicle and one row on the top of the jeep. Each row can fit 4 passengers so my assumption is that tours can have up to 16 people. You must be 45 inches tall to ride on the top of the Jeep, so be sure you've prepared your kids in advance if they aren't tall enough.
You'll start your jeep portion of your tour by entering the main lower animal paddock, where you'll most notably find the giraffes. They have Reticulated and Masai giraffes at Safari West, so you'll learn how to spot the difference. And the giraffe can actually walk quite close to the jeep vehicles.
Beyond giraffes, you'll rumble your way around multiple paddocks where you'll see a variety of animals. A couple of memorable animals for us were the ostriches which came right up to our jeep and were less than a foot away from my daughter. We also loved seeing the cape buffalo and southern white rhinoceros.
Note, you can't touch or pet any of the animals, but seeing them up close is a fun experience and helps you learn more about these amazing animals that are half a world away from the US.
I also want to mention that every group is given the opportunity to ride in the top row of the jeep. The tour guide will pull over at certain points and allow a reshuffling of the groups so that each party can have the chance to ride up top.
Walking Tour
On the walking tour, you'll walk around and see porcupines, fennec foxes, cranes, ducks, flamingos, hyenas, lemurs, and even cheetahs! The guides will give you a lot of facts about each of the animals, which is great for kids. They also encourage you to ask questions.
After you've done both tours, you'll be done and free to explore on your own. Don't forget to bring some cash to tip your tour guide!
Glamping in a Tent at Safari West
One of my favorite parts about visiting Safari West is staying in one of their luxury safari glamping tents. They have about 30 glamping tents around the property and all have different bed options. Some tents have a king bed and can have cots added for additional guests. Others have two beds and some even have bunk beds.
The glamping tents are truly the only type of camping I enjoy! They have full bathrooms with flushing toilets and showers. You'll even have lights and an outlet (in the bathroom) that you can use for charging your phone. You'll also find electric blankets and a space heater. These come in handy during the cool spring and fall nights.
You'll leave your car in the main parking lot and a staff member will use an ATV to get you and your luggage to your tent. So pack smart and try to avoid having too many bags.
Keep in mind that the tents are made of canvas, not walls. You'll need to keep your voices down and radios/audio are not allowed for the comfort of other guests.
Hillside King Glamping Tent Room Tour
Tips for Glamping Overnight at Safari West
If you would like to stay near the lower / main area where the giraffes are, you'll want to book an Antelope Alley tent. They will cost more. The Hillside tents are located farther away from the main areas.
I've stayed at Antelope Alley once and in a Hillside King more recently. Both experiences were great. Sunsets across the pond from the Hillside tents are beautiful, and the Antelope Alley location is convenient and it's fun to easily see the giraffes and antelope from your room and deck (during the day).
Look at the weather temperates for day and night. During our stay it was hot during the day but overnight it dropped into the mid 40s (F). We were thankful for the space heater and electric blankets. Note that there are not electric blankets on the cots that are added to King rooms.
Keep in mind that when you want to shower in the mornings you need to know if it will be cold overnight. You'll keep the bathroom door closed at night so it won't be heated like the room. If you don't want to shower when it's cold, I recommend packing a ball cap and some dry shampoo. :)
Safari West is a wildlife park and some animals don't operate on the same sleeping schedules humans do. This means if you're a light sleeper you might want to pack some earplugs or ask the office if they have any when you check-in.
When I stayed in a cabin on Antelope Alley I didn't notice too much noise during the middle of the night. However, during my recent stay in a Hillside King (which is near a big pond) the Canadian Geese interlopers were extremely noisy during the night.
You will not need to bring anything extra for "camping" for your stay. Your tent will include basic hotel amenities including soaps, towels, and bedding. You will have one plug outlet in the bathroom.
At check-in, you'll be given flashlights to use at night. Make sure you remember to turn on your porch light when you go to dinner so that you can find your tent in the dark.
There is free wifi near the Savannah Cafe and office. I also had cell phone reception (AT&T) during both of my stays (at Antelope Alley and Hillside). They do warn that cell reception might be spotty and the wifi doesn't reach all the tents.
Dining at Safari West
One of the great things about glamping at Safari West is that you don't need to worry about packing food like traditional camping. (which is why I made my printable camping meal planner).
Safari West has an on-site restaurant called Savannah Cafe. You can eat at the Cafe for breakfast, lunch, and dinner. Breakfast is included with your glamping stay, lunch and dinner are additional and not included. Although there is a Wild Nights in Wine Country package that includes dinner for two and a bottle of wine as part of your stay. But if you're just there for a safari tour you can still enjoy a meal outdoors. Reservations are required.
Dinner at Safari West is relaxing. You can order from a set menu and you can also buy wine or beer to go along with your meal. The menu offers a few different options including gluten-free, dairy-free, and vegetarian options. I am also happy to note that they were very helpful and accommodating for Mia's nut and egg allergy.
Our menu offered an appetizer of soup or salad, main entrees were smoked chicken, brisket, and mac n cheese with sides of saffron rice and/or seasonal vegetables. The dessert was a brownie served a la mode. Again, they were very accommodating and brought Mia a popsicle for dessert since she couldn't have the brownie and ice cream.
Breakfast was considered continental but actually had some great offerings. We had eggs, toast, yogurt, fruit, cereal, and bagels. We placed our breakfast order in advance while at dinner.
There is plenty of outdoor dining at the Cafe and across by the Flamingo Terrace, which is near the giraffes. I will note that the flamingo area does have a bit of a smell that might be unpleasant for eating near. :)
You will have servers helping you with your meal so you stay at your table. This is part of Safari West's current safety precautions as typically the meals are served buffet style. Don't forget to have cash on hand to tip your servers.
There is also a snack shop at Safari West in case you just want to grab a drink or snack. They had some shelf snacks as well as refrigerated snack packs. Plus they had beverages including alcohol.
Special Packages and Add-Ons
If you want a unique experience at Safari West there are a few private adventures you can book.
Ultimate Private Safari
If you have kids under four or just want a private tour, you can book a private safari. The cost is $1100 ($1300 June-August) and includes a tour guide that will shape the tour however you want. You can also book a private tour called "Talk Nerdy to Me" which will include a biologist or naturalist that can teach you about the more scientific aspect of wildlife.
Wine / Beer Tasting Tours
If you're looking for a private tour with your friends, one of Safari West's Sippin' Safaris could be perfect. There are a few different options, most involve a special overlook stop during your safari tour where you'll do some tastings and nibble on snacks.
You can also book a private dinner package that takes place either "in the bush" or "on the treetops". These cost $2500-$2750 for up to eight guests.
Wild Walk Behind the Scenes
If you want a private guide teaching you more about Safari West, this could be the option for you. It costs $275 for two people and $50 for each additional person up to six guests. It might include special behind-the-scenes stops at the giraffe barn, warthog pen, or Amani Oasis aviary. It is a walking tour and won't include the jeep safari tour.
Rhino Encounter
Get up close and personal with Safari West's southern white rhinos. You'll learn more about these amazing animals and get some up-close photos. The cost is $250 for two people plus $50 for each additional adult ($30 for kids) up to six people.
Fast Cat Alley (currently unavailable)
If you love cheetahs this added tour will give you a chance to get behind the scenes with them. The cost is $250 for two adults (only adults are allowed). There is also a cheetah barn visit tour that allows for up to four guests, including kids.
Keeper for a Day (currently unavailable)
If you have a love of zoos and wildlife, this tour could be for you (or your zoo-loving travel partner). This experience lets you work with a Safari West zookeeper to help feed and care for the animals. There are two package options, a morning experience that lasts three hours and costs $300 per adult for up to two adults. And an overnight experience that includes lodging, meals, a bottle of wine, a t-shirt for $1500 for two adults. This experience lasts six hours (from 9-3).
How Much Does Safari West in Santa Rosa Cost?
Classic Safari Tours
If you're interested in doing the classic safari tour the price will vary based on when you're visiting seasonally and if you're visiting on a weekday or weekend (Saturday, Sunday, and holidays). Summer and weekends are more expensive.
Adults (18 – 61), Seniors (62+), Teens (13 – 17), and Children (4 – 12)
Jan-May: Adults $93/$103, Seniors & Teens $86/$95, Children $45
Jun-Aug: Adults $108/$128, Seniors & Teens $99/$118, Children $45/$50
Sep-Dec: Adults $93/$103, Seniors & Teens $86/$95, Children $45
Glamping Overnight
If you want to stay overnight in one of the glamping tents at Safari West the prices will also vary based on the season, the tent location, and tent layout. You should expect to pay about $310-$450 per night. Tents located along Antelope Alley (across from giraffes and closest to the main area) will cost about $50 more than the tents located higher up.
Again, your stay does include breakfast, but lunch, dinner, and alcohol will cost more. It's also good to note that in the past there has been a two-night minimum requirement for stays during high season. I don't think that is a requirement at this time but it's something to be aware of.
You can check pricing and availability online.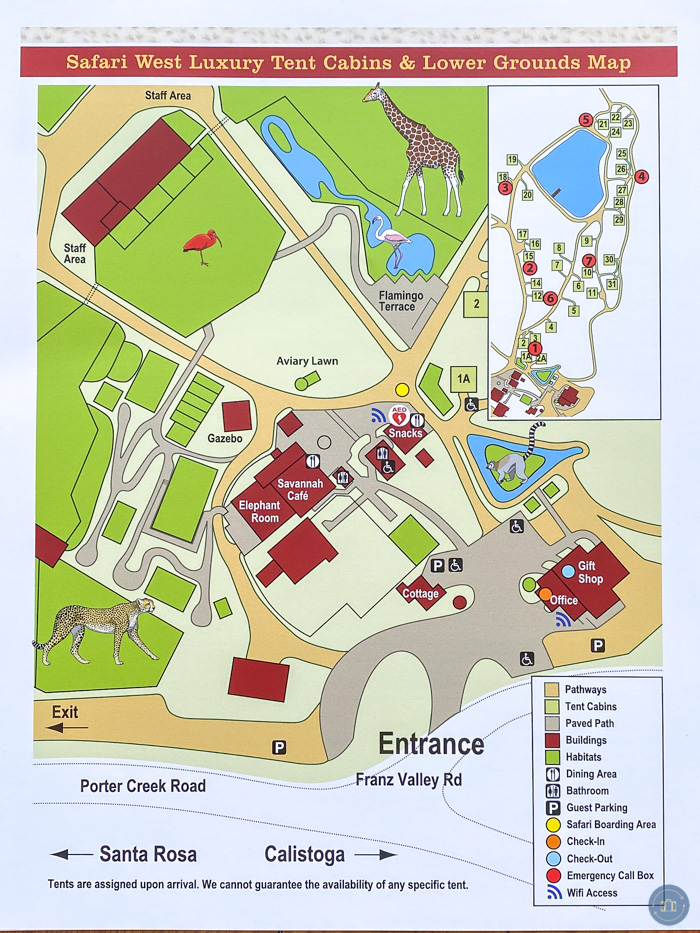 What to Bring to Safari West
You don't need to overthink packing for Safari West. Whether you're just doing a safari tour or glamping overnight, you only need to remember a few key things.
Water Bottle – you don't want to get dehydrated on your tour or while staying on-site. The days can be warm and if you're hanging out outside the sun can really do a number on you. Make sure everyone has their own water bottle and remember to drink!
Sun Protection – again, if you're going on a safari tour you'll want to protect yourself from the hot sun. A hat is a good idea but make sure you're prepared with sunscreen.
Bug Spray – it doesn't hurt to pack a bottle of bug spray for your visit to Safari West. I didn't notice it being too much of an issue, but since mosquitoes love me, I felt better protected, especially while eating dinner at dusk.
Overnight Bag – if you're staying overnight with multiple people, you might want to combine your necessities into a single bag or two. You won't drive to your tent. Instead, a staff member will drive an ATV to take you and your luggage from your car to your tent. Fewer bags means an easier trip and will make your check-out easier as well.
Warm Pajamas – if you check the weather and see it's going to be cool overnight be sure you pack some warm PJs and even cozy socks.
Socks / Slippers – the floors of your tent and bathroom will be cool in the night and early morning, so pack some warm socks or slippers.
Cash for Tipping – make sure you bring some cash for tipping during your stay. You'll want to tip the staff that helps you with your luggage, you'll leave a tip for housekeeping, you'll want to tip your tour guide(s), and you'll tip your servers at the cafe.
Is Safari West a Zoo?
I'm happy to say that Safari West is an accredited member of the Association of Zoos and Aquariums (AZA). However, it's not a traditional zoo. Their focus is being a wildlife preserve that aids in the conservation of African animals through education and breeding partnerships with other accredited organizations (like the San Diego Zoo).
As a private organization, the money you pay for tours and overnight glamping tent stays goes directly towards running the park and caring for the animals.
I hope this has helped give you the answers you're looking for about Safari West in Santa Rosa. If you have any further questions, drop a comment below and I'm happy to help!