At the top edge of the United States sits our 49th state, Alaska. There's no better way to get a taste of Alaska than aboard a cruise ship. And, Holland America has been operating Alaska cruises longer than anyone.
We recently had the opportunity to take a 7-day Alaskan Inside Passage Cruise in August aboard the Holland America Koningsdam ship. With my teen onboard, we reconnected with each other and with the beautiful nature that makes Alaska a coveted tourist destination.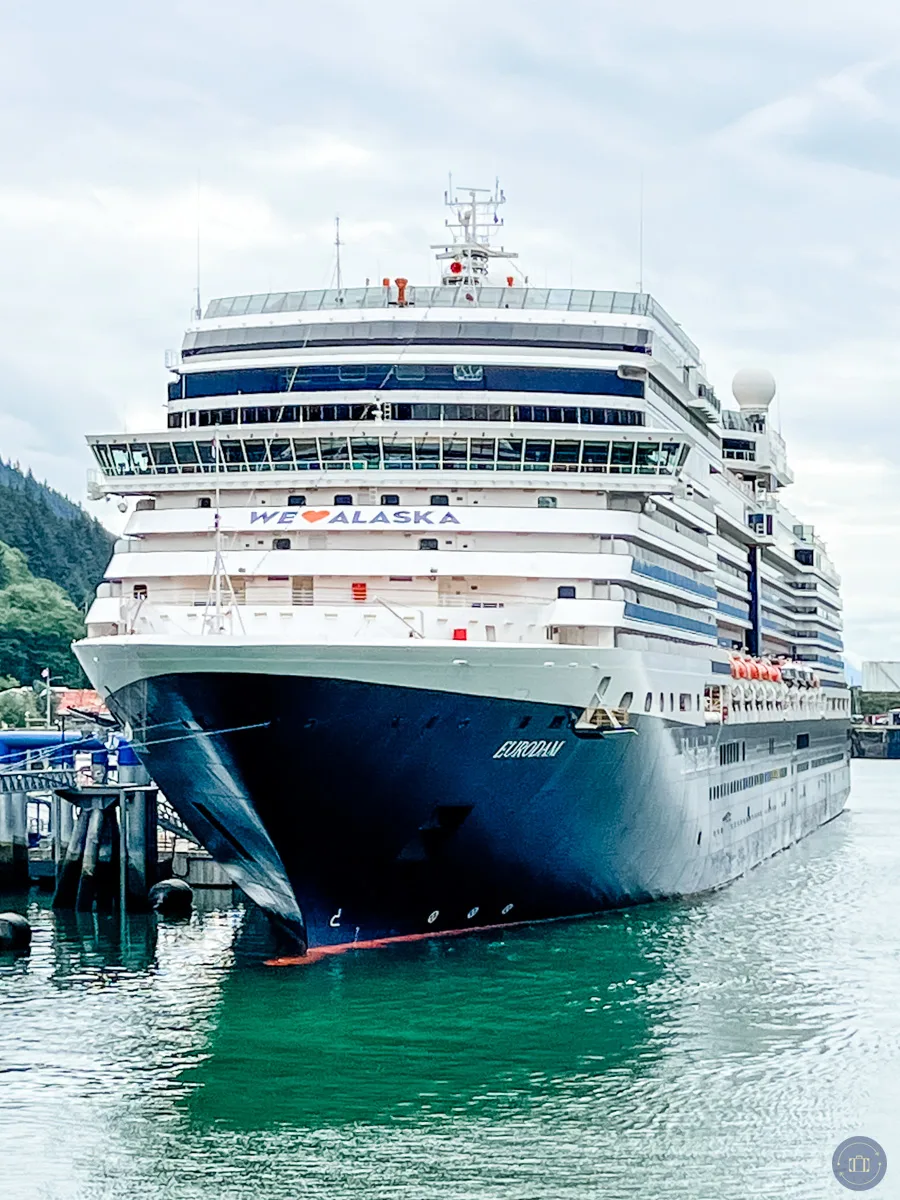 Thank you, Holland America for inviting me as your guest to check out one of your famous Alaska cruises. All thoughts and opinions written here are based on my personal cruise experience.
Holland Koningsdam Ship
Our family is used to big ship cruising, so the Koningsdam felt a bit smaller than some of our recent cruise ship experiences. However, the Koningsdam is still the 3rd largest Holland cruise ship and is essentially very close in size to the largest, the Rotterdam.
The Koningsdam is one of Holland America's Pinnacle-class ships and was built in 2016. It can hold 2,650 passengers and weighs 99,500 gross tons.
The small"ish" size of the Holland cruise ships can be a big benefit for Alaska cruises as it lets them dock in the ports when larger ships have to tender. Tendering can take up valuable time in port and is less convenient for taking second trips back out to explore.
A few of the things that stood out to me aboard the Koningsdam:
The ship has the upscale glitz and glamor that you expect from cruise ships but also a few fun spots with a bit of flair.
I was most impressed with the amount of lounge seating around the ship. One of my favorite things to do on cruises is read in a comfy chair with a good view. And of course, enjoying a happy hour cocktail before dinner.
One of the most popular spots is the Crows Nest lounge on one of the top decks (deck 12), which features cozy seating along with a bar and coffee shop.
The restaurants are also beautifully decorated, while the casual dining options on the pool deck are laid back and perfect for families with young kids. The buffet features plenty of windows and seating.
Most of the decks are named after famous music composers and the art around the ship is beautifully curated and displayed. It truly does have an upscale cruise feel when you're walking in the corridors.
I'll admit that the rooms felt a bit small, so carefully check the square footage when deciding what type of cabin to book.
If you like enjoying time in your room, a verandah (balcony) room can be an absolute treasure for an Alaskan cruise. Holland America even provides blankets to help you bundle up when doing your wildlife or glacier spotting.
Compared to other ships one thing I didn't love was that the promenade deck view was mostly blocked by lifeboats. If you're someone who likes to pop out on one of the mid-decks to enjoy the scenery and walk around, this ship isn't the best for that. They do have a small jogging track on deck 11.
But, as I mentioned earlier, there is a lot of indoor lounge seating near windows, which is probably somewhat preferable for Alaska cruising versus Caribbean cruising anyway. So even though the outdoor lounge spaces are limited, with the cool weather of Alaska, the window indoor seating can be preferable.
Overall, I really enjoy the look and feel of the ship. We found it easy to navigate with a nice flow and absolutely lovely decor.
Holland America Entertainment (WOW!)
I wasn't sure what to expect from HAL in regard to entertainment. Would they have enough options that would help me and my teen stay entertained before or after dinner? The answer was a resounding YES!
The BBC Planet Earth II in Concert is a MUST watch in my opinion. It's a beautiful blend of musical and cinematographic storytelling at its finest. There are some "circle of life" situations as it is a nature documentary, so young kids might be alarmed. But kids will also fall in love with the animals and the storytelling is gripping and keeps you engaged.
Another BBC show takes place in the World Theater onboard, and it too is lovely. You'll be ooh'ing and ahh'ing over cute animals as you watch. The storytelling of it is different than the Planet Earth II show but still worth seeing.
Holland America does an EXCELLENT job of drawing their Alaska cruisers into the story of Alaska. One of the featured entertainment shows is WE ARE ALASKA, a story shared early in the cruise to help draw you into the spectacular world you're about to enter.
And if you love history, or even just love storytelling, you should absolutely watch the "Origin Story" which shares the rich history of the Holland America line and how it got started as a cruise company, and how they were the first to brave the Alaskan cruising frontier!
The live music onboard was also delightful. I enjoy orchestral music and so the performers on the Lincoln Center Stage were always a draw. But they also offer other great live music options like the Rolling Stone Rock Room, a piano bar, and B.B. King's Blues Club.
Dining with Holland America
Many have said that the food aboard Holland America is upscale and enjoyable and I'd have to agree. I don't think I had anything I didn't love, beyond maybe a dish or two that just wasn't my taste at the Lido Market buffet. :)
If you're a foodie and love dining experiences, you'll want to budget to add in a visit to some of the specialty restaurants onboard. Their chefs create meals that are tasty as well as spectacularly presented.
Complimentary / Included Restaurants
Holland America has dining that will suit any cruiser. There's the traditional dining room, which has flexible dining times, as well as multiple specialty restaurants that will delight food lovers aboard.
Holland America is also the only cruise line that is certified for serving sustainable Alaska seafood. It's important for travelers to be conscious of their impact on the destinations they're visiting and Holland America is helping do its part with the food they serve.
I also want to note that using the HAL Navigator app is extremely useful while onboard. It helps you find what's happening each day as well as the hours for each of the restaurants. Plus, you can order food and some of the restaurants in advance via the app. Be sure to install it before or once onboard.
Lido Market
This is what is equivalent to a buffet with other cruise lines, however, in each of the stations on Holland America a staff member handles serving you the food.
I appreciate this from a cleanliness standpoint; however, it does mean you might have a bit more of a wait versus the traditional free-for-all serving at buffets on other lines. I personally will take the wait in exchange for knowing an employee is the only one handling the serving utensils.
You'll find a variety of stations including a taco corner, salad bar, meat options, bakery, and desserts including ice cream. Seating can get crowded during peak mealtimes however a bit of patience had us always able to find a table, and many times it was next to a window.
The Dining Room
Formal dining happens in The Dining Room, located at the back of the ship on decks 2 and 3 (on the Koningsdam). This is your traditional cruise dining experience with many tables and a menu that changes daily with a few regular items remaining each day.
Holland America allows for flexible dining times, called As You Wish. This means you can show up to The Dining Room between 5:15 pm and 9:00 pm and be seated for dinner. I absolutely love the flexible dining time option as you can truly create the day you want and aren't locked into shows and excursions based on a strict dining time.
Families cruising with teens will also appreciate this flexible dining option as some may want to eat at different times or on their own, this allows a family to truly dine how they want on board.
Room Service
I'm delighted to say that Holland America still INCLUDES room service as a main (included) dining option. The menu is limited somewhat, but it was SO delightful having breakfast delivered every morning. I was even able to order a coffee service in advance to get my caffeine fix while my teen daughter slept in. And their room service is open 24 hours, just with two different menus depending on the time of day.
For families cruising to Alaska, this room service inclusion makes a big difference. A friend who was sailing when I was found it useful for her young boys to have room service together watching movies while she had a specialty dining experience. A win-win for both the parent(s) and the kids!
Dive-In
If you love fries and sitting poolside, you're going to love ordering from Dive-In. It's your typical pool dining spot that serves famous Nathan hot dogs, burgers, as well as french fries. This is a popular spot for kids and families, so you'll want to order in advance with the HAL Navigator app.
New York Deli & Pizza
Craving a slice of pizza, deli sandwich, or salad? Another complimentary restaurant near the pool is the New York Deli & Pizza restaurant, where you can order a custom or chef-designed personal 9″ thin-crust pizza.
This is another popular spot and you'll want to order in advance via the app, especially during busy dining times.
Specialty Upcharge Restaurants
While there are plenty of great complimentary dining options available onboard with Holland America if you love enjoying upscale dining you need to splurge on a specialty restaurant or two.
Pinnacle Grill
Steak lovers will want to be sure to splurge for a meal here. The menu includes cuts of filet mignon, NY strip, boneless rib eye, or a massive 36 oz tomahawk bone-in rib eye (added fee). You can also add on a lobster tail for an additional charge if you're craving a surf and turf meal.
They have some great starters including an Instagram-worthy clothesline candied bacon. And you can get some delicious wine recommendations to complement your meal, we started with some Veuve Clicquot champagne with our starters and moved on to a delicious 2015 Muga Reserva Rioja for our steak course.
You'll pay $15 for lunch and $39 for dinner, plus an 18% gratuity to eat at the Pinnacle Grill and then additional charges apply for a couple of added choices.
Tamarind
Craving some spring rolls and lobster? Tamarind is an upscale Asian restaurant onboard that features a delectable menu with options like Thai citrus scallops and wok-seared lobster and shrimp. They also have a master sushi chef onboard.
The cost for Tamarind is $29 plus an automatic 18% gratuity. For cruisers who love Asian-inspired cuisine, this one is a must-visit.
Canaletto
Next up is Canaletto for all the Italian-loving foodies. Here you'll find some of your classic Italian favorites like lasagne and risotto, but there are also daily specials and many seafood-inspired dishes. Order up some grilled calamari, lobster and shrimp ravioli, and finish with a slice of tiramisu.
Canaletto is $19 for dinner plus an automatic 18% gratuity.
Rudi's Sel de Mar
Next to the Pinnacle Grill, Rudi's Sel de Mar is the most premium specialty dining experience you can experience on board. The restaurant is small and intimate and features a seafood-focused menu. This is a dining experience, so allow up to two hours to enjoy the food and your dining companions.
The cost is $49 plus an 18% gratuity, although there are upcharges for some dishes and some ships charge off an a la carte priced menu.
Grand Dutch Cafe
For the caffeine and pastry fans onboard, the Grand Dutch Cafe will become your new favorite home away from home. This is an additional charge restaurant, although coffee drinks are included with some beverage packages.
I personally fell in love with the seating area at the cafe, as did many others based on its crowd levels at times. :)
Club Orange on Holland America
Wanting a posh cruise and dining experience? Club Orange might be the program for you. While it's included for guests booked in a Neptune or Pinnacle Suite, other non-suite stateroom guests can purchase Club Orange for their sailing. Know that availability is limited, so booking early is recommended if it's something you want.
Club Orange costs $25 per person per day on cruises up to 13 days and $15 per person per day on cruises of 13+ days. So a 7-day cruise would cost $350 for a couple.
Club Orange will give you these perks:
PRIORITY ACCESS
Priority check-in
Priority access to specialty restaurant reservations
Priority line at the Guest Services desk
Priority line at the Shore Excursions desk
Priority access to tenders ashore in select ports
Priority disembarkation
PREMIUM DINING
Expanded 24-hour room service breakfast menu
Pinnacle Class ships: Private dining venue for breakfast and dinner with an expanded menu
All other ships: Priority seating in the Dining Room for breakfast and dinner with an expanded menu
EXCLUSIVE AMENITIES
Complimentary stateroom upgrade
Dedicated concierge service
Welcome glass of sparkling wine on embarkation day
Plush bathrobes
Club Orange keycard
Exclusive Club Orange tote bag (one per stateroom)
SPECIAL EVENTS
Invitation to a special onboard event chosen by the ship's captain, such as a:

Private Greenhouse Spa & Salon® consultation
Complimentary jewelry cleaning
Coffee chat with some of our onboard entertainers

Guests will be notified of these exclusive experiences once on board
Our Holland America Alaska Cruise Itinerary
We cruised the 7-Day Inside Passage route on the Koningsdam to and from Vancouver, BC, in August.
Day 1: Embarkation Vancouver, B.C.
Day 2: Scenic Cruising The Inside Passage
Day 3: Tracy Arm Inlet
Day 3: Juneau, Alaska
Day 4: Skagway, Alaska
Day 5: Glacier Bay
Day 6: Ketchikan, Alaska
Day 7: Scenic Cruising The Inside Passage
Day 8: Disembark Vancouver, B.C., CA
Alaska Cruise Tours
One of the best things you can do on an Alaskan cruise is to get off the ship and get into nature. For this trip, we chose Holland America Alaska cruise excursions at our three ports of call.
Many of the tours are limited, so I highly recommend booking in advance before your cruise. Unlike Caribbean cruises, many cruisers want to book excursions. I noticed that many of the premium experiences like glacier float plane tours and dog-sled adventures were sold out by the time we got onboard.
Juneau, Alaska Cruise Tour
I'll mention that whale-watching is a very popular activity for Juneau and is worth doing if you haven't seen whales before. We've done a couple of whale-watching excursions in the past and my teen really wanted to do the jeep rental in Juneau.
Self-Guided Jeep Rental
I've cruised enough times to know that I'm not a fan of group cruise tours with a bunch of other people. My teen is the same way. That's why we decided to choose a jeep rental and go explore some of Juneau on our own via an automated guide.
We booked a 2-door Jeep since there were just 2 of us, they do have a 4-door option as well. And the price is per jeep, which for a family can work out to make the excursion not too expensive per person.
We disembarked in the afternoon in Juneau and checked in with an excursion rep after exiting the ship. They directed us to the jeep check-in spot which was just a short walk away from the pier.
At the booth, I had to show my driver's license and sign a waiver. They brought down our jeep and gave us a short tutorial on the automated map program, and then we were off.
We followed the set route and listened to the audio guide along the way. The route took us to a few of the popular attractions for Juneau, the biggest being a stop at Mendenhall Glacier.
For cruisers who don't love being in big groups of tourists, renting and doing this self-guided tour is a great way to enjoy the scenery of Juneau. We spent about 4.5 hours driving around to the different sites and then returning our Jeep.
We still had enough time to do a little shopping in Juneau and eat at the Alaskan Brewing Co before we had to be back on the ship.
Ziplining in Skagway Cruise Excursion
We chose the ziplining tour in Skagway, and had a blast! It wasn't anything unique versus other ziplining tours, but always nice to be in the green forests of nature. Our guides were fun and encouraged some adventurous zip techniques, like hanging upside down, which I haven't seen encouraged in the past.
After zipping, the bus transfer offered to drop cruisers in town versus at the dock (a short walk outside of town) and so we took advantage of that. We walked along the main street which is filled with some unique and local shops as well as tourist shops you'll find in every cruise port.
Don't forget to pack cash for tipping your two zipline guides and if you want to add another small tip for the transfer driver.
Fishing Cruise Excursion in Ketchikan
One of our splurge excursions for our Alaska cruise was the Alaska Fishing & Wilderness Dining: In Partnership With Food & Wine Magazine booked with Holland America. We exited the ship and met with our fishing outfitter on the pier, and they walked us down to their offices and boats.
When we arrived, we had to show our driver's licenses (or passports) to obtain a fishing license for the trip. We were able to pay with a credit card and it was $25, kids & teens (not from Alaska) under 16 don't have to have a license. We were put into a group of six, assigned a guide, and boarded our open-air skiff boat.
Our guide took us out on the water and headed towards a known fishing spot for rockfish. He helped each of us get our reels set and within seconds all of us had bites! We all reeled up our lines and each of us had landed two rockfish on our hooks. You're limited to a certain number of fish total, so our guide had to drop a couple of the rockfish back down.
With our rockfish stored, we headed to another couple of spots to try our hand at salmon fishing. And they were biting! We each had a chance to reel in a fish, including one lovely Sockeye salmon and many Pink salmon.
Once we hit our limit we headed ashore to a small island camp where our guide brought a couple of our fish ashore to clean them. After being cleaned and prepped, they were handed off to a chef who prepared our group a plate of deliciousness.
This was a truly epic Alaskan experience and one I would highly recommend to anyone who enjoys fishing. For teens, it's an activity that engages them while also getting them out on the water and helping them be part of the Alaska fishing experience.
Don't forget to bring a nice tip for your tour guide and a small token tip for the camp cook. Also be aware that it can be cold when the boat is going fast, so dress in layers and bring a hat and gloves. You also might want rain gear as this tour can run when it's raining.
Another thing to note is that you can choose to have your fish processed and shipped home with the tour company. The pricing was not cheap, and seeing as we're based in Seattle it didn't make sense since we have easy access to fresh fish. Our guide also mentioned that some fish should only be transported smoked.
Overnighting in Vancouver
If you're traveling to Vancouver for your cruise, you'll likely arrive a day early and want to stay overnight. We stayed at the Pan Pacific Vancouver hotel which is at Canada Place and connected to the cruise port.
There are plenty of restaurants nearby, and you're also within walking distance of many of the popular shopping areas of Vancouver. We enjoyed dinner and the sunset in their Coal Harbour Bar that is onsite and the live music was an added treat.
We were upgraded to a room with a view overlooking Vancouver Harbour, and it was a wonderful way to begin our vacation.
I highly recommend staying here for cruisers as its location can't be beaten. The parking garage is also the same garage used for cruise passengers, so again, extremely convenient for cruisers.
The Pan Pacific also offers special bag check service from your room to the ship, making embarkation a breeze!
What to Pack on an Alaska Cruise
I have a full post about what to pack for your Alaskan cruise, including an Alaska cruise packing list. So be sure to read it! But a few things to make sure you bring:
Layers of clothes – it can get cool but warm in the sun so pack plenty of layers, i.e. long sleeve tops, base layers, fleece jackets, and warm coats.
Rain gear – the forecast said we'd have rain but we lucked out most days, be sure to bring a rain jacket and a small umbrella.
Waterproof gear – depending on which excursions you choose, you might want to make sure you pack a thick waterproof coat and pants. Some excursions provide them, but always best to be prepared if you're not sure.
Boots – depending on which excursions you choose you might want to bring a good pair of warm boots that are waterproof and good for glaciers, water, and rain.
Hat & Gloves – it can be cold on the water, so be sure to bring a knit cap (beanie/tuque) and a pair of gloves that allow mobility for your phone use.
Ball cap & sunglasses
Day Bag
Binoculars
Cash for excursion guide tips
Conclusion
Our time aboard the Holland America Koninsdam was a real delight. While Holland might not be as flashy as some of the more common "family" cruise ships, it still was a great home for myself and my teen for our one-week Alaska cruise adventure.
We enjoyed dining together and lounging in many of the ship's seating areas. The entertainment was immersive and educational. And our lazy mornings enjoying room service in bed is a memory that will last us a lifetime.