We took a Pumpkin Patch Seattle Weekend trip to the Bailey Vegetables Pumpkin Patch and Corn Maze just north of Seattle this past weekend. It was our first trip to this Snohomish County pumpkin patch and our family's first time visiting a corn maze! We were so lucky that the rain held off and while we didn't have sun, most Seattleites recognize that any fall day without rain is a good weather day.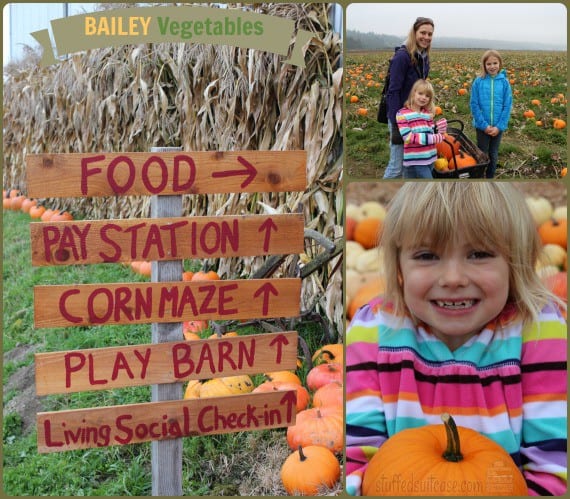 Our first stop was the giant hay bales and tires that are set up as a definite temptation to play for most kids (and even some adults). The girls could have run and jumped and climbed on those things for hours. Smiling big the whole time!
Next up we took on the great 7 acre USA Corn Maze! You actually line up near Florida to take a tractor wagon ride up and around to Seattle, Washington. Once you offload at Seattle you can pick up a map and start the maze. I would say the goal is to get back to the "start" in Florida, but you might also want to visit the "sight-seeing" spots around the maze.
My husband and I had as much fun as the girls going through the maze. We let them start off and try to lead us, but after a while they happily handed over the maps and my husband started leading the road trip. If you've been on road trips, your Interstate knowledge can help you navigate the maze. Bailey Vegetables does a fabulous job with marking the "roads" of the maze with Interstate signs and Fun Facts about the states you're in. When the girls hit Mexico, they handed the maps over to daddy.
There are stars on the map that represent special tourist interest sights. We went gold panning in California, walked under the Gateway Arch, played some baseball at Busch Stadium, boarded a boat at the Battle of Baltimore, checked out some teepees of the Great Plains Native Americans, and fought at the Alamo. These were surprises and we all enjoyed finding each "sight". My husband and I enjoyed trying to guess what the star would represent.
Choosing our pumpkins to take home was our next stop for the day. There were LOTS of pumpkins of every size and shape and color, and we found just the right ones for each one of us. The pricing was very reasonable and we scored our whole load for $20.
We all had a great Pumpkin Patch Seattle Weekend filled with lots of fall family fun. Have you visited a pumpkin patch this year? Has anyone been through a corn maze before?