Beyond soaking up some of that great SoCal sunshine, there are plenty of great things to do in Oceanside, California. I'm sharing my firsthand recommendations of the most popular things to do and places to eat that will help you make the most of your vacation.
How to Get to Oceanside California
Let's first talk about where Oceanside is located and what's the easiest way to get there. Oceanside California is a coastal city located in the northern section of San Diego County.
I flew into San Diego (SAN) and rented a car with a friend. We drove north from San Diego for about 45 minutes to reach Oceanside. About halfway up I-5, you can hop over to the 101 for a coastal view drive.
Oceanside can also be easily reached by train. The Pacific Surfliner Amtrak train runs along the coast of central and southern California and has a stop in Oceanside, near the beach.
Best Time to Visit Oceanside CA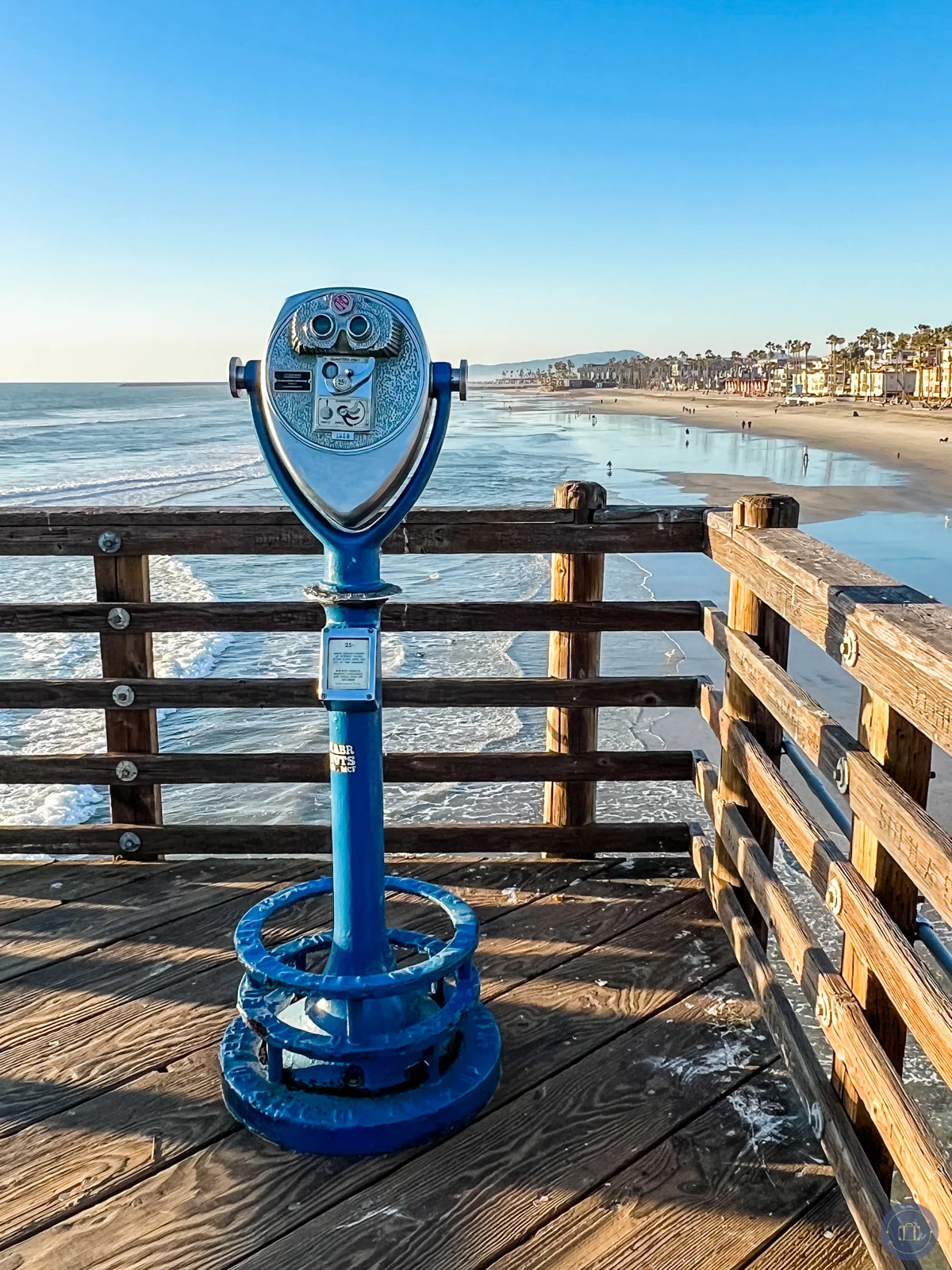 My visit to Oceanside was in February and was a nice sunshine break although a bit on the cooler side in the evenings and on the water. You'll find a fairly moderate climate in Oceanside. Winter months between November and April will see overnight temperatures around 45℉ and highs only in the 60s℉. The later winter months also have the most rain.
If you're dreaming of a warm-weather CA escape, you'll want to visit between June and September. Temps will reach highs in the 70s℉ and lows in the 60s℉. These months will also bring summer crowds and a very small bit of humidity.
Things to Do in Oceanside
Now that you know when to visit and how to get there, let's check out some of the most popular things to do in Oceanside, CA.
Visit the California Surf Museum
It won't surprise many people to learn that Oceanside is a popular surf town. The US Olympic surf team actually practices off the coast of Oceanside.
The California Surf Museum sits on one of the main streets of the city and offers visitors a chance to learn more about surfing as well as check out some unique exhibits. On my visit, I was surprised to see the shark-bitten board of Bethany Hamilton, who had a shark encounter in Hawaii.
I also saw memorabilia from Kelly Slater, the one surfer name that stands out to me, as well as a wall of old surfboards showing what an evolution board design has undergone. The California Surf Museum is a fun and quick stop and only costs $7 for adults.
Go Whale Watching
Many visitors coming to the beach for vacation want to see whales. And Oceanside is a great destination for whale watching. During my visit, we headed out on a whale-watching tour and it was unbelievable!
We saw a mega pod of dolphins, which are actually whales. There were over a thousand of these animals surrounding our boat and across the horizon. You can see videos from my trip in my Oceanside Highlight on Instagram. The coastline between Santa Barbara and San Diego has one of the densest populations of dolphins in the world!
Beyond dolphins, depending on the time of the year you might also see gray whales, minke whales, humpback whales, fin whales, or even orca whales.
Enjoy Water Activities at Oceanside Harbor
The Oceanside Harbor is where you'll leave for your whale-watching tour, and it's also a great spot to get out on the Pacific Ocean. You can rent boats, jet skis, paddleboards, or kayaks to spend enjoy some of that saltwater life.
After you've enjoyed your water activities, you can also find a few different places to eat. Many of them have drink specials and some even have outdoor seating looking over the marina.
I also love that the Harbor is within walking distance to the downtown area of Oceanside, it's only about 20 minutes up the beach.
Hang at the Beach
Ready to dip your toes in the sand? Oceanside has 3 miles of coastline with a few different beaches to delight any sun and sand seeker. I can bet these beaches get pretty crowded during the peak summer months!
Oceanside Pier is probably one of the most central points of the Oceanside beaches and is a great spot to stroll and enjoy some surfer-watching.
Stroll or Pedal the Strand
In addition to the beach, there's also a Main Street of sorts called The Strand which runs alongside the beach near Oceanside Pier. You can enjoy a stroll along the sidewalks, or rent a bike or surrey to have fun pedaling your way along the coastline.
Beyond The Strand, if you're a fan of biking, you can also find plenty of great bike trails including a simple one to the popular Mission San Luis Rey.
Picnic at the Park
There are a few parks around Oceanside, but one of the most popular is Tyson Street Beach and Park which is located on the beach by the Pier. It has some green space as well as a playground and picnic tables, perfect for enjoying a lunch break while watching all the beachfront activities.
Eat at the Sunset Market
One of the best discoveries and stories from my visit was the Thursday night Oceanside Sunset Market. This market isn't your typical farmer's market, although Thursdays are the same day as the Oceanside Farmer's Market.
Thursday nights bring around 100 booths to the streets of downtown Oceanside, many of them serving AHmazing street food for you to enjoy. They've got everything from taqueria tacos to pad Thai served in three different ways. Then you can end with some delicious beignets while you enjoy some live music.
I've never seen something like this outside of a once-a-year festival. The fact that Oceanside hosts this market 51 weeks out of the year is just unbelievable.
The market originated as a way to "clean up" the main streets of the town and I'm sure the current tourism boom can thank the Sunset Market for putting Oceanside on the map! Definitely plan to visit Oceanside on a Thursday, especially if you like street vendor food!
Tour the Oceanside Museum of Art
Another museum, the Oceanside Museum of Art, is an easy museum to walk through and discover a variety of southern California artists. During my visit, there was an exhibit of clothes made entirely from condiment packets!
And if you're a fan of architecture, The Oceanside Museum of Art buildings are crafted by two of Southern California's esteemed Modernist architects. The first structure, a timeless design by Irving Gill, adjoins the contemporary Central Pavilion created by Frederick Fisher, merging past and present architectural styles.
Go on a Mural Tour
There are a variety of murals around Oceanside that make great backdrops for that perfect selfie. You can follow a custom map for a self-guided tour. But one heads up, on my trip some of the murals were no longer there. This is also a great way to explore the city and discover great shops and restaurants to visit!
Find Some Zen with Rooftop Yoga
If you're visiting for some seaside relaxation, perhaps on an Oceanside girls' trip, you should consider signing up for rooftop yoga at the Mission Pacific hotel. Start your day with an easygoing yoga flow while you look out over the ocean waves and morning surfers. It was one of my favorite things I enjoyed in Oceanside.
Mission San Luis Rey
This is a bonus to my list because it's such a major attraction for Oceanside but unfortunately, I wasn't able to visit it on my recent trip. Just another reason to return, right? :)
The Mission San Luis Rey de Francia was one of the latest missions built and is the last surviving mission that has a unique cruciform plan layout. While the California mission buildings are beautiful to view, it's important that when you visit you seek to understand the history, often dark history, that is part of these missions.
Where to Eat & Drink in Oceanside
Now that you know all the best things to do in Oceanside, it's time to talk about food! I was only in Oceanside for a short time, but here are some of the stand-out spots I think you should eat and drink.
Toasted Gastrobrunch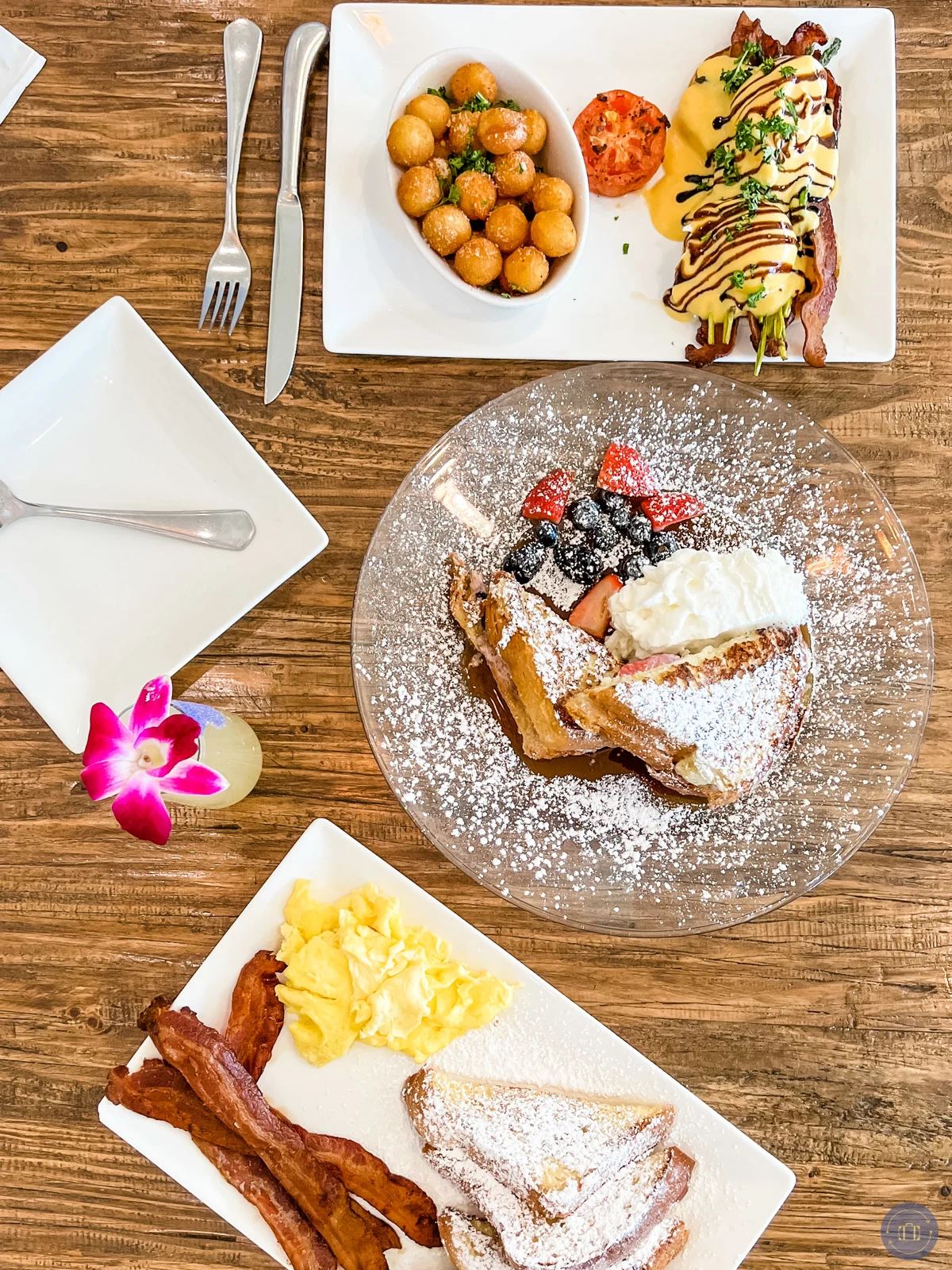 In case the name didn't give it away, Toasted is another fabulous spot to grab brunch. They have so many options of french toast as well as a variety of mimosas for you to cheers to vacation. They also serve lunch and dinner and have a pretty spectacular cocktails and wine list as well as fabulous patio dining.
Piper
If you love beachy coastal vibes and brunch, Piper is the perfect spot to eat. Beyond breakfast and brunch, they also serve dinner and their menu is all about featuring great produce sourced in California.
Parlor Doughnuts
Ready for a sugar rush? Parlor Doughnuts is a bit of an Instagram sensation for the town and you'll find a variety of flavors, many of which are seaside oriented, for instance, I had the Sandy Beach. These aren't your typical doughnut/donut…instead, they're a bit like croissant meets doughnut aka cronut.
The Switchboard
How about some Hawaiian fusion inside an old switchboard building turned boutique hotel? The Switchboard is next door to The Fin Hotel and features an amazing menu with Hawaiian and Asian fusion classics like Spam Musubi and Beef Bulgogi Lettuce Wraps.
Craft Coast Beer & Tacos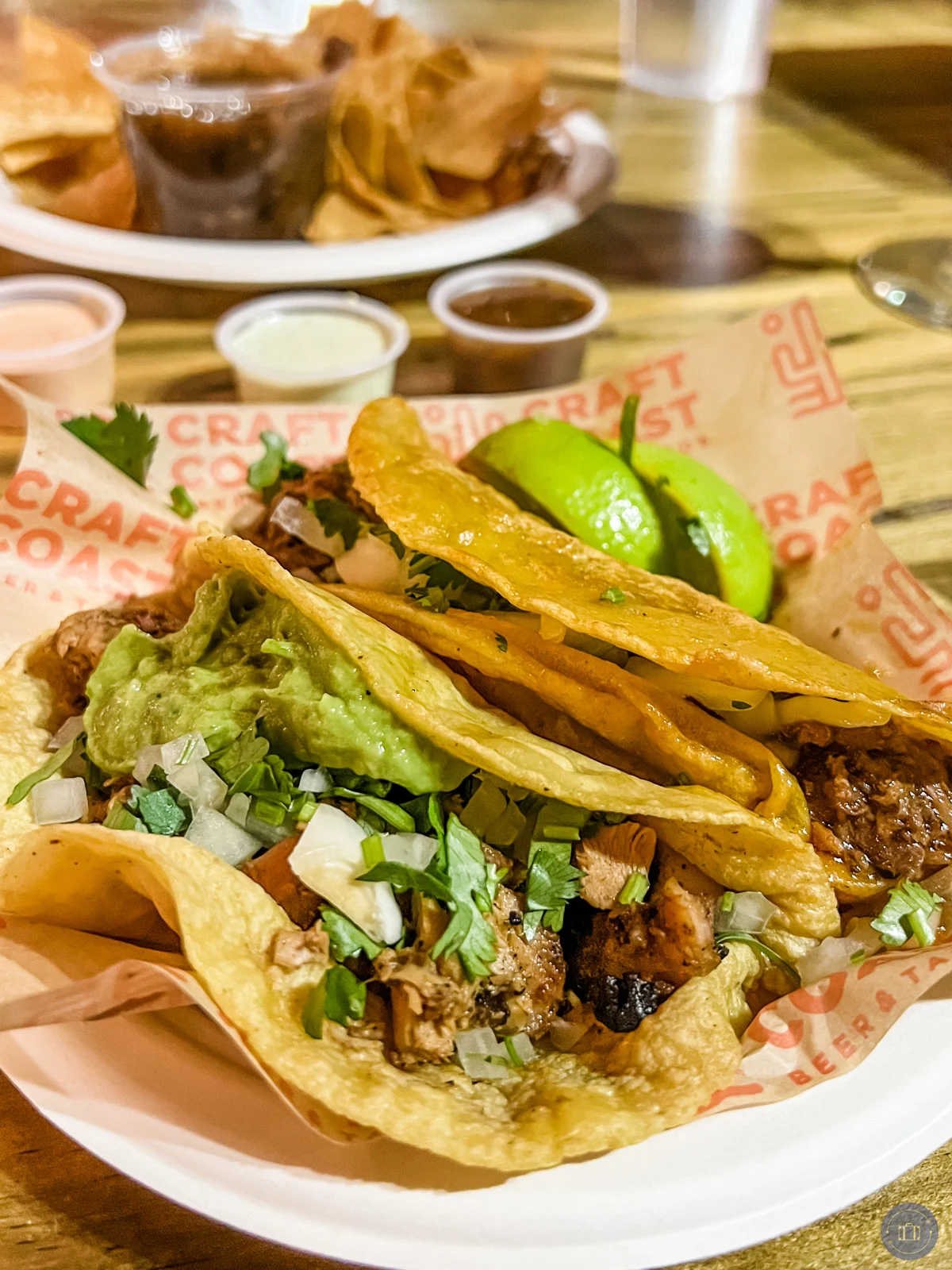 If you're craving a casual taco and beer-type joint, Craft Coast is a great place to head. We hit this place in the evening and I can see why the line to order can get long. The tacos were on point and they have some locally crafted brews that are just the thing for wrapping up a busy day.
High Pies
Calling all Top Gun fans, you have to stop by High Pies when in Oceanside. While I'll admit the pies themselves are not the reason to go, the reason to go is the store itself. It's inside Charlie's (Kelly McGillis) home that was in the original Top Gun movie.
Mission Pacific
Sunsets in Oceanside sure are amazing, and what better way to enjoy a sunset with friends than from a rooftop with a drink in your hand? The Mission Pacific has a great rooftop bar with a variety of cocktails, wine, and appetizers. I'd advise arriving early as seats do fill up fast, especially the ones next to the glass overlooking the ocean.
Cococabana
Another fabulous spot to grab drinks and enjoy the sunset while jamming to some music is Cococabana, a rooftop bar more in town and on top of The Brick Hotel.
O'side Sips
I have to mention the O'side Sips program if you're planning to enjoy any coffee, beer, wine, or cocktails during your trip. You simply sign up for your free pass online and then check in at various drink shops around town. Some even offer coupons like Buy 1 Wine Tasting Get 1 Free! For each check-in you log, you'll earn towards some cute Oceanside swag.
Best Places to Stay in Oceanside
Let's wrap up this Oceanside vacation guide with some tips for where to stay in Oceanside, CA.
The Brick
If you're looking for more of an urban and boutique feel, The Brick Hotel could be just for you. This is where I stayed and is located inside a historic building that features an oyster bar on the lower level, a brewery in the backyard, and a bar on the rooftop.
It only has 10 rooms and all access is via a code and is self-supported. It's got a great aesthetic and is centrally located, but if you're sensitive to late-night noise and light, be sure to pack some earplugs and an eye mask.
Mission Pacific
The Mission Pacific Hotel is a luxury Hyatt hotel overlooking the ocean and steps from the Oceanside Boardwalk. It was recently voted the best hotel in San Diego by Conde Naste Traveler.
Seabird
Neighbor to the Mission Pacific, the Seabird is a Hyatt destination property hotel and offers 4* upscale accommodations.
Wyndham Oceanside
A solid 3* option near the beach is the Club Wyndham Oceanside Pier Resort.
Conclusion
I was really impressed with Oceanside, California. It's a great west coast town near a major airport hub and offers a wide range of activities and restaurants. Highly recommend it as a great California getaway destination, especially during the off-season with low crowds!