This post has been written in partnership with Expedia. Many of the hotels on Expedia are offering free cancellation rates which gives you some peace of mind during this time of travel restrictions and changes. I booked our hotels for this trip with Expedia. And a quick tip, you can earn double rewards points if you book via the Expedia app.
Dreaming of a National Park trip to the Olympic Peninsula of Washington State? Looking for rainforests, mountains, beaches, lakes, and waterfalls? Here's a 3-day Olympic National Park itinerary that includes stops at the best things to do around the park.
This summer has not been normal for our family. Typically, we'd be visiting family in Canada and likely hopping on a plane to some fun destination. But this summer we decided to stay close to home and explore a popular spot in our home state, Olympic National Park! It offered us the chance to avoid crowds and enjoy the outdoors, plus it was an easy drive from our home versus having to fly.
Here's our local's guide to experiencing all the popular sites that are considered must-see sights on the Olympic Peninsula. I highly encourage you to plan your visit during mid-week if you're visiting in the summer. Weekends will be extremely busy and you'll have trouble finding parking.
Day 1: Port Angeles / Olympic National Park Visitor's Center / Hurricane Ridge
I recommend arriving a day early and overnighting in Port Angeles if you're coming from Seattle. There are a few ways to get from Seattle to Olympic National Park but most will take you about 3 hours. We stayed at the Olympic Lodge. It's a popular 3-star hotel off the main highway with clean rooms and some nice views.
Another option is to spend two nights at the Lake Crescent Lodge, Log Cabin Resort, or Sol Duc Hot Springs for your time in the north part of Olympic National Park. Expedia also has some cute vacation rentals near Port Angeles and Lake Crescent.
Expedia has started listing the cleaning and safety practices for each hotel, so if you're looking to stay at hotels that offer services like contactless check-in and extra disinfecting, it's a great travel site to use. You can even email the hotel directly via Expedia and ask about their safety precautions. And as I mentioned above, most of their hotels are available to book with free cancellation which is helpful in this time of uncertainty.
Olympic National Park Visitor's Center
After breakfast, make your way towards the Olympic National Park Visitors Center which is on the route to Hurricane Ridge. Before you arrive there's a small pull-out near the National Park entrance sign which is a great photo spot to pose for a memory of your trip.
Stop at the Visitor's Center to pick up a park map and get a Junior Ranger booklet if you have kids who want to complete the booklet. The Olympic National Park Visitor's Center is a great place to research hikes and learn about the different areas of the park. You can also get great advice from park rangers.
Keep in mind that the Olympic National Park Visitor's Center is closed for social distancing, however, you can still get maps, stamp your National Park passport, get Junior Ranger books, and talk to park rangers outside.
Hurricane Ridge
Hurricane Ridge is a popular spot in Olympic National Park as it brings you to about 5500 feet in elevation and gives you an overlook of the Strait of Juan de Fuca and the Olympic Mountains.
There is a Hurricane Ridge Visitors Center which features restrooms, a gift shop, and snacks. This is also another great place to talk with rangers and go for a hike. There are a few popular hikes around the Hurricane Ridge area.
From the Hurricane Ridge Visitor Center, there are a few circle loop meadow trails that run off of the main parking lot and all are about a mile and paved. There is a High Ridge loop trail that has a spur-ending at a spot called Sunrise Point.
For more experienced hikers, the popular Klahhane Ridge Trail is an out-and-back trail. This trail is full of views and wildflower meadows and can be a popular spot for wildlife spotting. However, it is 3.8 miles one way and there is some elevation gain depending on how far you travel.
Hurricane Hill Hike
If you're looking for a moderate hike that offers amazing views, consider doing the Hurricane Hill trail. You'll need to drive about 1.5 miles past the Hurricane Ridge Visitors Center to the trailhead. Note that parking is limited, a small overflow lot is located about 1/4 mile away from the trailhead.
This hike is 3.1 miles roundtrip and has a 700′ elevation climb. It also is out in the open, so pack lots of water and sunscreen during the summer. Once you reach the top you'll have amazing views of Port Angeles, the Strait of Juan de Fuca, and the Olympic Mountains (including Mount Olympus). Our family was able to do this hike, but it is a bit of work, especially on a hot day.
Overnight Recommendations:
– Lake Crescent Lodge
– Log Cabin Resort
– Sol Duc Hot Springs Resort
– Port Angeles
Day 2: Lake Crescent / Sol Duc or Salt Creek / Rialto Beach
This will be a packed day and you can decide if you want to only do a couple of things and have more time at each stop. Or, you might choose to start your day early and try to do it all.
Salt Creek Recreation Area or Sol Duc Falls
I'm listing these as an either/or option, but if you start really early and don't plan to spend a lot of time at Lake Crescent, you could do both. Sol Duc Falls can be reached by an easy hike through old-growth forest to an overlook of the waterfalls. My itinerary does include another waterfall and rainforest hike, so you could skip this stop as we did.
Instead of heading to the Sol Duc Valley area, we chose to spend our morning at the Salt Creek Recreation Area. Here you'll find Tongue Point and Crescent Beach.
Salt Creek Recreation Area
Tongue Point can be reached via the Salt Creek Campground and is free for day use. Park near Tongue Point and walk down onto the rocky shores of the Strait of Juan de Fuca. This is a great spot for tide pools. Visit during low tide when the tide is going out to be able to explore the most shoreline. Be sure you check tide schedules, so you don't visit at high tide.
The tide pools will contain tons of sea anemone, sea snails, crabs, and maybe even some starfish! Kids love to look for all sorts of sea creatures, and hey, even adults will enjoy the discoveries. Just be very careful where you walk and remember to be gentle. This area will also have tons of blue mussel shells that are beautifully colored.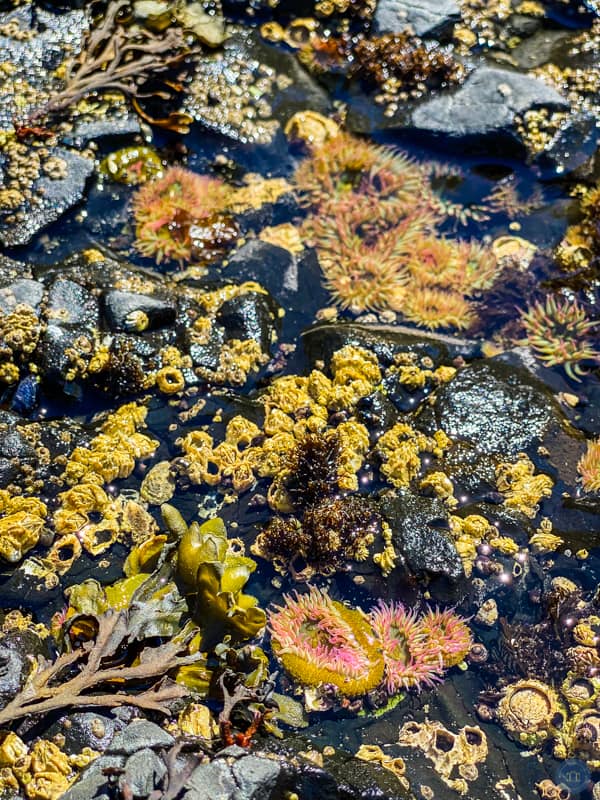 If you have extra time and love ocean beaches, head over towards Crescent Beach and try to snag a parking spot. The Crescent Beach RV Campground offers a day pass if you really want to visit and can't find a parking spot in one of the free lots up the road.
Crescent Beach is popular with surfers and features a large sandy shore and a notable tall rock island with trees that you can hike up during low tide. The water was also super clear when we visited!
You should be ready to eat lunch by now, so you might want to have packed lunch from Port Angeles or your hotel. If you didn't bring lunch, you can visit one of the three places nearby, Family Kitchen, Granny's Cafe, or Lake Crescent Lodge.
Lake Crescent / Marymere Falls
This is a beautiful, crystal clear lake that is the second-deepest lake in Washington State. It's popular for boating and lots of recreational activities but our family loved finding a beach nook and enjoying the water. You'll also find the popular Marymere Falls hike in this area.
You'll want to park near the Storm King Ranger Station or at the small trailhead for the Moments of Time Trail. I recommend finding a parking spot and doing both the Marymere Falls hike and visiting Barnes Point for swimming even though they're 0.5 miles apart because parking is limited.
Marymere Falls
The Marymere Falls hike is an easy 1.7-mile roundtrip hike but does involve some stairs. You'll hike through old-growth forests and reach two lookouts over the falls. The lower lookout is the best in my opinion.
You cannot swim at the falls, there are fence railings up. However, we did see two different groups climb the railings to go down to the falls. I would encourage everyone to remember the basics of National Park hiking and stay on the trails for your own safety and for the protection of the natural environment. :)
Barnes Point Lake Crescent
If you or your kids are on TikTok you might have already seen Lake Crescent in your feed. It's a very popular lake because it's so clear and the water is somewhat turquoise. Interesting fact: the water is so clear because the lake has a low amount of nitrogen, so algae doesn't grow in the lake.
Barnes Point is a popular spot to go swimming. You can reach this area if you're a guest at the Lake Crescent Lodge, or via the Moments in Time hiking trail. If you get a parking spot at the Storm King Ranger Station for the Marymere Falls hike, then you can just stay parked there and walk 0.5 miles down the road to the Moments in Time trail.
Be sure to pack some water shoes as the shoreline and shallow part of the lake is very rocky. This area of the lake has a very shallow edge before a deep dropoff. Pack some beach chairs or a few beach blankets if you plan to play for a while so you can relax on the shore.
Note, this area is crowded. We lucked out by visiting later in the day when people left and so we had no issue finding a parking spot and we had a beach area all to ourselves. If you can visit after 4 pm, that would be recommended in the summer.
Rialto Beach
We ended our second day by driving to the Pacific Ocean and watching the sunset at Rialto Beach. This beach is full of rocks and driftwood and the shoreline is dotted with some rocky islands. Our visit had heavy waves and a beautiful yellow and orange sunset.
Again, parking will be tricky. If you arrive just before sunset, you might get lucky finding a spot that opened after daytime picnickers have left.
Overnight Recommendations:
– Woodland Inns in Forks (This is where we stayed and I loved that Expedia showed that they were offering contactless check-in which worked perfectly.)
– Quileute Oceanside Resort
– Quillayute River Resort
Day 3: Hoh Rain Forest / Ruby Beach / Kalaloch Beach
For your final day in Olympic National Park, you'll visit the famous rainforest of the park as well as two different types of beaches. You can end your trip and head back to Seattle or spend another day or two in the area.
Hoh Rain Forest
The Hoh Rain Forest is probably one of the most popular things to do in Olympic National Park. For our family who lives in the PNW, it's a bit standard, but if you're not familiar with living amongst big trees and fern-covered forest floors, this shouldn't be missed. It's one of the few temperate rainforests in the United States.
Hoh Rain Forest features two easy, small hikes at the Visitor's Center that will lead you through these old-growth trees. The Spruce Nature Trail leads along one part of the forest that runs alongside the Hoh River. The Hall of Mosses Trail leads deeper into the forest and you'll see a lot of the moss and ferns alongside the towering spruce and pine trees.
Ruby Beach
Ruby Beach is another popular beach in Olympic National Park that's on the Pacific Ocean. You'll park above the beach and the wind-down a path to the beach. Here's another beach where you want to pay attention to tide schedules. The beach has a lot of driftwood but it's also a nice mix of sand and rocks.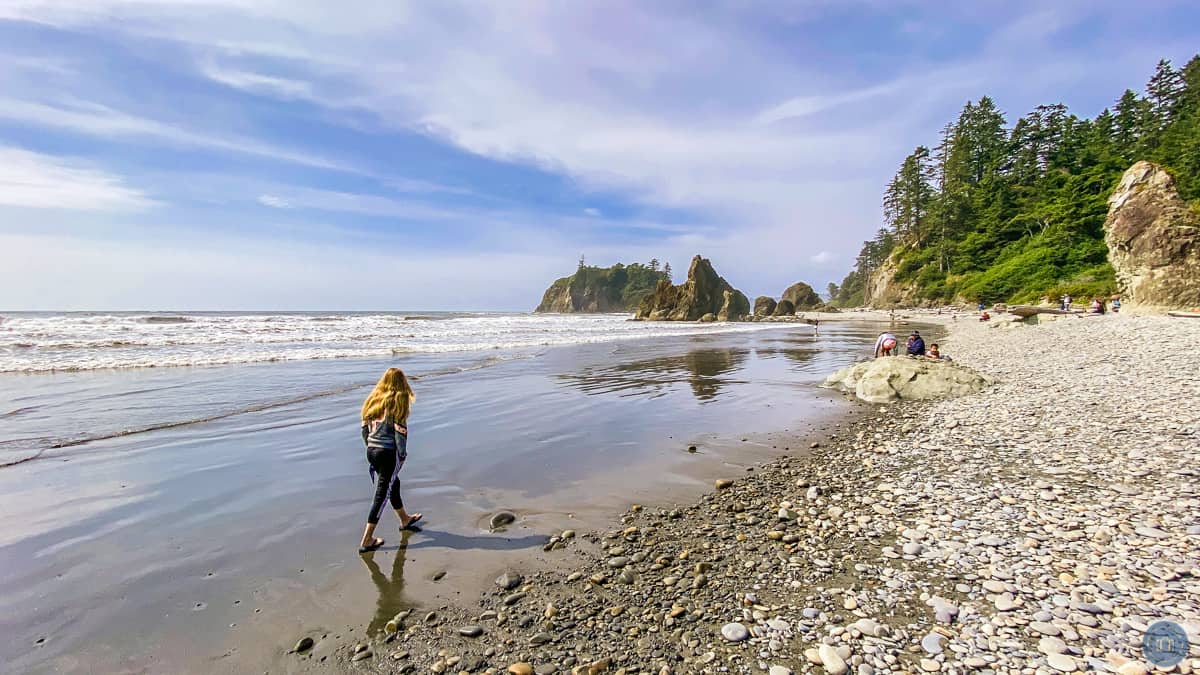 This is another time that it works to pack your own lunch and enjoy it on the beach. You can grab some lunch groceries in Forks if you stayed near there.
Kalaloch Beach / Tree of Life
If you're ready to relax and enjoy your final moments of vacation, grab a beach blanket and head to Kalaloch Beach. There are a couple of beaches near Kalaloch you'll see mentions of Beach 2, 3, and 4. They're all stacked next to each other near Kalaloch.
If you're near the Kalaloch Campground or walk north of the Kalaloch Lodge, you'll find the famous Tree of Life. Erosion has washed out the sand and soil around this majestic Sitka Spruce tree. How it has managed to stay alive and standing with no soil around its roots on the stormy WA coast is amazing. Definitely worth a visit.
Overnight Recommendation:
– Kalaloch Lodge
– Lake Quinault Lodge
– Ocean Shores
– Aberdeen
That wraps up my recommended 3-day itinerary for Olympic National Park. This trip features most of the best things to do in the park.
If you have additional time and want more lakes, rivers, and rainforests, head to Lake Quinault or the less-visited Staircase area of the park. Or perhaps you're craving more beaches, if so, head down to the popular vacation spot of Ocean Shores. Or call it an amazing trip and head back to Seattle.
Thanks to Expedia for sponsoring this post!