Experiencing the breathtaking beauty and relaxation of The Garden Lodge while visiting Botswana was one of the highlights of my trip. The lodge is tailored towards creating a truly magical experience for a limited number of guests. You won't find never ending hallways of doors and floor after floor of rooms. Eight rooms with twenty-two beds allows The Garden Lodge to pamper is guests and give specialized treatment to each visitor. Add to that it's situation upon the Chobe River, and you can't find a better place to get away and experience the natural beauty of Botswana.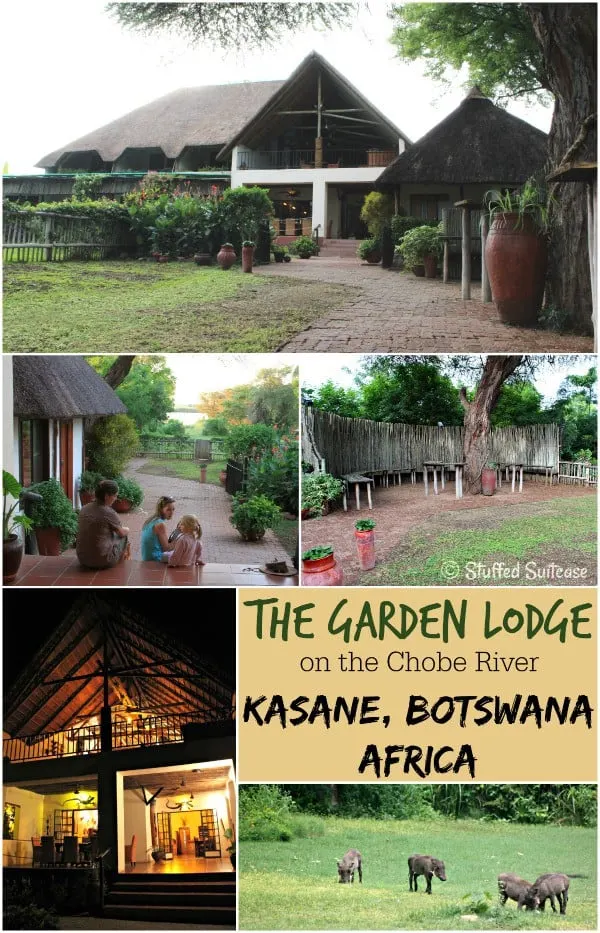 We were picked up by one of the lodge guides, Innocent, from the Kasane airport. Greeting us with a smile and grabbing our luggage, he started our trip off right! I was so excited when I discovered we would be riding in a "safari" jeep. I've always envisioned that as a being a part of a safari experience.
Upon arriving at the lodge, we were greeted and filled out some paperwork with passport information. Our bags were taken to our room, and we followed soon after that with our skeleton room key and carved wooden keychain. The room fit so beautifully with the theme of the hotel. Not overstated, but so classic and clean with a rustic feel. Definitely a place where you can kick back and find relaxation and contentment.
We were staying at The Garden Lodge with one of their packages so our meals were included with our room. The meals were served and all the guest ate together at a dining table. I was honestly a little unsure of how comfortable or uncomfortable it would be to eat with strangers, but it was a delight. Some of the staff ate with the guests, and there were three other parties of guests who were staying the same time we were. An Australian couple, an uncle and nephew from Peru, and another family from Zambia were all visiting. Meal times were a great time to learn about the lives and areas of other countries. The staff were also great in encouraging conversation and sharing stories and tales about the lodge and Africa.
Our package also included two
Chobe River safari cruises
and one
safari drive through the Chobe National Park
. Our guide, Innocent (who also picked us up at the airport), was an amazing asset to have for our vacation. He grew up locally, and understood the habitat and nature of the Chobe River & National Park so well. Many times he would spot animals most us couldn't see even when he pointed! I know some people like to rent cars and explore on their own, however I really have to say it's worth it to have a knowledgeable guide. Safety is also a concern, and I felt assured that Innocent understood the animals and would know how to react if a situation arose.
The grounds are beautiful, the food delicious, and the safaris unforgettable, but another huge benefit of The Garden Lodge is the staff. They were all so friendly and helpful. Creating a safe and welcoming environment is an area where The Garden Lodge excels. I know I'll be returning to Botswana again, hopefully with my family this time, and staying again at The Garden Lodge will be a must do on my list.

I Share My Posts Here