It should come as no shock that our two girls are in love with the movie Frozen. And, let me be honest, so am I! Even my husband loved the movie and enjoys playing the soundtrack from the movie. Disney really hit a homerun in our opinion. One of the fun ways we hang out as a family are Friday movie nights — and we're eagerly waiting for our copy of Frozen to arrive. In the meantime, I put together a Frozen Party Family Dinner & Movie Night for your own family to enjoy one evening.

Frozen Party Decorations
I purchased three tablecloths at the dollar store, two ice blue and one white. I created a swag with one ice blue, and placed the other ice blue on the table with the white tablecloth folded in half running down the center. Digging out a Christmas box gave me two boxes of clear lights which I ran down the middle of the table and around the dining room window. I borrowed some sculpted caulk Christmas trees that a church friend had made and used them in the center of the table. I wrapped the chair backs in a folded sheet of white tissue paper and then added some silver & blue ribbon I found in another Christmas box. Sprinkle with a little fake "snow," and I was ready to go.
Frozen Party Food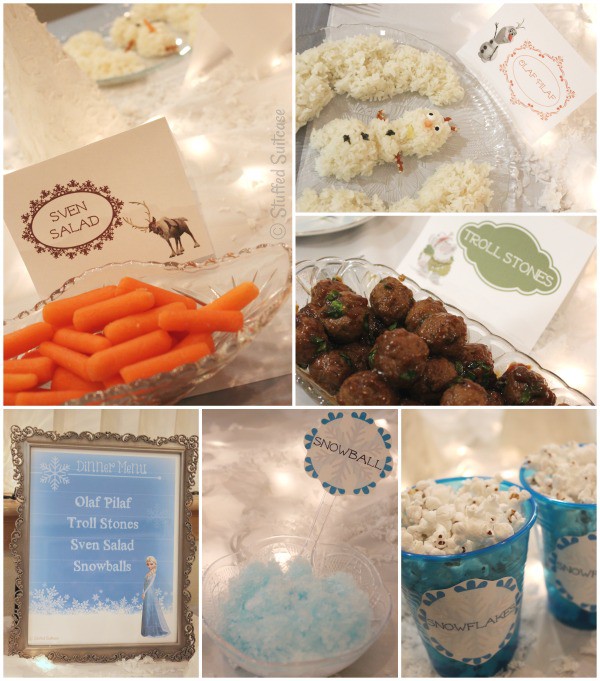 This was definitely the fun part! I came up with rice, meatballs, and carrots. The rice became Olaf Pilaf, okay, I know it's not technically pilaf. I made sticky rice, but couldn't get it to behave quite as I had pictured in my head. Then I realized I hadn't considered Olaf's teeth and arms, so made due with what I could find (swiss cheese & pretzels). My favorite creation was the Troll Stones! I placed some meatballs in my crockpot with a package of beef stroganoff mix (+water), then added some cut up spinach leaves with about thirty minutes of cooking left. For our veggies, a bowl of carrots became Sven Salad. I found some fantastic Easter carrot straws at the dollar store, and we added them to our cups of water to become "Summer Snowmen". Tip: borrow some crystal (glass) serving dishes from your church or friends, or check the dollar store for plastic lookalikes.
For dessert we made snowballs! I used a neighbor's shaved ice machine and then mixed a strong batch of blue koolaid which I poured over the top of the shaved ice. Served alongside the Snowball printable taped on a spoon, they were a hit! Then, no movie is complete without popcorn! I bought some blue plastic cups (again dollar store) and air popped some blue popcorn kernels, which pop very white. Added to the blue cups, they became our Snowflakes.
Frozen Party Printables

Frozen Dinner Menu // Olaf Pilaf // Troll Stones // Sven Salad // Snowball // Snowflakes
The printables make it all come together. I'm linking them here and invite you to use them personally and share them with your friends, but please link back and credit the source. Thanks! A final note is the family discussion activities that we did while eating dinner. I'm attaching a printable of the questions we asked and talked about. Lastly, we played the movie soundtrack while eating dinner. It was a great night for all of us! If you choose to do a Frozen Party Family Dinner and/or Movie Night using some of my ideas, I'd love for you to share a picture on my facebook page! I've gotta ask, who's your favorite Frozen character?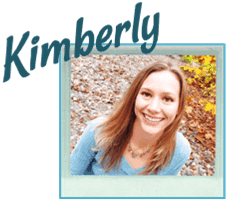 I Share My Posts Here