I'm so excited to finally sit down and write about my African safari experience in Botswana. I honestly took so many photos that I'm going to be splitting up my posts. First up was my question and answer post about my trip to South Africa and Botswana. This post is going to highlight the photos I took while on our African Safari River Cruise on the Chobe River in Botswana. Then I'll share about our African Safari Drive in Chobe National Park, and finally a post about the resorts we stayed at while in Africa.
There were some beautiful and unique birds along the water — one of the advantages of traveling during the "rainy" summer season is the bird life. We were really lucky to have an amazing tour guide named Innocent guide us along the Chobe River. He grew up in Kasane and really knew his stuff. It also happened that since it was the "off-season" for tourism, there was only one other couple on our boat with us for both safaris.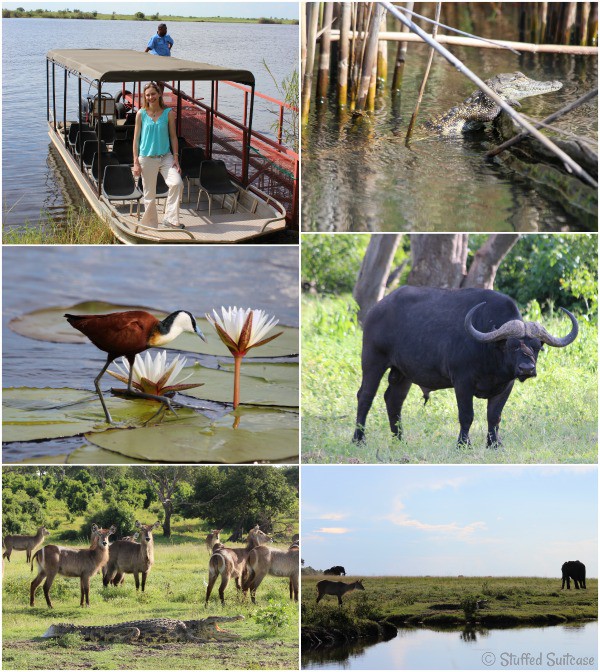 Here I am – ready to head out on the hippo & croc infested river! — Awww, look at this baby crocodile. Our amazing guide spotted him, one of the advantages of having an experienced guide! — Another bird, this one was walking along the lily pads and had the most insanely long toes. — Water buffalo alert! See the bird cleaning bugs off it's face? — Now there's a crocodile! We couldn't believe how close these water buck were to it. Right after we pulled away from this little inlet space he glided into the water and disappeared. — Another shot of the croc & water buffalo checking the croc out. What's cool are all the elephants hanging out too. You can see the two main ones but the little humps on the horizon were elephants too!
Hippos were plentiful along the river. Check out this mama and her baby out having a snack. There's even a winged hitchhiker. — We pulled right up to this embankment and just watched this herd of hippos chomp away. — This guy is ready for a nap… — Here's the same heard again. Since the weather wasn't too hot they were out of the water.
Elephants were definitely the attraction for this african safari. They outnumber the people. — It was fun watching this young elephant spraying himself with water, then he went to a mud puddle and sprayed mud all over his body, then back for a drink of water before heading off. — We even saw some giraffe down by the river! — This was a big elephant and I must say I was a little concerned with how close our guide got us! — This is the African Fish Eagle, and we saw a few along the river. — Another bird, can't remember the name of this one.
Pink elephants on parade ♪ ♫ .. oh wait. Here's a big herd we came across. They were playing in the water and some were rubbing around in the dirt. It helps them stay cool and keep bugs off. — The elephants were actually swimming right across from us when we were approaching this herd. Then they proceeded to play for a while. — There are two elephants here, swimming across from a "island" to the mainland. See how they hold their trunk up to breath when they are swimming. Such a cool thing to see! — Here they are playing. So cool to see these amazing animals in their natural environment. The climbing on each others backs was something lots of them did for play, not "getting busy". :) — Here was another group we saw. Looks like an adult leading two juveniles. — Just wanted to give you an idea of some of the distances (although we were even a bit closer than this to some other herds). It was so amazing!
Had to share this series because it was too funny. This guy/gal had a bit of a time getting up this little embankment. Too funny!
More elephants, another huge herd we came across. — And another idea of just how close we were to these amazing animals! — Awww, look at the sweet baby! — These two had quite a time playing like young boys in the water. One would walk away and the other would poke and taunt him until he turned around and the clashed. It looked like a typical game of boy roughhousing. :) — Here's a crocodile hiding in the grass. — Here's another crazy experience on our river safari. Our boat was actually charged twice by hippos. They're very territorial and while they'll leave the elephants alone, evidently metal boats are threats. This was a photo I snapped right behind us after our guide floored it when he saw the hippo drop below the surface and start to charge. The guide had a big smile on his face, so I guess he wasn't that worried. We all thought it was kind of a cool experience.
Some final photos. We saw a couple of local fisherman, I would be a little worried being on these waters in their boat! — It was so cool to see the animals and environment all together. Hard to see, but here's an African Fish Eagle in the tree, with some hippos in the water. — More water buffalo. They're kind of gross looking beasts! — We ended our evening with a sunset on the water and a glass of wine in our hands. Can't put into words how amazing this African Safari River Cruise was, and how I would love to return and do it again! Any questions? Thoughts?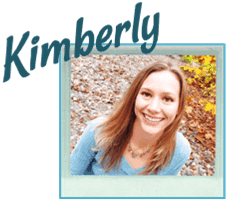 I Share My Posts Here