This post is sponsored by Autotrader and Kelley Blue Book; however, all thoughts and opinions are my own.
Driving in a cold-weather climate this winter? I'm sharing my winter road trip tips along with some tips from the experts at Autotrader and Kelley Blue Book that will help if you're traveling and even if you're staying close to home. Spend some time preparing for winter driving to make sure you stay safe and happy while in your car!
If you are planning to travel this winter be sure to follow local travel rules and restrictions.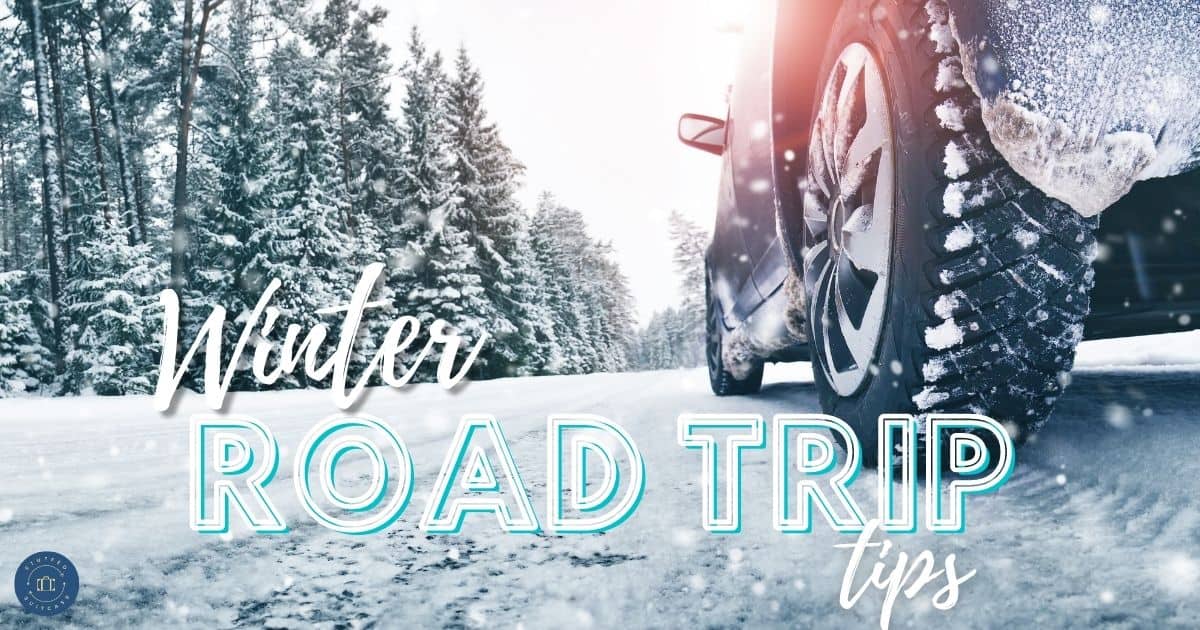 Know Your Route
If you are heading out on a winter road trip, you'll want to make sure you're aware of your route. Check all the road conditions and be sure to note if any roads are closed in the winter.
Most states (and provinces in Canada) have road condition reports on their transportation department websites. You'll want to check the road conditions along your route before you leave. You can also bookmark the page so you can check conditions while you're on the road.
You'll also want to watch weather reports for your destination and the route along the way. If you know that a major snow is expected around some mountain passes, you might want to adjust your travel plans to avoid the storm.
You can also call 511 for road travel and weather information. But note that some states and regions don't have 511 access from mobile phones, only landlines.
Allow Extra Time
Make sure you take into account that winter driving will mean slowing down. The amount of distance you can cover during the summer will be very different from how fast and far you can drive in winter conditions.
Be sure you're not pushing yourself and your distances too far so you don't feel you need to drive in an unsafe manner to reach your destination. Even if you're using online map programs to calculate driving times, you want to be prepared for snow or ice and realize you might need to slow down.
Prep Your Car
You'll want to get your car ready for winter driving whether you're taking a winter road trip or even if you're just driving around home. Prepping your car for winter driving means packing a few essentials and doing some car maintenance.
Car Maintenance
Before driving in winter weather conditions you'll want to make sure your car is ready. You'll need to check your fluid levels and tires, plus a few other things to make sure your car is ready for winter driving.
Pack Winter Essentials
Another part of preparing for winter driving is packing some winter essentials. You want to be prepared in case you get stuck in the snow. I have a full packing list of winter essentials which includes things like blankets, food and water, jumper cables, hazard markers, and more!
And for this winter make sure you pack some hand sanitizer and face masks in your car. I'll be packing my fun ugly sweater face mask I received from Kelley Blue Book and Autotrader.
Keep Your Tank Full
When driving in winter weather conditions, it's good to always keep your gas tank filled. When I learned winter driving in Kansas I was told that once you hit half a tank it's time to refuel. That way if something happens and you do end up stuck and waiting for assistance, you'll be able to run your heater to stay warm.
Watch Your Speed
As I mentioned above, driving in snow and ice means slowing down. You'll want to allow plenty of time reach your destination and take your time on snowy roads.
When you're following other cars you'll also want to leave plenty of distance between you in order to allow plenty of time to stop.
Avoid Cruise
If you're driving on slick roads you also want to avoid using cruise control. If you hit a spot of ice or slick snow, your cruise control could try and accelerate and cause you to lose control or spin out.
Watch for Signs and Bridges
While driving this winter you should stay alert for road signs warning of slippery road conditions. Bridges and overpasses are often marked this way. The cold weather can make them freeze more easily and they might have metal junctions that can be slick.
I hope these winter road trip tips have helped you prepare. Be sure to check out the Holiday In Drive website with more useful winter driving tips from Autotrader and Kelley Blue Book. They also have a list of the best cars for winter road trips!