Are you heading to California soon and looking for a hotel in Santa Barbara, CA that's close to the beach and downtown? I recently stayed at the Hotel Indigo property that is at the edge of downtown Santa Barbara and only a three-minute walk to the beach and pier.
With a boutique feel and its location at the edge of the funk zone entertainment district, this hotel is a great option for your stay. Thank you IHG for providing my room, all opinions are my own.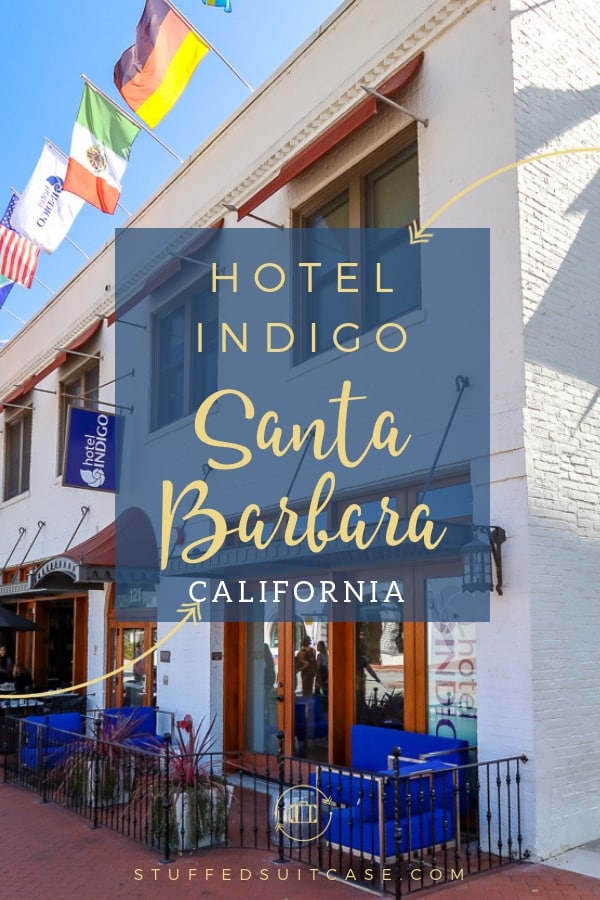 Downtown Santa Barbara
The location of the Hotel Indigo is what will most appeal to guests. It's located on State Street, which is the main street through town and ends at Stearns Wharf. I was able to easily walk to nearby restaurants and shops, and even wished I was vacationing with friends when I saw all the cute wine tasting shops in the area.
You can walk about 15-20 minutes down State Street to reach the popular Paseo Nuevo shopping mall, the Santa Barbara Museum of Art and Public Market. And if you're craving tacos, I highly recommend you walk over to Mony's Mexican Food — it's SO good!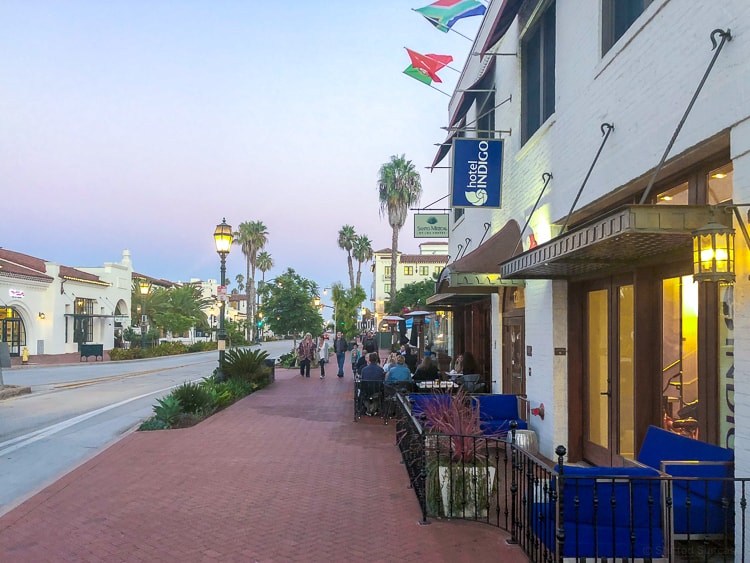 Near the Beach and Pier
Another location perk is that it's near the beach, it only took me three minutes to walk to the beach from the hotel. And State Street ends at Sterns Wharf, which is a popular tourist spot with lots of kitschy shops.
You can also walk along the mile or two stretch of beach and even play at Chase Palm Park. The beach and wharf are great spots to watch the sunset, and you'll get some great palm tree photos walking along the park path. Be sure to check out my beach packing list if you're planning to enjoy the surf!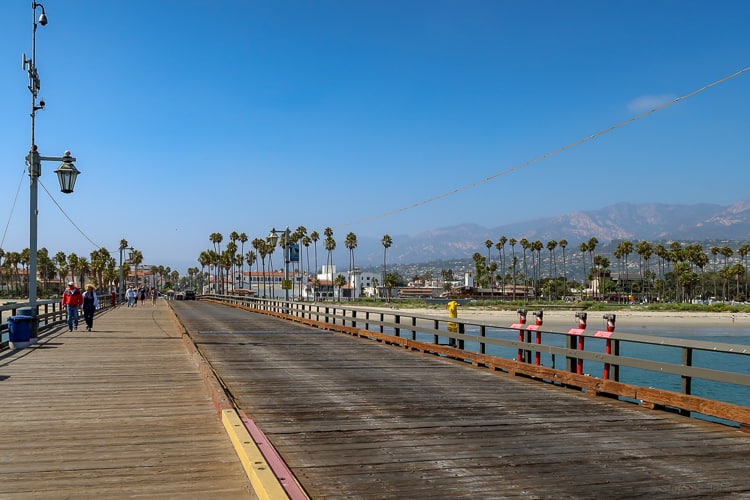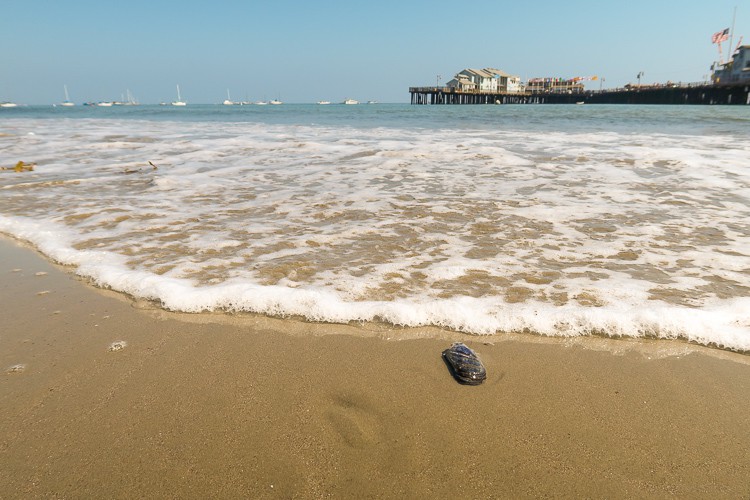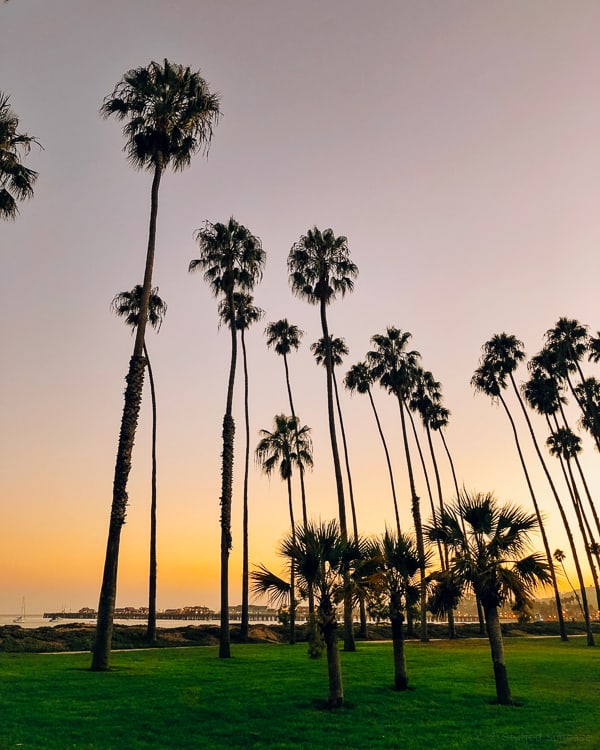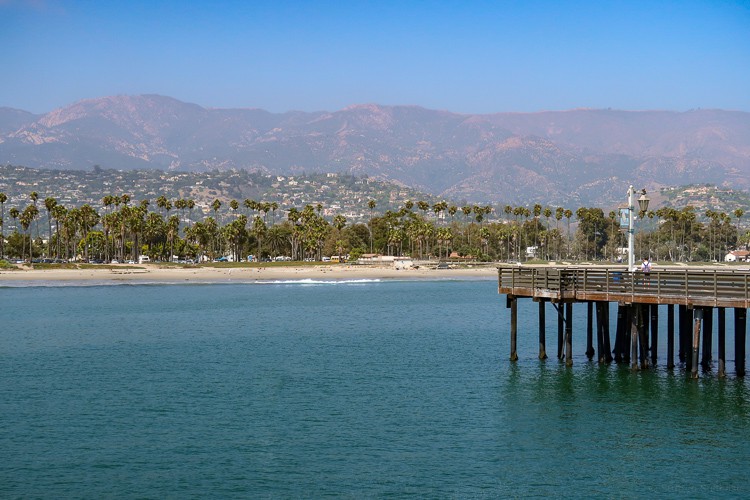 Related Reading: Weekend Getaways in California
Related Reading: California Natural Wonders
Hotel Indigo Room Layout
Hotel Indigo is part of the IHG hotel group, but the great thing about the Hotel Indigo brand is that they aim to fit into their local city with their building and decor.
The Hotel Indigo Santa Barbara is a great example of this concept. The hotel is located in a charming building that has a bit of a Spanish Colonial feel and shares space with a popular restaurant, Santo Mezcal. The lobby is bright and welcoming, with coffee and water available.
The rooms are all located off a central hallway on two floors. It's a small property, with about 40 rooms, and the rooms are small. It's good to remember that it is a downtown California building, so it has a boutique hotel feel, not a sprawling resort.
I stayed in a small garden room and loved the room decor. It has a very European feel with its compact size and decor, plus the rooms have a European wet bath layout.
The hotel is located near train tracks, and they provide earplugs in the room. I didn't need them and didn't notice noise during the middle of the night, but I did hear trains come through early in the morning around 6 am.
Hotel Amenities
If you want to explore Santa Barbara you can borrow one of the hotel's bikes for a couple of hours. In addition to looking cute, the bikes are a great way to ride along the beach and get your feel of palm trees and California sun.
The hotel doesn't have a pool but does have a small fitness room. And if you have your car, you'll need to pay for valet parking at the hotel or find street parking in the city.
I was in Santa Barbara for three days and Hotel Indigo is the perfect spot for a weekend getaway without a car. I took an uber to and from the airport, then was able to easily walk around the city to eat, shop, and of course, visit the beach.
If you're looking for a boutique hotel near the beach in Santa Barbara, definitely consider Hotel Indigo. While the rooms are small, the location and customer service are all excellent reasons to pick this Santa Barbara hotel.