Take me away to Monterey any day! Earlier this month I went on a press trip to explore Cannery Row in Monterey, California. As I sit here remembering all the great food and beach views, I'm dreaming of going back with my family. If you're looking for a California coast escape, here are my picks for the best of the best Cannery Row restaurants, hotels, and attractions.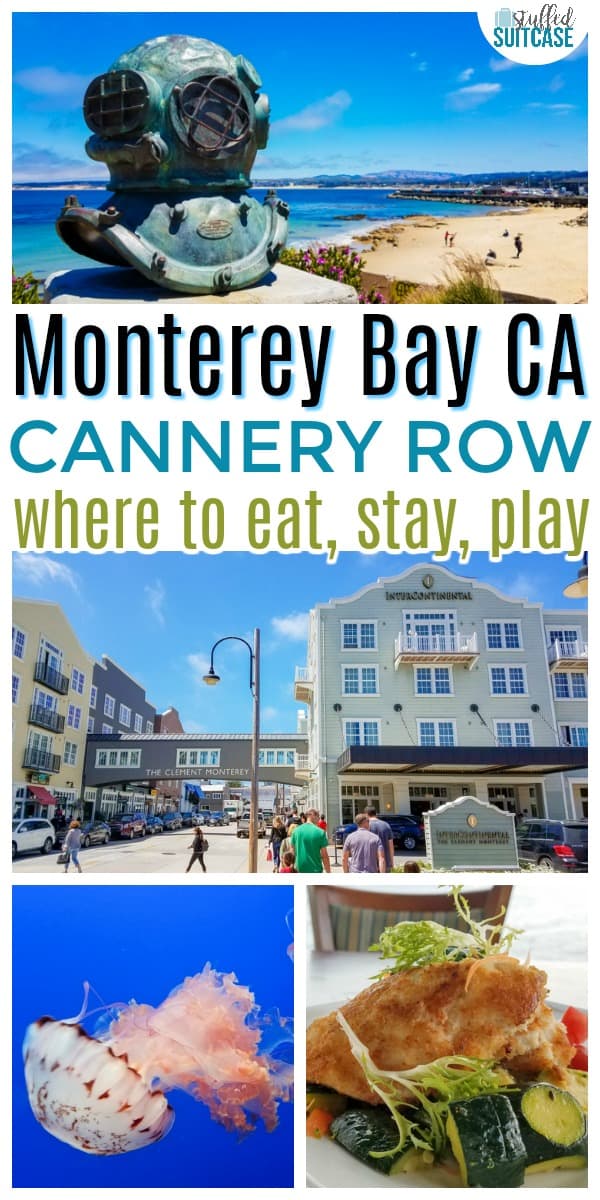 This post contains affiliate links, which means no additional cost to you but I might earn a small commission for referring you.
What is Cannery Row?
First let me help you understand what is Cannery Row. This area is located directly on Monterey Bay, about a mile away from downtown Monterey, CA. It's takes only about 20 minutes to walk to or from Monterey to Cannery Row. Cannery Row is a main street tourism district, perfectly designed for visitors. It's ideal for strolling along the many shops, restaurants, hotels, and attractions, including the famous Monterey Bay Aquarium.
The story of Cannery Row dates back to the early 1900s, including the days of sardine fishing. Boats used to come into Monterey Bay with their catches and Cannery Row was the location of all the process factories. One of my favorite signature nods to the factory history is the overhead bridges. In the days of sardine processing, the bridges were how the fish were moved from one side of the factory to the other. Now they're a classic architectural feature for the main Cannery Row street.
Cannery Row is also the backdrop to the classic John Steinbeck novel, Cannery Row. The local Californian shared a peek into the lives of outcasts residing in this vibrant area of Monterey, California.
Cannery Row Restaurants – Where to Eat in Monterey
Foodies will love traveling to Cannery Row. So many delicious places to eat, many with an unbelievable view of the bay. Of course, seafood is on every menu. Eating in Monterey is one of the best things to do with kids in Monterey!
The Fish Hopper
If you're craving some seafood on the bay, The Fish Hopper is your place. I loved how the interior of the restaurant has an open pier feel, perfect for families. We were lucky enough to get a table inside their pier room, which is surrounded by windows, giving me a panoramic view of the bay. While dining on our seafood we spotted sea lions and even a pod of dolphins! I could just picture my two animal-loving girls with their faces pressed against the glass looking to spot more sealife.
The Fish Hopper was where I sampled a Monterey, CA classic, sanddabs. My thin lightly-breaded fish was flaky and fresh, a perfect pairing with my moscow mule cocktail. If you're a cocktail fan, you definitely want to try The Fish Hopper. They have a great menu of drinks, including some specialty fishbowl drinks that require two hands!
Schooners Coastal Kitchen
Located inside the luxury Monterey Plaza Hotel, Schooners is the perfect place for a sunny lunch, or romantic dinner. We enjoyed lunch outside on their deck, again with views of the water. With the coastal theme, the menus are filled with specialty seafood dishes. I had the most amazing Sea Bass B.L.T, and I'd eagerly order it again. My fellow travel writer ordered the Seafood Paella, which was absolutely beautiful.
Lalla Oceanside Grill
With Cannery Row being located on the coast, it should come as no surprise that I'm giving you yet another Cannery Row restaurant with a water view. Lalla Oceanside Grill has a fun and eclectic feel with bright colors and a drink menu that'll make you tipsy. It's a popular spot for families, a great spot to head after an early morning visit to the aquarium.
This was one of the hardest food decisions for me because their menu is expansive. They've got something for everyone. I was tempted to go for the fish tacos, but I'd already sampled those twice on this trip, so I decided to go for their signature World's Greatest Italian Sandwich. But the thing I have to tell you that you must order, are the firecracker fries. I had them as a side along with some deliciously crisp breaded onion rings and they were amazing. No matter what you pick from their menu, you have to get a side of the fries!
The C Restaurant + Bar
Another amazing hotel restaurant that is right on the water, the C is definitely the spot for an elegant dinner. The restaurant feels fresh, clean, open and bright. Another shout out here for truly stellar service. Our server knew the menu very well, as well as having a great understanding of the wine offerings. I savored sipping on a delicious glass of local Cabernet Sauvignon.
We were able to enjoy a local musician who played some soft jazz while we ate, and the music was enjoyable since it was atmospheric without being showy. They have local musicians playing most days of the week. In addition to enjoying the amazing atmosphere and ocean views, we also loved dinner. The food was beautiful and delicious. We finished the evening with some super rich desserts and coffee. This was our final dinner in Cannery Row, and it was the perfect wrap up of our coastal adventure.
Dos Victorias
I'm adding this one because I love finding those spots that you wouldn't normally know about unless a local told you about it. That's what Dos Victorias was for me. I checked into my hotel and told the front desk that I was craving fish tacos but didn't want to eat at a sit down restaurant. They referred me to Dos Victorias.
I have to say that while it's a bit of a hole in the wall spot, the food was delish. They have a great menu with options, such as my favored fish tacos, but also burritos and plenty of asada dishes.
Cannery Row Brewing Company [CLOSED]
Moving a block up from the water, it's time for some brews and food. The Cannery Row Brewing Company has a fun night pub feel, with a talented chef serving yummy bites to eat. It's a great spot for families or just for brewpub fans. The wall of neon at the entrance is sure to capture your eye!
They are known for their signature giant pretzel, but if you're picking appetizers, I'd recommend the pulled pork sliders. The meat is smoked in-house and was heavenly. I ordered a plate of their Mahi Mahi Street Tacos, and they have some kick. So if you're looking for some spicy food to pair with your IPA, the fish tacos should be on your radar. You can also find a late-night menu here in case you're just not ready to call it a night yet in Monterey.
Where to Stay in Monterey CA on Cannery Row
Cannery Row is definitely a resort destination that comes with a premium price. But with that premium price comes unique charm and beautiful surroundings. Here are a few hotel choices that I'd recommend for where to stay in Cannery Row.
InterContinental The Clement Monterey
If you're searching for a luxury coastal getaway, InterContinental The Clement Monterey might be just the spot for you. It's also located in a central area of Cannery Row with access to many great shops and restaurants. Plus it's just down from the Monterey Bay Aquarium, so if that's a primary destination for your visit to Monterey Bay, the InterContinental is the perfect location.
The hotel features amazing oceanview rooms, including spacious family suites. I fell in love with the simple coastal decor. Kids will be enthralled by the special hallway that was created by a former Disney Imagineer and makes you feel like you're under the sea. While luxurious, the hotel also felt comfortable and family-friendly. Partnered with its prime location, the InterContinental The Clement Monterey would be an excellent option for a romantic escape or family getaway.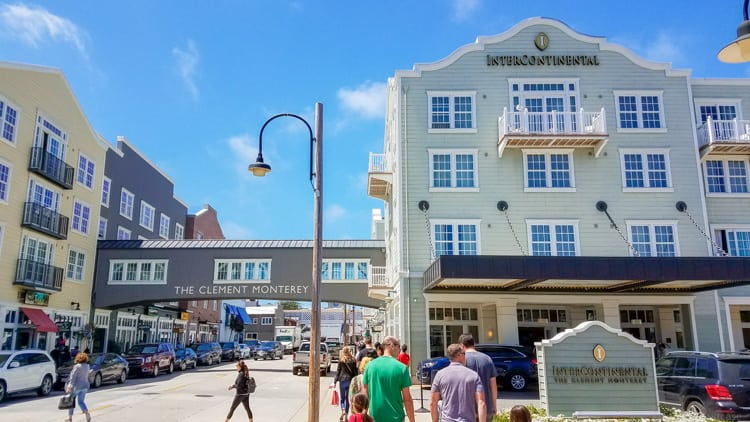 Victorian Inn – Best Western
While I mentioned that Cannery Row is a higher priced destination, you can look at the Victorian Inn if you're looking to lower costs or if you're a Best Western Rewards member. The Victorian Inn is a charming property one block up from the main Cannery Row street. It's a simple walk to reach all of the main Cannery Row attractions. I stayed in one of their 2nd floor premier rooms and truly enjoyed my stay. The room was very open and bright, with lots of room, great for families. They also have family suites if you're needing more room.
There is complimentary breakfast each morning and a wine and cheese reception in the early evenings. Paired with its lovely garden charm and expansive rooms, this property is great for families who want a Cannery Row vacation without an oceanfront price tag. My room had a lovely outlook over towards Cannery Row and the ocean but also did have a bit of road noise. If you're a light sleeper, you might request one of the garden rooms that doesn't face the road.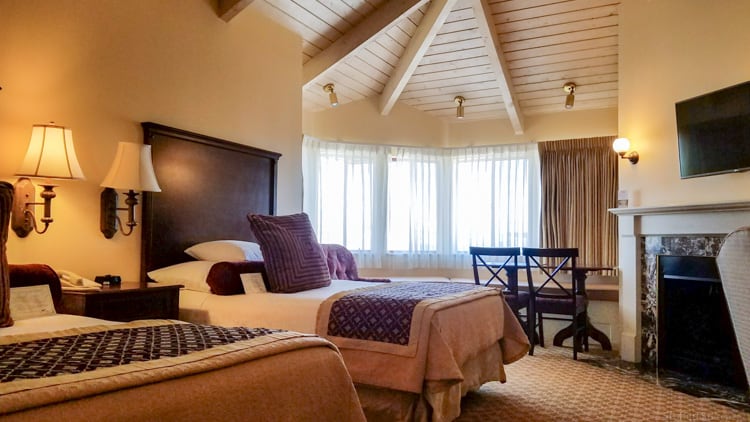 There are a few other spots that might be of interest if you're looking for a Cannery Row hotel. The Monterey Bay Inn is located next to the San Carlos Beach Park, perfect if you're looking for a lot of fun in the water and sand. Another luxury option is the Monterey Plaza Hotel & Spa. It's located in a prime central location on Cannery Row, as well as having a beautiful spa that features a rooftop pool and hot tub.
Things to Do in Cannery Row Monterey Bay, CA
Cannery Row packs a lot of fun into a short stretch of coastline. In addition to enjoying delicious food and beautiful views, there are also unique shops to explore, and memory-making attractions to experience.
Kayaking in the Bay
If you're the adventurous type, take a kayaking tour with Adventures by the Sea. You'll head out on the bay with a guide and hopefully, get to see otters and seals or sea lions. On our trip, we were able to even spot a couple of momma otters holding their sweet babies on their bellies. Since the Bay is a sanctuary, you'll have to keep a bit of distance between you and the sea life. Note, there are swells, so if you get motion sickness take some meds before your tour.
Beaches
Cannery Row has two main beach areas, San Carlos Beach Park and McAbee Beach. San Carlos has the most space and in my opinion is the nicest spot to hang out. Especially since it's a park area, not just a stretch of beach. McAbee however is a great option that is in the heart of Cannery Row and where we spotted a lot of harbor seals playing in the water.
If you head north along the bay from Cannery Row you can go to Lover's Point Beach Park, another spot with a nice beach and park as well as services. Heading the other direction, towards Monterey, you can go to Municipal Beach. There you'll find a stretch of sand, but it's next to the marina and not near as charming as the other spots.
Bike Ride Adventure
Another fun activity is to rent a bike and head out to explore from Cannery Row. We rented a tandem bike from Adventures by the Sea and traveled up to the Point Pinos Lighthouse on the point of the Bay. We actually had a lot of fun using the tandem bike, and the views along the trail were breathtaking.
The trail does end at Lover's Point and you'll need to bike on the road at that point. We chose to lock the bike at the point park and walk the rest of the way to the lighthouse. Just make sure you don't forget to get helmets for your ride, we rode off without ours!
Walk to Monterey
There's a walking path trail that leads all the way from Cannery Row to downtown Monterey, CA. It takes about 15-20 minutes for the walk, and is a lovely way to spend the day. There are a lot of beautiful views along the way.
Wine Tasting
I enjoyed my wine tasting experiences at Cannery Row so much that I'm writing another post just about the wine! There are opportunities beyond just tasting rooms, including the expansive choices at the Taste of Monterey, and the unique blend your own glass opportunity at The Wine Experience. I'll be sure to link to the post here once it's written!
Family Fun Mirror Maze
The Monterey Mirror Maze & Lazer Challenge on Cannery Row is actually a lot of fun for any age! I enjoyed giving the maze a try, and hey, I even found a secret method to conquer the mirrors! The whole time I kept wishing my girls were with me because I know they would have loved trying to escape the maze. I also gave the lazer challenge a try which again was more fun that I expected. Definitely a fun stop for families.
Monterey Bay Aquarium
Closing out the list is probably one of the biggest draws for families, the Monterey Bay Aquarium. This attraction is located at the end of Cannery Row, making Cannery Row the perfect spot to stay if you're visiting the aquarium.
I loved all of the amazing sea creatures they have on display. From the mesmerizing jellyfish to the camouflaged octopus, it's a delightful spot for adults and kids. I also knew my animal-loving girls would have loved reading all the facts and information about each of the amazing creatures.
Cannery Row is the perfect spot for your Monterey Bay vacation. It's packed full of delicious restaurants, beautifully hotels with ocean views, as well as plenty of things to do without having to sacrifice that laid back beach vibe vacation.
Feel free to comment below with any questions you might have or if you have a favorite tip to share about Cannery Row or Monterey Bay, California.
If you're exploring beyond Cannery Row, check out these fun things to do in Big Sur.