If you're planning to visit Disneyland in October, you need to know some important things about the Disneyland Halloween season. I highly recommend you read over these tips before your visit!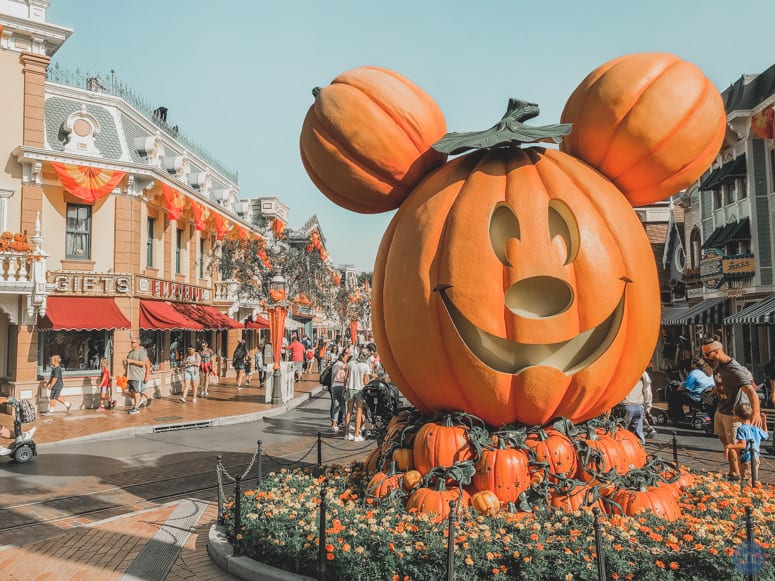 We visited Disneyland Halloween Time as guests of Alaska Airlines and the Disneyland Resort. We flew aboard their new Disney plane, Friendship and Beyond. If you're flying to the Disneyland Resort on Alaska, you might get lucky and fly on one of their six Disney themed planes!
And if you're still looking to buy tickets or book a hotel for your trip, check out my partner Get Away Today. They're an authorized Disney agent have amazing deals on tickets and packages, including joint tickets if you're visiting other attractions near Disneyland. Use the promo code StuffedSuitcase to save $10 on your vacation package.
When does Disneyland Decorate for Halloween (2019)
Overnight the Disney parks will transform for the Halloween Time holiday. For 2019, Disneyland Halloween lasts from September 6 to October 31, 2019. During this time, you'll see Halloween decorations around the parks and unique ride overlays and entertainment options.
Halloween Party vs Halloween Time – Don't Get Confused!
This biggest mistake that visitors make when visiting Disneyland in October is not understanding the difference between Halloween Time and the extra ticketed Halloween Party. Halloween Time attractions and entertainment occur during the whole season for all park guests. But, some special entertainment is only available for guests of the Oogie Boogie Bash party which occur on only 20 specific nights.
Oogie Boogie Bash – A Disney Halloween Party is a special ticketed event that occurs on various Tuesdays, Thursdays, and Sundays in September and October. The party dates for 2019 are September 17, 19, 22, 24, 26, 29, October 1, 3, 6, 8, 10, 13, 15, 17, 20, 22, 24, 27, 29, and 31st.
These parties are very popular and sell out far in advance. If you are not able to obtain tickets online and are staying onsite you can try to see if the hotel happens to have any extra tickets available for hotel guests. Tickets will cost $110-$145 with the prices more expensive on Sundays and closer towards Halloween.
What are the crowds like at Disneyland in October?
Halloween Time at Disneyland is very popular, so be sure to read my Disneyland tips to help you handle crowds and read my FASTPASS and MaxPASS guide to avoid long ride wait times.
Quite a few Utah and Arizona schools have fall breaks during October which causes an increase in visitors, plus Disneyland has a large number of local annual passholders who love to visit the parks during the seasonal celebrations.
If you have limited time in the parks you might want to splurge for staying at an onsite hotel since the Extra Magic Hour early entry can allow you to ride a few of the most popular attractions with low wait times.
Wearing Costumes at Disneyland
Adults are not allowed to wear costumes at Disneyland EXCEPT during the Oogie Boogie Bash party. This is the one time of the year when adults can have fun along with the kids and dress up as their favorite characters.
There are a few rules, you can't cover your face, can't have a weapon, your costume can't be too large and can't drag on the ground, you also can't pose for photos or sign autograph books. See the full costume rules (in the Know Before You Go section).
Special Attractions & Entertainment During Disneyland Halloween
The parks are decorated for Halloween, including lots of décor and pumpkins on display on Main Street, USA. But beyond the décor, a few special attractions and shows are revamped for the Halloween season in October.
Cars Land (Disney California Adventure Park)
One of the best places to get in the Halloween spirit in the parks is at Cars Land, named Radiator Screams! The whole land is decorated and other than Main Street, it's the best immersive experience for the Halloween holiday in my opinion. You'll find lots of unique touches around the land including a Creepy, Crawly Cruiser at Flo's V8 Café, Ghostly Traffic Cones at the Cozy Cone Café, and 30 car-themed spiders lurking around the land.
Two of the land's rides get overlays for the season, with themed décor and special music. Mater's Junkyard Jamboree becomes Mater's Graveyard JamBOOree and Luigi's Rollickin' Roadsters becomes Luigi's Honkin' Haul-O-Ween.
You'll also want to grab a photo with your favorite Cars characters who dress up for the holidays. Mater becomes a "van-pire", and Cruz Ramirez dresses up as a pirate. You can also indulge on some great Halloween food in the land like a Pumpkin Spice Milkshake at Flo's V* Café, and a Slow-Burnin' Mac n' Cheese Cone at the Spooky Cozy Cone Café.
Guardians of the Galaxy (Disney California Adventure Park)
If you haven't been to Disneyland in a while you might not know that Tower of Terror was remade into a new Guardians of the Galaxy ride a few years ago. During Halloween Time that attraction has a special overlay — Monsters After Dark. This is a special ride experience and storyline that only runs during the evenings. So, you could ride Guardians of the Galaxy during the daytime and come back to ride at night for a totally different experience.
Plaza de la Familia (Disney California Adventure Park)
In the Paradise Gardens area of Disney California Adventure Park (by Goofy's Sky School and Ariel's Undersea Adventure) guests can enjoy a celebration of the Disney-Pixar film Coco, that is inspired by the Mexican holiday Dia de los Muertos. There's a musical show sharing the story of Coco, and the Mariachi Divas put on an authentic Mexican musical show.
Haunted Mansion Holiday (Disneyland Park)
This is probably one of the most popular themed overlays for the season and actually stays in place through the Disneyland Christmas holiday season.
Jack Skellington dresses up as "Sandy Claws" takes over this classic ride along with his dog Zero. One of the special features is the giant gingerbread house that is featured in the hall with the dancing ghosts. It's specially made every year, this year it's celebrating the 50th anniversary of the Haunted Mansion ride.
Halloween Screams Fireworks (Disneyland Park)
This special Halloween fireworks show used to only be shown during the Halloween party nights, however this year it's available for all park guests on select nights. Jack Skellington plays host as the "Master of Scare-omonies" and invites some of Disney's notable villains to make an appearance.
A tip is to make sure you can see the top left of the castle – that's where Jack appears. If your viewing point doesn't have a line of sight for that area you may miss a bit of the cohesive story of the show. There are also castle projections that are pretty amazing, so it's more than just fireworks.
Happiest Haunts Tour
This is a special tour offered daily during the Halloween season at Disneyland. It's an added fee, $99 per person for 2019, and requires park admission.
The tour lasts around 2.5 hours and walks you around the parks sharing stories about the history of Halloween and Halloween touches around the parks. You'll also get a seasonal treat to eat during the tour, a commemorative pin, and a special opportunity to ride Haunted Mansion Holiday.
Halloween Food at Disneyland
Disneyland goes crazy about holiday-themed food, and Halloween Time has too many themed snacks and treats for me to list here. Just know that you'll find amazing holiday churros, special popcorn buckets, pumpkin spice beignets, a Hades hot dog, and even a poison apple-tini.
Find the entire list of treats on this Disneyland post. You can also pick up a guide pamphlet at the turnstiles with the full list to guide you on your culinary journey.
Oogie Boogie Bash – A Disney Halloween Party
This is a special extra ticketed event that occurs on Tuesday, Thursday, and Sunday nights through the Halloween season. The parties normally start mid-September and go until Halloween. You MUST buy an additional ticket to attend the party and tickets sell out quickly.
My biggest tip about the Halloween party at Disneyland is that you likely won't be able to do it all. You'll need to prioritize what you're most interested in doing and seeing. I recommend trying to do a treat trail, meet a character, go on a ride (if you want), and watch the entertainment. I think the shows are what is most unique about these parties, so that's what I recommend focusing on. If you go in thinking the parks will be empty and you'll do it all then you're going to be very disappointed.
On party nights Disney California Adventure Park will close early, so make sure you're aware of that if you're not attending the party.
Early Park Entry for Oogie Boogie Bash Guests
One of the perks that party guests should utilize is early park party admission. The parties begin at 6 pm, however, your ticket allows you to enter the parks 3 hours early on Tuesdays and Thursdays, and 4 hours early on Sundays.
This is a great way to maximize park time and save on adding another day to a multiday park ticket. You can enter at 3 pm (2pm on Sundays) and stay until the party ends at 11 pm. Your party ticket gives you park admission during that time, so you don't have to use a park ticket for entrance. So, if you have a two-day ticket, you can buy the party ticket and actually get about 2.5 days in the parks.
Guests will be given wristbands and once the party starts (6 pm) any regular park guests without wristbands will be directed to the park exit and not allowed entry to attractions and pathways.
Trick or Treating Treat Trails
When we attended the party a few years ago my girls were all about trick-or-treating. We spent so much time waiting in lines to get candy that we could have probably bought for cheap at Target. I really wish we had used our time more efficiently and packed some candy to fill our girls' bags so they would have perhaps found more interest in some of the other party activities.
I will say that this year they seem to have made the treat trails more of visual experience and some even have live villains putting on a show along the treat trail.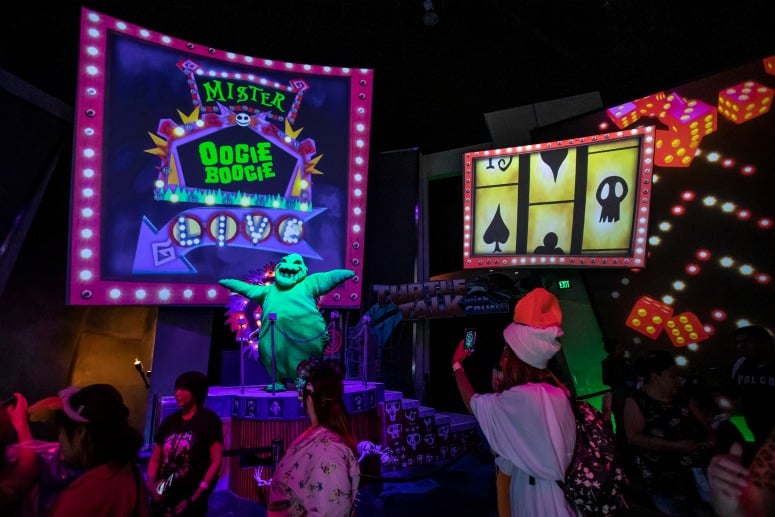 Be sure to pack a larger treat bag if you think you'll do the treat trails. You're given a very small treat bag when you arrive, however it doesn't hold very many treats. If you have a backpack for the parks, then you can empty the treat bag into the backpack a few times during the evening. Another tip would be to avoid the treat trails until the very end of the evening, lines will be shorter, and you won't have to haul all that candy around on your back all night.
I love that Disney makes special arrangements for guests with food allergies and offers allergy-friendly treats upon request.
Character Meet n Greets
As you wander through the parks during the party, you'll see a few unique Disney characters ready for photo ops and signatures. This includes some of the very popular villains. This is one thing that draws crazy long lines, so try and research in advance which character you most want a photo with and head there just before the party starts.
World of Color Villainous! Show
This is brand new for 2019 and explains how they were able to make the Halloween Screams fireworks available for all guests, whereas it used to only be for party guests. The World of Color Villainous Show is only available for party guests. This show follows a little girl as she tries to decide what to be for Halloween. Some infamous villains make an appearance and help her decide.
Frightfully Fun Parade
Disney Parks parades are a must see in my opinion. Especially if you have young kids. They are a fabulous way to see some of your favorite characters and watch some fun choreographed dance routines. The Frightfully Fun Parade is only available to guests of the Oogie Boogie Bash party. During this parade, you'll see some of the most popular villains from Disney movies.
Oogie Boogie Bash Dining Package
If you want to have reserved viewing for the Frightfully Fun Parade, you can book a dining package at the Wine Country Trattoria. The cost is $50 for adults, $40 for kids, and includes a 3-course meal and access to a reserved viewing area along the parade route.
Mickey's Trick or Treat Show
This is a great show for families with young kids. It's a stage show in the same theater where Disney Junior takes place and gives kids a chance to see Mickey and his friends in costume and have a dance party. Kids will also get some candy.
DescenDANCE
This is another dance party opportunity, definitely targeted towards the tweens and teens in the family that love the Descendants movies.
Villains Grove
This is a new feature that sounds kind of cool. It's a spooky walk through the Redwood Creek Challenge area where you'll see some villainous touches and sounds along the way. I think it's supposed to feel like a story of entering a spooky forest but finding your way out just in time.
Photos to Capture at Disneyland Halloween Time
One of the most classic photos I highly recommend is at the start of Main Street in front of the big Mickey pumpkin. Sure, there will be a line, but it moves fairly fast and will make for a unique memory for years to come. Be sure to check out this list of other fun photos to take.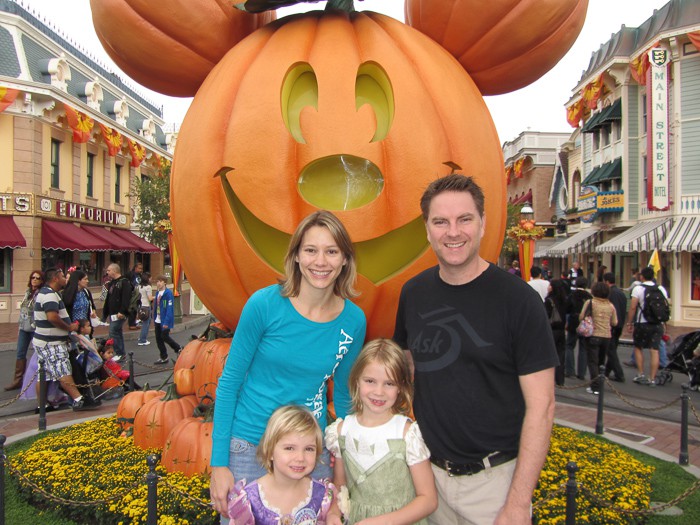 And don't miss the special Halloween touches that are found throughout Downtown Disney and the Disneyland Resort Hotels.
Don't forget to book your Disneyland vacation with my partner, Get Away Today! They have great prices on tickets and hotels, and you can save $10 on a package if you use the promo code StuffedSuitcase!
Check out my other Disneyland posts: