As a traveler, when I think of doing something romantic with my husband I typically dream of a couples getaway. But obviously, that hasn't been happening lately. I miss just going out for Friday night dates at local restaurants! For Valentine's Day this year, I'm coming up with some romantic staycation ideas for couples.
You'll find ideas for planning a romantic staycation at home or at a nearby hotel. Both can offer a great opportunity to reconnect with your partner and make some sweet memories together. We can all find a little romance even if we can't escape to a vacation destination!
The Meaning of a Staycation and Why It's a Good Idea
stay•ca•tion | /ˌstāˈkāSHn/ | (noun): a vacation spent at home or nearby
How cool is it that Merriam Webster actually has a definition for a staycation? If you're wondering "what is a staycation", it simply means that you're staying close to home, a staycation can even be AT home.
Planning a staycation can be a good idea now since so many of us have travel restrictions and are staying home to stay healthy. Staycations are also excellent ways to save money since we all know that vacation costs can be significant.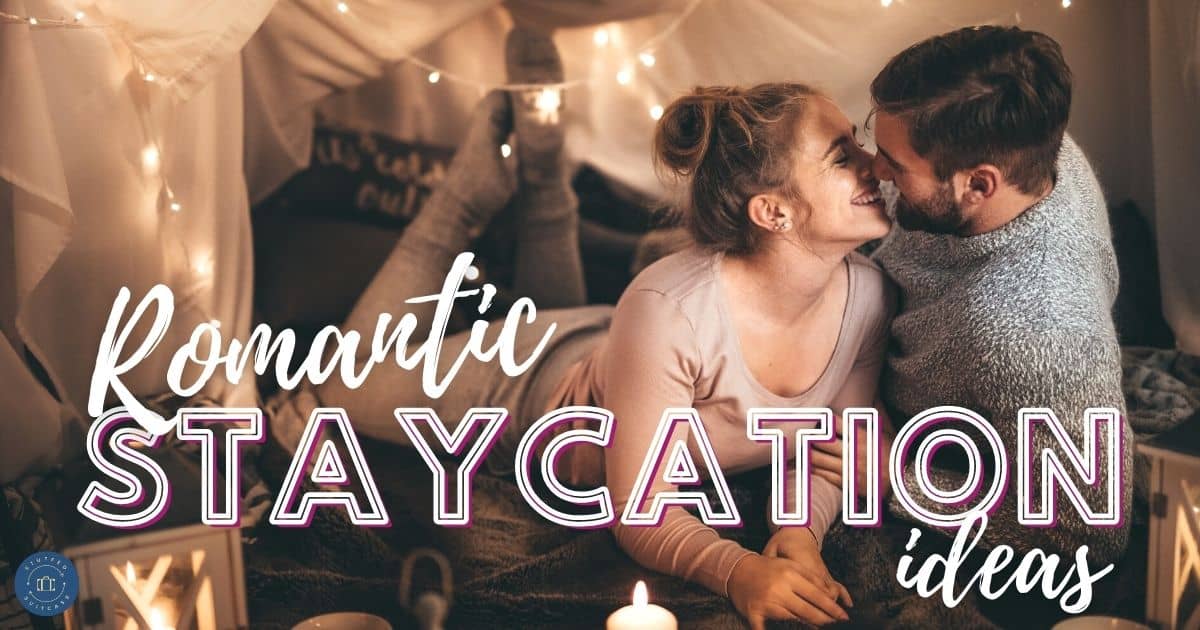 What are the Different Types of Staycations?
As I stated above, a staycation can mean something a little different for people. Some will see a staycation to mean you plan something at home. Another might think a staycation means you simply stay close to home. Many of these ideas also work well for a romantic date night!
Staycation at Home
A staycation at home can allow you to save money on a hotel. Plus, this works well if you don't want to pack! A romantic staycation at home is also ideal for couples who might have pets at home and you don't want to deal with paying or arranging for petsitting.
For a staycation at home, you still want to plan activities that are outside of your standard daily activities. You want to perhaps get outdoors or just do something that you don't typically do in your regular life.
Staycation at a Hotel
Another idea for a romantic staycation is to plan to go to a local hotel. It may seem silly to spend money on a hotel when you can simply stay at home. However, staying at a hotel offers the next level of detachment from daily responsibilities and can be a great place to kick back and relax.
A hotel will also often have amenities like restaurants, fitness centers, a pool and hot tub, and even a spa. These features offer you the opportunity to relax and leave your home chores behind. There are some truly romantic resorts in the US.
Staycation Ideas for Couples at Home
If you've decided to stay at home, here are some fun staycation ideas for couples that are also budget-friendly!
Go on a Picnic at the Local Park
Think of some of your favorite foods and pack up a picnic basket. Perhaps you'd like to create a charcuterie board. Or, you could choose to support a local restaurant and order carry-out. Don't forget to bring along your favorite drinks, and hey, maybe splurge a little on your top-shelf favorite.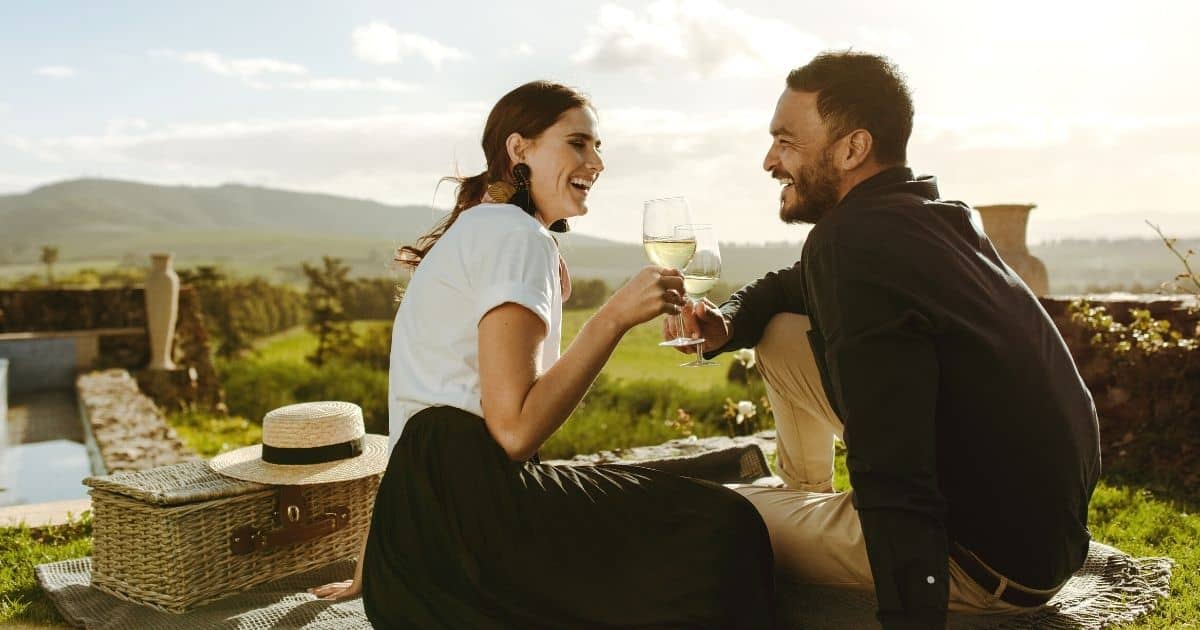 Once you've got your picnic packed up, find a park. Your state should have a directory and map of parks near you. Be sure you check to see if a park pass or parking permit is required. This is a great time to discover a park that you've never been to before.
Bring along a blanket to sit on and maybe some cushions. And if the weather is chilly, bring a few blankets to wrap up in as well. You can even splurge on a portable propane heater if you want to keep warm while you picnic.
Cook a Meal Together
For many couples, cooking a meal together can be extremely romantic. There's normally a division of skills and you're working together to create something. Not to mention all the flirting that can happen in the kitchen while you're cooking.
You can print off a recipe from a blog, but another fun idea is to consider a meal kit service. There are some travel subscription boxes that send you supplies to cook an international recipe. And you can also book an online cooking class with a chef.
Don't forget to get some candles and flowers to decorate your dining room table!
Camp by the Fire and Cuddle
If you enjoy camping, set up your tent in your backyard or even your living room! You can have a campfire in your backyard where you cook some gooey s'mores. Or if you don't want to go outside, set up a cozy spot in front of your fireplace. Then at night you can cuddle in a zipped together sleeping bag and get cozy with each other.
Go for Wine Tasting
Since I live in Washington State, wine is a big thing here. But you don't need to live on the west coast to be able to go wine tasting. Most states these days have a wine region or even wine shops that offer wine tastings.
Wine tasting together as a couple can be a fun activity. You'll get to use your senses to evaluate the different wines. And you can talk about what you like or don't like. And while some wine tasting cellars or shops might be closed right now, you can always do a virtual wine tasting at home with a winery!
Watch a Romantic Movie
There's nothing better for kindling romance than watching another couple fall in love! Personally, I'm a sucker for romantic movies. Hallmark Channel is a good spot to find a romantic movie, although I admit they're a bit cheesy.
I also have this great list of Valentine's movies for kids that might help give you some ideas for what to watch. Of course, a list of Valentine's movies for couples might be more appropriate. :)
Talk about Past Travels
Another romantic idea for couples is to reminisce over past travels. This works especially well with photos. Pick a past vacation or previous get together and scroll through the images, bringing you both smiles.
This is also a great time to plan your next vacation. Brainstorm about where you'd both like to go and think about when you could go. You could also start planning what you'd like to see and do and make a tentative itinerary.
Romantic Hotel Staycation Ideas
If you've decided to splurge on a stay at a local hotel, here some romantic ideas to do while there. And you can also do most of my romantic staycation ideas at home listed above! And if you are in the mood for an escape, here are some of the most romantic resorts in the US.
Watch a Movie
Plan a night out at the theater by catching a movie together. If you live in a big city you could plan to go to a live theater performance as well. Of course this year those activities might be limited. Many movie theaters are offering theater rentals. Renting an entire theater for your romantic getaway could be a great idea.
If you're not able to go to a theater, you can enjoy watching a romantic movie together at your hotel. I recommend packing along a streaming hdmi device, like a Fire TV Stick or Google Chromecast. You can typically plug these into the hotel tv to access your favorite streaming platform.
Go for a Spa (Massage, Manicure, Pedicure)
One of my favorite activities to splurge on during a staycation is visiting a spa. It can be so relaxing! You can even find spas that offer couples massages if you'd like that.
A day spa can be a great way to spend the day, relaxing in the pools and hot tubs, and getting pampered. Even something as simple as getting a pedicure together can be relaxing and fun.
Have a Real Conversation
Use this time away from home to reconnect and talk with each other. Talk about what you're looking forward to in life. Or discuss if you have any worries or concerns. Try to keep the conversation positive and don't bring up past arguments. Instead look ahead and try to help plan for your futures together.
Enjoy Breakfast in Bed
Splurge on room service and enjoy breakfast in bed together. This truly is an indulgence and it's a nice way to start your day. I think most adults dream of a lazy morning in bed!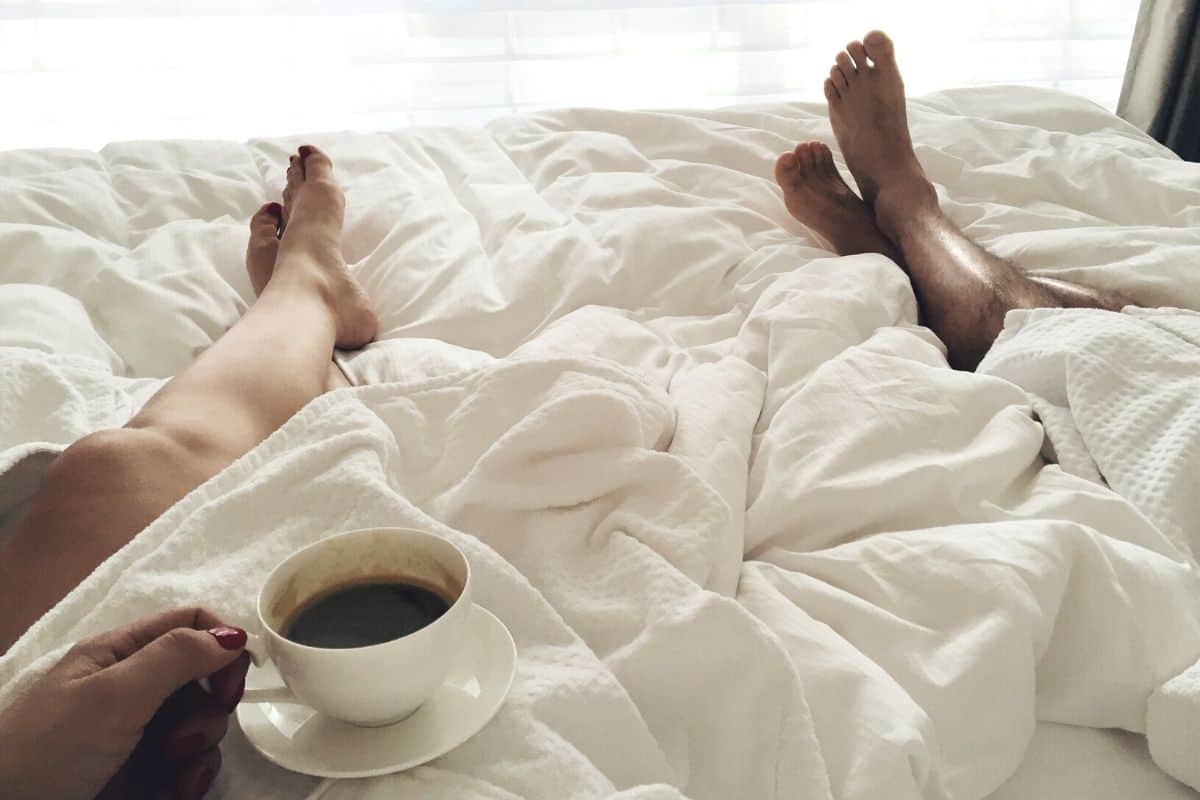 Cuddle and Take a Nap
Another thing that most couples don't find time for is taking a midday nap. Even if you can't sleep in the middle of the day, you can still relax in bed and watch tv or read a book. Simply spending some time together, aka "shoulder to shoulder time" can be bonding and relaxing.
Play a Game
If you and your partner enjoy playing board games, pack one along to play in your hotel.
How a Staycation at Home Compares to a Hotel
No matter what kind of staycation you choose to plan, each will offer you a chance to reconnect with your partner. Both offer an opportunity to plan romantic experiences together.
Staying at home can be more budget-friendly. However, a hotel staycation offers you a true break from household responsibilities. Check out my fun romantic staycation web story!
How to Plan for a Romantic Staycation: Things to Decide Before you "Go" or Stay at Home
To help you plan your romantic staycation, here's a checklist of items you need to consider.
Do You Prefer a Staycation at Home or in a Hotel?
As I've already mentioned, staying at home or booking a hotel come with their own pros and cons. Decide which works best for your budget and your desires.
What Activities will You Do?
Decide what kind of activities from my list, or from your own, that you'd like to do for your staycation. Depending on what you want to do you might need to plan some activities in advance.
What Resources and Items Will You Need for the Staycation?
If you're planning a hotel staycation, you'll need to think ahead of what you want to pack for the trip. If you're staying at home, you might need to buy some groceries or other items
When Will the Staycation Take Place?
Do you or your partner need to request time off work for the staycation? Determine when it'll work best for you both.
Do You Need to Arrange for Childcare?
If you have children, they will require some consideration when you're planning your staycation. Will you need to hire a babysitter or can a family member or friend's family take care of your kids during your getaway.
The Bottom Line: A Romantic Staycation is Great for Couples Who Are On a Budget or Can't Travel
Planning a romantic staycation is a great way for couples to reconnect. It's an especially great idea for Valentine's Day. There are pros to both staying at home and planning a hotel getaway. It's more about planning romantic staycation ideas that will help you spend time together and create new loving memories.