Getting ready to head out on a trip can be a bit stressful, but I've already shared how my best packing secret is to use a packing list template and pack your suitcase from that list. This one suitcase packing tip has changed my vacations for the better!
How to Use a Packing List Template
Use any, or all, of these packing list templates to keep track of what you need to bring on your vacation. You can use the blank lines to add any additional items that are unique for yourself or your trip. Each list has most of the basics, but each trip might have special packing extras (think snorkeling, hiking, sports, or business needs).
How I like to plan is that a week or so before my trip I print off my packing list and keep it nearby either by my office desk, our kitchen counter, or my bedroom. As I remember special items I need to pack, I can add it to the list if it's not already on there. Then when I'm ready to start packing, usually the day before, I grab my list and start going adding items to my suitcase as I go through my list. Once the item is packed, it gets checked off the list.
The day of my trip I look over the list and make sure there wasn't anything else I needed to grab, and I head out the door knowing I'm ready for my vacation. Since I've started using my packing list template I have yet to forget anything (knock on wood)!
Each packing list template is available for my subscribers, so be sure to sign up for access to the pdf downloads.
If you are looking for a more customizable option, be sure to check out my packing list excel spreadsheet.
I created these three packing lists to be a bit different based on traditional gender items. You can use whichever you prefer based on your situation.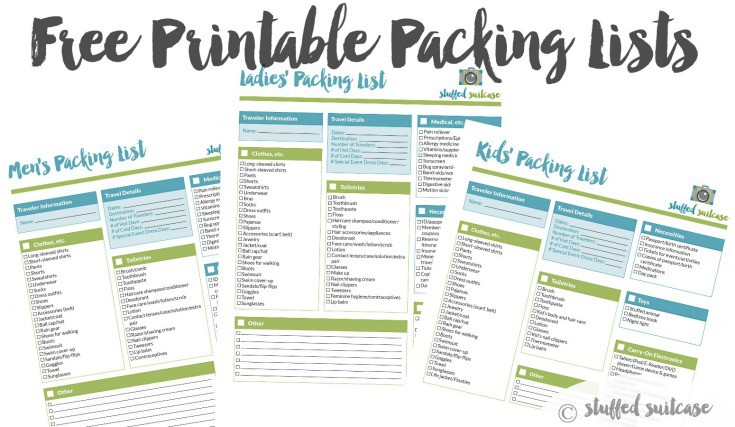 Just enter your email and you'll be emailed with a link to the downloads, thanks!