The sun is shining today in Seattle! After over a week of dreary, rainy days I'm so happy to have the sun making an appearance. You might have heard that Seattle is a city known for it's rain and the new phone I'm testing for Sprint and #VirginMobileMom fits in perfectly with our rainy Seattle weather.
Disclosure: I was provided the Virgin Mobile Kyocera Hydro Vibe and service to facilitate this review. I am part of the #SprintMom ambassador program with Mom Central #MC. All thoughts and opinions are my own.
I can't tell you how often I've been waiting at our bus stop in the light rain and not using my phone because of the worry of rain falling on my device and harming it somehow. So I was pretty excited when I received the Kyocera Hydro Vibe from Virgin Mobile and learned it was a waterproof phone! I didn't have to worry about those raindrops falling from the sky and damaging the device. It's actually waterproof for up to 30 minutes at 1 meter of water, so a few raindrops are definitely no worry. My first thoughts when seeing the phone was that it is very nicely sized and lightweight. I love the textured back cover plate and the design really looks clean and sharp.
To play with the phone a little further I decided to take it to our local lake and take a few photos in the rain. Again, no worries about using the Kyocera Hydro Vibe in the rain. I also had peace of mind knowing that if I dropped the phone IN the lake, I could quickly fish it out and it would still work. Speaking from personal experience, dropping phones in lakes ruins them. But, not if you have the Kyocera Hydro Vibe! Ah ha! So, if you live near a lake or other body of water this might be a great phone for you. I also could see this being a great phone to purchase for a beach vacation.
Moving on from rain to beach vacations leads me into the other new to me aspect of this phone, Virgin Mobile Unlimited plans. I had no idea what to expect since I have never used any pay as you go or boxed phone plans, so I was curious how it all worked. Upon opening the phone I followed the easy directions to register my device and choose a phone plan. I chose the $35 a month UNLIMITED plan. Yes, $35 a month for unlimited data (up to 250MB), talk, and text. After finishing my registration I just turned on the phone and it automatically synced up and was ready to use!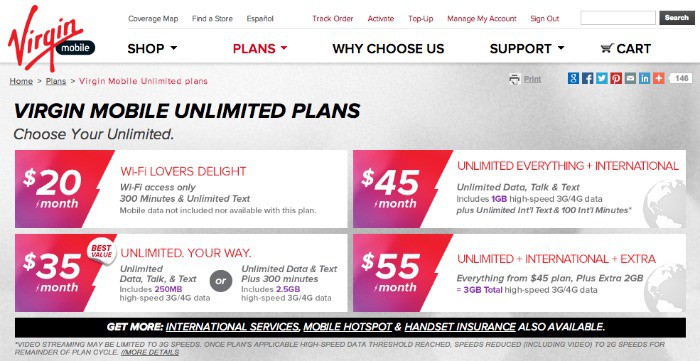 These unlimited plans seem like a parent's dream! Imagine being able to pay a flat amount for your kids phone and knowing they have unlimited talk and text and a nice amount of data too. Back to beach vacations, consider picking one of these unlimited phones and plans up before a trip to allow your tween or teen to have a phone to use while you're vacationing. While I'm not saying that your child should be on a screen during your vacation, I'm just saying it would be a nice tool to have available for keeping in touch. Plus, they can take photos of your great trip and you don't have to worry about pool or beach use if you get the Kyocera Hydro Vibe because it's waterproof! Seems like a perfect fit for taking along to the pool or beach!
What do you think about waterproof cell phones? Have you ever had an oops moment with liquids and your phone? I'd love to hear about it, comment below!