Giving the gift of a travel subscription box for the traveler in your life will allow anyone the opportunity to be transported to destinations near and far without leaving their home. Considering that many of us have had our travels stifled in recent times, that makes a gift like this even more exciting!
Subscription boxes are exciting, offering an unboxing surprise of goodies! Each month, or each quarter you get an exciting box of gifts delivered to your favorite travel-loving friend! And hey, no judgment if you decide you're the traveler that needs one of these subscription boxes in your life!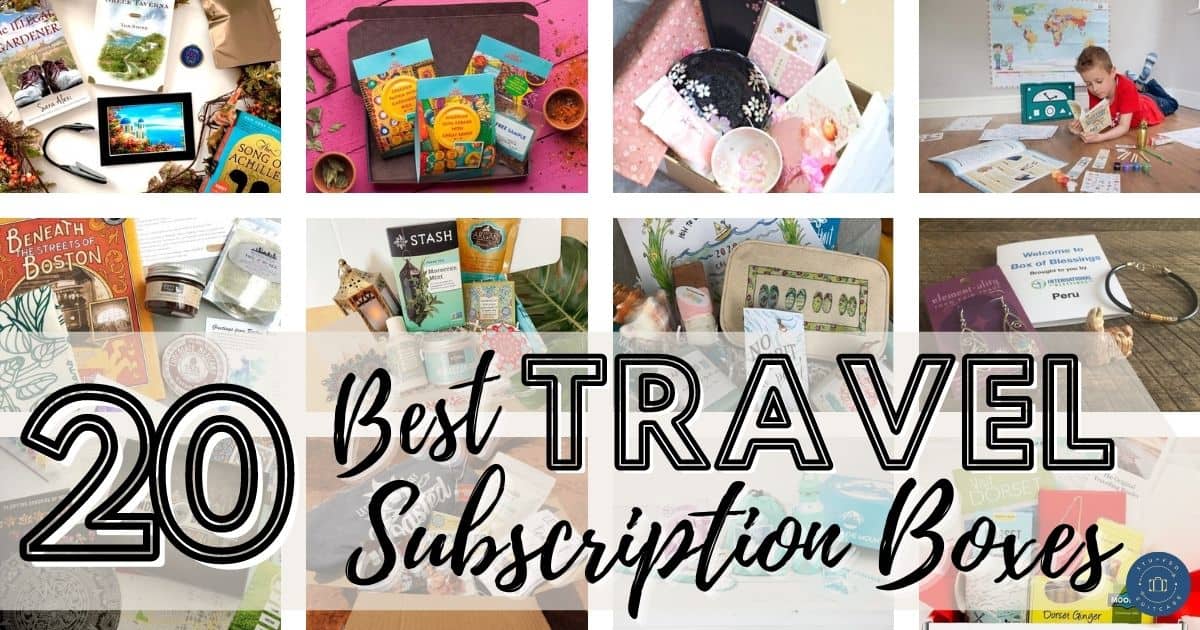 Here are some travel subscription boxes for the traveler in your life that will make a wonderful gift! Affiliate links are included in this post, I may earn a commission if you purchase from my link. Thanks!
The Explore Local travel subscription box is a great way to give the gift of exploration. This is a wonderful gift idea for someone who loves to travel. This box features snacks and goodies from great cities throughout the U.S., as well as fun fact-filled greeting cards and more from each place.
The Explore Local subscription box is priced at $39.99 monthly. Check out my Boston-themed Explore Local subscription box.
Trove Travel Experience Box
For an immersive travel box, check out the new Trove subscription box. This quarterly box highlights a specific travel destination with activities to enjoy.
Each box doesn't just contain "stuff" but instead contains a live cooking class with a local chef, a cultural experience with a local expert, a virtual city tour, a Spotify playlist, and other fun items to help immerse you in the featured city.
You can purchase a single holiday box that costs $139.99 or buy an annual subscription that includes four boxes (one each quarter) and costs $415.97.

The Wordy Traveler
The Wordy Traveler offers 4 different subscription boxes for travel enthusiasts that love to read.
Backpacking Edition (Non-Fiction or Fiction) – a single curated book, fine art print, free trade organic tea, special gifts and a portion of the proceeds go to help women and children around the World.
The Full Suitcase (Non-Fiction or Fiction) – contains three curated books, fine art print, free trade organic tea, special gifts and a portion of the proceeds go to help women and children around the World.
This quarterly box features books that will transport its recipients to the most exciting places around the globe while sipping an ethically-sourced tea, with a piece of artwork to bring the world inside your home.
The Wordy Traveler Box price starts at $49.99 quarterly.

Kizuna Box from Japan
The Kizuna Box is perfect for travelers who love all things Japan. These boxes may be snacks from Japan or other items, including cultural or seasonal items.
The Kizuna Snack Box is priced starting at $29.99 monthly and the Kizuna Lifestyle Box starts at $35 monthly.

Finders Seekers Mysteries
The Finders Seekers Subscription Box is like a brand new escape room adventure with each box! Each box transports you to an exotic locale with its puzzles and cryptic clues reminiscent of your favorite adventure movie (National Treasure, anyone?).
The Finders Seekers subscription box is priced at $30 per month.

Vacation Crate
Do you want to give the gift of the vacation vibe right at home? Or, would you like to give the gift of being ready for the next trip? Vacation Crate subscription box is a great box for this!
Each box comes with 10 varied items (art, bath/body works, food, drinks, etc) and the price on this box is $36 per month. But act fast because the monthly boxes will sell out!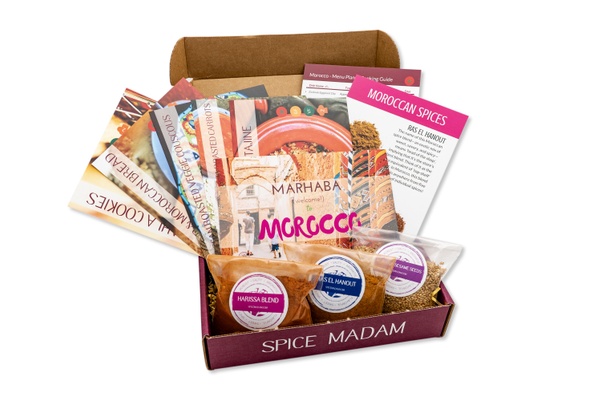 Spice Madam
One thing that always stands out for travelers is that there is a remarkable difference in spices and food flavors in different locales. The Spice Madam subscription box is a great way to gift travelers with a taste of different cultures and areas.
The Spice Madam is priced as low as just $20 per box.

PowMau
Travelers who love to enjoy nature and the outdoors are the perfect recipient of the PowMau subscription box. This box comes with snacks, apparel, accessories, gear, and more! Perfect for the guy or gal who loves surf and snow.
The PowMau subscription box is priced at $35 per month.

Camp Life Crate
Are you shopping for a traveler who really loves to camp? The Camp Life Crate includes camping gear, tools, accessories, and other fun swag that works for tent or RV camping. Perfect for these times where we're all finding ways to escape outdoors!
The Camp Life Crate box is priced as low as $41 per month.

MexiCrate
Mexi Crate is a monthly subscription box filled with candy and treats straight from Mexico. Any traveler that has visited Mexico likely knows just how delicious the sweet and spicy goodies are. For those times that they can't travel south of the border, they can at least enjoy a treat from there!
The Mexi Crate subscription box starts at just $7 per month.

Spicery Recipe Kits
Another subscription box to introduce spices from around the world, these Spicery Recipe Kits will make a great gift for the traveler in your life. Your travel box will include two recipe kits to make a delicious international meal for four people.
Spicery Recipe Kits start at just $12 per month.

SeaCrate
SeaCrate is the perfect travel subscription box for the traveler in your life that loves the beach! Each box features a minimum of 4 beach themed treats and items for you and your home. Everything ranging from bath & body to salty treats.
SeaCrate subscription box is priced starting at $45 per month.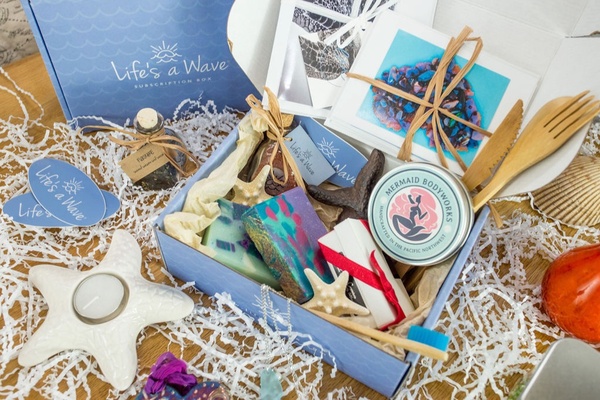 Life's a Wave BEACH box
Another great travel box for those who love the beach, Life's a Wave Beach Box features 5-8 ocean-inspired gifts. And in addition to getting great beachy gifts, you'll also be giving back as each month your box helps support an ocean-minded non-profit organization.
This travel subscription box costs $49.95 per month.

WompleBox
If you're looking for a great gift for a kid in your life, consider a travel box for kids! WompleBox will help your kids learn about geography and culture while having fun. Each box contains an illustrated adventure book featuring an adventuring pen pal, two unique, culturally-significant STEAM activities, an interactive fold-out map that includes re-stickable stickers, recipes, fun facts, dance moves, language tips, plus a one-of-a-kind collectible keychain inspired by Womple's adventures.
A WompleBox travel subscription box costs as little as $26.99 per month.
Little Passports is one of the most well-known travel subscription boxes for kids. They have a variety of boxes for ages from 3-9+ and boxes that focus on USA or International Travel and special science kits. It's a great hands-on way for kids to travel from home.
Little Passport subscription boxes range in price from $18 to $26.

International Blessings
This subscription box lets you support those in poverty around the world while enjoying unique handmade gifts. International Blessings offers two box subscriptions. The Favorite of the Month features one handmade item, and the Box of Blessings has three to four items. Each Box of Blessings also contributes 10% to poverty-fighting charities.
International Blessings costs $12-$28 depending on which box you choose.

The Travelling Reader
Are you shopping for someone who loves Britain and loves to read? The Travelling Reader is the perfect subscription box for them! Each month book will be chosen based in a British region, and the box will be filled with some superb British gifts from that area.
The Travelling Reader costs £35 and does ship from the UK, so shipping costs are an additional expense.

Culture Cakes Kit
If you love to bake and like trying new flavors, a Culture Cakes Kit is the travel subscription box for you! Each box contains one to three exotic ingredients plus a recipe to use them to create an internationally-inspired cupcake. This is also a great box for families with young kids who like to create in the kitchen!
The Culture Cakes Kit box costs about $30.
Snacks by Try the World is a fun travel subscription box that offers 6 different snacks from 6 different countries every month. These are high quality snacks made with authentic and natural ingredients.
With each box you get to learn all about the producers (mostly small-scale and traditional) and their techniques.
The Snacks by Try the World subscription box is priced at $15-$19 monthly, depending on your chosen payment plan.
The Try the World Countries subscription box is perfect for those that love to immerse themselves in the culture of the place they are visiting. Each monthly box offers 7-8 international gourmet delicacies that will taste like you got them from the heart of their source.
Try the World Countries travel subscription box is priced at $29-$39 per month, depending on the payment plan you choose.
The Travel Safety Kit Subscription Box is the perfect gift for any traveler on your list that's traveling during these crazy times. This kit ships out every 8 weeks and includes masks, hand sanitizer as well as a recyclable pouch. This kit is a great way for the traveler in your life to stay safe during their travels.
The Travel Safety Kit is priced at $30 every 8 weeks.
One of these travel subscription boxes is sure to bring joy to the traveler in your life. And you'll be happy knowing you're feeding their wanderlust from home each month.
And check out these other subscription box gift ideas!