I've created a special anchor themed gift idea for dads this Father's Day in partnership with my sponsor. This shop has been compensated by Collective Bias, Inc. and its advertiser. All opinions are mine alone.
Only a few days left until Father's Day, a day when children can take a moment to recognize their dads for the great person he is. Gifting is definitely one of my love languages, I love to give and receive gifts. While my husband can be a hard person to shop for, it's always fun to come up with a gift that I think will make him happy. My girls also love giving gifts, which is why I had fun teaming up with them to create a special anchor themed gift to celebrate their dad.
When Grace was little she used to love using her Dad's shampoo and shower gel when she washed, stating that it smelled so good. Even I can admit that I love the way "Daddy" smells, so buying him a nice cologne and shower gel set seemed like the perfect gift to give. Plus, my husband is all about purposeful gifts that can be used up, so this is something he'll use and we'll all enjoy. :)
We headed to Macy's in the mall and Grace chose the Nautica Voyage gift set for Dad. The gift set is a great value, plus it's got the shower gel that makes our bathroom smell like "daddy". I especially love the nautical theme since my husband loves the water and swims in our local lake often from May to September.
William loves when his girls create a special gift or card for him, so I knew that I wanted to get the girls involved in crafting up their gift for dad and dress up the Nautica Voyage gift set with an anchor theme. He is such an important part of our lives, and I know that the girls feel safe and sound when their daddy wraps his strong arms around them. Just like an anchor with ships, dads can keep us safe and sound during the stormy seas of life.
We started off with a roll of white banner paper, and I unrolled a large section and taped it to our dining table. I decided to allow enough paper to double up over the gift since the white was a little transparent with the dark blue box. Then I gave the girls two different colored blue craft paints and showed them what an anchor looks like. They took paintbrushes and recreated anchors of all sizes on the paper.
Once dry, we wrapped up the box, and I created this fun Anchor Father's Day gift card for them to sign.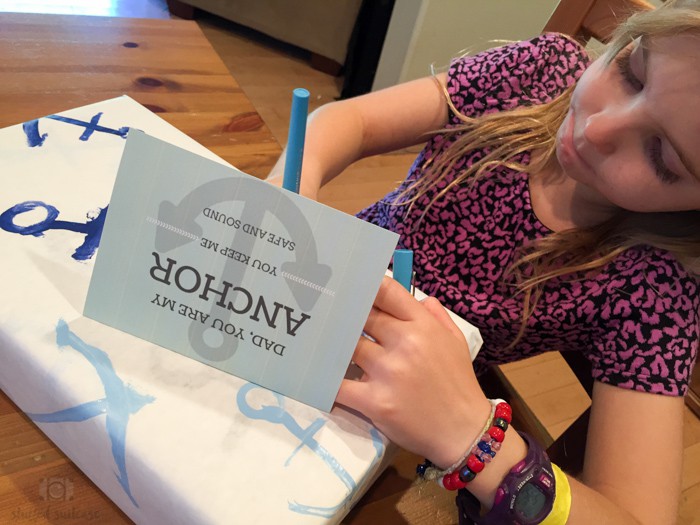 I really do think he'll love his gift and all the precious thought that went into it.