Two parks for the price of one, over 65 rides, slides, and shows; your family has to experience Silverwood Theme Park! It's the largest theme park in the Northwest, and a must visit for anyone who loves roller coasters!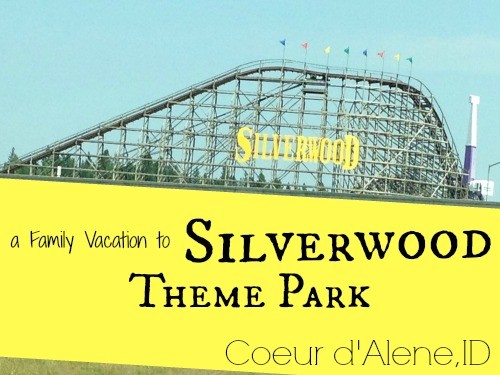 Silverwood Theme Park is located in northern Idaho, about 30 minutes north of Coeur d'Alene. Our family actually stayed in Coeur d'Alene, where there are many hotels (we really liked the Holiday Inn Express I-90). You might also look at staying in Hayden, ID, or camping onsite at the Silverwood RV & Camping Park.
Our family only had one day to visit the park, but you should try to spend two days if you hope to catch most of the rides and shows. In addition to the amusement park, Silverwood Theme Park admission includes a waterpark called Boulder Beach. Boulder Beach is a large water park with two wave pools, a large kids play area, and lots of slides, including two 6 person raft waterslides, which are great for families! They also have free lifejackets available for kids.
Our family arrived early and visited the Boulder Beach Water Park for the early afternoon. We utilized the onsite lockers ($5-$7) to store our theme park clothes and valuables while we enjoyed all the slides and pools at Boulder Beach. The onsite parking isn't a far walk, and the Mr. ran our swimwear and towels back to the car when we were ready to move to the amusement park.
Silverwood Theme Park has rides for every age. They have four major roller coasters (found in Coaster Alley) that will delight the daredevils in the group. And for the youngsters, they have an area called Camp Garfield. Another area known as Country Carnival includes many classic rides that are great for the whole family. The Steam Engine Train Ride is a delight for everyone, and a good rest for the legs. Just watch out (and prepare youngsters) because robbers have been known to board.
The park introduced two new rides this year. One is called Spin Cycle and it's the first of its kind in the world. It's a 104-foot tall thrill ride where people sit facing outward with legs dangling. The vehicle rotates 360 degrees while also swinging like a giant pendulum all the way upside down. My two daredevils (the Mr & Grace) couldn't wait to ride. Grace wore a GoPro during the ride, so I'm including the video (note, the camera was rubbing against the harness so there is some annoying sound on the video).
The other new ride for 2013 is called The Barnstormer. It's a fun-for-all ride that resembles a biplane. The Barnstormer was just right for my sweet six year old Faith.
Our family spent the entire day visiting the park and we still didn't see it all! We had such a great time and have made visiting Silverwood a yearly tradition (it's only a 4.5 hour drive from Seattle). I was really impressed with the friendliness of the park staff and the cleanliness of the park.
Take-Away Tips
Arrive Early!! (30+ min before posted opening time)
Pop Drinkers: buy a refillable souvenir cup – It's nice to just pay once and easy to get refills
Bring your ID if you plan to pay with credit card. They require & check it every time
Check the ride height requirement before getting in line. Height guidelines are there for your kids' safety, so take note!
Eat at odd times. Our one unpleasant experience was when we went to get lunch at walk-up eatery in Boulder Beach at 1 pm. We waited in line for about 15 minutes then our food took 30 minutes to be prepared. I actually spoke with the manager, who was very kind and understanding and offered us a refund. I could tell they were just swamped, but 30 minutes for fast food is a bit too much for me. When we were ready to leave Boulder Beach around 3:30pm, there was no one in line.
Stay late! You can get in line until closing time. Our closing time was 10 pm, and we got in line for a ride at 9:55 pm. The line was closed off at 10 pm, but those of us who were in line were allowed to ride (even though it was after closing time)
Disclosure:
Silverwood provided our family four passes to the park for the day of our visit. I was not financially compensated for this post. The opinions are completely my own based on our experience.