Cruise packing can be daunting, but it doesn't have to be. By following this complete cruise packing list, you'll be able to pack like a pro and avoid any last-minute headaches.
I've taken multiple cruises and feel this packing list combines the basic travel needs along with some cruise essentials. Whether you are planning a short getaway or a long cruise, these items will help you stay organized and enjoy your time on and off the ship.
What to Pack for Your Cruise
A cruise is a wonderful way to get away from the hustle and bustle of everyday life. Whether you are traveling for leisure or to take in the sights and sounds of a new destination, there are a few things you will need to pack for your trip.
This is primarily a cruise packing list for a warm-weather cruise, i.e. a Caribbean cruise. However, it can also work for a Mediterranean cruise. If you're headed to cooler weather, I recommend you check out my printable Alaska cruise packing list. And if you're heading out for a cruise with Mickey Mouse, check out my Disney Cruise packing list!
Before we get to the list of what to put in your suitcase, let's take a minute to talk about how to pack for a cruise.
This post contains affiliate links, I may earn a commission if you make a purchase from my links.
What Suitcase to Bring on a Cruise
This will be a tricky subject and will be completely up to you as to how much you feel you need to pack for your cruise. Some cruisers will be happy packing minimally and can rely on a carry-on. Others will want to plan for outfit changes throughout the day and might need a full-size suitcase for a week or longer cruise.
Whichever suitcase you decide to use, here are some cruise packing tips:
It's convenient to slide suitcases under your bed in your cabin. Most beds have a clearance of about 12″-14″, and you can do a quick google search to determine if you can find the exact bed clearance for your ship. Any suitcase you choose should be able to slide under the bed to be stowed away.
You're often asked to drop off larger luggage at the pier before boarding the ship and your suitcases will be dropped off outside your cabin on the day of embarkation. If you board early in the day, you could be without your luggage for a while, so you'll need a carry-on type personal item to keep any needed items or valuables with you.
If you do pack in a carry-on suitcase, you can often bring your luggage on and off-board yourself, which can save you time and keep you from waiting for luggage delivery. But you should be willing to navigate stairs with your bag in case the elevators are backed up.
Packing cubes are essential for cruises in my opinion. They make unpacking easy and will help you feel more organized in the room. Packing cubes (I like these ones) work well for pulling out of your suitcase and putting in your closet shelves or drawers during the cruise. Then your suitcase can be stowed away and left alone until you're ready to re-pack to disembark.
Clothing & Accessories to Pack for a Cruise
One of the biggest parts of packing for a cruise is figuring out what you're going to wear on the cruise. You'll need to plan for what you're wearing for shore excursions as well as if you want to change for dinner later in the day.
Shirts – check the weather and consider what shirts/tops you want for the type of cruise you're on. You might be happy just packing short sleeve shirts and then relying on a cardigan and/or jacket for cooler temps. I typically plan for one shirt for each day keeping in mind what outfits I'll wear to match each day's activities. I love lightweight tees like these from prAna, Columbia, and Target.
Shorts – keep in mind you might be able to wear your shorts/bottoms more than one time. For a one-week cruise, you might want to pack 2-3 pairs of shorts, or more if you're prone to sweat or planning sandy or outdoorsy activities. As a Gen X woman who likes shorts with a bit of length but not too much length, Old Navy is my go-to place for shorts. And Paul loves these Vans shorts.
Pants – even if you're heading to a warm-weather destination, it's always a good idea to pack a pair of pants. The deck can be cool in the early mornings or evenings at sea and you might want to enjoy a stroll outdoors one early morning or evening. Also, keep in mind that I think pants are essential for traveling comfortably on a plane. I'm really loving these Eddie Bauer cropped travel joggers lately!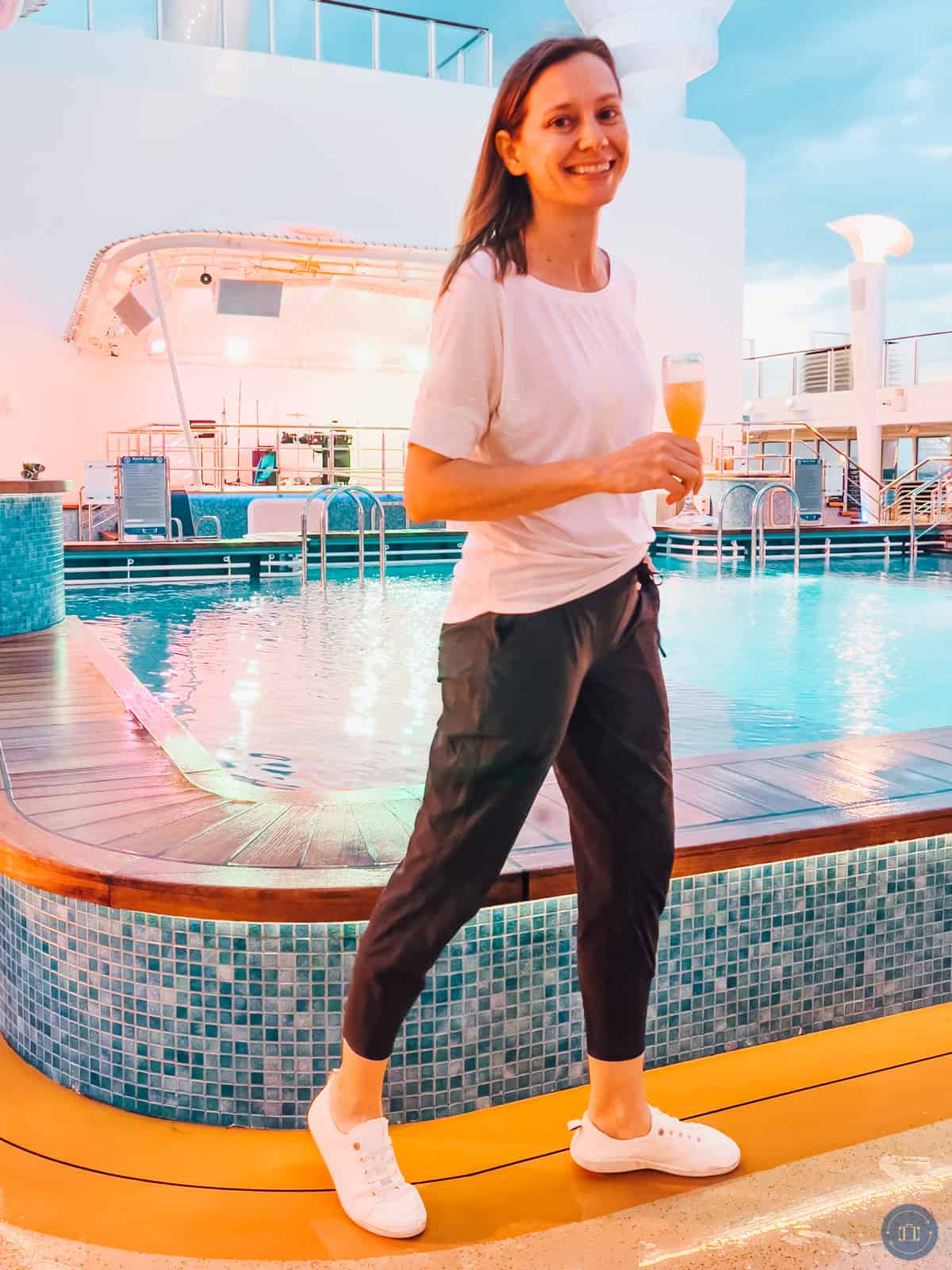 Dresses – for women, it's fun to wear dresses on a cruise. They're easy to dress up for dinner or dress down for a simple lounge day on the ship or off on a shore excursion. Maxi dresses are one of my go-to favorites, just keep in mind that long cotton-style dresses like maxi dresses will take up a lot of room in your luggage. Shorter travel dresses can work well and typically pack well, too.
Cardigan / Wrap – as I mentioned before, walking on the outside decks of the cruise ship can be chilly at times. Pairing your cute dinner outfits with a nice cardigan or wrap can help you stay warm during those sunset strolls before or after dinner. It can also be handy if the dining room or theater is cool.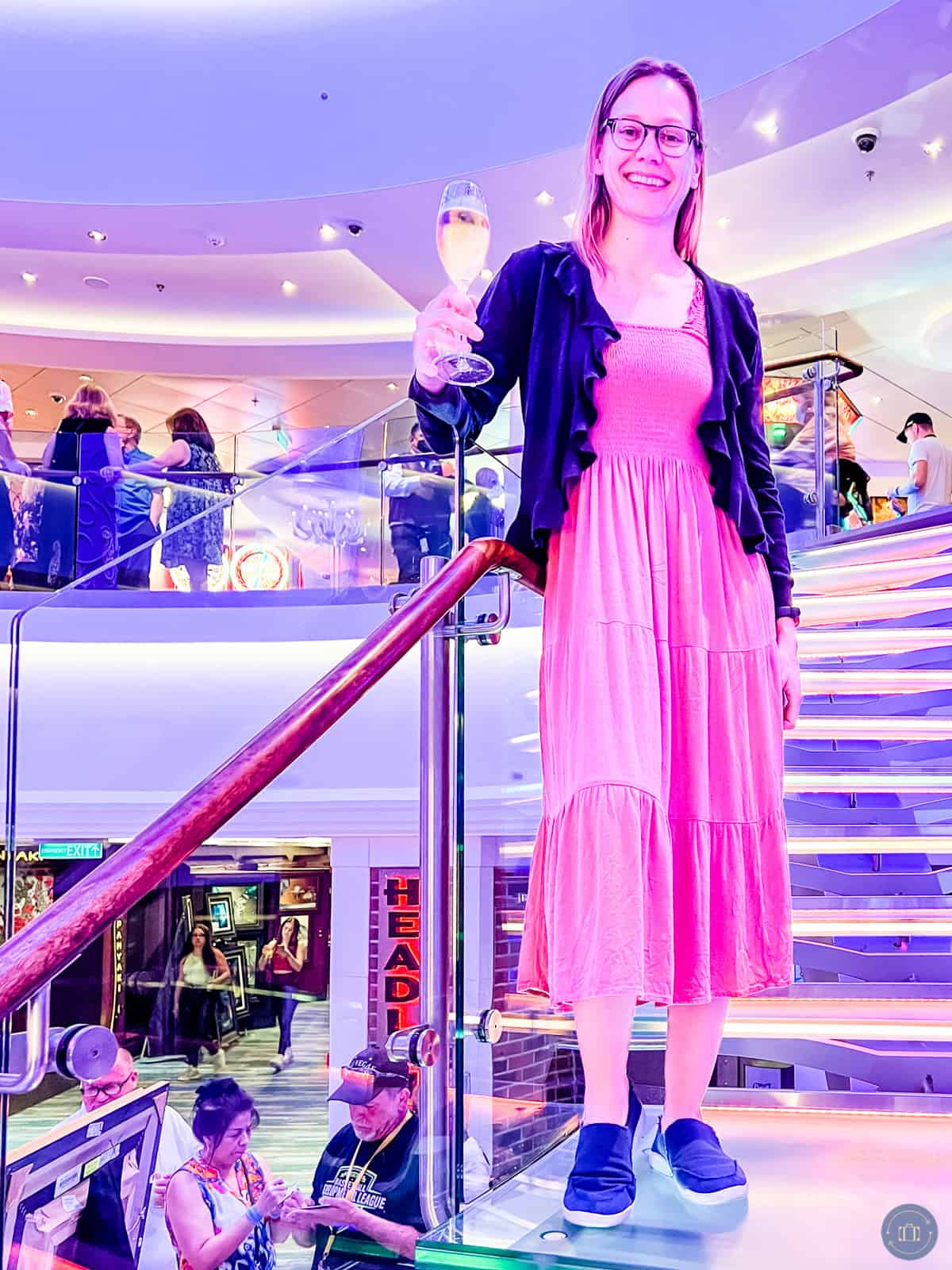 Formal / Theme Night – many of the main chain cruise lines have done away with formal night dinners. However, a few, like Cunard, do theme meal nights. Most cruise lines also have themed parties, like Glow Night for NCL and Pirates Night on Disney Cruise Line. If you're headed on a Disney Cruise, check out these 10 great Disney Cruise outfit ideas I put together!
Undergarments & Socks – keep in mind what types of undergarments work best for your outfits and/or activities. And also keep in mind how many socks you need to match with what shoes you're packing.
Pajamas – of course, you'll want to pack your coziest PJs, but also keep in mind luggage space and perhaps leave the fleece jammies at home.
Swimsuit & Cover-Up – if you plan to hit the water daily, you may want to pack at least two swimsuits so you always have a dry one. There's nothing quite like putting on a wet swimsuit — ick!
Accessories – keep in mind each of your outfits and be sure to pack whatever accessories you plan to wear with them. This may include belts, jewelry, scarves, or ties.
Exercise Outfits – cruise ships often have nice fitness centers with great views of the open ocean. If you think you might like to put in a workout or two while cruising, be sure to pack whatever workout gear you'll need.
Loungewear – there's nothing I like more than starting my morning in bed with a cup of coffee while reading on my iPad. On a cruise, I don't want to have to walk to the buffet for coffee in my PJs, and also don't want to fully dress in my outfit for the day. That's where a loungewear set can come in handy. Grab a pair of soft pants and a zipper hoodie and you can make a dash for coffee without fully dressing for the day. This also works well for those days at sea when you just want to hang out and lounge around.
Jacket / Rain Coat – this might depend on what weather you're facing and your ports of call. But, I think it's always a good plan to have a jacket when you head out on a cruise. Weather can change. Our recent cruise left NYC with windy rain and we returned to more rain. I was glad I had packed my heavier Free Country Jacket, and during the cooler at sea days I wore my new favorite Aviation Nation hoodie as a light jacket.
Sun Hat / Ball Cap – if you're a hat person, or plan to spend some time in the sun, packing a hat is a great idea. They help keep you healthy by keeping harmful sun rays off your face. And, they can actually help you stay cooler while hanging at the beach! You might want to be sure to pack one with a cinching strap as cruises and beaches can get windy and I saw a lot of flying ball caps and hats on my recent trip. I packed this Solar Escape hat. It packs flat and can be strapped to stay on my head in windy weather.
Laundry Bag – you'll want to keep your dirty laundry separated from your clean clothes and a laundry bag works well for that. Some cruisers love these pop-up laundry hampers but I personally prefer a simple plastic store bag hooked over a hanger clip.
Best Shoes for a Cruise
While I try to always pack minimally in regard to shoes on a trip, a cruise has a few unique requirements. You need to be ready to walk around towns, ready for water sports, and also ready to dress up nice for dinner if you choose. Here are the type of shoes I recommend you pack for a cruise.
Walking / Tennis Shoes – you know your style best, so if you're planning on shore excursions with lots of walking involved, plan to pack a great pair of walking shoes. I personally hate having to wear tie shoes when traveling unless I'm doing some extensive walking or hiking and lately I've been loving these Vionic Pismo Sneakers, they're my third pair of Vionic shoes I've purchased in the past year.
Keep in mind that if you're doing some more adventurous shore excursion activities you might need to pack a more supportive shoe or hiking boot.
Dress Shoes (Slip Ons) – if you're packing dresses and want to dress up for your cruise, you'll probably want a cute pair of shoes to wear. I'm personally not a fan of heels, and I think they're even less suitable for a cruise where you're on a moving ship with possibly wet decks. A cute sandal or slip-on can be great for cruising, I like my Vionic Malibu Slip Ons and Sanuk Slings.
Flip Flops / Slides – if you have some beach stops or plan to hang out at the pool, you'll want a pair of flip-flops or slides.
Water Shoes – depending on what shore excursions you're planning, you might want a pair of water shoes or water sandals. These can help when walking in water with a lot of coral or if you're planning some boat adventures. They could be a slip-on pair or a more substantial shoe like Keen sandals.
What Toiletries to Bring on a Cruise
My list of toiletries is almost as long as my list of clothes to pack! There are the basics but also a few other items you should be sure to bring on a cruise.
Let's look at the basics:
Toothbrush & Toothpaste
Deodorant
Shampoo & Conditioner (on my recent NCL cruise they didn't provide conditioner)
Body Lotion (again this wasn't provided on our recent NCL cruise)
Brush / Comb
Hairstyling Equipment (keep in mind any restrictions your cruise line has for these items)
Facial Care (cleanser, lotion, scrub)
Shaving Supplies
Contacts / Eyeglasses
Makeup
Nail Clippers & File
Medications
Feminine Hygiene
Contraceptives
And a few other items you may want to include:
Moleskin – this is handy if you happen to get a blister during your walking or if you're bringing a new pair of shoes on the trip and aren't sure how they'll work for your feet.
Aloe Vera – I forgot to pack aloe on a recent trip and my daughter got sunburnt and we ended up paying $18 for a small bottle of aloe vera from the cruise ship store.
Stain / Wrinkle Remover – these are two items that are always handy if you want to look your best. I carry a Tide Pen and Downy Wrinkle Releaser in my toiletry bag for all trips.
PooPourri – when you're sharing a tiny bathroom in a tiny cruise cabin adding Poo-Pourri to your toiletry bag might be useful.
Cruise Port Day Bag Items
While you can get yourself set up for everything you'll need on the cruise ship, what about when you go off the ship? Here are some of the go-to items I think you should pack in your cruise day bag for shore excursions.
Day Bag / Beach Bag – you might actually need both of these depending on what stops you'll be making and what activities you're doing. If you're going on a tour that isn't to the beach, I like using my locking sling bag for traveling. If you're heading to the beach, plan to pack a large beach tote bag.
If you're wanting some peace of mind leaving items at beach chairs while enjoying the water, consider one of these PacSafe bags for some added security.
Waterproof Camera – if you're planning to play in the water or do any watersports like snorkeling, you'll want to pack a waterproof camera for your trip. GoPros are pretty useful and can capture some great pics.
Phone Pouch – if you don't care as much about getting action shots in the water and just want a handy way to keep your cell phones with you while in the water you might bring one of these phone pouches.
Sunscreen & Bug Spray – sunscreen is one of the biggest things you need to pack on your cruise. Keep in mind that if you're flying carry-on only, a 3.4 oz size sunscreen might not be enough for a long cruise in the sun. You might also want to check if bugs like mosquitos are an issue at any of your cruise stops during the season you're traveling.
Sunglasses – I always wear sunglasses so it's a must-pack item for me. But some cruisers who aren't used to wearing sunglasses often might overlook adding these must-have items to their cruise checklist. And make sure you don't leave them in the cruise cabin when you go ashore.
Goggles / Snorkel – if you're looking to do some swimming or snorkeling you might want to pack your own gear instead of renting. These snorkel masks are really popular!
Jacket / Umbrella – you may want to bring a jacket if it's windy or cool. And umbrellas can be used for creating shade on a hot sunny day in addition to being used in the rain.
Reuseable Water Bottle – bottled water isn't included on most cruises except for in some premium beverage packages. But, you can use cups and the water dispenser in the buffet to refill your own water bottles. You'll want to bring water when you go off the ship.
Cash / Cards / ID – you'll want a handy way to keep your cruise card, credit cards, and an ID (driver's license) for when you go off the ship. We often have taken our passports with us but many prefer to leave their passports on the ship. However, many cruise terminals require you to show an ID to enter the terminal for security reasons so you'll want some kind of ID for cruisers age 18+.
Hand Wipes / Sanitizer – you'll probably want to pack both of these. Wipes (baby wipes or sanitizing wipes) help you wipe up messes and hand sanitizer is great to use before eating or after being in a public space.
Snacks / Gum – always a good idea to have a snack or two on hand when you're headed off the ship. And gum always comes in handy if you need a breath refresher.
Cruise Essentials for Your Cruise Packing Checklist
Finally, there are a few unique cruise essentials you'll want to pack. These are items that will help keep your cabin in order and help you enjoy your trip a little more.
Lanyard / Clutch – while on the ship you'll mostly need your cruise key card and maybe your phone (for photos and if you pay for wifi). If you won't have pockets all the time, you might want a cruise lanyard for your keycard and/or a clutch for holding a few other essentials you may want like lipstick or lip balm and your phone.
Note – Princess Cruises uses a special medallion, not cards, for their cruise guests.
Over-the-Door Shoe Organizer – this is one of the tried and true items we've used on all of our cruises. It is a great way to organize all those little items that might pile up on counters. It's especially useful when you're cruising as a family. We have a clear plastic one, but mesh ones can be easier to pack. Keep in mind you'll hang this with magnetic hooks, most cruise lines forbid using over-the-door hooks.
Multiport Charger – plug outlets can be limited so if you have multiple devices that will need charging, a multiple USB ports charger can be extremely useful. Keep in mind that power strips and surge protectors aren't allowed.
Binoculars – these might not be something you care about packing, but if you like looking at other ships you see at sea or want to see some sea life up close, pack a pair of compact binoculars.
Magnetic Hooks – we use these for hanging the shoe organizer on our cabin wall, but magnetic hooks also work well for using on your cabin bathroom door for extra bags or items.
Motion Sickness Meds – if this is your first cruise or if you know you're prone to motion sickness, don't forget to pack these. I do suffer from motion sickness and I bring:
Dramamine / Bonine
Scolpamine Patches (prescription from MD)
Insulated Coffee Cup – this is certainly an extra item to pack since it takes up a little space. But, if you really enjoy coffee in your cabin or on your balcony, an insulated coffee mug can be an essential item for cruising. You could also use an insulated water bottle for double duty, but some don't like to have coffee flavors in their water bottles.
Mini First Aid Kit – cruises will have a medical center onboard, but a small first aid kit can be useful. I like to have some bandaids, antibiotic ointment, and hydrocortisone. You might also want to add some chewable Pepto Bismol tablets, too.
White Board / Post-It Notes – this can be useful for leaving messages for your cabin attendant or for fellow travelers that might be meeting up with you. It's very useful for cruising with teens.
Cabin Door Decor – this is something we don't personally do, but I know many cruisers love to decorate their cruise ship doors. You can even order custom magnets from Etsy.
Clothespins / Towel Clips – if you plan to spend a lot of time lounging at the pool or beach you might want to pack some towel clips. You can also pack towel bands if you want to use less space. And a few clothespins can come in handy for hanging swimsuits in the shower although we've never needed them.
Electronics / Chargers – be sure to pack any electronics you'll want on the cruise and the chargers to go with them. Do you need your laptop? An iPad or Kindle can be a great item to pack on a cruise if you like to read when you relax or watch some saved movies or shows.
Boarding Documents – you can save these electronically, but it's also a good idea to have them printed to keep things easy for checking in at the port.
Masks / Health Tests / Vaccine Records – currently many cruise lines are requiring some additional health requirements because of the pandemic. Make sure you check the rules for your specific cruise line for what is required and bring all items you may need. We used the iHealth covid tests with monitoring for our own recent trip.
And I think that's it! I've left some extra blank spaces on my cruise packing list printable so you can add some additional items that you want to remember to bring.
You can get my cruise packing list delivered to your email by signing up for my newsletter in the box below.
↓↓↓↓
A printable cruise packing list can help make the process of packing for a cruise much easier. Make sure to check with your individual travel company for additional specific recommendations. Bon voyage!