It's that time of the year when families start packing up their cars and getting ready for a fun camping trip. Or perhaps you're like us and like to camp in your own backyard. That's especially popular lately! These campfire conversation starters can help you stay entertained and learn more about each other while enjoying the outdoors!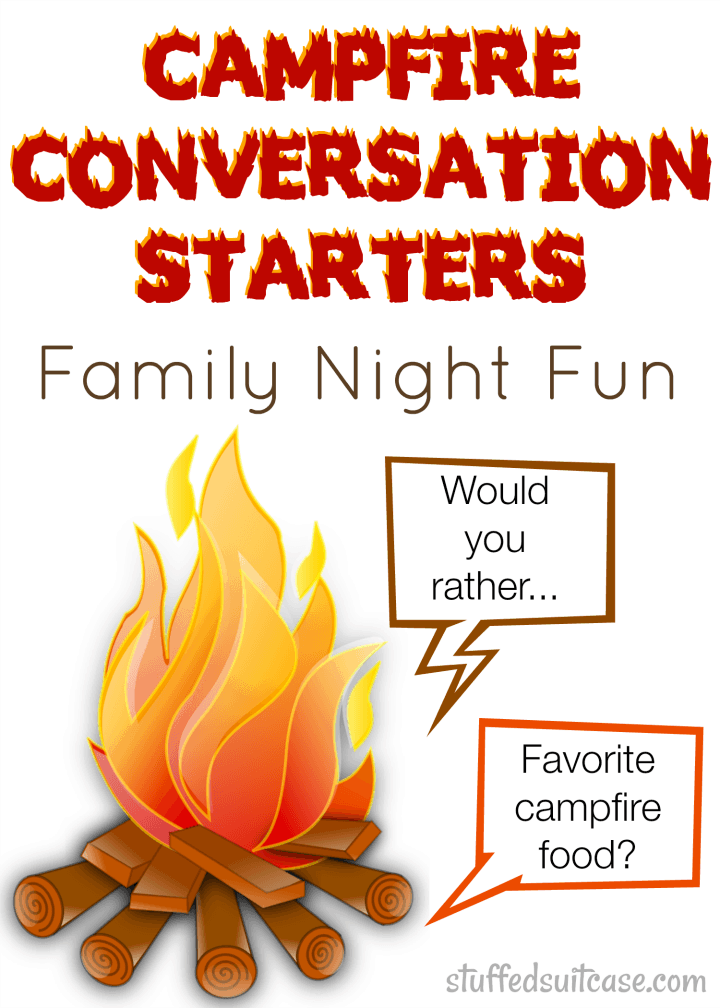 There's something sweet and confiding about sitting around a campfire with your favorite family and friends. All keeping our eyes on the glowing fire in front of us, as the moon rises and the night sounds still. Seeing your sweet child's face be kissed by glowing color and covered in marshmallowy stickiness. It can inspire you to reflect and capture these sweet memories to look back on in the years ahead.
I thought it would be fun to create some campfire conversation starters for you to print off and use at your next family campfire. There's nothing wrong with sitting in the stillness with the occasional laugh or comment, but just in case you want a little more.
There are two sets of campfire conversation starters. One is a single sheet with eight topics and two blank cards for you to create your own ideas. The other pack has four pages with 24 questions.
You might want to print the pdf on cardstock then laminate the cards. It might be fun to have each family member draw a card from a bucket and start off the conversation. Or you could have one person be the topic reader and people could share when they want.
Another option is to pin or bookmark this page and pull up the questions on your phone while at your campsite. Just make sure you know that you'll have a cell signal or wifi!
Hopefully, you'll find these helpful and fun for capturing some great family memories during your next campfire!
Download: Campfire Conversation Starters (pdf)
Download: Campfire Chat Starters (4 page pdf)