Are you searching for gorgeous landscapes, wildlife, and crystal-clear mountain lakes? I can say that you'll certainly find it in northwest Montana. Even if you only have a day to spend while driving through, here are the best things to do in Glacier National Park.
I recently partnered with Visit Montana on a five-day trip from Missoula to Glacier National Park. Along the way we stayed in some really unique Glacier Park lodging spots! Once we made our way up to spend a couple of days in Glacier National Park, this is how we spent our time. I think if you're planning a trip to the area, even a day trip, these are the best things to do.
Going to the Sun Road
One of the most popular things to do in Glacier National Park is to drive the Going to the Sun Road. This is a mountain road that connects West Glacier to East Glacier through the heart of the park. Unfortunately, we only got to drive a bit of it because it was still closed (mid-June).
The drive itself is one of the biggest attractions for visiting Glacier National Park. A highlight along the route is a stop at Logan's Pass. You can capture a great sign photo showing that you were at the Continental Divide, and the highest spot in the park reachable by car. Expect heavy traffic and full parking lots at Logan's Pass during the peak day time hours. Also expect cold temperatures.
If you want to learn while you drive, download the audio tour of the Going to the Sun Road. And if you're not up for driving and would rather relax, consider one of the famous historic red bus tours that have various round-trip routes along the road.
The road is a seasonal road closed for most of year. It opened this year on June 23rd.
Lake McDonald – West Glacier
Lake McDonald is the largest lake in Glacier National Park and definitely deserves a stop. We didn't have big plans so just headed in from the West Glacier entrance and then made our way north. There are quite a few little pull out stops along the edge of Lake McDonald on the drive. It was at one of these unlabeled pull-outs where I captured this lovely shot of the girls.
You can drive along the whole east side of the lake and make a stop at the historic Lake McDonald Lodge for lunch. They have three dining options, a pizzeria, a pub lounge, and a fireside lodge dining room.
Based on our trip and the way the road and lake are situated, I bet this would be an excellent stop for sunset.
If you have more time to explore Glacier National Park, or if you're heading up to the sister park of Waterton in Canada, be sure to check out Bowman Lake. It's another beautiful lake area in Glacier and also near the historic Polebridge Mercantile.
Be aware that if you're going to do some hiking, you'll need to buy bear spray. Hiking is popular in Glacier National Park, so talk to the ranger stations to get information about where to go and what to do about wildlife. Bear spray is available at the stores at the park entrances if you don't want to buy it beforehand; note that you can't fly with bear spray.
Many Glacier – East Glacier
Since we did have limited time we wanted to make sure to see both sides of Glacier National Park, West and East. If the Going to the Sun Road was open we would have been able to see both sides during that drive since it runs between the two. I had a friend who recommended Many Glacier as the destination to see for East Glacier, so that's where we headed.
It's good to note that if you're traveling to Many Glacier, the road does hit a dead end. Since we had limited time, we again used this as a scenic drive opportunity through the park. We pulled alongside at various pull-outs on our way towards Many Glacier, and when the road ended we had some lunch and ice cream before heading back out of the park to our hotel.
We were happy to find that this road allowed us to actually see some of the active glaciers in the park. They are very small unfortunately. The girls loved learning that one of them was even named Salamander, and it kind of looked like one, too! We were surprised to see that the park feels different on this east side versus the west side.
A big warning is that once you leave the main 89 Highway the road to Many Glacier is very rough. It's a gravel road with a lot of potholes. Another tip if you're leaving the park and want to get back to Highway 2 quickly, consider routing yourself east after Babb and go down Highway 464. It's a rural highway that runs through prairie lands and can be much quicker than routing back down Highway 89 and 49.
Horseback Ride in Glacier National Park
If you have horse lovers in your family, a horseback ride can be an excellent way to see Glacier National Park. We headed out on a cookout ride with Swan Mountain Outfitters which took place just outside of the West Glacier entrance. However, Swan Mountain does offer a few rides that actually take place in the park.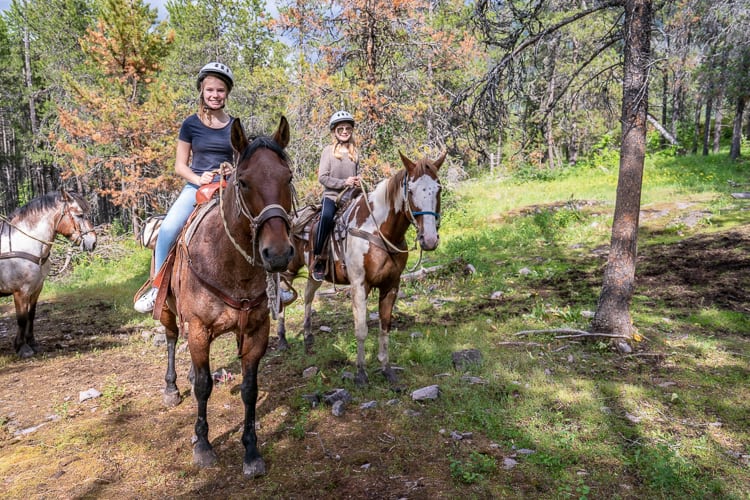 Our ride was about two hours long and rambled throughout birch tree forests, ending near the camp for a steak and s'mores cookout.
Whitefish Mountain Resort
One of our favorite things to do in Glacier National Park actually wasn't inside the park. It was at the Whitefish Mountain Resort near the West Glacier entrance. We arrived at the resort and signed up for their aerial adventure course and alpine slide rides. Both turned out to be huge hits with the girls. The aerial adventure course is very well done and offers a lot of fun challenges for older kids and adults.
One thing we wanted to do but ran out of time for was to take the gondola to the summit and have lunch. It supposedly offers amazing views of the whole surrounding area, including a lookout over Glacier National Park. The chair lift is included in the alpine slide tickets, but the gondola that goes to the summit is an additional ticket.
Airports Near Glacier National Park
If you're looking to fly in for a visit the airport nearest Glacier National Park is the Glacier Park International Airport in Kalispell. The airport is just over a half an hour away from West Glacier, and only about 20 minutes away from Whitefish. We flew into the airport in Missoula, Montana which let us explore Missoula as well as visiting Flathead Lake on our way up to Glacier. Then we departed out of the Glacier Park Airport, which allowed us maximum time to explore the area.
Beyond Glacier National Park
If you have extra time to explore the area around Glacier National Park, two spots I recommend are Flathead Lake and the National Bison Range. Our visit to the National Bison Range was a highlight of our trip. We spotted numerous bison as well as two black bears! It's only about an hour and a half away from Glacier National Park.
If you're driving around Flathead Lake during the middle to late summer, be sure to stop and get some fresh cherries. We were just a little early for the season but saw numerous orchards and roadside stands along our drive around the lake.
As you can see, even with a short amount of time there are still plenty of great things to do in Glacier National Park. Don't let your limited schedule keep you from going into the park and experiencing the gorgeous scenery you'll find there!
More great Montana posts: